FENNEL pollen. Not the condiment of the common man. It's yet to find its way into Waitrose. I'm ridiculously addicted to the stuff. So much so that I snap it up online – along with wild sumac, Calabrian liquorice powder, Espellete pepper and all the other foodie essentials (Ponce! – ed).
The pollen, with its über-aniseed oomph, is an accessory in those fashionable hang-outs where on a crinkly brown paper menu one lovingly assembled dish might read: 'John Dory, chervil, celeriac and kumquat dust, fermented kohlrabi'.
Imagine my surprise then to encounter it in the unlikely surroundings of the Box Tree, Ilkley, where the interior design leans heavily on chintz, bone china dogs and framed scenes from Shakespeare, rather than the industrial brick and girder look favoured in Shoreditch or off Stevenson Square.
As I get older I find it rather comforting – like discovering you have something in common with the Queen Mother (apart from gin)
Tiny pollen pearls were powdering and enhancing a tangle of braised fennel. Like a bracing Pernod chaser to my halibut main, where this often dry fish was anything but, even before our very formal waiter (a man to whom facial hair and a lumberjack shirt would plainly be anathema) doused its crusted flakes in a creamy cockle broth from a tiny copper pan (main image). Underneath the fish the golden gleam of firm but floury Mayan spuds. It is my favourite dish of the year so far – and it has been a remarkable three months.
The Box Tree's exec chef, Lawrence Yates, told us after our meal that this particular dish was making its debut. What did we think? You sense he has had to tread carefully in making the menu his own. This former farmhouse has been sacred ground for the West Riding Posh since its heady days as one of the inaugural 25 Michelin-starred restaurants in this country after the French eventually deigned to recognise us.
By 1978, under Malcolm Reid and Colin Long, it had gained two stars and much of the decor still remains, notably its signature leaded, stained glass bow windows. As I get older I find it rather comforting – like discovering you have something in common with the Queen Mother (apart from gin). It even has a resident 'ghost' of sorts – Leeds ragamuffin Marco Pierre White, that fallen Lucifer of English Fine Dining, trained here before setting off to set London alight. The last time I visited Marco had invested some kind of stake in the business, but has since moved on apparently – the story of his last couple of decades.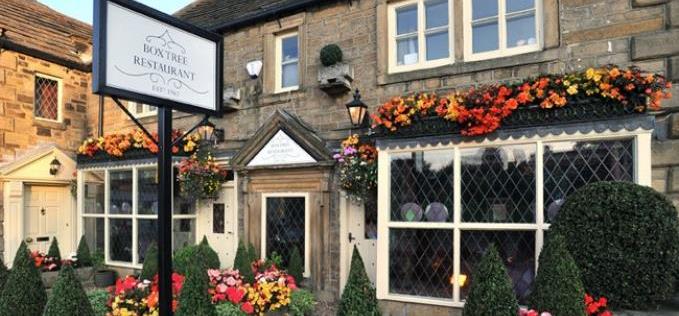 Box Tree, Ilkley
Quack
Today the Box Tree (the eponymous shrubs dominate the garden) retains one star under the vibrant decade-old proprietorship of Rena and Simon Gueller, no mean chef himself (Michelin stars held at three separate Yorkshire establishments – Rascasse, Gueller and here). In recent times he has increasingly ceded the kitchen to young tyros, first Dan Birk, who arrived from the Devonshire Arms before moving on to Soho's Social Eating House, and now young Lawrence, whose pedigree is outstanding and includes a stint at two star Midsummer House in Cambridge.
That refined culinary upbringing immediately showed in my elaborate starter of poached and roasted Norfolk quail, which is accompanied by a crispy confit quail leg, stuffed with near deliquescent foie gras. The rest of the plate is a shallot fest – they come four ways from roasted whole to caramelised sauce.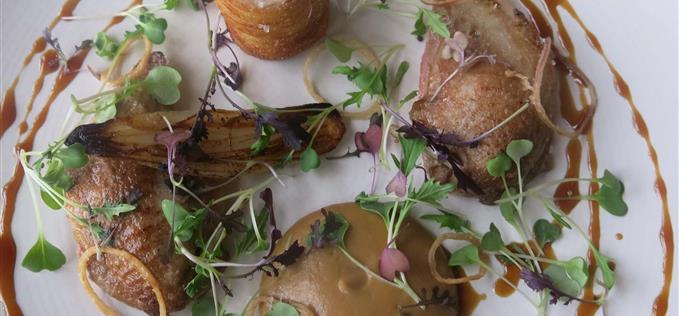 Poached and roasted Norfolk quail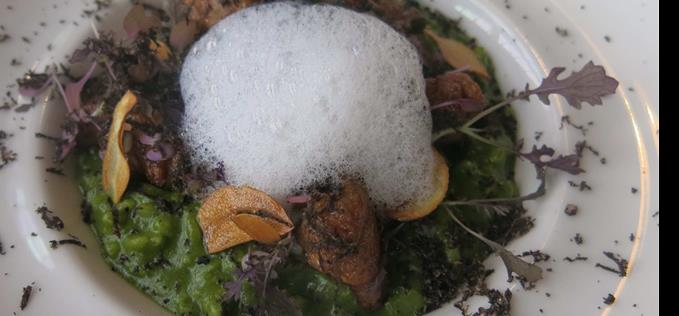 Veal sweetbreads
The tenderest of veal sweetbreads across the table also come caramelised, along with garlic crisps and foam and a splatter of black truffle, a vividly green parsley risotto. Expect within a week the chlorophyll hit to come from wild garlic, which is now in full spate on the bonny beck banks around Ilkley Moor.
Further foraging foray: the morels adorning my partner's main plate had arrived in the kitchen that morning, little earthy fungi honeycombs imparting their umami to a dish celebrating Yorkshire pork. This was one plate that was perhaps too fussy, a picture-perfect assemblage of boudin noir-encased fillet, confit belly and pomme puree. Just too salty for our tastes.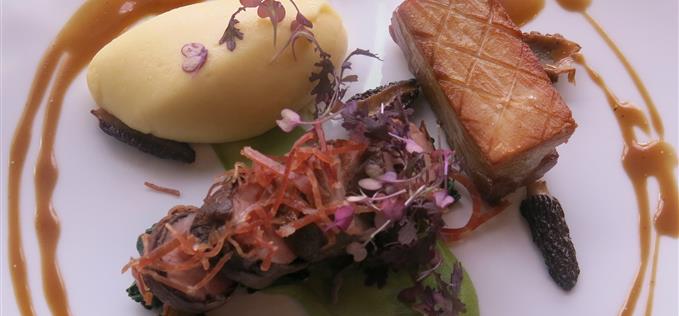 Yorkshire pork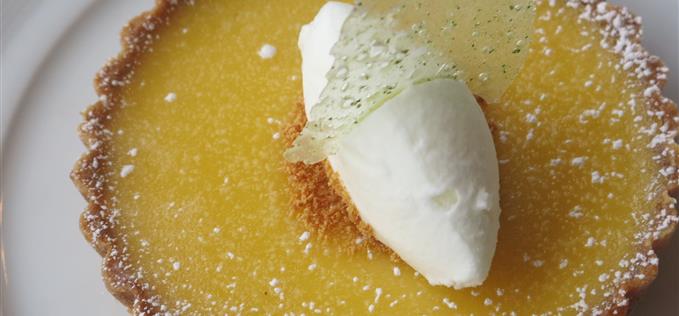 Lemon tart
Puddings were exemplary. When I dithered between the rhubarb souffle and the lemon tart, long-serving general manager Andrew Pratt sent up both. It's peak season for forced rhubarb and it showed in a fierce intensity of flavour; the absence of a Yorkshire lemon triangle meant the tart's main ingredient hailed from further afield. I'm not a fan of parfait textures but could find no fault with my partner's white chocolate parfait with pistachio and pineapple sorbet.
Our three courses apiece plus an amuse of caramelised onion foam with gruyere cheese straws came off at £60 a head a la carte. There's also a five course menu gourmand at £75 and a much simpler menu du jour lunch for £30.
As you'd expect, the wine list does soar into the stratosphere, but there are affordable, well-chosen bottles, too. Among the reds you'll find a couple from South Africa's Holden Manz, which I have recently reviewed in my wine column - read here.
The Vernissage (£36) is a big, soft blend of dark cassis fruit, spice and plumminess. A glass of smooth, appley Albarino Terra de Asorei (£7), accompanying the halibut, was fennel pollen-friendly. Just like me.
The Box Tree, 35-37, Ilkley, West Yorkshire LS29 9DR. 01943 608 484.
Rating: 18/20
Food: 9/10 (parsley risotto 9, quail 9, halibut 10, pork 8, rhubarb souffle 10, lemon tart 9, parfait 9)
Ambience: 4/5
Service: 5/5
Neil recommends: Any dish featuring fennel pollen, obviously.
Watch out for: Knocking over the vintage china dogs or offending sabatier-wielding resident ghost Marco P-W.
PLEASE NOTE: Venues are rated against the best examples of their kind: fine dining against the best fine dining, cafes against the best cafes. Following on from this the scores represent: 1-5 saw your leg off and eat it, 6-9 get a DVD, 10-11 if you must, 12-13 if you're passing, 14-15 worth a trip, 16-17 very good, 18 exceptional, 19 pure quality, 20 perfect. More than 20, we get carried away