THIRTY years ago, Lancashire was a desert when it came to food. Cheshire was the rage, not with footballers and WAGs, but old cotton money that had deserted Oldham and moved south of Manchester.
It's a handsome building, which, on entering the old lobby with its floor slabs, smells of smoke, wet Labradors and roast meats. Perfect.

They visited restaurants that were all silver service, white tablecloths and Escoffier dishes. They were great fun too; people drove out from the moneyed suburbs to eat at The Wild Boar at Tarporley, not overly worried about drinking and driving.
Nobody lived in the city centre. It was so dead on a Sunday that the only places worth going to were the illegal drinking dens backed by corrupt police officers and The Midland, where we sat and drank coffee lusting after Jewish girls with whom we had no chance.
Everyone went home, initially to The Heatons, then Handforth and finally Prestbury, where Gordo's dad, Shady, would sometimes start drinking at The Legh Arms at five on Friday and somehow manage to make it home Sunday morning worn out, only to suffer the wrath of Maureen.
Lancashire simply wasn't on the radar.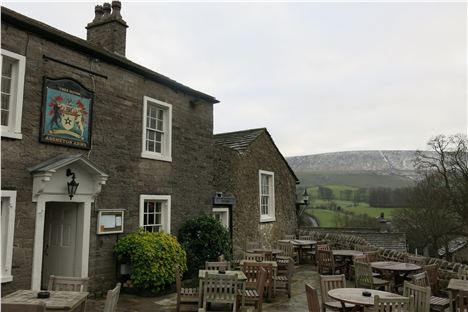 Assheton Arms: Nice Lookin Gaff
Then came a revolution, started by Paul Heathcote with his hard won two stars and Nigel Howarth at Northcote Manor, who has held a Michelin star since 1996. Numerous chefs went through their systems, both being terrific trainers. More restaurants opened across the county, whilst Cumbria and The Lakes caught fire.
Gordo's personal favourite was The Sharrow Bay, where he once arrived so late for lunch he had to put up with afternoon tea, the memory of which lingers to this very day. Served in the garden on a sunny day, this was the day the Fat One fell across the wine firm, Louis Latour and their Grand Cru Chablis, Les Grenouilles.
Today, this northern region is leaving Cheshire to strangle itself with the new rich, mainly the professionals: lawyers, bankers and the heads of accounting companies. Forget footballers, these fellas can leave 'em for dead.
Up in Lancashire, they are perfecting 'local produce' due to the explosion of smallholding food production, predicated on the greatest grass in the world. The cheese is stunning and the lamb comes from salt marshes as well as the hills.
People are spoilt for choice. Confidential editor, Jonathan Schofield, recently said he wanted to see more great quality pub restaurants - like those in Lancashire - arrive in Manchester. There's something about Lancashire that seems to breed them.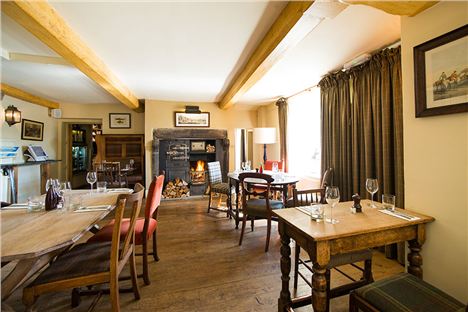 Assheton Arms
One is the unfortunately named Assheton Arms in a place called Downham, near Clitheroe. An enjoyable 50 minute car ride from Manchester.
It is owned by a female tour de force, Jocelyn Neve, and her family. It's one of six Seafood Pub Company premises, being blessed by Jocelyn's father, Chris Neve, aka 'The Codfather'. He runs his own trawler and Jocelyn, amongst other staples, is renowned for the fish served in all her restaurants, not just the Assheton.
Ruth Allen, editor of Confidential's upcoming Top 100 Restaurants in the North West publication, joined Fatty for the trip. Thank the lord for satnav. The place is a stone built pub, everything you would expect. It's a handsome building, which, on entering the old lobby with its floor slabs, smells of smoke, wet Labradors and roast meats. Perfect.
Gordo is shown to a table for two by the window. To the right is a large fireplace, unlit in this case but adding warmth to the atmosphere anyway. Gordo drew the short straw with this table; there was little room for a big guy in the way the chair was plonked in front of a window seat. You need to have been there.
The menu is seafood heavy, as you'd expect. The service is both charming and professional, something that takes experience. The obligatory blackboard specials were on show in the hallway walking through.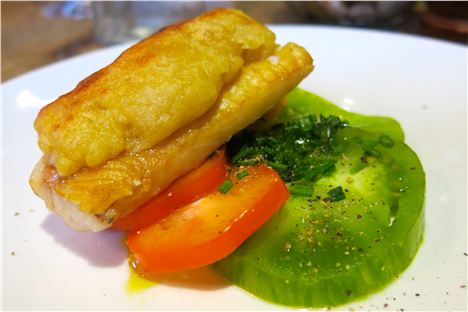 Smoked Haddock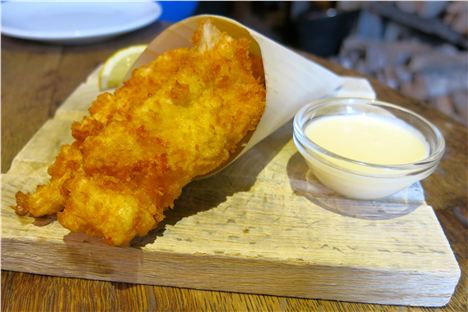 Fish Fingers
Starters were smoked haddock rarebit, well cooked and sat on heritage tomatoes. First-rate ingredients, but too lightly seasoned. Superb home smoked salmon (main image) and then 'fish fingers'. Big fat ones, crisply fried but needed more seasoning. Before you, dear reader, jump on Gordo and suggest he season it himself, no, no no. Seasoning works best during the cooking process.
Mains were a rum-looking, but bangingly great tasting curry, with home made Indian bread. Both agreed this dish was heroic. A lemon sole with cockles was very, very fine; Chris 'The Codfather' Neve had certainly done his job here. Sides were first rate, green beans perfectly seasoned with the addition of chili heat, and 'smashed spuds' were near-perfect.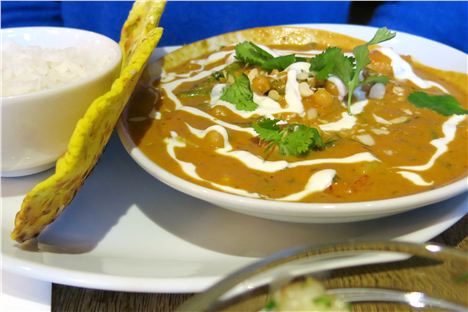 Curry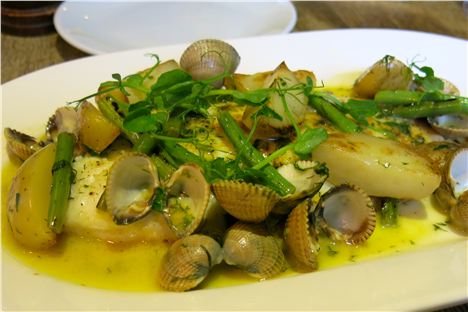 Sole With Cockles
We had two puddings; the crème brulee was spot on with great biscuits and an amazing tart with divine piped meringue on top, toasted under the grill. Or by blowtorch. Who cares? There is a very good pastry chef at work somewhere in this company.
Creme Brulee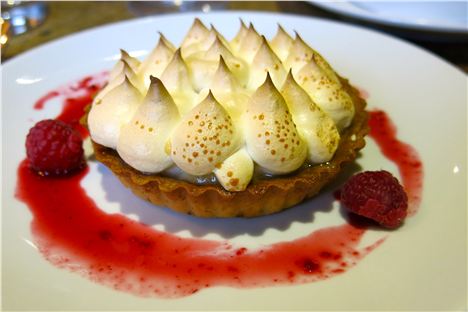 Ooochy Pud
Now, dear reader, and editor, at this point I have a confession to make. I've lost my notes, along with the bill and all the prices, and The Assheton closed for a refurb, and they've got a brand new menu - which looks even better than the one that made Gordo all warm and fuzzy in the first place.
Still, having checked his bank account, Gordo can tell you the whole lot cost £89 with three glasses of wine and a Campari. Great value for money in a fine, fine pub.
It's a Gordo go with bells on.
Follow @GordoManchester on twitter.
All scored reviews are unannounced, impartial, paid for by Confidential and completely independent of any commercial relationship.
The Assheton Arms, Downham, Clitheroe, Lancashire BB7 4BJ. 01200 441227

Rating: 15.5/20
Food: 7.5/10 (smoked haddock 6, smoked salmon 8, fish fingers 5, curry 8, lemon sole 8.5, beans 8, spuds 7, crème brulee 7.5, tart 9)
Ambience: 4/5
Service: 4/5
Gordo recommends: A long walk before lunch, dog watching and dreaming of Jocelyn Neve.
Give a miss: Gordo's chair by the window if you have a large stomach
PLEASE NOTE: Venues are rated against the best examples of their kind: fine dining against the best fine dining, cafes against the best cafes. Following on from this the scores represent: 1-5 saw your leg off and eat it, 6-9 get a DVD, 10-11 if you must, 12-13 if you're passing, 14-15 worth a trip, 16-17 very good, 18 exceptional, 19 pure quality, 20 perfect. More than 20, we get carried away