WHAT springs to mind when you think of eating out in Stretford? Is it the glass coffin of McDonalds where the old Drum used to be? Or perhaps the over-representation of pastry goods in the Mall? Maybe you are mourning the departure of Chennai Dosa or planning to make your escape to nearby Chorlton. You might even be forgiven for thinking the most exciting thing to happen to food in Stretford recently was the new Aldi. But you'd be dead wrong.
They're using the pop-up to test the waters for a more permanent venture
Actually Stretford is starting to get a teeny bit of a buzz. New supermarkets aside, there is the 'living room with a licence' in The Sip Club, while the South Manchester Food Assembly is making it easier for locals to get quality local produce. But there is room for more. And now there is even, for a time at least, an eating experience that is a step or five up from Gregg's.
The Stretford Canteen is a pop-up that brings an actual real-life restaurant to Stretford. It's doing the popping in the unassuming Pines Pantry Café on Moss Road and is open three nights a week throughout the summer. It's a low-key operation and the lack of a licence means we make sure to show up with a bottle and some cash (they don't take cards either).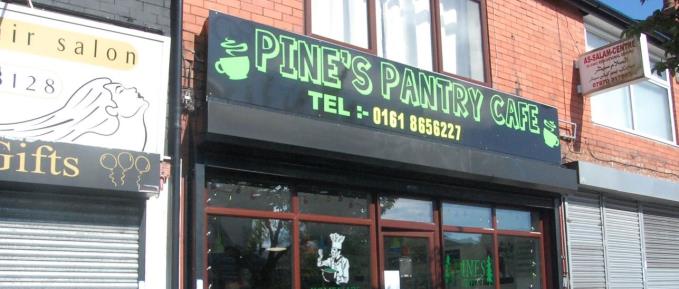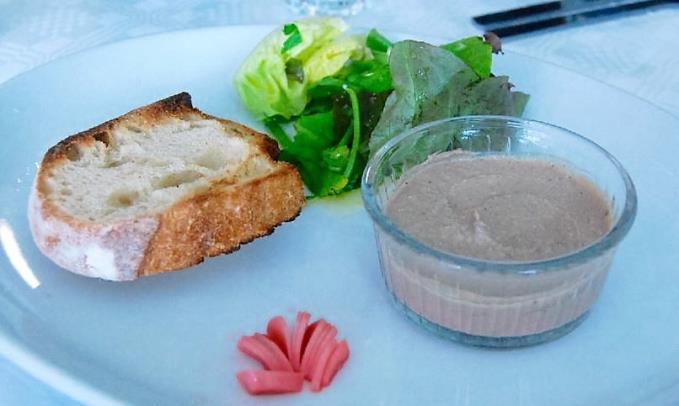 Chicken liver pate
It was already full in the early evening (though as there are only a few covers it's a book-ahead deal) so we wasted no time ordering from the pared-back menu. My starter of chicken liver pate (£5) was a smooth buttery swirl served with a crisp chunk of Manchester sourdough and a pink pickled radish on the side to add a sour-sweet note to all that offaly richness. The only thing that was off was the pate-to-toast ratio, with there being plenty more pate than one slice of toast could reasonably handle. A request for more was quickly fulfilled so I could scoop up the rest in usual greedy fashion.
The Shire cheeses (£4.50) consisted of a punchy blue, a rich, mature cheddar and an unctuous Camembert-style soft cheese served round a golden pool of Chorlton honey. The blue was a standout, a flavoursome fist in creamy velvet glove. It felt a little odd to be having what was essentially a cheeseboard at the beginning of the meal but when it tastes this good, who cares?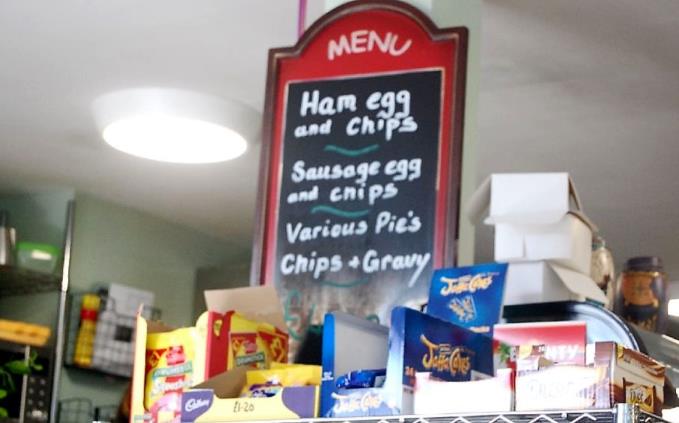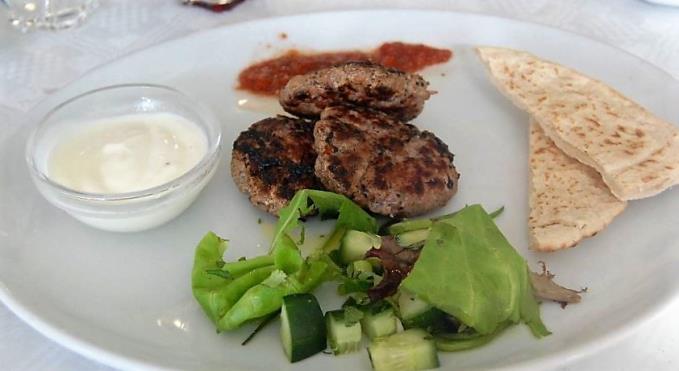 Lamb patties
As for mains, the spiced lamb patties (£8.50) were made with hand-minced lamb from Wrigley's Butcher, and it shows in the succulent yet firm and chunky texture, the pungent lamb cut through with spice and citrus, set off by tahini yoghurt and chilli sauce. It's a good thing the patties were on form, as the accompanying bread and salad were mostly forgettable.
The onglet steak (£10.50) was yet another example of fine sourcing, this time from Frost's in Chorlton. Onglet is a flavourful, grainy cut that should be served rare and in this case the flesh was cooked to ruby red perfection and accompanied by a slice of Ancoats sourdough, homemade mustard mayonnaise and a salad. The extra sides of triple-cooked chips (£3) and carrots in sage butter (£2.50) were a necessity, and especially in the case of the carrots, bloody delicious.
As for puddings, the meringue (£5) was perfect, crisp on the outside, marshmallowy soft on the inside, served with a puddle of rhubarb and a lake of ginger and vanilla flavoured crème anglaise (the effect, topographically speaking, is very flat). The chocolate torte (£5) is dense and flavourful under tumbling summer berries, though too sweet to overcome my innate aversion to chocolate desserts.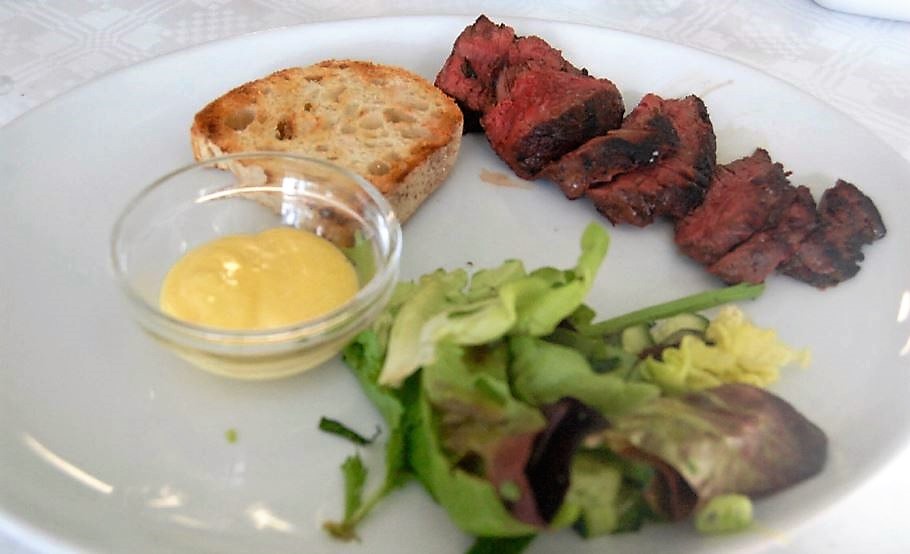 Onglet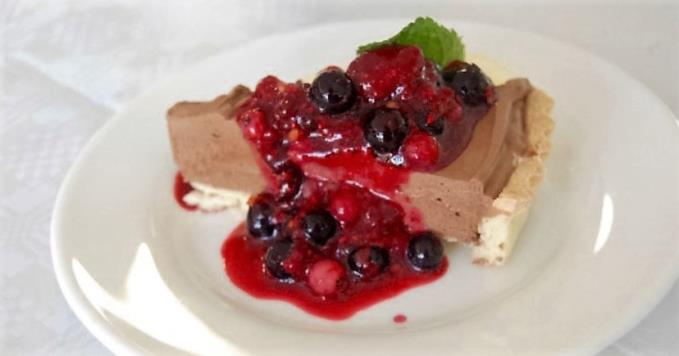 Chocolate torte
The preparation was simple but well-judged, showing off the beauty of the local ingredients. My only quibbles were a slight over reliance on bread as an ingredient (though gluten freers can request no bread) and that the presentation wasn't as tight as the cooking. The cheese, for instance, looked a bit lost on the huge plate it was served on. The nature of the pop-up means the surroundings aren't really quite right and the service is charming but haphazard, all things that would need to be ironed out in the long-term. But these are minor details when you consider the overall project. It takes a lot of guts to do something like this.
After eating I managed to glean a few details from Jo and Dean, whose summer-long mission this pop-up project is. Jo told me that as Stretford residents they were frustrated with not having a local place to eat out, and they were using the pop-up to test the waters for a more permanent venture. Jo comes from a catering family and both she and Dean are obviously into their food. Jo and I agree that Stretfordians don't want to always have to trek to Chorlton for a proper dinner and that there is certainly a growing appetite for good quality food in this area, though much is dependent on finding the right place (though what about an artists' canteen here, or even something here if the proposed leisure arts centre ever gets off the ground.)
So we settle back with a hope in our hearts and a tumbler of Ethiopian coffee (from the Ancoats Coffee Company of course, even when it's from halfway across the world, the coffee is still damn local) dreaming up plans for Stretford's foodie future, with nary a sausage roll in sight.
Rating: 12.5/20
Food: 6.5 (Cheese 7, Pate 7, Steak 7, Lamb patties 6, puds 6)
Ambience: 3
Service: 3
PLEASE NOTE: All scored reviews are unannounced, impartial, paid for by Confidential and completely independent of any commercial relationship. Venues are rated against the best examples of their type: 1-5 saw your leg off and eat it, 6-10 stay in with Netflix, 11-12 if you're passing, 13-14 good, 15-16 very good, 17-18 excellent, 19-20 pure quality.