THERE were two reasons I've been looking forward to visiting Siam Smiles.
There are few frills here, unless you count Wayne Rooney-branded custard as a frill, which I certainly do.
The first is this radiantly effusive (someone less kind than me might even say histrionic) review in The Guardian.
The second is that this street food outlet ('restaurant' is not the appropriate term here. In fact 'cafe' is probably a little over-formal for Siam Smiles) resides within a Thai supermarket that used to belong to the family of my partner's first girlfriend. Apparently he was not looked upon favourably as a potential son-in-law. So I was hoping for an amusing afternoon of excruciating trips down memory lane along with some superlative Thai food.
What more piquant sauce to garnish one's noodle soup than tales of another's romantic agony?
But the best I got from him when I asked for memories of his first love was the enigmatic phrase 'pork wool'. Was this referring to the girlfriend or the establishment? For those of you who worry a bizarre lovelorn nostalgia had got the better of him, it's a savoury version of candy floss sold in Thai and other Asian supermarkets. 
Unfortunately, I couldn't find any pork wool at Siam Smiles, which has been sold by the disapproving Mr and Mrs Kim to new owners who hit upon the bright idea of serving simple dishes to customers seated on a few basic tables and chairs. And basic is the word. There are few frills here, unless you count Wayne Rooney-branded custard as a frill, which I certainly do.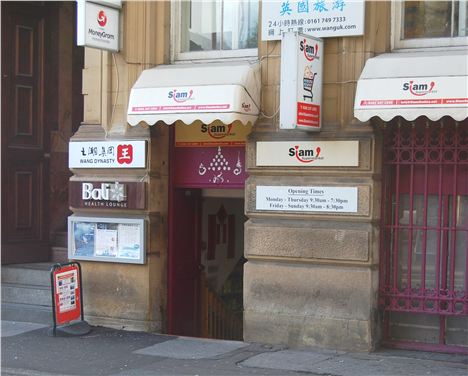 Siam Smiles, George Street, Chinatown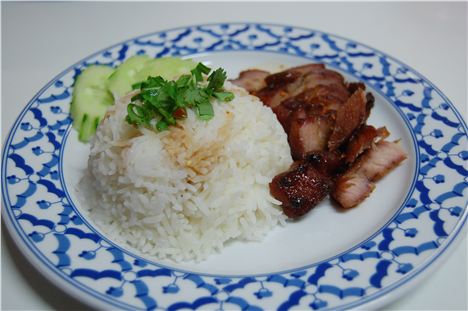 Kow Moo Krob - Belly pork
The supermarket-chic is all part of the fun. It's amusing to casually saunter over to the fridge and pluck out a can of Fanta or bottle of lychee pop whenever you feel like it, at least the first couple of times. But this is minimalism so extreme I never even found out if there was a toilet.
It doesn't surprise me that critics have been effusive. It must seem so real and down-to-earth after all the freeze-dried this and edible twigs that and waistcoat-clad servers who call their customers 'guys' in a super-casual waiters' version of Tourettes. I think suddenly encountering this radical normality has skewed perceptions somewhat. This is good but not mindblowing Thai street food. No perfumed or overly coconutty curries to be found, just plenty of unrefined (in a good way) noodles, salads and soups.
So with little to distract us, let's talk about the food. Our first choice dish Kow Moo Dang (£5.95) is described on the menu as 'a roast red BBQ red pork serve with rice and topping with red pork sauce on top' - it wasn't all that rosy and probably didn't need three 'red's in the descriptor. The other main of Kow Moo Krob (£5.95) - crispy belly pork served with rice and pork sauce - was ordered in a panic after another dish was off.
They were incredibly similar in look and flavour, the most salient difference being the yummy melty fat of the belly pork and the scarlet dye job of t'other. For both the meat was good and tasted exactly like pork (by which I mean not covered up with lashings of lemongrass or other typical Thai flavours). The rice and sauce were pretty standard. Solid dishes but not standouts.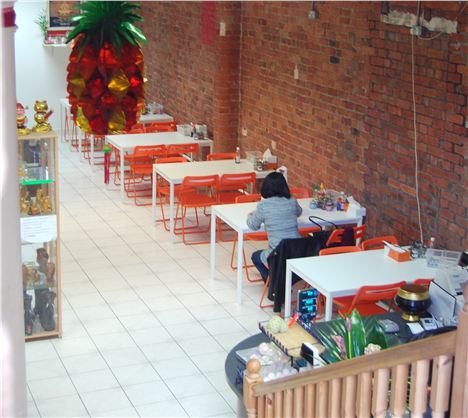 Siam Smiles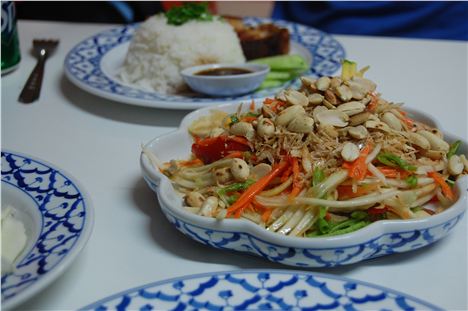 Som Tam Thai - salad
Lucky then that we also ordered Som Tam Thai (£5.50), a green papaya, peanut and beansprout salad sprinkled with dried shrimp, a plate of fruity, fresh, salty, sweet and palate-punching heat. It provided a great contrast to the pork dishes which were pretty subdued in comparison, though I couldn't eat the whole thing for fear my eyeballs would fully liquidise.
The most visually intriguing of the dishes was the Kuai Tiew Yen Ta Fo (£5.50, main image), a vivid pink bowl of flat noodles, tofu and fish balls in soup, garnished with coriander and morning glory (which is also known as water spinach, don't try this with regular morning glory, the plant type or otherwise). The cherry pink broth gets its colour and sweet taste from fermented bean curd, making this the dish that probably conforms most to what many western palates expect from Thai food.
Though our ordering was somewhat haphazard, the combination of unfussy meat dish, fragrant soupy noodles and explosive salad was a nice balance. This meant ordering two main dishes per person - we shared the soup and salad - plus factoring in a few cans of pop and a couple of sickly-sweet packets of Pocky swiped from the shelves for afters (if you haven't encountered Pocky before, they are Japanese biscuit sticks in revoltingly fake banana or strawberry flavours. I love them). This came to around £15 for lunch per head. Not expensive by any means, but definitely starting to push it out of the realm of regular lunch-hour outing.
That said, it's a great occasional midday option. The food is robust and interesting and lord knows there can never be too many alternatives to the array of coffee chains and burger places nearby. It would be a toss-up between here and Yuzu if I happened to be feeling peckish in this neck of the woods.
Will you enter a fugue-like state of flavour-based rapture if you dine here? I'm afraid not. Will you get a decent lunch? Yes, if you order well and/or luckily. Will you savour again the bittersweet taste of first love? It's possible. Failing that, you could always ask them to order in some pork wool.
ALL OUR SCORED FOOD REVIEWS ARE IMPARTIAL AND PAID FOR BY MANCHESTER CONFIDENTIAL. REVIEW VISITS ARE UNANNOUNCED AND COMPLETELY INDEPENDENT OF ANY COMMERICAL RELATIONSHIP.
Siam Smiles, 48a George Street, Chinatown, Manchester, M1 4HF
Rating 10.5 or 14.5/20
Food: 6.5/10 (pork belly 7, red bbq pork 6, yom tam 6, fish soup 7)
Ambience: 1 or 5/5 - it really depends whether eating in a supermarket (and not in the Waitrose cafe sense) is your idea of an authentic experience or a brightly-lit Formica hell.
Service: 3/5 - very friendly when there wasn't price labelling to be done.
PLEASE NOTE: Venues are rated against the best examples of their kind: fine dining against the best fine dining, cafes against the best cafes. Following on from this the scores represent: 1-5 saw your leg off and eat it, 6-9 get a DVD, 10-11 if you must, 12-13 if you're passing, 14-15 worth a trip, 16-17 very good, 18 exceptional, 19 pure quality, 20 perfect. More than 20, we get carried away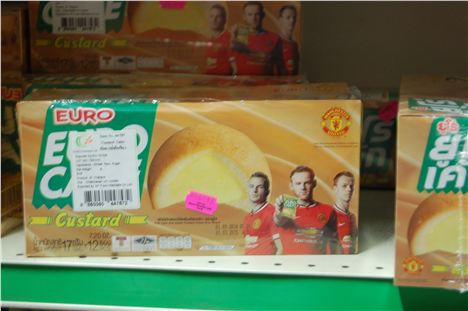 Rooney custard