Jonathan Schofield loves the crab, the eel and the broth, but please stop the drumming
IN THE land of the bland that is Piccadilly Gardens' food offering Shoryu Ramen stands out like a beacon of bounty.
The only irritating thing is that Shoryu Ramen has a 'thing' - whenever a customer enters the staff beat a drum and shout
The mini-London chain has a conventional interior for a concept restaurant with lots of references to the theme. In this case Japanese bits and bobs complete with high communal tables, drums and cute plastic dolls. It's sort of Eastern-lite to suit delicate Western sensibilities, although the kitchen is so open I felt I was intruding on the privacy of the chefs.
The food can be superb. The soft shell tempura crab, with a gentle sauce on the side, was utterly gorgeous and also generous in its proportions. It was £9, but for an indulgent and expensive snack on a rush to Piccadilly Station this is a joyous thing. You get loads of greenery with it, but this dish is all about the crunch and give of the tempura followed by the soft delight of the crab flesh. A 9/10 dish.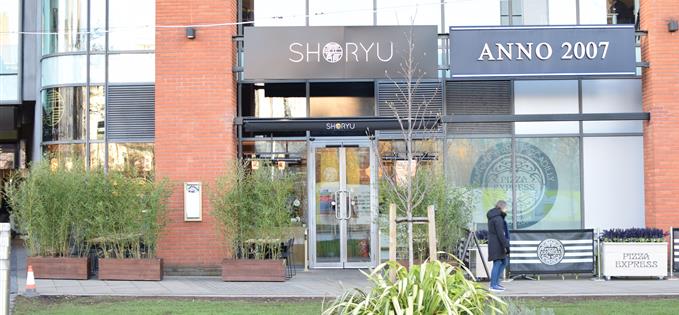 Shoryu is a beacon in the land of the bland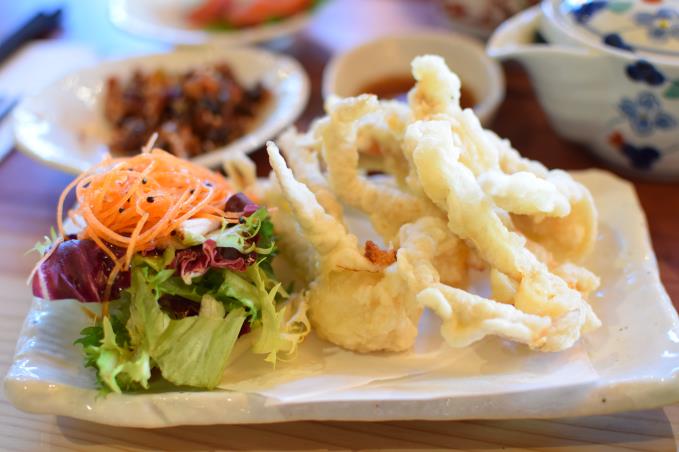 Gorgeous soft shell tempura crab (£9)
The ramen was another shining light. The helpful waitress (all the staff were very helpful) recommended the Kotteri Hakata tonkotsu (£12, main image). This is a 12-hour pork broth ramen and comes topped with char siu barbecue pork belly, nitamago egg, kikurage mushrooms, spring onion, sesame, ginger and nori seaweed. It's sustaining, boiler-stoking and substantial yet manages to be light and uplifting at the same time, just like a good song. Delicacy in preparation is the watchword here with, for example, the pork belly sliced so thin and cooked just so.
Steamed buns are big at Shoryu. We had the Wagyu shoryu bun (£8.50) which resembles a mini-burger (I really can't bring myself to write 'slider', because it's one of those food marketing words that makes me sick due to lack of relation to the thing itself). The sweet, forgiving shoryu bun encased the gentle beef which was suffused with flavour. It was lovely but not as lovely as the soft shell crab or the ramen.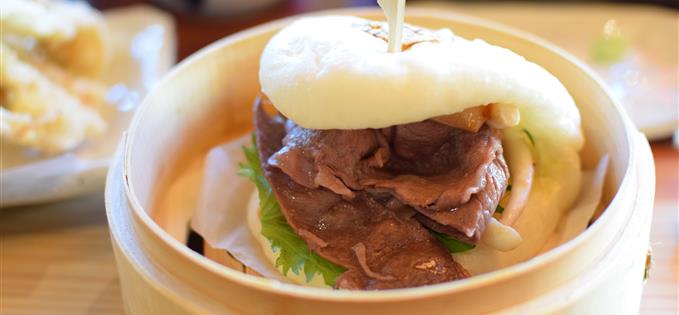 Wagyu shoryu bun (£8.50)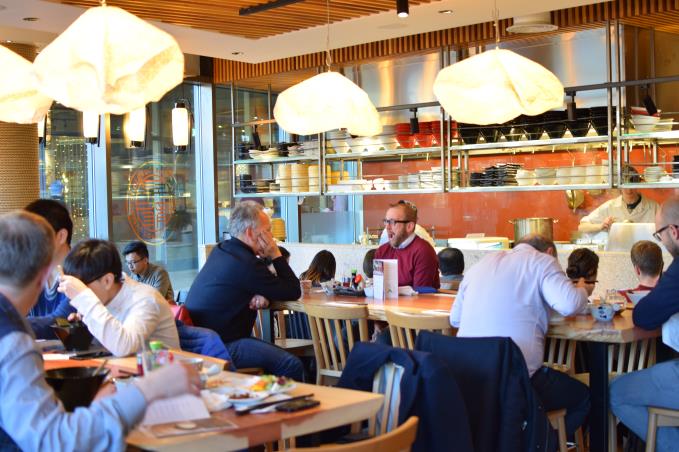 Catching flies on a busy Wednesday lunch
Sides can be a bit weird if new to the customer. For instance, there was a side of mentaiko (Pollock roe) caviar for £5 that appeared to be a sorbet. It was pink and sort of fishy and sort of ok. I simply didn't get the takana mustard greens (£2.50), from which I could derive neither flavour nor joy.
But fireworks and celebrations once more for another 9/10 dish, the simply but beautifully presented freshwater eel (£9). This came with a teriyaki glaze and with so much rich oily flavour I wanted to eat five portions and feel my brain grow extra lyrical capacity as the Omega 3 flooded in; just so I could better describe the joy of the dish.
Forget the matcha azuki rolled cake for £6. It was green and sickly to the point of nauseating.
I was being good after drinking all the wine in Manchester on New Year's Eve so had another matcha product, this time a matcha mocktail for £7. Matcha is green tea and the mocktail included mint, lime, ginger, syrup, pineapple, green tea powder, self-righteousness, smugness and a soupcon of onanism.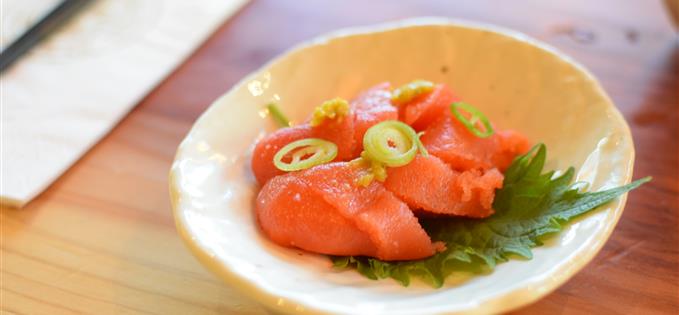 Caviar sorbet (£5)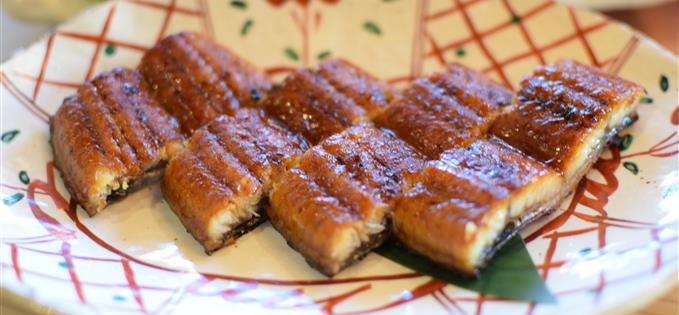 A glorious portion of unagi eel (£9)
The only irritating thing is that Shoryu Ramen has a 'thing'.
This 'thing' happens when a customer enters and involves the staff beating a drum and shouting, no matter what they are doing in the restaurant, 'Welcome', or some such, in Japanese. This sounds like 'Erashimasai!' and punctuates any meal. The staff might just as well put their arms back and cluck round the restaurant doing chicken impressions for all the benefit it lends the dining experience.
Banging drums when unassociated with music, is, by definition, a bother; a bit like clumps of waiters in Italian restaurants compelled to sing 'Happy Birthday' every seventeen minutes through some strange neurosis of the mind even though, I swear, nobody in the restaurant is having a birthday.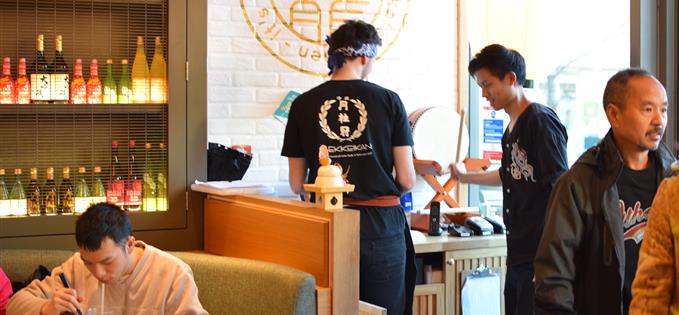 He bangs the drum
A lovely touch on the Shoryu menu is that all us foreign devils get a glossary which makes it easy to understand the different dishes. A nitamago egg, for example, is described as a 'gooey yolked Burford Brown egg marinated overnight in soy, mirin, sake and ginger', which seems about right.
So that drum aside, this place can be mightily impressive. Try it, try the eel, the crab and the ramen in particular. I'll be back to sample other dishes in a double jiffy. I'll also have my drinking head on and get down to some serious sake sampling because there are maybe fifty versions to enjoy. Glug.
Shoryu Ramen, 1 Piccadilly Gardens, Manchester, M1 1RG
Rating: 14/20
Food: 7.5/10 (soft shell crab 9, eel 9, ramen 8.5, wagyu bun 7.5, caviar 6.5, mustard greens 5, cake 5)
Atmosphere: 3/5
Service: 3.5/5
PLEASE NOTE: All scored reviews are unannounced, impartial, paid for by Confidential and completely independent of any commercial relationship. Venues are rated against the best examples of their type: 1-5: saw your leg off and eat it, 6-9: Netflix and chill, 10-11: only if you're passing, 12-13: good, 14-15: very good, 16-17: excellent, 18-19: pure class, 20: cooked by God's own personal chef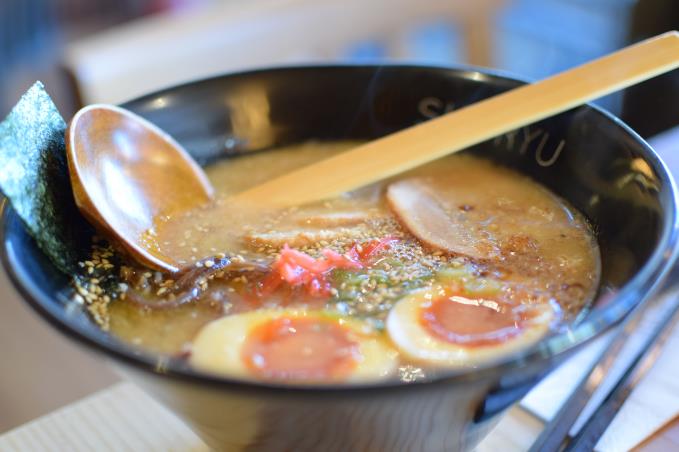 Kotteri Hakata tonkotsu (£12) is substantial yet light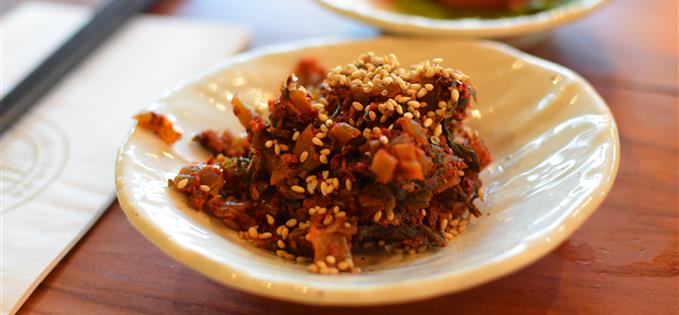 Swerve the takana mustard greens (£2.50)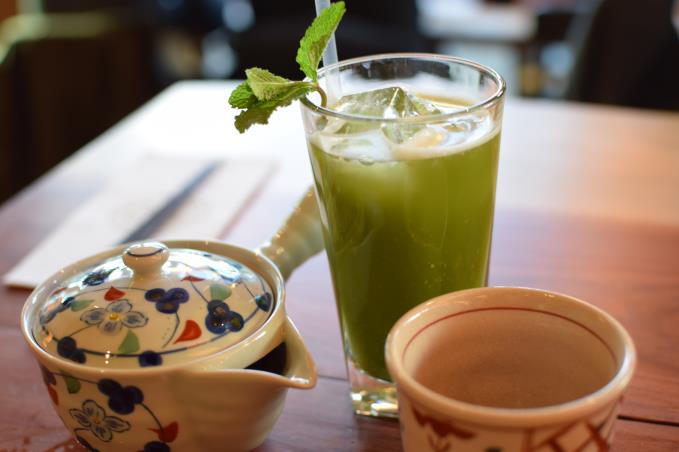 Post NYE greenness
Nitamago egg, or, 'gooey yolked Burford Brown egg marinated overnight in soy, mirin, sake and ginger' (£2.50)
Matcha azuki rolled cake (£6) isn't worth the bother
Photos: David Blake
Powered by Wakelet