'Ask for a deep crust with pepperoni and pineapple and someone might call in the Camorra hitmen'
HAPPY birthday, pizza pooch. Little Rudy has just turned two and shed his puppy friskiness; the Ancoats eaterie named after him, just six months old, is bounding along nicely, too. It has just scooped the crust-led equivalent of Crufts by being one of only two Manchester pizzerias to make it into Where To Eat Pizza, a guide to the best 1,700 pizza parlours across the globe.
The other local entry is Altrincham Market's Honest Crust, where Rudy's Jim Morgan learned to make a lot of dough – sourdough mostly – before he, partner Kate Wilson and pet set up on the new frontier that is Cutting Room Square.
The culinary and craft ale cavalry is on the way to join them this summer. Next door the projected casual fine dining contender, Goose Fat and Wild Garlic, has added plans for a brewery called Fundamentum, providing hoppy opposition across Blossom Street for what will be Seven Bro7hers' debut bar. The dinky Cutting Room cafe and Ancoats Coffee are already in situ.
It all promises to be a quartiere stupendo in what was Little Italy, from the 1880s. The ghosts of all those shivering emigrants must approve of Jim's toils to recreate the Neapolitan pizzas he adores in his wood-burning stove.
He's more than getting there on the evidence of a our visit. What I like best about his dough is its firmness but malleability. No one needs a soggy base, but who really requires crisp? You want to grasp it in your hands and tear charred chunks off, even while you are scattering San Marzano tomatoes or nduja sausage down your shirt like some sloppy Giuseppe.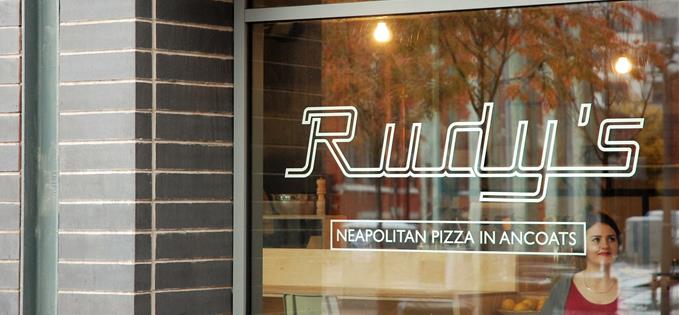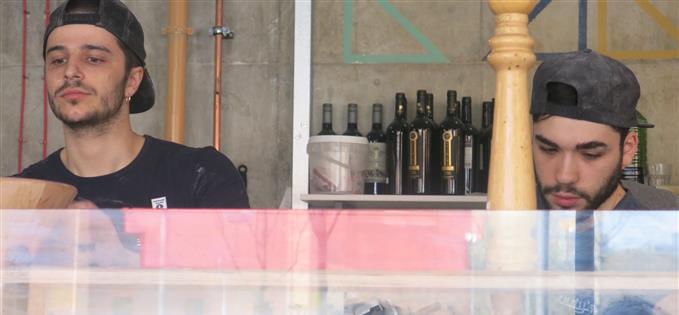 Dough bros
It's a very laid-back, hand-made kind of joint, well marshalled by Kate, so no one's going to give you the malocchio (the 'evil eye'). In Naples urban myth, to ward off the nasty folk possessed of the evil eye you have to touch your genitals or make the sign of the horns by cocking your index finger and little finger towards the ground. I do this regularly in Ardwick but not in hipster-infiltrated Ancoats these days.
Rudy's is generally rammed. We arrived not long after noon Saturday to ensure a table by the window overlooking the square rather than in the odd-shaped space at the back. Come 1pm punters were jostling on a bench by the door, awaiting a table (there are no bookings). By that time we had scoffed a mugful of glossy Nocellara olives (£3.20), accompanied by bottles of Cloudwater Bergamot Hopfenweisse (£4.50), gloriously redolent of the bergamot lemons it was brewed with, and Mark Welsby's super-reliable Runaway IPA (£3.80).
My beer-loving (veggie) companion, let's call him Stupor Mario, chose a Pizza Afumicata (£8.50), the smoked mozzarella and olive model with wild broccoli. These slightly bitter greens are, I presume, what we were namechecking as rable the other year when it was being promoted as the thinking Italophile's cavalo nero. They added nothing to the topping; he lamented he hadn't reneged and gone for the special, which substituted white anchovies.
I couldn't have been happier with my Calabrese (£7.80, main image), which blotted its tomato, mozzarella and basil covering with that squelchy, spicy nduja (which sounds eerily similar to Calabria's gangster cadre, the Ndràngheta).
For me its only rival on Rudy's determinedly limited menu is the Tarantina (£8.50), featuring an intense topping of anchovies, olives, oregano and capers. A rocket salad with parmesan shavings (£4), in contrast, was under-dressed. We resisted the temptation to flood it with chilli oil from our table's condiments. The wine list is also minimalist; the pick is the £6.50 per glass Brindisi red. I stuck with Runaway.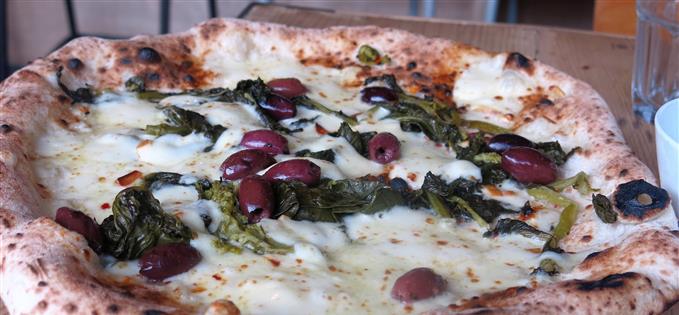 Afumicata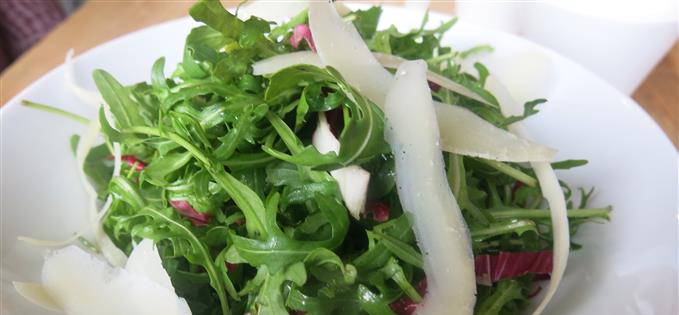 Rocket salad with parmesan
Of course, Neapolitan purists would always insist on less is more. The doyen of Naples's pizza places is Da Michele on the Via Cesare Sercale, which does only two versions – Marinara and Margherita. Ask for a deep crust with pepperoni and pineapple and someone might call in the Camorra hitmen.
Da Michele was a mecca for Jim and Kate when they explored the city, in their quest for the pizza holy grail. Their own Margherita, at £7.50 twice what you'd pay in Naples, comes close. The key is 24 hours' proving (ie resting and rising) for the dough, made from a very strong 00 flour, then paddled into their custom-built oven for a swift 60 second bake.
Naples does great ice cream, too, from the likes of the gloriously titled gelato chain Gay Odin. Not fancying a pud of lemon polenta cake at Rudy's after all that dough we were happy to pay £6.30 for three scoops of Ginger's Comfort Emporium 'artisanale' ice creams to share, the immaculate treacle just outshining the chocolate and vanilla.
"Now that's what cutting edge Cutting Room Square needs to complete the set – an ice cream parlour. Bellissimo! Gelatissimo!
Rudy's Pizza, 9 Cotton Street, Manchester M4 5BF. 07940 577932.
Rating: 15/20
Food: 8/10 (Calabrese 9, Afumicata 8, Tarantina 8, ice creams 8)

Service: 4/5
Ambience: 3/5
PLEASE NOTE: All scored reviews are unannounced, impartial, paid for by Confidential and completely independent of any commerical relationship. Venues are rated against the best examples of their type: 1-5 saw your leg off and eat it, 6-10 stay in with Netflix, 11-13 if you're passing, 14-16 very good, 17-18 excellent, 19-20 pure quality.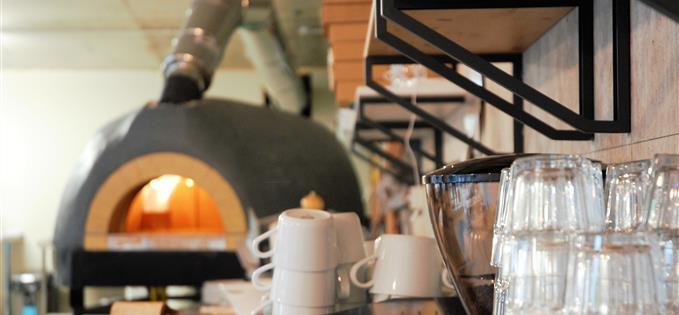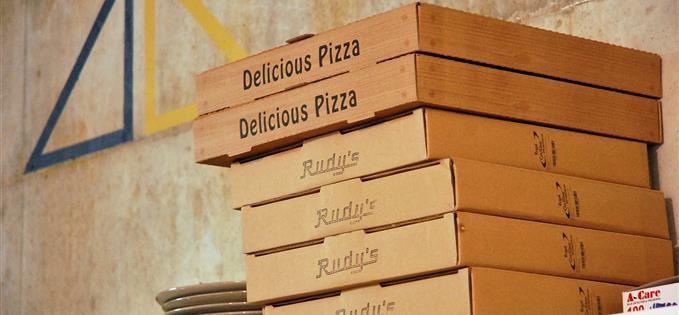 Powered by Wakelet