ALTRINCHAM used to get called a ghost town – its very lifeblood being drained by a malevolent presence to the north. Now it's being overrun by slavering hordes, desperate to cram as much flesh (and gourmet pies, and bespoke wood-fired pizza, and artisanal toast) into their gaping maws as possible.
The market area on a weekend is a bit of an artisanal bunfight - even at Porta we had another potential customer tutting at us
Yes, I might be mixing my horror movie metaphors, but Altrincham's transformation is, if not quite frightening, at least awe-inspiring. Going from being the place where shops came to die to the next big foodie town in a couple of years is quite something.
A lot of it is down to the revamped Market House of course, so no wonder brothers Ben and Joe Wright, owners of Chester's Porta, snapped up a prime position directly opposite the entrance of Market House for the newest outpost of their acclaimed tapas restaurant.
Porta itself is as moody and handsome as your teenage foreign exchange crush, decked out with dark walls and dark wood, Spanish memorabilia littered casually everywhere (presumably so you don't forget what kind of food you are meant to be eating) but not so much so that it screams 'theme'. The downstairs is snug while the upstairs seems to have a nice bar, but the staff are apparently still "growing into it" (translation: you can't sit there yet).
As moody and handsome as your teenage foreign exchange crush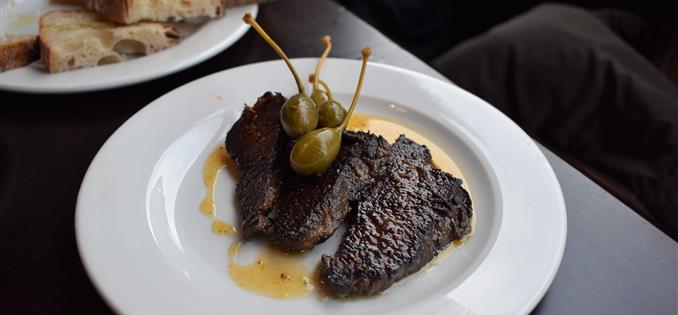 Slow-roasted ox cheek is an easy 9/10
Aware of its popularity - after only a couple of weeks opening – and its no-booking policy, I was waiting for a table at 12pm on a Saturday, with the masses of Altrincham Market-goers seething behind me. Was it too early for gin? No. Not when it was a Vones gin and tonic (£5.50) served with orange and thyme. The beer wasn't bad either.
Once seated we got stuck straight in. The menu was littered with classic tapas, but also had lots of variation and interest as well. The slow-roasted ox cheek with pickled walnuts (£6.95), for instance, was a magical combination of all the good things about slow roasting (flaking tenderness, a deep, luscious meatiness) with the benefits of flash-frying (a charred outside that is just the right side of burnt). Another fine meaty dish was the secreto Iberico with mojo verde (£9.50, main image) with seared pork and a Canarian herby-garlicky sauce on the side, proving it is in fact possible to not overcook pork.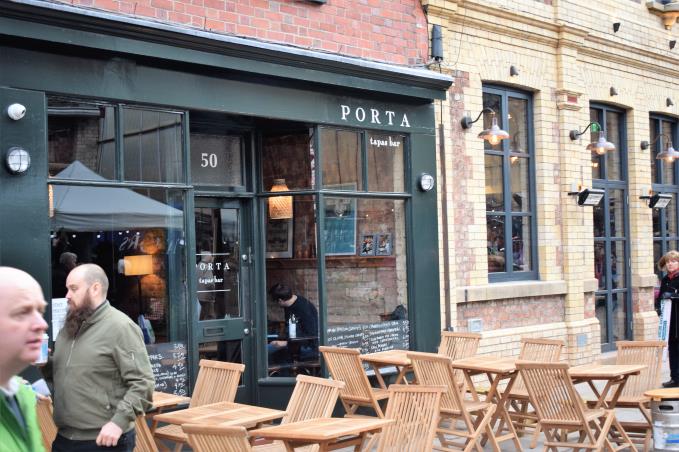 Porta has opened opposite Market House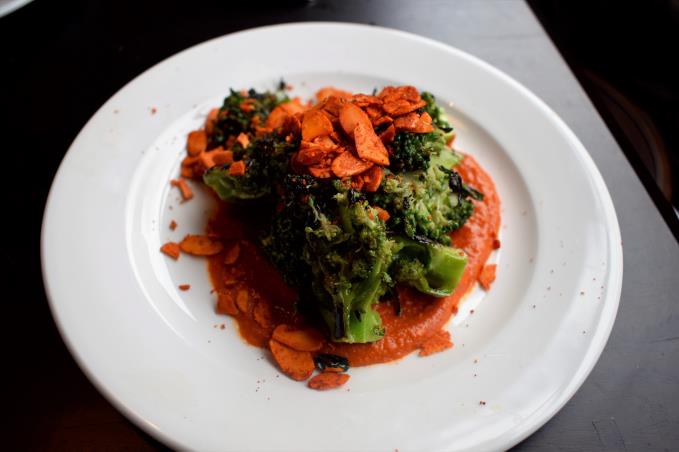 Purple sprouting broccoli with Romesco sauce is a secret stunner
The purple sprouting broccoli with Romesco sauce (£4.95) was the menu equivalent of a stealth bomb. Perhaps not the obvious choice among a menu of hams and other delicious meaty morsels, it is a secret stunner. The broccoli is simple enough, blanched of its bitterness but otherwise left just as it is. It's the rich yet piquant romesco – a blend of peppers, nuts, chilli and paprika that is like the red-headed sex bomb cousin of pesto – that makes the plainness of the broccoli sing. If you were going to swerve this dish on the way to something more obvious, I urge you think again.
The above dishes really did work, but there were a couple of bum notes too. The downside of being such early birds was that the deep-fried tapas weren't totally on point. Some otherwise beautiful squid (£4.95) wasn't as crisp as I'd hoped. Similarly the pimenton chicken wings (£4.95) were a tiny bit on the flabby side (in my notes I've written that they tasted hollow, which sounds much more poetic than I originally intended), with an unnerving gap where the chicken taste was meant to be. Mind you, I had just been browsing the chicken at the nearby Nationale 7, with such tasty birds you fear some sort of poultry-based sorcery has been at play.
The more workmanlike dishes we sampled were the chorizo and lentil stew (£5.50) – very tasty as you would expect, in an earthy, humble sort of way, while the jamon croquetas (£4.50), a tapas staple, were gooey-on-the-inside, crisp-on-the-outside foils for the little gobbets of ham concealed within. The jamon Iberico (£7.50) was excellent.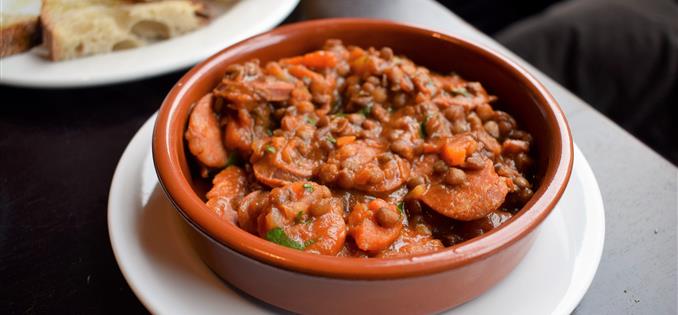 Chorizo and lentil stew: earthy and humble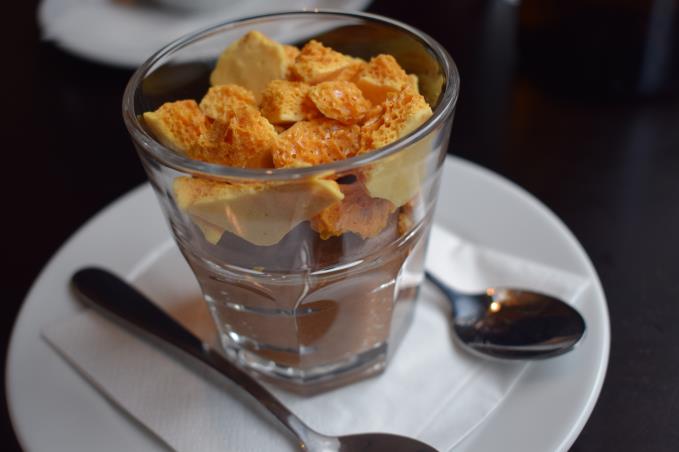 Chocolate mousse topped with honeycomb
As for desserts – there are only two, so naturally we ordered both. A perfectly decent chocolate mousse (£4) topped with an avalanche of honeycomb toffee that so strongly brought to mind a Crunchie (a classy one served in a glass, but still, a Crunchie) that I really can't say anything else about it, and a fabulous little pastel de nata (£2.25), or Portuguese custard tart, that tasted as if it had been flown straight in from Lisbon. The crisp, perfectly laminated pastry and smooth, creamy filling with the tiniest hint of lemon was complemented perfectly by a shot of bitter espresso. In fact, if Porta hadn't been rammed from approximately ten minutes after opening, I would recommend just drifting in and sampling these two items the next time you're in town.
But drifting casually is not what Altrincham is about now. Despite the rash of new food places, the hordes of potential customers has increased even more. The market area on a weekend is a bit of an artisanal bunfight. Even at Porta we had another potential customer tutting at us for three people daring to use two small tables pushed together (that's the drawback with tapas – table creep). I've no doubt it will be as wildly successful as its streetmates and it deserves to be. Though Porta is not perfect in every aspect, I'll be battling the crowds to eat there again.
Porta, 50 Greenwood Street, Altrincham WA14 1RZ. Tel: 0161 941 2266
Rating 15/20
Food: 7/10 (ox cheek 9, broccoli 9, pork 8, croquetas 6, lentil stew 7, jamon 8, wings 4, squid 5, mousse 5, custard tart 8)
Service: 4/5
Ambience: 4/5
PLEASE NOTE: All scored reviews are unannounced, impartial, paid for by Confidential and completely independent of any commercial relationship. Venues are rated against the best examples of their type: 1-5: saw your leg off and eat it, 6-9: Netflix and chill, 10-11: only if you're passing, 12-13: good, 14-15: very good, 16-17: excellent, 18-19: pure class, 20: cooked by God's own personal chef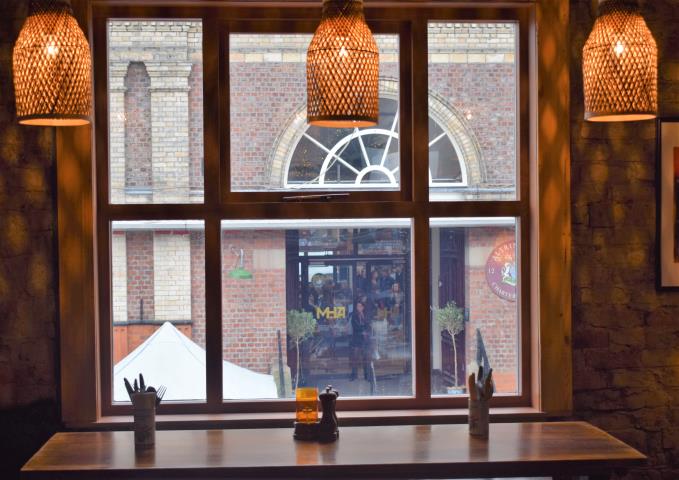 Great view of the artisanal bunfight opposite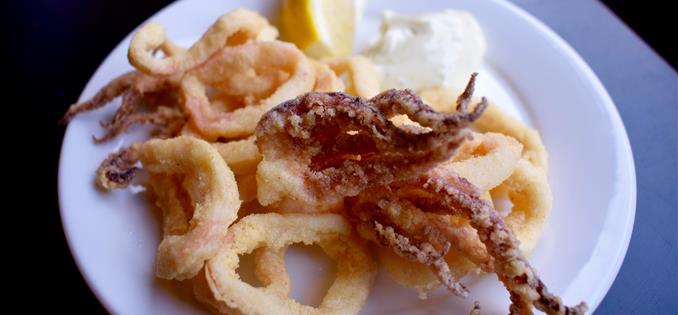 Squid wasn't as crisp as hoped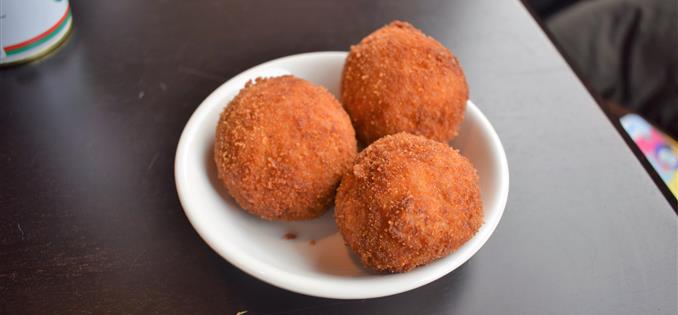 Jamon croquetas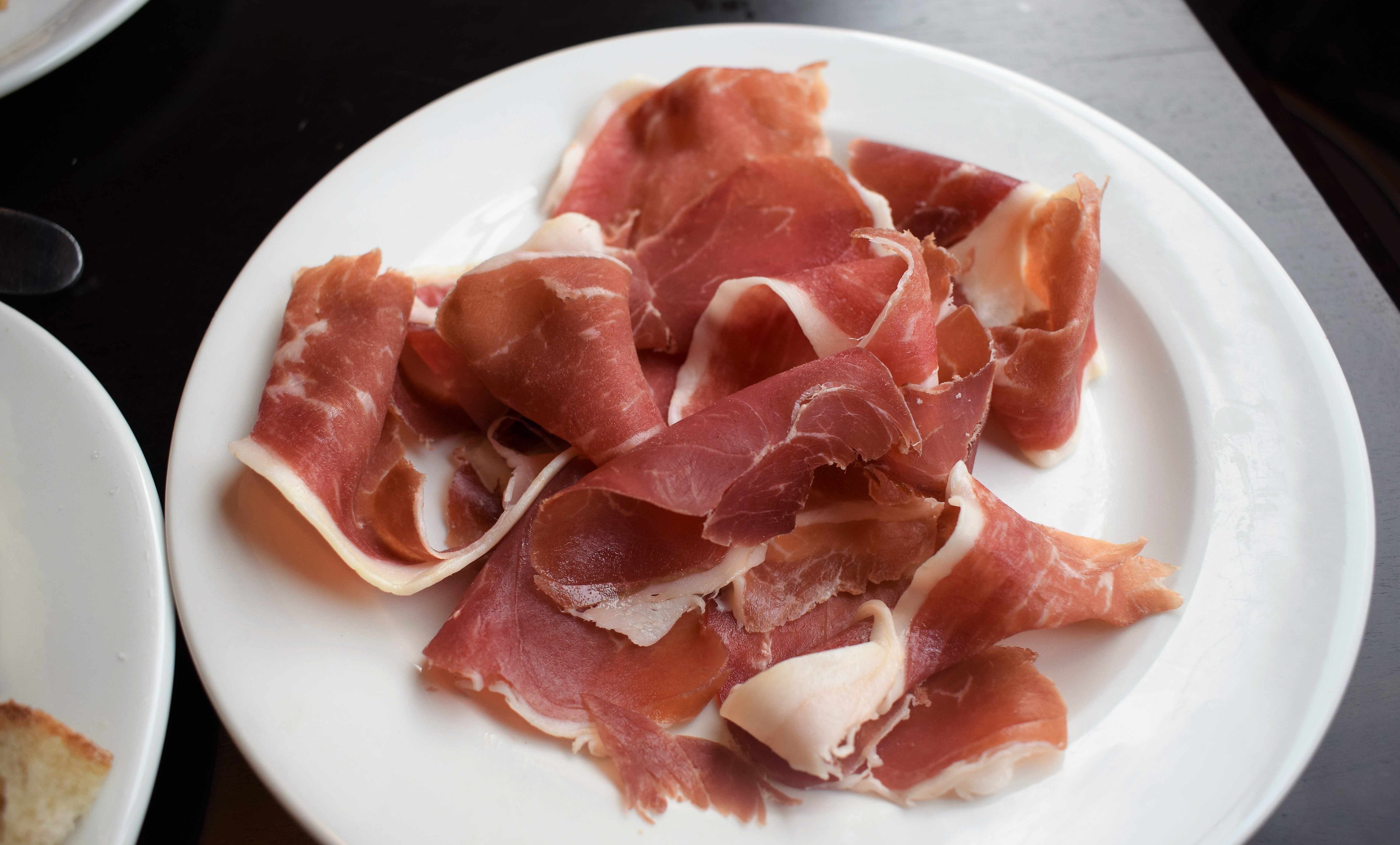 The Jamon Iberico is excellent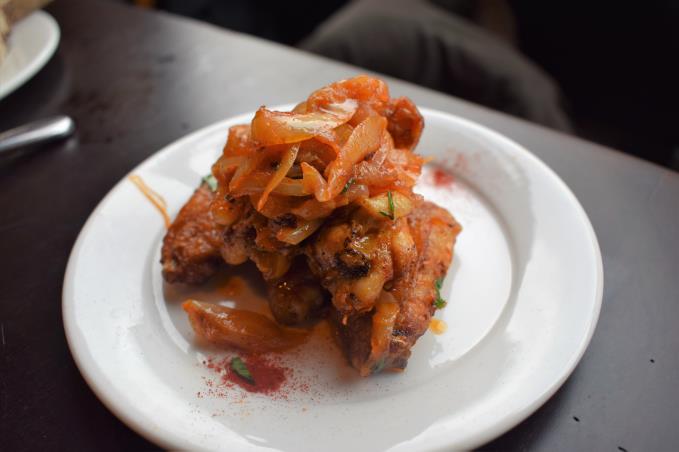 Pimenton chicken wings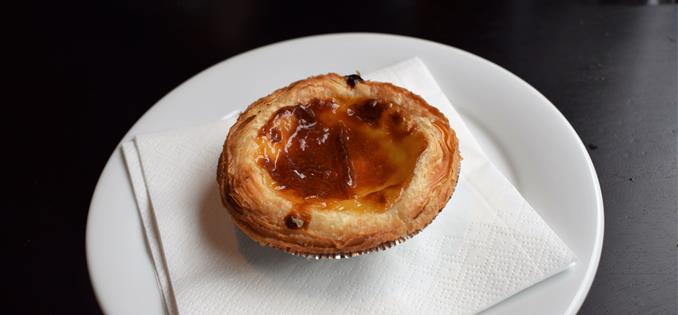 Pastel de nata (or Portuguese custard tart) tasted as if it had been flown straight in from Lisbon
Powered by Wakelet