LONDON is far from perfect.
There's a wider issue here; one of being rushed in restaurants
Aside from the huge, lush green spaces and Boris bikes (which are genius), it's mostly a tosspot factory that's only remotely bearable day-in day-out if you're rich, in which case you'll likely be a dull, pointy-shoed, self-important bumwipe Oligarch, or worse, a City banker.
Still, one thing they do have bang on is eating out... and late.
There's a great number of Central London restaurants open 'til late. Really late. In fact some open so late they're early; Duck & Waffle, up on the 40th floor of a tower in The City (of course), never closes. It's a bonafide 24/7 operation. Presumably because most City workers are up most of the night snorting cocaine and working out how to shaft everybody.
Manchester restaurants, however, ain't. A few months back we left some rock opera thing at The Palace (something forgettable with Shane Ward) at around 10pm on a Wednesday night and walked into three city centre restaurants where we may as well have been asking if we could take a tinkle in their shoes.
"Eat? After 10pm, you say? Are you drunk Sir? What madness is this?" they replied.
To Chinatown or Rusholme then.
Ok 10pm is getting on. But we've got 'pre-theatre' menus, so where's the 'post-theatre'? Nobody eats out before 8pm, do they? Surely not. Which only really gives us one and a half hours before many kitchens start thinking about breaking down and chuffing that seventeenth fag of the day.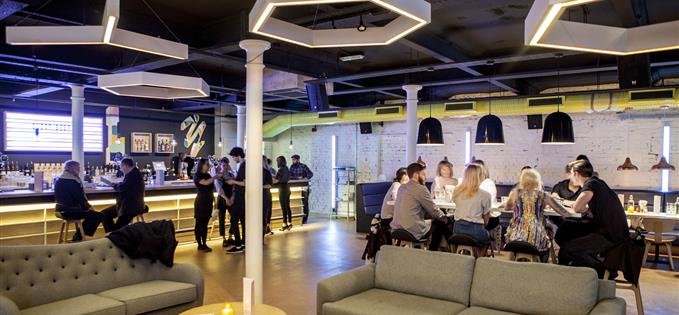 PLY
Earlier this week I found myself in PLY - the new NQ pizza place on Stevenson Square by the folks behind award-winning bar Kosmonaut.
(8.30pm)
"Are you ordering food?" the waitress asks (who was polite throughout, I should say)
"Yes, but I'm waiting for my companion, she finishes work at nine," I reply, taking a seat in the corner.
"Ok, just to let you know, the kitchen starts breaking down about quarter to nine..." she says.
"Quarter to nine? Really?" I say. "Ok, well I'll order at the latest point possible."
(I've worked in restaurants and have never known a kitchen to clear off before 10pm)
(8.45pm)
Waitress approaches.
"Sorry about this, what are you having..." she says.
I order. But it's fine. Surely they won't bring the food out until she arrives. No, no, of course they won't. They couldn't.
(8.57pm)
Food arrives.
Companion's still not here and I'm sat on my own in the corner looking like the world's skinniest Friar Tuck.
(9.10pm)
Companion arrives. I've finished. Companion starts.
(9.37pm)
"Sorry we're closing table service," the waitress says.
Puts bill down.
Companion hasn't finished eating yet.
WRONG, WRONG, WRONG.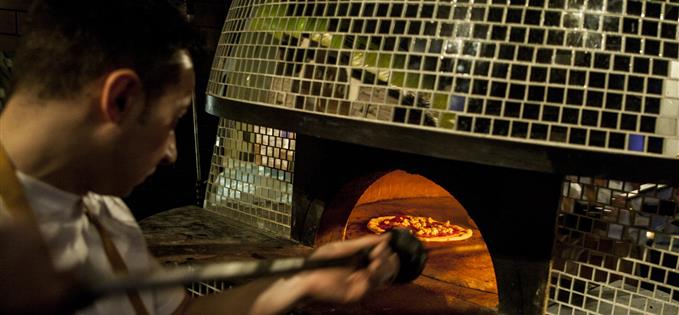 PLY's outrageously camp, glitterball oven
There's a wider issue here; one of being rushed in restaurants. This is by no means only PLY (though I've never been forced to pay by 9.45pm before). But we've all felt it. Those eyes, those piercing 'piss off would ya' eyes peering through the kitchen pass. The "can I get you anything else" for the seventh time. The cleaning around the table. The slapping you around the head with a wet mop.
It's crap and it needs to stop. Particularly if you've just dropped £40 on pizza and particularly if you're only asking for fifteen minutes grace. In this case, I felt sorry for the waitress, who was clearly being leaned on by the kitchen.
This is a huge shame, I actually love PLY.
I love that they've steered away from a Northern-Quarter-by-numbers wood'n'dust fit-out and splashed wood veener, cork and the entire MADE-catalogue across the venue. I love the light, airy feel of the space with it's flashes of electric blue and yellow and outrageously camp, glitterball Stefano pizza oven in the corner. I love the venue's creative semblance, the commitment to promoting international artists and illustrators and the dinky reading space in the corner.
You can't overly knock the grub either; which sticks rigidly to salads (from £4.50) and pizza (from £8). My bresaola, rocket, radiacchio and parmesan salad (although a touch stingy for £7) was a handsome and sophisticated little thing with properly deep red, almost purple paper-thin slices of chewy yet tender bresaola. A fennel salad (£4.50) didn't fare as well. Served straight from the fridge and way too cold, the temperature flattened the flavours, even the chilli struggled to kick through.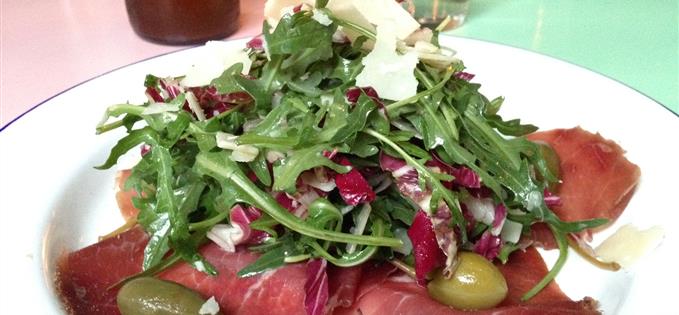 Bresaola and rocket salad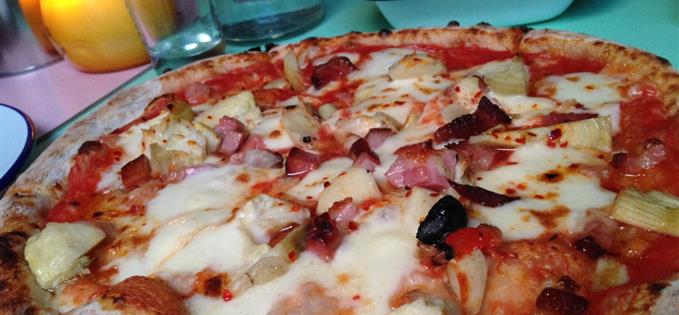 Pig's cheek and artichoke pizza
The sourdough pizzas (which looks to be the next 'thing') do the job. Fermented for days and blasted in Elton John's three ton pizza oven in seconds, the point of difference with sourdough being the mellow, lasting flavour. My artichoke and pig's cheese with tomato, plenty of mozzarella and chilli (£12) worked wonderfully, if a little oily three quarters through. As did a (warm'ish) Napoletana across the table with anchovies, black olives and capers.
Puddings were disappointing. There weren't any. Odd. Cocktail then, a Rye-Hard (£8); a small, dark, unassuming mix of Rittenhouse rye, Amaro and marmalade, as smooth as Otis Redding in silk pajamas, kicks like James Brown after a night on the bottle.
Still, we left hurriedly and with a bad taste. The truth is, Manchester, as the 'Second City', England's first devolved city, a city with the fastest growing central population in the UK and a city striving for cultural recognition on the international stage, really needs to offer more to do after 10pm than get pissed or go home.
And stop staring would ya... I'm eating the bloody pizza as fast as I can... both of 'em.
You can follow @David8Blake on twitter.
All scored reviews are unannounced, impartial, paid for by Confidential and completely independent of any commerical relationship.
PLY, 26 Lever Street, Northern Quarter, M1 1DW
Rating: 12/20
Food: 7/10 bresaola 7, fennel 5, pizzas 8
Service: 1/5 waitress polite - but let's wait for my companion to join me eh?
Ambience: 4/5 big, light, bright and airy
PLEASE NOTE: Venues are rated against the best examples of their kind: fine dining against the best fine dining, cafes against the best cafes. Following on from this the scores represent: 1-5 saw your leg off and eat it, 6-9 get a DVD, 10-11 if you must, 12-13 if you're passing,14-15 worth a trip,16-17 very good, 17-18 exceptional, 19 pure quality, 20 perfect. More than 20, we get carried away.