A STEADY downpour of new venues have opened in the Northern Quarter over the last five years. You'd think the area would have reached capacity by now but, judging by the crowds spilling out of new, Manhattan steakhouse-themed bar, Pen and Pencil, the party's far from over.
What this new bar has got that others aspire to is an almost unnoticeable quality
The latest take on the formula is a straight-up cocktail bar that does a bit of grub on the side. The food is nothing special, but with former Violet Hour owner Dan Pollard and Kevin O'Connor, previously of Dry bar, at the helm, the drinks menu is a near flawless collection of US and European beers, house blends and wines.
Impressively, even when the cocktails get experimental, they still work. I had the Benton's Old Fashioned (£8) made with smoked-bacon-infused Old Forester bourbon. Sweet yet savoury tones seduce the senses in the way that salted caramel can, and it's not the only successful invention. The homemade pecan pie liqueur in the house Manhattan (£7.50), or habanero-infused watermelon puree in the Sunset Park Collins (£7.50) are tasty adaptions, rather than doing something for the sake of it, while draught beers include Amstel, Guinness and Heineken and bottles and cans take in names like Flensburger, Flying Dog, Thornbridge, Beavertown and Brooklyn.
It helps that Pen and Pencil's basic building blocks are top notch: great lighting, beautiful exposed brick and comfortable seating. The colour scheme is New York City brown – it is named after the famous steak and cocktail joint in AMC's 1960s Manhattan-set series, Mad Men – while the vibe is relaxed and fun.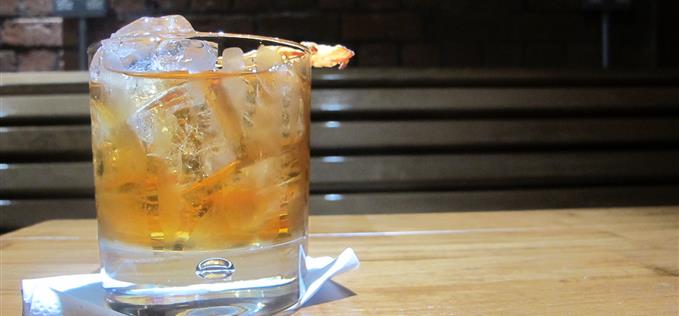 Benton's Old Fashioned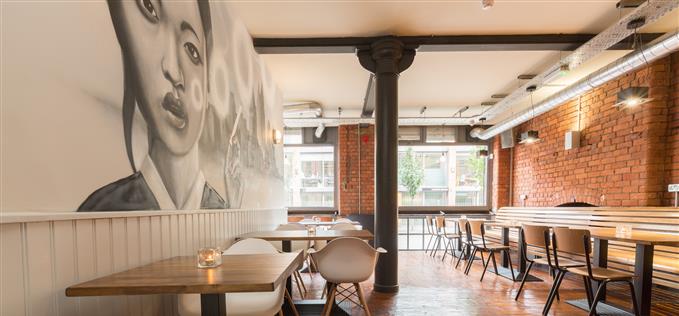 Pen & Pencil's back dining room and the pouty woman (wasn't she in Kill Bill?)
The designated dining room reflects the bar's drinking bias. Having told the server I was here to eat, she showed me around the back of the bar to an area with a mural of a pouting woman and… no one else. But during my tenure in the dining nook, it filled up and grew on me. A bonus of being out the way is an exclusive atmosphere. You could imagine Suranne Jones in here, tucking in, her back to the room.
So, what of the food? Well, I started with jalapeno poppers (£5), which saw chillis halved and stuffed with cream cheese, crumb-coated, and served on kale that had been deep fried to resemble crispy seaweed. A great trick. Smoked chilli jam on the side was a bit sweet: a tomato-based sauce might have worked better. Jicama, papaya and cucumber spears (£3.50), pickled, ever so gently in vinegar and sugar with just a taint of chilli, were an ideal counterpoint. This was the first time I've met jicama too; a kind of melon meets cucumber thing that reminded me of Japanese daikon radish or mooli, but of Mexican origin.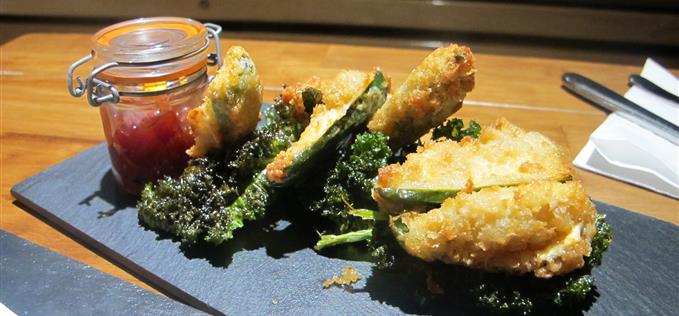 Jalapeno poppers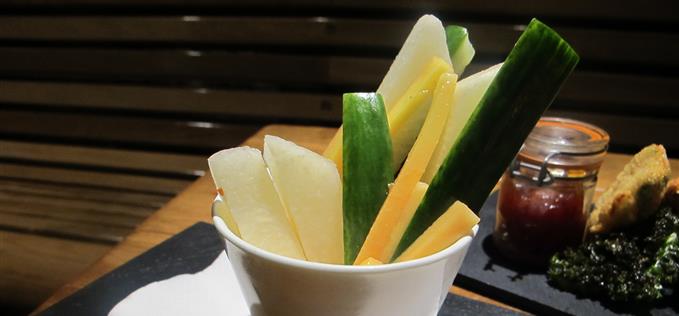 Jicama, papaya and cucumber spears
I ordered the nachos for my veggie pal. These were good, but heavy on the cheese, with a lively salsa layer and more jalapenos than there are Chihuahuas in Cheshire. There was 'surf & turf' (£15) for me, with a tiny pot of 'mac & cheese' (£9 for a usual portion) on the side. I liked this actually; who knew pine nuts and panko crumb could add to this US classic? The 'surf' was just three pale prawns, but the beef short rib, layered in sweet sauce, was excellent. Unctuous and slow cooked to fatty perfection, I ate the whole thing, fries and slaw an afterthought beside the beef. The same meat in 'pulled' form can be ordered with the nachos for an extra £1.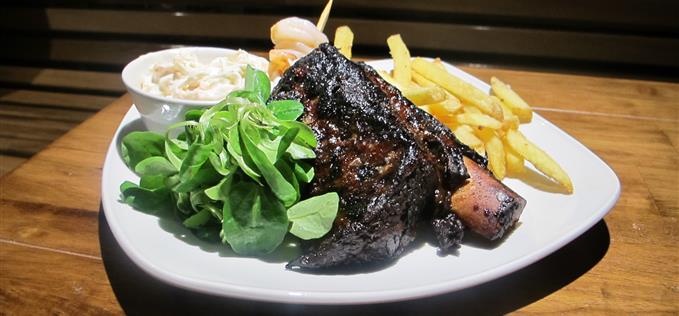 Turf but where's the surf?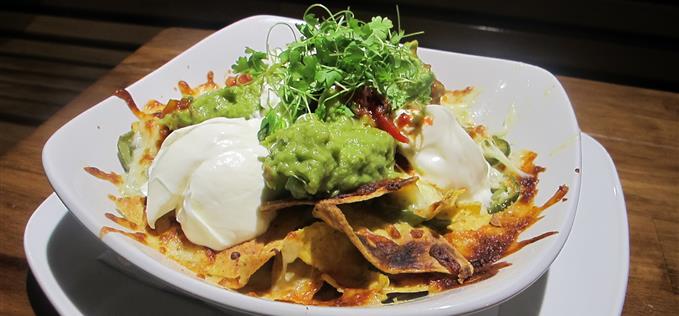 Cheese heavy nachos
Service was a treat and I loved the vintage copies of Vanity Fair that doubled as wallpaper in the ladies. Obviously, going to the toilet is better when you're sitting next to Anne Hathaway and Cindy Crawford. Gents get the likes of Al Pacino, Arnold Schwarzenegger in his hey day and retro Playboy pin-ups on the walls, painstakingly torn away from a mountain of old mags and pasted to the walls by Pollard and his partner over one weekend, we hear. While this kind of thing has been done before, Pen and Pencil pulls it off with class.
At the end of the night, I waved goodbye to the DJ, the bar staff and all the punters with a grin on my face. The house Malbec (Rare Vineyards, £16 bottle) and Rioja (Don Jacobo Crianza Tinto, £21 bottle) had lifted my mood. But what this new bar has got that others aspire to is an almost unnoticeable quality. Everything from service to timings, brightness and soundtrack are spot on - and the result makes for a great night out.
Pen and Pencil, 57 Hilton Street, Northern Quarter, M1 2EJ. 0161 660 3303
Rating: 15/20
Food: 6/10 (jalapeno poppers 6, pickled spears 6, beef 6, nachos 5, mac'n'cheese 6)

Service: 5/5 

Ambience: 4/5
PLEASE NOTE: Remember venues are rated against the best examples of their type.; bars with bars, fine-dines with fine-dines and greasy spoons against greasy spoons. All scored reviews are unannounced, impartial, paid for by Confidential and completely independent of any commerical relationship. Venues are rated against the best examples of their kind: fine dining against the best fine dining, cafes against the best cafes. Following on from this the scores represent: 1-5 saw your leg off and eat it, 6-9 get a DVD, 10-11 if you must, 12-13 if you're passing, 14-15 worth a trip, 16-17 very good, 17-18 exceptional, 19 pure quality, 20 perfect. More than 20, we get carried away.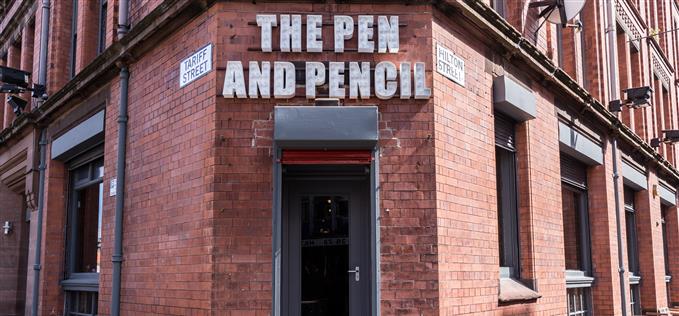 P&P Salad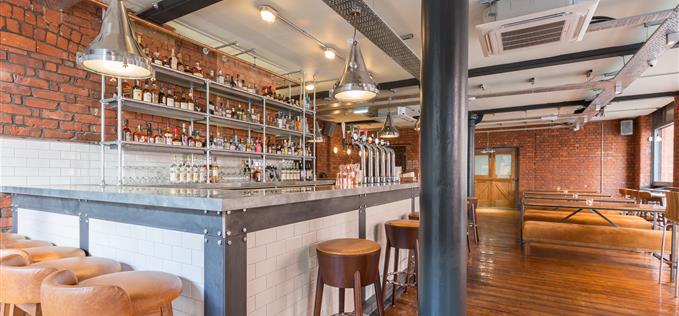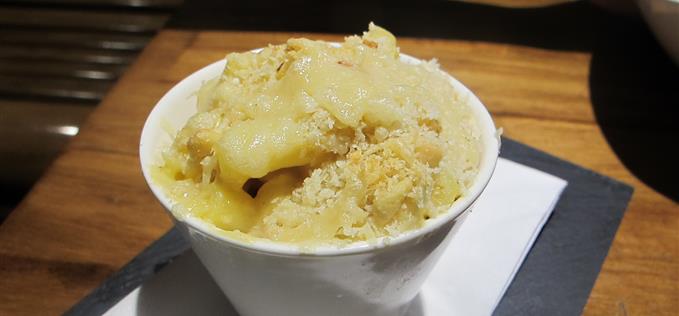 Mac'n'cheese