'My main was so generous, warm and comforting I didn't know whether to eat it or roll around in it'
AFTER hearing about their recent win at The Publican Awards, I fancied checking out The Seafood Pub Company in more detail. If you don't know much about them yet, you soon will. You may have even visited one of their Lancashire dining pubs without realising it.
This ambitious group is the brainchild of Jocelyn Neve, daughter of Chris 'The Codfather' Neve, supplier of fish to some of the North West's top restaurants. Jocelyn has taken full advantage of her position to snatch the best of the day's catch, plus the fact that Lancashire produces some of the finest vegetables and dairy produce in the land.
I Google-Mapped the group's seven current venues which are dotted around a triangle spanning from Claughton near Lancaster, to Burnley and Ormskirk; all within an hour or so's drive from Manchester. Four even have rooms in case you're not fit for an immediate return journey. Gordo has visited The Assheton Arms, so I thought it best to start chronologically at the award-winning Oyster and Otter. This was the first of the group, having just celebrated its fifth birthday by announcing that they've sold 55,000 portions of fish and chips since opening in March 2011.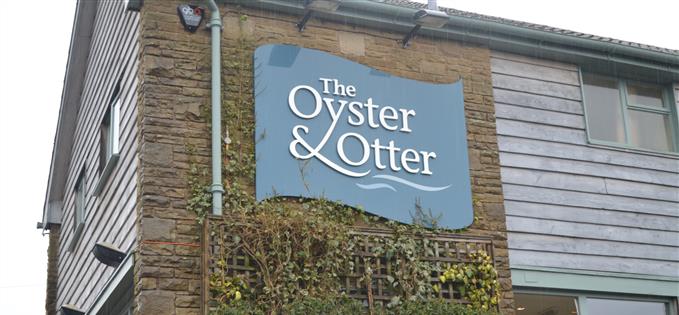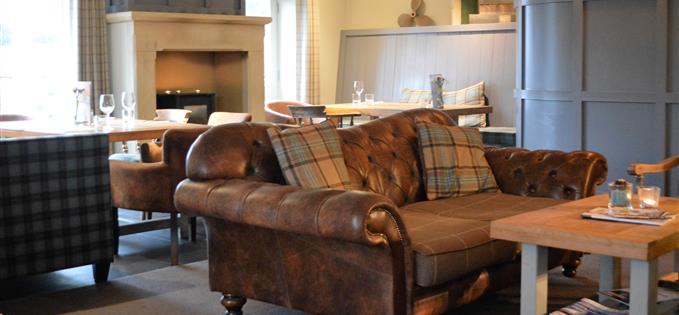 Oyster & Otter
Situated in the Blackburn suburb of Feniscowles, it's the only Seafood Pub venue without a breathtaking view attached, but we decided that a morning spent browsing around Blackburn market would be a compromise. The 'New England' style building clad in timber and stone, is the very model of a modern British food-led pub. The interior is light and tasteful with rooms to suit the mood – I even spied a cosy telly room in the back so as not to alienate local sports fans. Soft pale brown leather sofas with earthy-hued tartan cushions are just waiting for guests to grab a pint and a paper and settle in.
Our family of four were seated in a spacious booth by the window around a table larger than our dining table at home (around which we squeezed eight last Christmas). The generously relaxed ambience was reflected by our marvellous server Demmie ("like Debbie but with M's instead of B's) who couldn't do enough for us. Not in an obsequious, hand-wringing way, but in a capable Northern, 'there's been a nuclear attack, but never mind, you just carry on enjoying your lunch and we'll sort it' kind of way.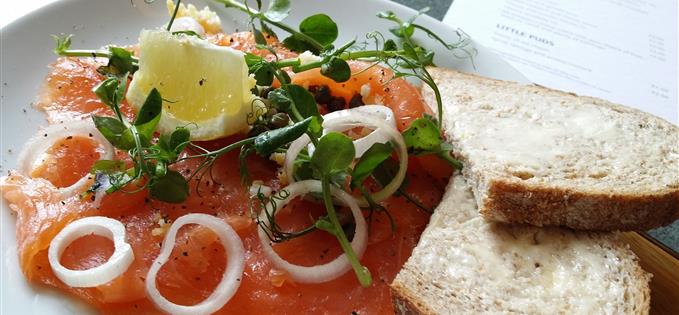 Smoked Salmon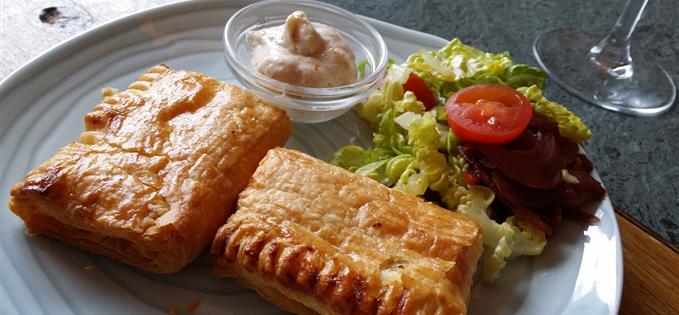 The Crab Sausage Roll
The kitchen got confused when we requested a large portion of Chris Neve's home smoked salmon (£7.50) for my lad, to be brought with the starters. She took the smaller portion back and exchanged it, then more than happily offered to change it yet again when she noticed the boy starting to act all 'seven years old' in regard to the traditional garnish. I daren't tell him I couldn't face a caper until I was about 25.
Although the Seafood Pub Company plays to their strengths, they also offer a range of meat and vegetarian dishes. Daily specials are scrawled on a blackboard and I suspect these are the thing to go for, which my husband did. My starter from the menu 'Crab Sausage Roll, with Gem Salad, Smoked Bacon and Parmesan Mayonnaise' (£6.95) was the only duff dish in an otherwise great meal. Although it was cooked perfectly well, it had few redeeming features aligning it with a fish pasty you'd expect to find at Gregg's in a coastal town.
Husband's specials board starter of 'Mussels cooked in a Goan Coconut Curry Sauce with Prawn Crackers' (£8.50, main image) were some of the plumpest, tastiest mussels he's eaten in the UK and I've seen hungry dogs show less enthusiasm when licking the bottom of a bowl.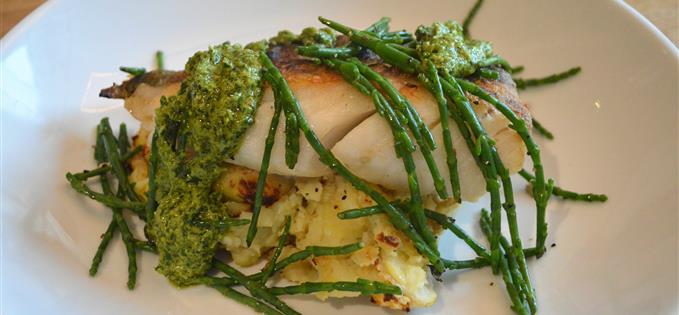 Halibut (Cod) with Samphire, Crab and Rocket Pesto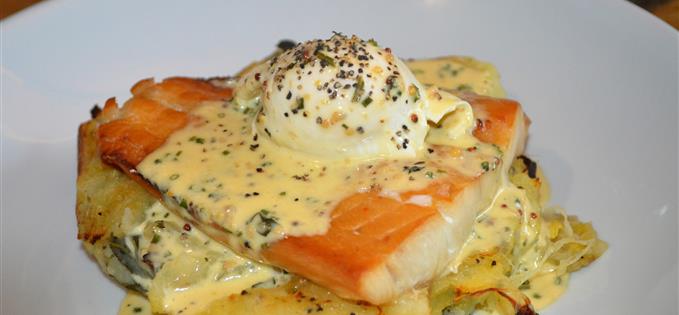 Smoked Haddock with Bubble and Squeak
After hearing us have a fishy debate, Demmie reassured us that it was no problem at all to change the special main course from 'Halibut with Samphire, Crab and Rocket Pesto' (£16.50) to cod. A thick, moist slab of glistening white cod arrived piled on top of some crushed lemony potatoes that had been crisped up and blackened by someone who knows how to treat a carb.
My main of 'Smoked Haddock with Bubble and Squeak, Poached Egg and Grain Mustard Sauce' (£13.95) was so generous, warm and comforting I didn't know whether to eat it or roll around in it.
We reclined in the booth stroking our bellies while the kids took one for the team and had desserts. The boy stopped Demmie from reading out her list of Mrs Dowson's ice cream after the first one. Three scoops of chocolate were scattered with marshmallows and came with a cone and warm chocolate sauce (£4.95) so you could re-arrange it how you wanted, which he did, all over his face.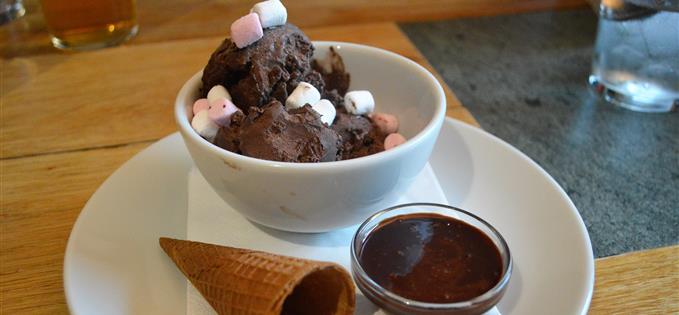 Choco ice cream with marshmallows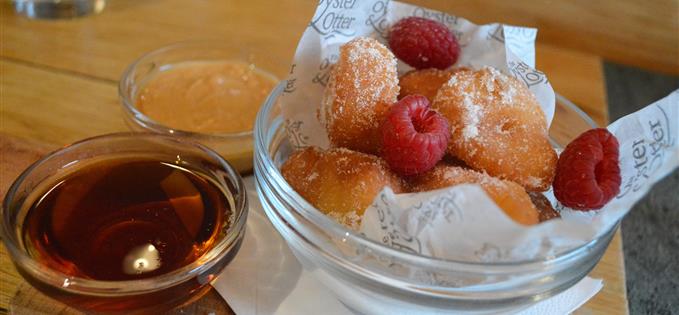 Peanut Butter Donuts
We weren't sure what to expect from 'Warm Peanut Butter Donuts with Maple Syrup and Raspberries' (£5.50) but all the freshly made components turned up and were swiftly despatched.
With plans to open twenty more sites over the next few years, this is an interesting time for The Seafood Pub Company. Judging by this experience, if they keep opening them, I'll keep visiting them.
Oyster & Otter, Livesey Branch Rd, Feniscowles, Blackburn, Lancs BB2 5DQ. Tel: 01254 203 200
Rating: 15/20
Food: 7/10 (crab pasty 4, smoked salmon 7.5, mussels 8, cod special 7.5, smoked haddock 8, ice cream 8, donuts 8)
Ambience: 3.5/5
Service: 4.5/5
PLEASE NOTE: All scored reviews are unannounced, impartial, paid for by Confidential and completely independent of any commerical relationship. Venues are rated against the best examples of their type: 1-5 saw your leg off and eat it, 6-10 stay in with Netflix, 11-13 if you're passing, 14-16 very good, 17-18 excellent, 19-20 pure quality.
Powered by Wakelet