CONFIDENTIAL reviews of restaurants in Sale must be like buses. No sooner had I posted a piece about The Fat Loaf, folk started recommending other worthy places to eat in the same suburb. The trouble is, it's only once they've blurted out their favourite secret bolthole, they realise that they've possibly damned it either way. Either I praise it, potentially helping it to become more popular and thus making it harder to grab a last minute table, or I say mean things which would be like insulting their child or an old friend in public.
Independent local Middle Eastern restaurants seem to inspire fierce loyalty in people
It was actually two people who recommended Masis. It's a little Armenian bistro in the parade of shops next to Brooklands Road tram station. Independent local Middle Eastern restaurants seem to inspire fierce loyalty in people. It can't just be me who's been witness to a heated debate over whether Aladdin's in Withington is better than Turkish Delight in Chorlton (don't get me started on Northern Quarter curry caffs).
Masis has only been open around a year, but it looks as settled as if it's been there twenty. Its style is 'traditional'; gingham curtains cover the upper half of the windows, wine glasses are dressed with fanned out yellow paper napkins and generally atmospheric knick-knackery line the walls and shelves.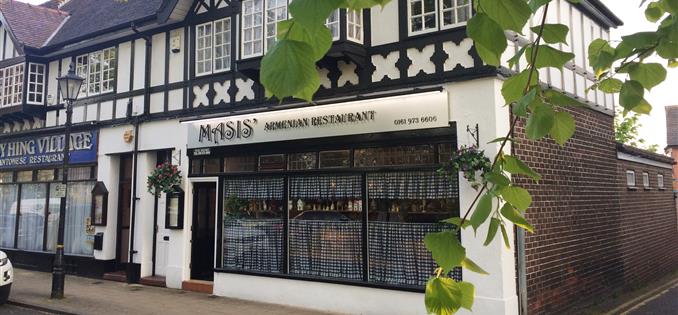 Masis, Sale
The first thing that hits you when you walk in is the smell, and by smell I mean delicious umami-roma of garlic, char-grilled meat, fresh herbs and aromatic warm spices. There are few surprises on the menu. All the starters you'd hope for are there; hummus, falafel, taboulah, baba ganouge, shomin (spinach and yoghurt salad), mutabul (aubergine dip), borek, and 'lavish bread'. What was a surprise was the fact that you could order all of these and more on a starter platter to share, with a basket of flatbread for £12.75. That's not £12.75 per person. They will happily provide a huge metal tray overflowing with a double pile of over twelve different components for only £12.75 in total.
There is an equivalent vegetarian option, but we ordered the medley of mainly meat mezze including the dishes listed above, plus Kufta (delicious lamb meatballs in a long-simmered tomato gravy), Yershig (charred lamb sausages bursting with flavour), chunky vegetables bound in mayonnaise, spinach and feta filo pastry triangles, deep fried slices of aubergine coated in a spiced batter, shredded red cabbage with a pickled dressing, Turlu (a kind of ratatouille, with aubergine, potato and pepper, served in a rich tomato sauce), Ful (a mashed bean salad with garlic) and a refreshing tomato and onion salad. Each element was full-flavoured, fresh and filling, leaving me with the need to dab the corners of my mouth as I re-live it, while writing this review.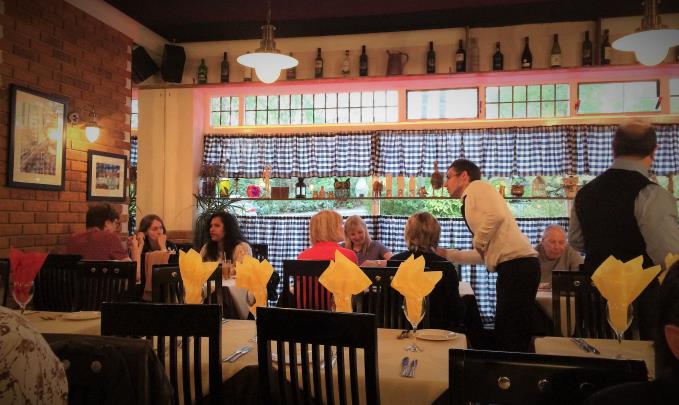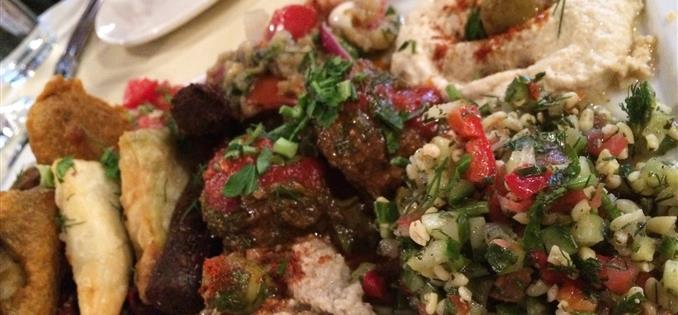 Mammoth meaty mezze platter
One look at the wine list confirmed it is almost impossible to spend money here. They are practically giving it away. I usually go for a modest glass of something representative, but that night's companion needed to be on the wrong side of a full bottle (something to do with her being the single mother of testosterone-tinged twin boys approaching their GCSEs). I decided to order the most expensive red on the menu (can we linger over that sentence for a moment, it's unlikely I'll use it again), the Lebanese Chateau Kefraya from Bekaa, a decent glugger for £22.95 which only improved with the food.
I was keen to test if we'd been lucky with the starter in terms of value and portion size, but Cous Cous Royal (13.75) proved to be another overflowing platter with skewers threaded with minced lamb, lamb shashlik and marinated chicken served with kosko grains. A hardy fibrous salad garnish made from greens rather than lettuce illustrated how they do things in Armenia – I wouldn't mess with them, they're too well-fed.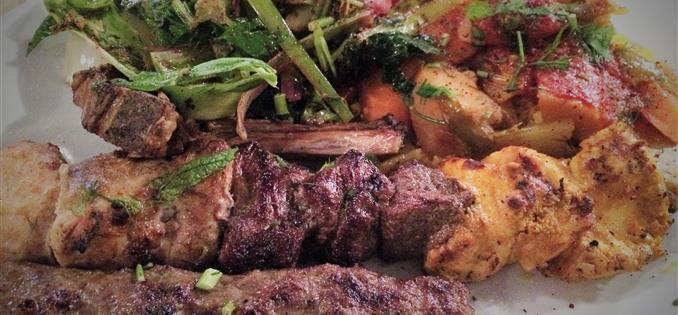 Cous Cous Royal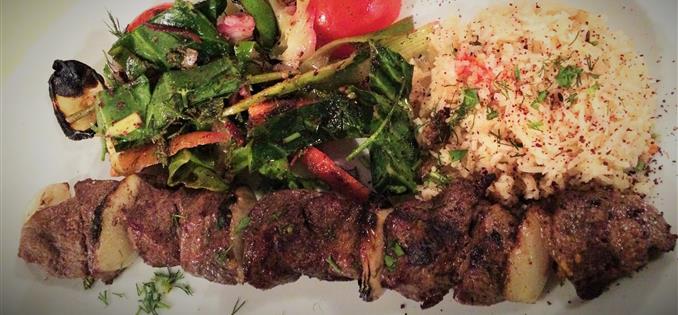 Lamb Shashlik
My (becoming less so) stressed-out mate was going to balance things out with a fish dish but the lure of a whole skewer of Lamb Shashlik with peppers, onions, tomato and rice, plus the same salad on steroids (£13.95), proved too much to resist.
I've since re-read the menu and noticed that they offer pretty much everything we had as an 'Armenian Banquet' with coffee and Armenian delights at only £17.50 per person (min 2 people).
Masis ticks all the boxes; it's easy to get to, prices are almost laughably cheap, the service is efficient and the food is delicious and plentiful whether you're a vegan, a pescatarian or a hungry wolf. The friends who recommended this place let out sighs of relief when I told them how much fun we'd had, and apparently they offer a take away service too, but let's just keep this amazing find between us, shall we?
Masis Armenian Restaurant 4 Brooklands Road, Sale M33 3S
Rating: 14/20
Food: 8/10 (Starter Platter 8, Cous Cous Royal 8, Lamb Shashlik 7)
Atmosphere: 3/5
Service: 3/5
PLEASE NOTE: All scored reviews are unannounced, impartial, paid for by Confidential and completely independent of any commercial relationship. Venues are rated against the best examples of their type: 1-5 saw your leg off and eat it, 6-10 stay in with Netflix, 11-12 if you're passing, 13-14 good, 15-16 very good, 17-18 excellent, 19-20 pure quality.
Powered by Wakelet