SO after the meal MPW, as us industry insiders call Marco Pierre White, swanned out of the kitchen and over to the table at the Holiday Inn in MediaCityUK. Instead of his usual chef whites and a tea towel around his noggin he was sporting a very handsome Cockney pearly king's outfit and playing the spoons.
As it stands this is the most dispiriting menu I've ever seen attached to a 'celebrity' chef's name.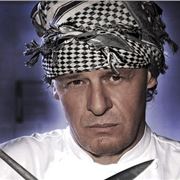 Towel-headed MPW"Hello MPW," I said, "call me a sinner, call me a saint, but ain't this manor the dog's."
He smiled as he jumped on his supersonic hoverboard and called, "So glad you like it, but must dash, I have seventeen more franchises to open."
Harsh reality imposed itself.
I'd fallen asleep facedown in Marco's New York Chicken. This was chargrilled with crispy prosciutto and Monterey Jack cheese served with lazy fries was priced the somewhat lively £16.25.
Pricewise everything was lively in MPW's MediaCityUK homage to mediocrity. A bread basket for two was £3.25. Pizzas were mostly over £9, burgers mostly over £10 and even a hotdog was £9.75.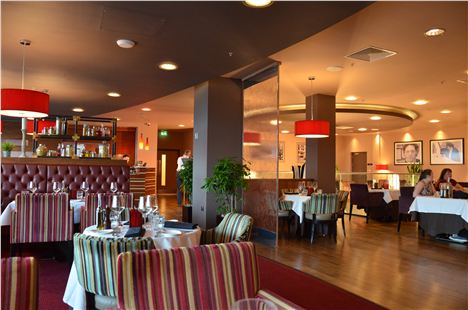 The next flight leaving from Gate 20 is...
The main problem with the place, despite two very good restaurant managers, was the food. That chargrilled chicken (main picture top) was both meagre in size and meagre in ambition. The tiny little thing was dryish, the cheese and prosciutto were flavourless and why there was a tub of sickly coleslaw on the side is anybody's guess - probably to bolster the size of the dish given how small the portion was. A gravy boat of what may have been weak bbq sauce, I really had no idea, didn't help.
This dish appears to be on all the several MPW New York Italians around the country. It's a proper shocker.
A calamari starter (£5.95) was all right but clumpy, claggy. The crab cakes (£7.50) were decent enough, lifted by a salsa which should have been three notches hotter. The mozzarella, basil and tomatoes (£5.50) suffered from wholesale ingredients. Restaurants aren't canteens or cafes, if a dish hangs on good raw materials then school dinner standard mozzarella is not good enough. The tomatoes were tight and hard and wrong, cheap too.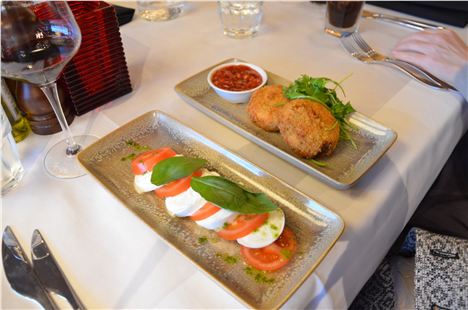 Various starters and poor mozzarella and tomatoes
A seabass with chips (£16.75) was described as 'fine but totally lacking in any sort of character. Functional. Dull.' It was another small plate for more than sixteen quid as well. At least the tuna (£16.75) had colour and moisture with its olives, capers, herbs, tomatoes, but it was clearly asked for as pink inside. It was cooked through.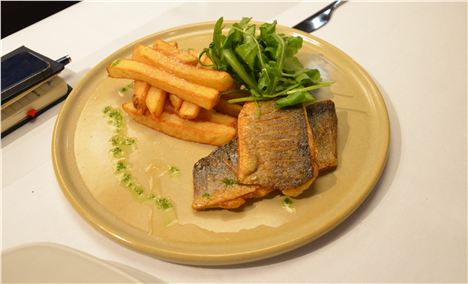 Seabass and on and on
By this time all three diners wanted to leave but dessert had to be taken. A cheeseboard was chosen with honey (£4.95). The taleggio was good but at last with the gorgonzola there was real flavour.
It's a strange thing this franchising business. If the chef were allowed to cut loose here and develop his own menu, the place might have a chance. As it stands this is the most dispiriting menu I've ever seen attached to a 'celebrity' chef's name.
It reminds me of menus in one of those suburban pubs that still mess up British dining. It's a menu designed not to offend, it's consciously cautious because you suspect it was created to appeal to the sort of people who faced with chilli con carne say, "I don't like this fancy food, have you got something more simple?"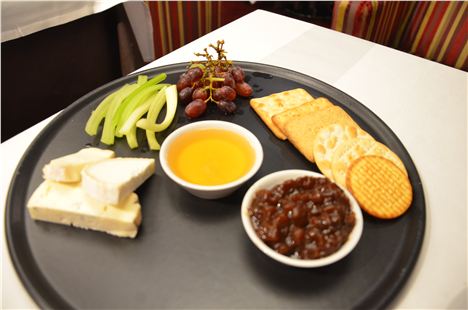 The gorgonzola was good
The food needs more flair, more colour. And more ingredients. Compare this review to this one of the Lawn Club. Maybe rationing was never lifted in MPW's household. But if you're going to serve dull food you might as well make sure it fills people up.
I was left scratching my head over this one, scratching my head over the price, the portion sizes, the airport lounge dining area, and the lack of flavours.
The gamble for Holiday Inn must be that during United match days or when the Beeb's studio audience next door leave, say, a recording of The Voice, passing punters will be lured up to the floor by the magnetism of MPW's name. Maybe, but there's nothing here to entice food loving locals back after a first visit.
Gordo's review of the Chester MPW is here, and his interview with MPW is here.
You can follow Jonathan Schofield on Twitter @JonathSchofield or connect via Google+ 
ALL OUR SCORED FOOD REVIEWS ARE IMPARTIAL AND PAID FOR BY MANCHESTER CONFIDENTIAL. REVIEW VISITS ARE UNANNOUNCED AND COMPLETELY INDEPENDENT OF ANY COMMERICAL RELATIONSHIP.
Marco Pierre White's New York Italian, Holiday Inn Manchester, MediaCityUK, 0161 813 1040
Rating: 11.5/20
Food: 5.5/10 (calamari 5, crab cakes 6, buffalo mozzarella and tomatoes 5, tuna 6, chicken 5, sea bass 5, cheese 6.5) 
Service: 3/5
Ambience: 3/5
PLEASE NOTE: Venues are rated against the best examples of their kind: fine dining against the best fine dining, cafes against the best cafes. Following on from this the scores represent: 1-5 saw your leg off and eat it, 6-9 get a DVD, 10-11 if you must, 12-13 if you're passing, 14-15 worth a trip, 16-17 very good, 18 exceptional, 19 pure quality, 20 perfect. More than 20, we get carried away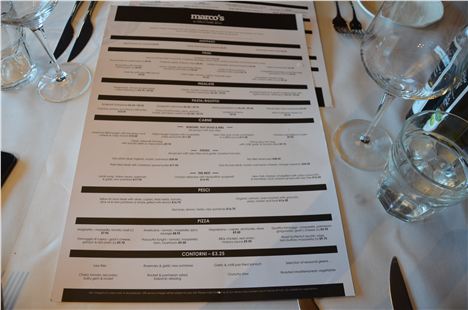 The menu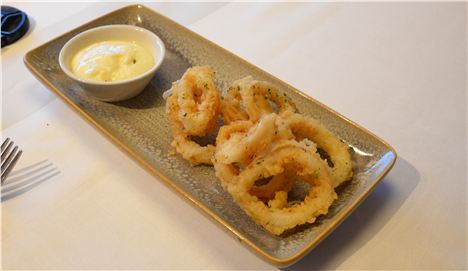 Calamari by numbers