Bandwagons. If you can see a bandwagon coming over the hill, it's too late.
O'Hare has picked up here on one of the best pairings in the world; foie gras and d'Yquem; a sweet wine offset with a balance of citrus that somehow works. Gordo loved it to death.
Gordo heard about a new restaurant in Leeds via foodies Thom Hetherington, director of the Northern Restaurant and Bar show, and Hungry Hoss, one of only three food bloggers worth their salt, that there was a super cool chef who had got his hands on the top floor of the Flannels department store.
The Fat One needed to investigate.
He'd heard of chefs wearing £250 Jeffery West winkle pickers (shoes them, folks) in the kitchen and grooving about with very long hair looking like pop stars, of menus twelve courses long with great wines and knowledgeable front of house peeps who were… well, groovy.
It all sounded like a bit of fuckwittery to Gordo, but with the previous two trusties bigging it up along with another reliable source, Bacon on the Beech (yes, yes, you heard right), Gordo decided to get on the train and see what all the fuss was about.
Modernist cuisine was the bandwagon Gordo was thinking about, it was all, to his mind, very 2013. Even Gordo got caught up in this one, shelling out £450 for 2011's Modernist Cuisine - their bible. Gordo didn't try one recipe and lost the bloody thing on his recent move to Chateau Fatboy in Salford.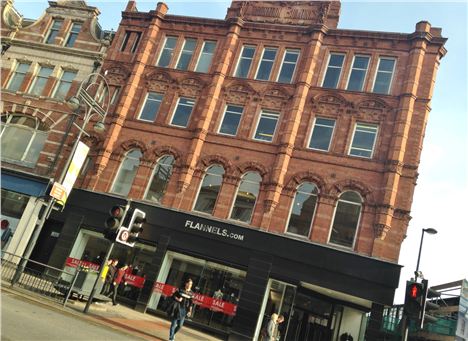 Flannels, Vicar Lane, Leeds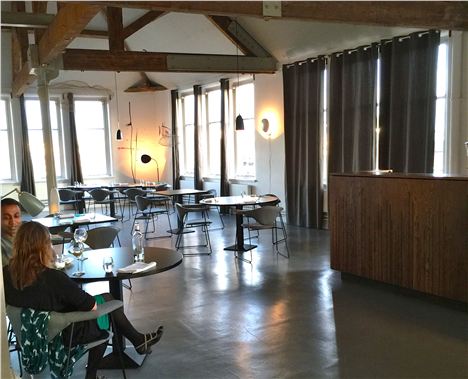 Gordo has seen the light
Arriving at the Flannels store, the Hungry One was directed to the lift and told to go up to the top floor. Exiting the lift and entering the hallway of this stunning space was how Gordo imagines the experience of death to feel; walking from the dark tunnel into the bright light and out onto the green pastures of the afterlife. Bright, clean, colourful, relaxing yet getting the hairs going on the back of the neck.
Gordo decided to give the chef, Michael O'Hare, the benefit of the doubt. He had, on the wonderful train journey over from Manchester (one of the best in the world), been troubled by statements on the web site:
'A Restaurant by Michael O'Hare'
'This is not a restaurant for people who wish to photograph their food or tick an item off their bucket lists.'
Oh Fuck.
Now, the first time Gordo saw that first line was for a movie, 'A film by Luc Besson', his heart sank. Still, the movie turned out to be class (would O'Hare achieve the same?). And the first time Gordo was told he couldn't take pictures of food was at L'Enclume, by a particularly snotty Maître D', back in 2008 when the place had recently been awarded a Michelin star.
Unlike the movie, the experience at the restaurant wasn't a great success. The food was overworked; it was everything Gordo currently hates about Modernist cuisine; too many flavours, too much style over substance and far too much God worship by staff over this young fella Rogan.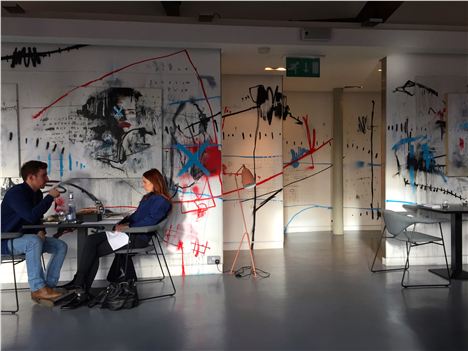 Man Behind The Curtain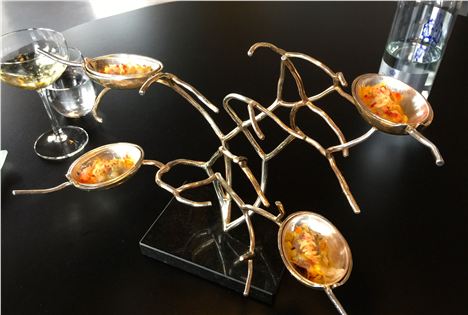 Hand-dived scallops - wrong
Still, walking into the light had lifted Gordo's spirits, as had the lovely lady who greeted him with a big smile and said "of course you can take pictures", leading him to a table where formidable culture guru, Miz de Shannon, was waiting for him.
Gordo decided to stick to the house champagne, Palmer and Company (£48.00), having accepted the lady's proposal to bring whatever they felt matched. It needs to be said that Miz had blown Gordo's cover on twitter, with Chef O'Hare saying he wasn't in all day but was confident his team would perform.
The menu was a long one and it would be too much to describe each course, both for Gordo's memory and your patience; this is compensated by all the lovely images at the bottom which will show you exactly what this place is about.
For lunch there's a three course menu at £25 and five courses for £38. Mr O'Hare and his team, being naughty, gave The Fat One and Miz thirteen courses for the £38 tag (just noticed that checking the bill).
A low point were the hand-dived scallops with chorizo oil and grains, presented on spoons balanced on something pulled from the Royal Academy Summer Exhibition. This represented everything that was wrong with that high-end fiddly stuff from the noughties. Here we had a work of high art produced by nature and its anvil, natural selection, which, over hundreds of millions of years gave us the perfect shellfish, the scallop - only for all that hard work to be completely fucked over by naivety and chorizo.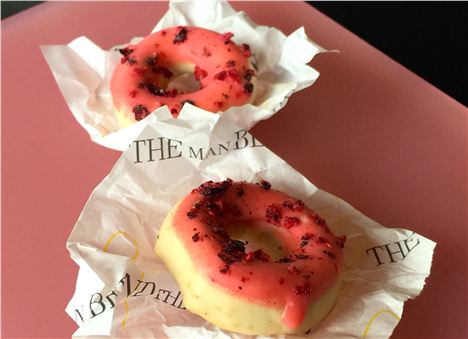 Duck liver - a dish by Dolly Parton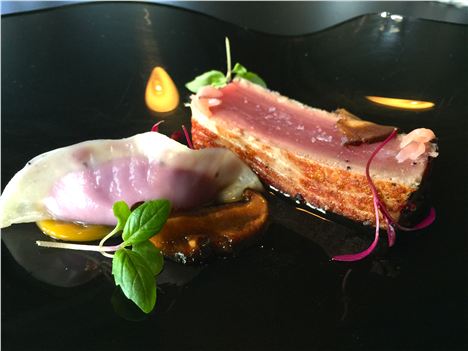 Tuna belly - beautiful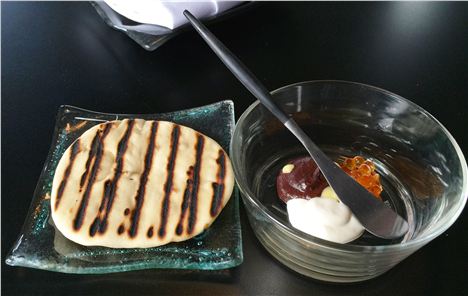 Bread and butter - Wow
Before that though the duck liver worked. Oh boy, did it work. This was a dish by Dolly Parton. Two pink, tiny doughnuts exploded all over the table with emotions least expected; interior velvet subtlety, white chocolate covers topped with pink near-candy top covers, rhinestones of freeze dried berries bringing balanced tart finishes.
O'Hare has picked up here on one of the best pairings in the world; foie gras and d'Yquem; a sweet wine offset with a balance of citrus that somehow works. Gordo loved it to death.
Tuna belly scored 10/10. This kitchen has clearly gone to a lot of trouble to find the best tuna outside the London fish markets, truly outstanding. The bread and butter was 9/10. Wow.
A pudding course, described as 'potato', can only be explained by watching this short video of it being dealt with at the table.
Miz and I sat there from 2pm through to 5.30pm, absolutely entranced by the space, the charming service and the hugely enjoyable food. It's also worth noting that we were treated to David Bowie, Hendrix, Led Zeppelin and other greats all afternoon, but at a level where folk could hold conversations. And this is where O'Hare succeeds; he's like a Jackson Pollock painting. It just works.
So Gordo forgives him his foibles, as he did with Luc Besson all those years ago. It is, like Rogan's team eight years ago, a work in progress. Gordo hopes he'll reach similar heights.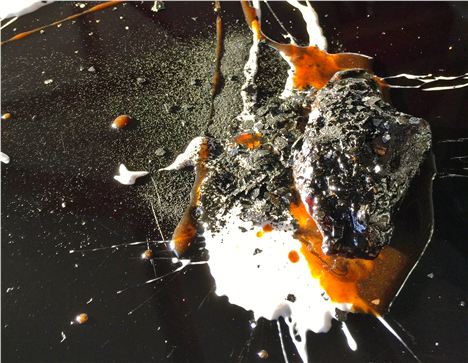 Pork jowl
O'Hare has apparently been on the previously aforementioned bandwagon a while, doing the rounds in restaurants like Noma, he also references Michel Bras, Bernard Loiseau and Escoffier; two of whom The Fat One has had the pleasure of being cooked for - one's long dead of course. But should O'Hare look to honing his creations with a bigger nod to the classics of French cuisine he will have proven to Gordo that he's hopped off the bandwagon and jumped into a shiny new vehicle of his own.
Gordo will be back, and just for fun.
Follow @GordoManchester on twitter.
All scored reviews are unannounced, impartial, paid for by Confidential and completely independent of any commercial relationship.
Man Behind The Curtain, 68-78 Vicar Lane, Leeds LS1 7JH. 0113 243 2376.

Rating: 18.5/20
Food: 8.5/10 (duck liver 9, mackerel on coffee 8.5, taco 8, hand-dived (and murdered) scallops 5, charred milk dough, blood sausage, salmon eggs 9, tuna belly 10, hake 7.5, pork jowl 9, lamb sweetbreads 8, sirloin and langoustine 8, squash 10, potato vanilla chocolate 9.5, praline and passion fruit meringue 9.5)
Ambience: 5/5
Service: 5/5
Gordo recommends: Fun, and to find out what it's like to have died and arrived in heaven.
Give a miss: Corrupting scallops.
PLEASE NOTE: Venues are rated against the best examples of their kind: fine dining against the best fine dining, cafes against the best cafes. Following on from this the scores represent: 1-5 saw your leg off and eat it, 6-9 get a DVD, 10-11 if you must, 12-13 if you're passing, 14-15 worth a trip, 16-17 very good, 18 exceptional, 19 pure quality, 20 perfect. More than 20, we get carried away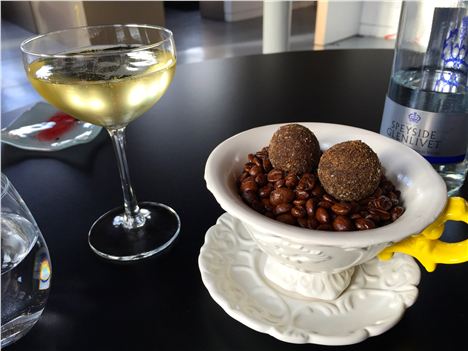 Mackerel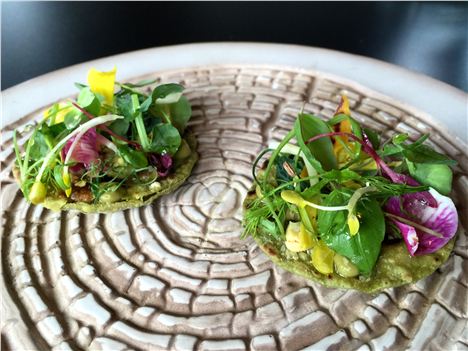 Taco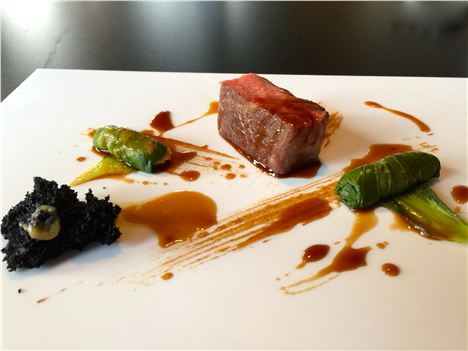 Sirloin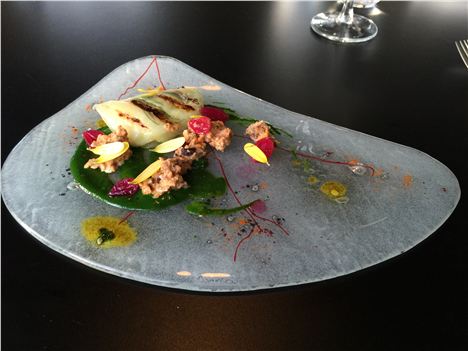 Hake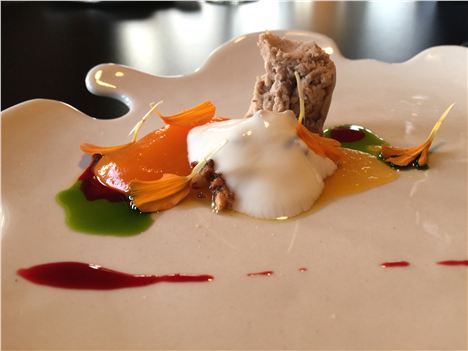 Squash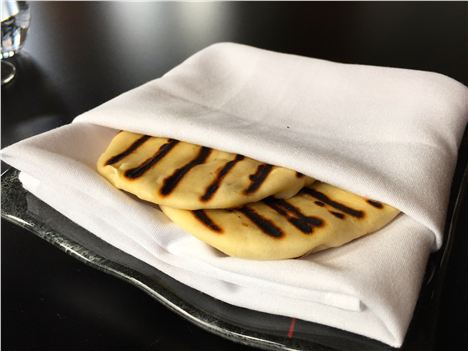 Charred milk dough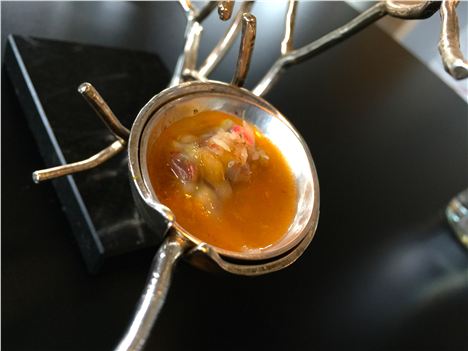 Hand dived scallop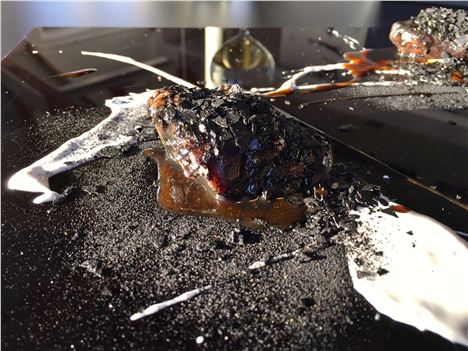 Pork Jowl