CALLING yourself Infamous Diner is a bit cheeky in Manchester. It sounds a lot like Almost Famous, despite being in no way affiliated with the hugely popular local burger chain. But let's not hold that against them for the moment, as both location and 1950s décor make this new, USA-style diner worth a look.
Little love appears to have gone into the cooking
Infamous' owners, Mark Andrew Developments (aka the MAD group) started out with Didsbury's M20 bar in 2004 and now run a swathe of Northern Quarter restaurants and bars including Rosylee, The Fitzgerald, Walrus, Tusk and Hula Bar. While their concepts often seem to ape other independents, you can't argue with their interiors - and Infamous Diner is almost perfect.
There are vintage jukeboxes and red leatherette booths while the ceiling is embossed in gold plate, bringing to mind the most ornate of taxis in Mumbai. The place oozes camp and fun - clearly little expense has been spared on the fit out. It's just a shame that the food doesn't come close to the venue's promise.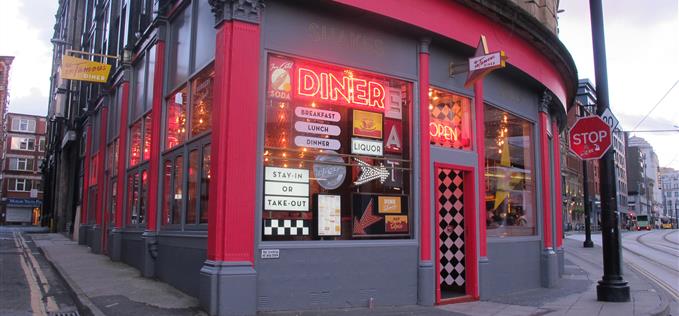 Infamous Diner, High Street
The menu rivals nearby Solita for calorie content – think burgers, buttermilk pancakes, hot dogs, baby back ribs, hot wings and Caesar salads – but that's where the comparison ends. Little love appears to have gone into the cooking, with the nachos (hard to get wrong in fairness) the only exception. Lashings of salt, beef chilli and melted bright orange plastic cheese stuff came piled onto just the right amount of jalepenos and crispy tortilla chips (£7.95). A solid, quick fix.
The Infamous meatballs (£4.95) with home-made BBQ sauce were just the opposite, and we left the lot after a cursory sample. They smelled clammy, the sauce was too sweet and lacking in depth, and the meat was gristly to the extent that it was inedible. Woeful.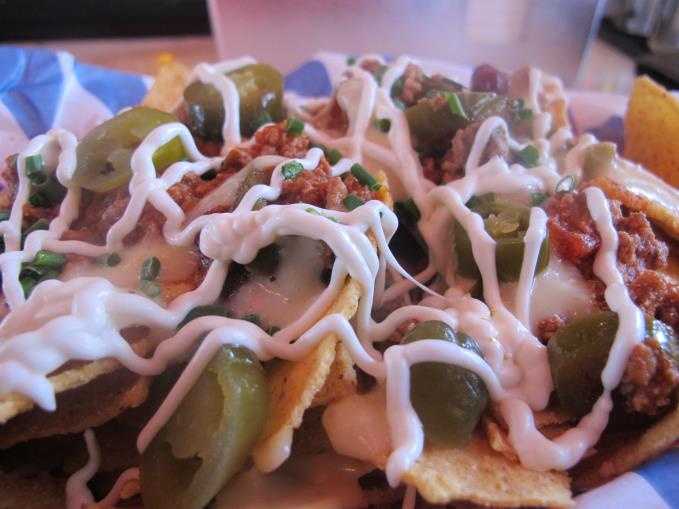 Nachos (£7.95)
I wasn't into the Infamous burger (£8.95 with or without cheese) either - particularly when there are better quality patties to be had at Almost Famous or even Byron nearby. My mate liked it, though, describing it as exactly like an '80s Big Mac. The lettuce and tomato were fresh and the brioche bun had a bright, McDonaldsy texture. The curly fries bore the uniform shape and flavour of those bought in and lobbed in the oven.
Service was so off piste that I wondered if it was too early to be doing a review at all. Waitresses buzzed around rapidly yet randomly, a little like wasps, as bar staff bumped into each other behind the bar. Drinks took 25 minutes to arrive, and when we tried to order dessert at around 9.45pm, the waitress told us that the kitchen was probably closed. Probably? To their credit, the staff were smiley enough.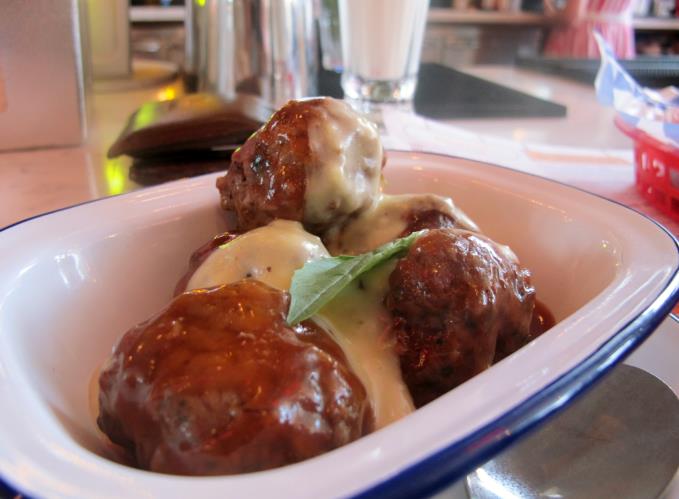 Inedible meatballs (£4.95)
The kitchen wasn't closed in the end, but our dessert was very much a case of Knickerbocker minus the Glory (£5.95). The unset jelly, whippy cream and ice cream had little structure or flavour, making me wonder if my expectations of a showstopper – or, at least, the basic components of a Knickerbocker Glory, such as meringue and nuts – were too high. Perhaps I should have gone for the New York baked cheese cake (£4.95) or home made doughnuts (£2) instead.
One plus point is that food prices aren't silly, while drinks are more typically priced. Beers are American and Mexican – think Goose Island, Sol and Budweiser – while the cider, a new brand called Blind Pig, is Heineken's homage to the 1920s speakeasy. There's a good range of wines, and most drinks check in at the £4-5 mark.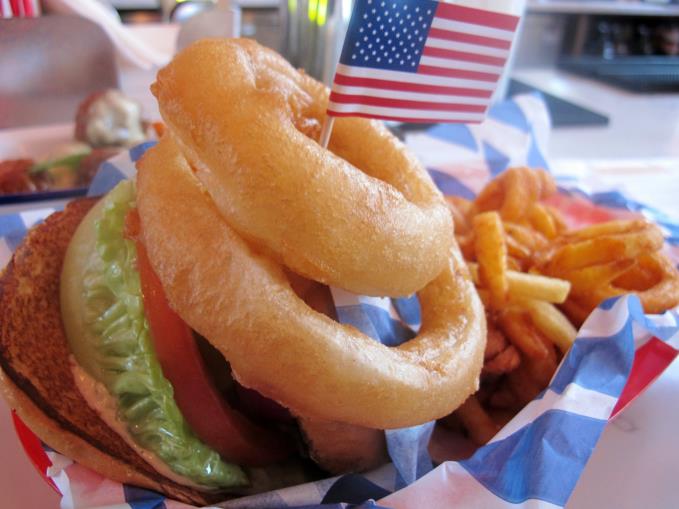 The Infamous Burger (£8.95)
We tried two cocktails (both £7) including a well-balanced Pear Julep from a range that takes in American Bourbon classics, mojitos, dessert cocktails and loads of frozen cocktails. House inventions are a highlight with names like Spring Break Cooler (rum, watermelon, cherry bitters) and Californian Caipirinha which is cachaça-based, imbued with memorable hits of Malibu, pineapple and coconut milk.
'Hard shakes' (£7.50) such as peanut butter and bourbon and Brandy Alexander sound promising. And the punchy house red was good too. It's just a shame that the MAD group haven't invested as much in the food as they have the trimmings. Right now it's a bit like Christmas dinner... minus the turkey.
You can follow Ruth on twitter @RuthAllan
Infamous Diner, Basil Chambers, 9 Nicholas Croft, Manchester, M4 1EY. 0161 819 1798
Rating: 10/20 (remember venues are rated against the best examples of their type - see box below)
Food: 4/10 (nachos 6, burger 6, meatballs 0, fries 3, knickerbocker glory 4)
Service: 2/5
Ambience: 4/5
PLEASE NOTE: All scored reviews are unannounced, impartial, paid for by Confidential and completely independent of any commercial relationship - Venues are rated against the best examples of their kind: fine dining against the best fine dining, cafes against the best cafes. Following on from this the scores represent: 1-5 saw your leg off and eat it, 6-9 get a DVD, 10-11 if you must, 12-13 if you're passing,14-15 worth a trip,16-17 very good, 17-18 exceptional, 19 pure quality, 20 perfect. More than 20, we get carried away.