I'VE been working on a summary of Greater Manchester's best neighbourhood restaurants, but can't seem to get out of Didsbury. That single paragraph is turning into an essay, thanks to the dozens of bistros, restaurants and bars serving food in that area. West Didsbury especially is a microcosm of global cuisine, with Burton Road being a hotspot for anything from traditional British fish and chips to Thai karaoke curries and no less than three Nepalese places. In the face of such competition, anyone basing a food business on that busy strip better have a pretty good idea and know what to do with it.
They've managed to pitch it somewhere between creativity and fad...
Indique are so certain they tick both boxes that they've managed to convey their intentions in their name – unique Indian food. Stuck on the other side of the (Metrolink) tracks to some of the trendier venues, this modern Indian restaurant has started creating positive waves since it opened last month.
The menu was tricky to choose from – a good sign here. They've managed to pitch it somewhere between creativity and fad, but more importantly, they're not over-charging customers for the privilege. All starters (under the guise of 'street food') are priced below £6, even Tawa Scallops at £5.95. We tried to order a bit of everything, but will have to go back for the Dahi Puri to see how they compare with the excellent ones enjoyed at Indian Tiffin Room a couple of years ago.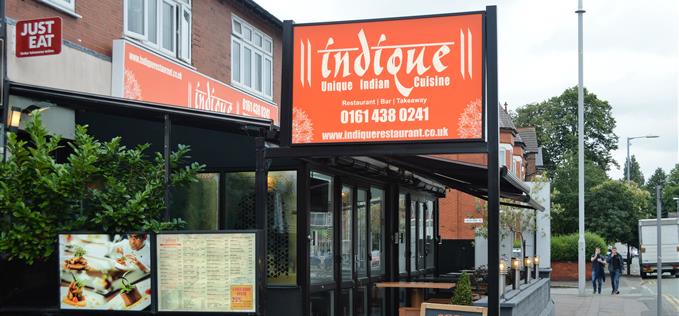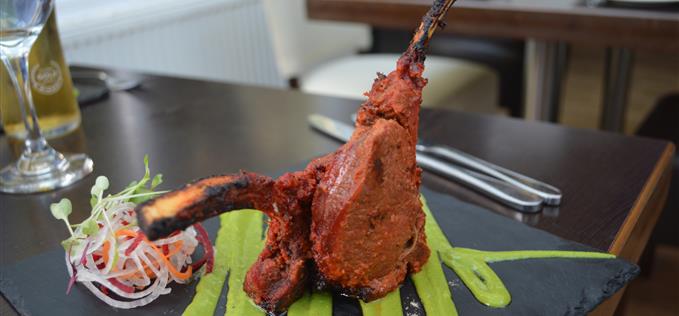 Lamb chops
My lad doesn't even look at menus anymore. When we go for an Indian, he's having lamb chops. Bribes of extra Minecraft playing-time no longer hold any sway. The Peshwari Lamb Chops with ginger, garlic, yoghurt and paprika (£6.50 appetiser size), were properly meaty despite being described as 'baby lamb'. It took the boy longer than usual to strip them down, before the waiter proudly carried the bones into the kitchen as a visual example of customer satisfaction.
Chicken Kati rolls were well-filled and spicy, but however good, these are never far off their 'Boots Meal Deal' cousins. The two stand-out starters were Paneer Pakora (£4.45) and Ajwaini Salmon Tikka (£5.95). The paneer had been cut into chip sized rectangles and coated in a lightly spiced batter before being deep fried. My daughter was having some silent, heavenly experience working her way through these before suggesting they'd also work as a sugar-coated pudding, substituting a fruit coulis for the streaks of coriander chutney. Tandoori Scottish salmon infused with fenugreek, caraway and dill, served with fresh mint sauce and cucumber ribbons was an edible snapshot of the magic that can happen when east meets west.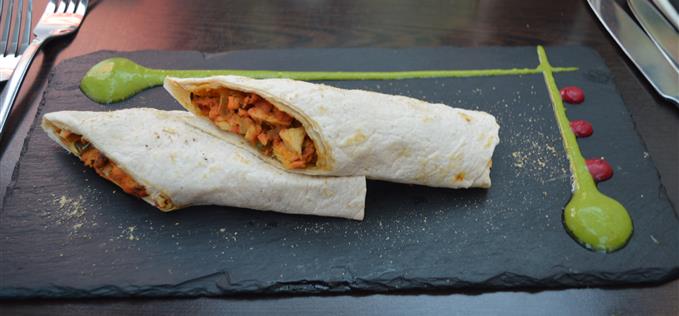 Chicken kati rolls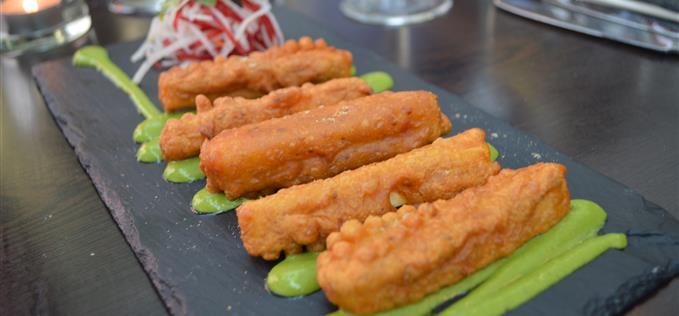 Paneer pakora
The main course vegetarian and vegan menu made for such an interesting read it almost tempted us away from meat. Almost. Fresh vegetables, slow cooked tomatoes, sweetly browned onions, toasted spices, herbs and nuts, when cooked well, would make even the most hardcore carnivore slow to miss the fleshy bits. When the smiley-eyed owner did his rounds later on, encouraging each table to share their positive experiences on Trip Advisor *sigh*, he mentioned that he was vegetarian with a strong desire to encourage his chefs to use their imagination. They have.
We chose more lamb for mains, but that's not surprising considering there are over half a dozen dedicated lamb dishes on the menu. Smoky Lal Maas Pitika (£11.95) was a dramatic dish brought over under a glass cloche, which they removed at the table to reveal a cloud of smoke. It's a Rajasthani delicacy; chops cooked in a smoked spicy tomato curry served with spiced rustic mash. We liked it, but if my lad thinks he's going to get his lamb chops at home served under a smoking glass cloche, he's going to have to lower his expectations.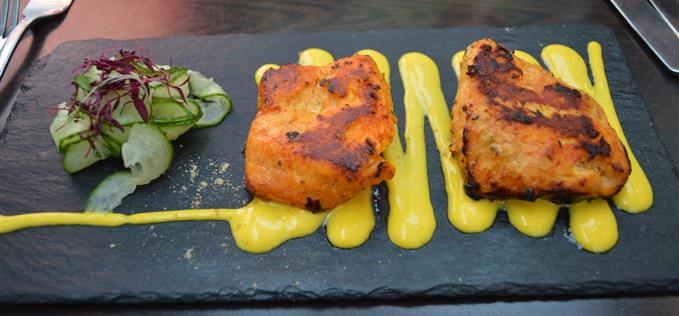 Salmon tikka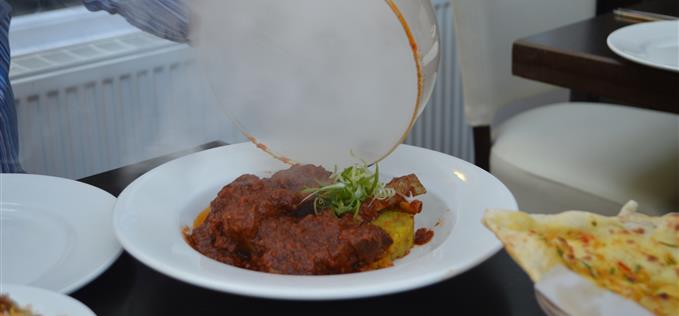 Smoky Lal Maas Pitika
We were warned that Nizami Gosht (£9.95); a Hyderabadi speciality with lentils in a hot, sweet and sour sauce, was quite spicy and it was. I had to break my no-carb rule to quell the burn with pilau rice (£2.75) and Garlic Naan (£2.95), but then a mere wander past a bakery usually waives that rule.
They seemed disappointed that we weren't ordering desserts. Gone are days when all that was on offer in most curry houses was orange or lemon sorbet served in a hollowed out fruit. Now it's all homemade Rasmalai and Gulab Jamun. We'll have to return for those too.
In fact, that seems to be what's going on here, Indique has a grip on the locals, with folk either returning several times to work their way through the rest of the menu, or coming back for a particular dish they've fallen in love with. Either way, they're nearly all coming back.
The whole bill for our family of four (plus leftovers for another meal, which we probably would have enjoyed had we not left it in the car overnight) with side dishes, a glass of house rosé, a pint of Cobra and a stupid amount of lemonade, came in at under £100. That's pretty Indique in itself.
Indique, 110-112, Burton Road, West Didsbury, M20 1LP. Tel: 0161 438 0241
Rating: 14/20
Food: 7/10 (Paneer Pakora 7, Salmon Tikka 7, Kathi Rolls 7, Lamb Chops 8, Smoky Lamb 8, Lamb Nizam 7)
Atmosphere: 3/5
Service: 4/5
PLEASE NOTE: All scored reviews are unannounced, impartial, paid for by Confidential and completely independent of any commercial relationship. Venues are rated against the best examples of their type: 1-5 saw your leg off and eat it, 6-10 stay in with Netflix, 11-12 if you're passing, 13-14 good, 15-16 very good, 17-18 excellent, 19-20 pure quality.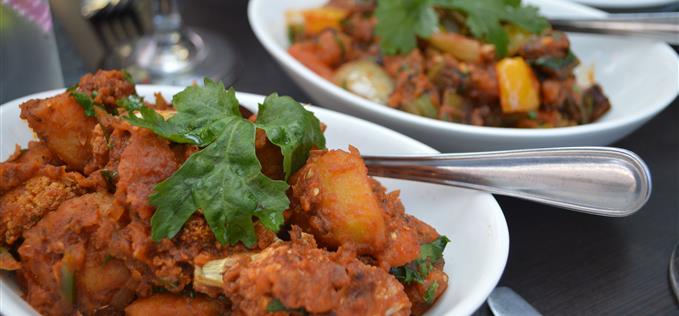 Bindi and Aloo Gobi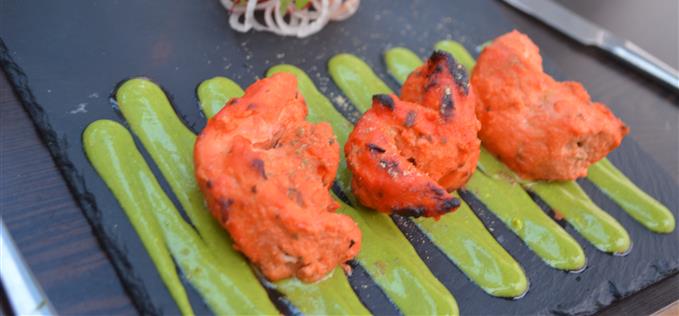 Chicken Tikka