THEY'VE been a long time coming; top Spanish restaurants that is. Then three come along at once (four if you count El Gato Negro - Ed) to good ole Manchester, a city that has had the piss taken out of it by Spanish restaurants for too long in my humble opinion.
Until now.
A little old lady with one tooth and a glint in her eye back in Asturias has looked after these little fellas.
The vast majority of Somkey (sombrero/donkey) restaurants are run by very lazy people who believe that English punters today are still the ones that were getting burnt to buggery on the beach in Torremilnos, thus will still be happy with a slice of rubbery tortilla reheated in the microwave, five day old octopus and tasteless prawns in garlic (how do they manage to fuck that up?) with some really shocking wine to boot.
Now, they are about to get their arses kicked.
First out of the traps was La Bandera in the old gangsters' haunt at the back of Deansgate on Ridgefield. Two lads from The Canary Islands with some great, original dishes delivered to much applause by the dwindling bloggerati and more importantly, the punters themselves. The editor of our humble electronic rag, Jonathan Schofield, reckons La Bandera's Papas Arrugadas con Mojo (baby wrinkled potatoes with spicy Canarian garlic spices, to you and me) is one of the dishes of the year. Definitely not something you're going to find in La Tasca or La Vina.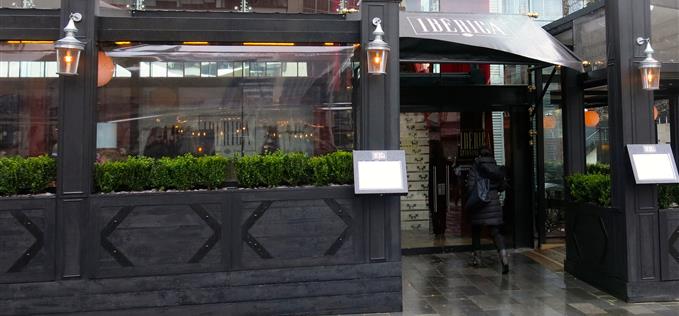 Iberica Spinningfields
Currently, the best Spanish gaff in the North West is Lunya in Liverpool, curated by the remarkable Spanophile (is that right Ed? No it's Hispanophile, but carry on - Ed), Peter Kinsella. He was in La Bandera with the Manchester Property Magnate, Squire Leahy. It has since transpired that the pair are plotting to bring Lunya into the city. Great news.
Finally, last but not least, we have new arrival Iberica.
This group have four highly-regarded restaurants in London, the children of the charmingly aristocratic and all-round good guy Marcos Fernandez. On the first meeting with Gordo, who had jumped on the train down to London to meet Marcos, he fixed The Fat One with beady eyes and did that business school classic. It was 12:10 pm.
"Good to meet you, Gordo. Now I have until 12:50pm then I have meetings with my investors."
Gordo thought "Fuck you, you skinny Spanish twat, let's get this over and done with then so I can bugger off round the corner and have a proper lunch at The Connaught."
Seven hours later, Marcos booted a gibbering fatty out of the chauffeur driven car at Euston, having shown him all four restaurants and a new outside bar in Canary Wharf. During which time Gordo had been given a masterclass in Spanish wines, what real ham (jamon) is and why you're not a half wit if you sit at one of his bars munching on tinned goods; one of which, cockles in brine, sets back the muncher an eye-watering £32.10.
Gordo now thinks they are worth it, but please, Marcos, that last 10p is really taking the piss.
That was a year ago.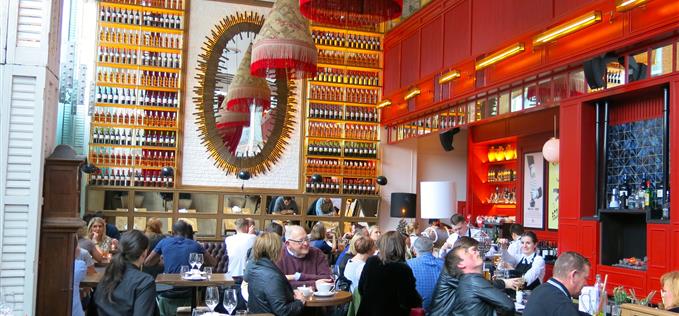 Iberica Spinningfields
Today Gordo finds a three-week-old restaurant in Spinningfields, with a fit-out every bit as classy as it's southern siblings. From the outside it's a bit like the set designer of The Good, The Bad and The Ugly has had a row with the fella from 2001: A Space Odyssey and Marcos has had to get out Solomon's sword; neither gave up any ground.
The interior is just lovely. All reds and bullfighter blues; comfy and charming. The bar is a place you can settle down for the long haul, drinking and picking at tapas for hours. It's Gordo's favourite place to eat a full meal as well. There's an upstairs with a full on restaurant space which takes you to Madrid through a wormhole should you prefer.
The staff are a mixture of young new peeps who make charming mistakes and old pros with fixed smiles and laser eyes; the last visit from Gordo saw no problems. The team wrap you up in warm blankets, metaphorically speaking, and outside on the terrace, literally. Fleeces can be found there to keep the chill out.
The menu is a mix of Franco's Madrileños and Hemingway's guys in caves blowing up bridges; you get the impression that Ernest's hero Robert Jordan would have stayed in the cave longer if the food looked as good as it does on this menu. There's a good looking paella from the south as well.
Gordo has to confess that he has eaten nearly everything on this menu. It's not perfect, but it's not that far off. On the day of the paid and unannounced review he was licking his lips again.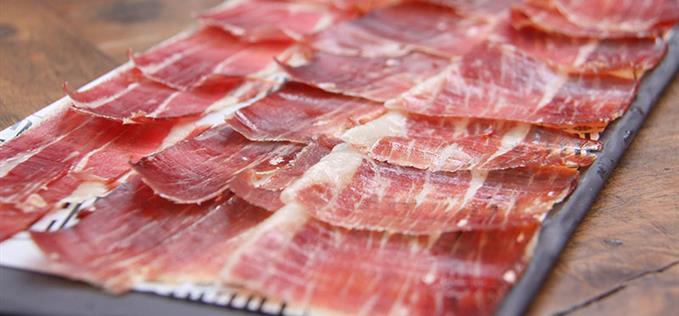 Jamon
The Iberico ham. You will find a couple of guys behind the reception doing little else but carving from three separate Iberica D.O. hams: EXTREM Pura Extremadura (£8.00) Juan Pedro Domecq, Jabugo, D.O. Huelva, (£10) and finally, COVAP Alta Expresión (£8.00). Yes, it's all a little confusing. Gordo's advice is to just share a plate of all three (£22).
The little piggies are fed on acorns and are very different to each other, the Juan Pedro being Gordo's favourite. These are the very best of their kind and the flavours knock your socks off. Attack with a good dry sherry; recommended by one of the managers was a Manzanilla (£5, 75ml), dry and nutty with a cleanliness that results, apparently, from it's coastal terroir.
The bread with olive oil (£2) is knockout. Marcos tells Gordo that it comes from a baker in Cumbria, whom he would love to use at all his restaurants but he can't produce enough.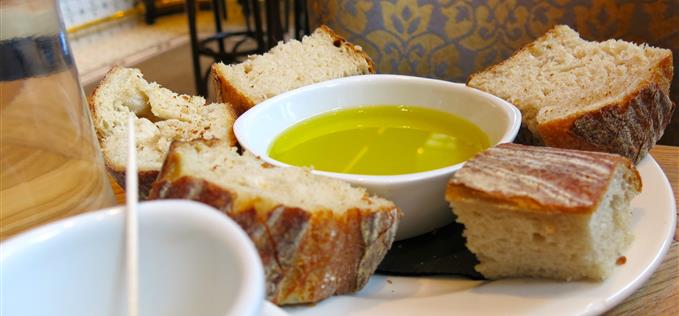 Bread and oil
It's remarked an awful lot that people tend to eat with their eyes. If you're one of them, don't order the corn torto fritter with calabrese cheese and scrambled egg (£4) unless you wear a blindfold. It looks like the cat's been sick on a deep fried Weetabix.
But it tastes bloody fabulous.
The sardines in olive oil are, at £12, looking pretty expensive. The tinned goods here are the Bordeaux equivalent of first growth claret. You start to think they're cheap after the fourth or fifth. These are the best in the world. They are fantastic. A little old lady with one tooth and a glint in her eye back in Asturias has looked after these little fellas, took their heads off, salted them gently, stored them to burn off the fat then filleted and canned them just for Gordo.
The anchovies (£5.50 48g) taste almost caramel-like. You need to be there.
Sardines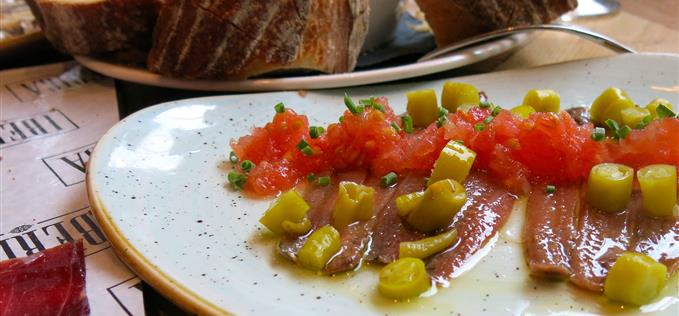 Anchovies
Fried fresh squid with aioli (£9) has, on three separate occasions, delighted. Cooked till just firm, therefore not chewy, they have sea food flavour that isn't dominated by either the coating nor the oil. In fact, it's the Agent Provocateur of squid dressing. Horny.
Seafood Paella (£15 per person) is again cooked to order (allow 45 minutes and try to order ahead) which results in rice that is a masterwork. Unfortunately, Gordo is battling with chorizo flavours. There is a helluva lot here. It's a matter of taste. If you, dear reader, like that stuff then this is for you.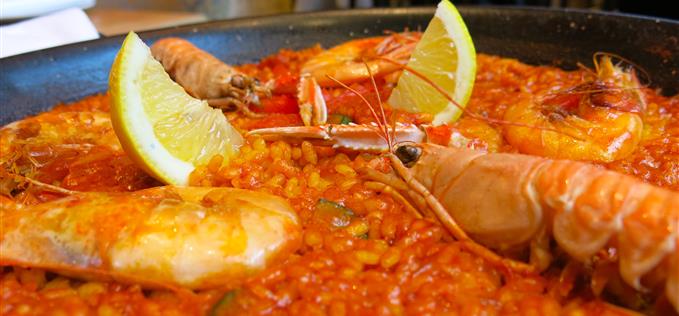 Paella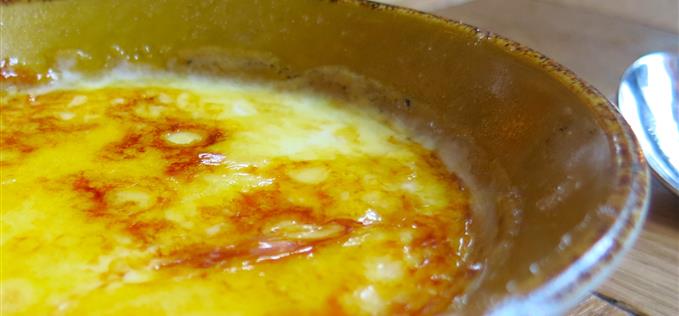 Rice pudding
Disaster struck with the crispy suckling pig; it wasn't crispy and was partly cold. This only happened the third time, the previous two were bang on and scoring 10.
Finally, the rice pudding. It was better than (Gordo's pal ) Yousaf's mums, which was the best in the world. It was room temperature with a thin brûlée topping and smelled of forbidden promises.
The wine list is short, well priced and eclectic. There are no passengers here.
A very firm Gordo Go and currently the opening of the year.
Follow @GordoManchester
The Avenue, Spinningfields 3, Hardman St, Manchester, M3 3HS
All scored reviews are unannounced, impartial, paid for by Confidential and completely independent of any commerical relationship.
Good for: Long Saturday afternoons for nibbling and monkey business upstairs.
Rating: 16/20
Food 8/10 (Bread 8, Jamon 9, Sardines 9, Anchovies 9, Calamares 9, Torte 7, Paella 7, Suckling Pig 6, Rice Pudding 10)
Service: 4/5
Ambience: 4/5
PLEASE NOTE: Venues are rated against the best examples of their kind: fine dining against the best fine dining, cafes against the best cafes. Following on from this the scores represent: 1-5 saw your leg off and eat it, 6-9 get a DVD, 10-11 if you must, 12-13 if you're passing, 14-15 worth a trip, 16-17 very good, 18 exceptional, 19 pure quality, 20 perfect. More than 20, we get carried away