ANOTHER day, another diner. Dirty food places are spreading like peanut butter and jelly on white bread, not least of which are the offerings of Beautiful Drinks team, which brought you such hits as Almost Famous and Luck Lust Liquor & Burn
...Mary Berry would have a heart attack
It of course has become the thing to disparage, this faux Americana, but the fact remains that it delivers satisfying food that almost everyone likes. The basic Tetris blocks of deliciousness are fat, salt and sugar and Home Sweet Home and its kin are still best placed to offer as many combinations of that Unholy Trinity as my lardy little heart could desire.
For those of you unfamiliar with Home Sweet Home's branding, it is the softer, gentler cousin of Almost Famous, with a girlier aesthetic than AF's truck-stop pornstache take on Americana. Less suicide sauce, more Virgin Suicides. It makes sense then that Home Sweet Home's USP among Manchester's bulging array of burger brokers is the oft-neglected sweet part of the aforementioned fat/salt/sugar ménage a trois. Visitors to the NQ joint will no doubt have already admired the mind-blowing display of cakes that would be rejected from a Katy Perry video for being too ridiculously over-the-top and glitter-festooned. With names like Jazzy Sparkles and ingredients such as Oreo cookies, marshmallows and funfetti as standard, this is baking as Instagram bait. Mary Berry would have a heart attack.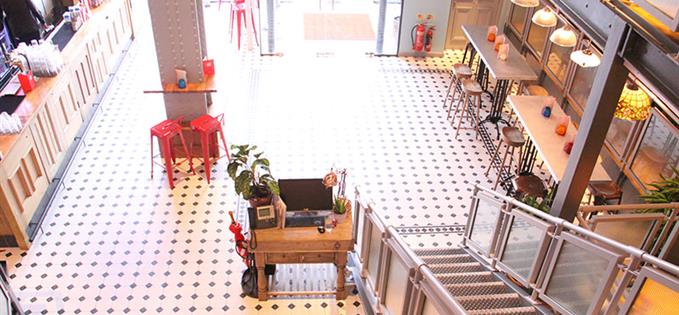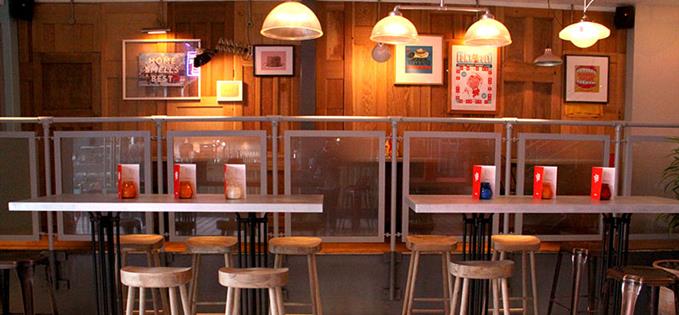 Home Sweet Home
So it seemed appropriate to visit the new outpost of Home Sweet Home on Black Friday, the American import dedicated to the Feast of Conspicuous Consumption. The Great Northern premises exposes the slick corporate beast that gets hidden beneath the aw-shucks tweeness of the Northern Quarter outfit. The cake counter is slightly sidelined in favour of more covers, and while the new venue is attractively done out, it does lack the amiability of the original. Still, nothing wrong with a bit of professionalism in providing sustenance.
Not that there wasn't still a few teething problems. The personable host informed us very cheerfully that there would be a ten-minute wait – no bother there except he did not offer us drinks or menus to look at while we waited. When we did finally get to order drinks I plumped (and never has the verb felt more appropriate) for a Butter Beer cocktail (£7.50). Though thankfully not emulating the Harry Potter drink of the same name, it was in fact a root beer float amped up with generous splashes of bourbon and amaretto. Divine.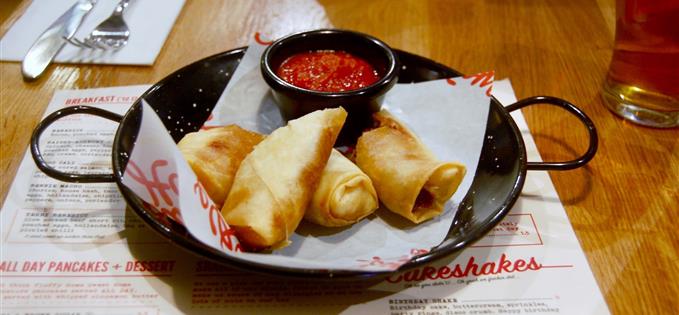 Egg Rolls
In honour of the new digs, Home Sweet Home has expanded the menu to include more big plates and savoury goodness. All the usual dirty suspects are here, from wings to mac 'n' cheese, as well as the breakfasts that the original version is known for. We started with Egg Rolls (£4.50) – no, not the kind your Nan serves with a Panda cola, but the American-Chinese version of spring rolls, which are basically a tad bigger and filled with all sorts of nonsense, which, shame on me, I can only remember that in this instance avocado was involved. I asked my dining partner what he remembered about the roll innards and he proffered 'creamy gunk' which is technically accurate but sounds pretty disgusting out of context. They were actually spicy packets of soft filling wrapped in a crisp shell that were clearly not all that memorable but pleasant enough.
For the mains we opted for the Adios Bitchachos Tacos (£9), a pair of soft tacos filled with guacamole, pickled red cabbage, beef and radishes; the Pulled Pork Pile Up (£10), a heap of the ubiquitous shredded swine served with slaw, lettuce and sweet potato fries, plus a side of Goodfella's fries (£4.50) just for good measure. The joint was jumping and the food took a while to arrive, but no matter, that gave me more time to sup on my Butter Beer. However, when the food arrived it was a bit on the tepid side, borderline complaint-worthy. As I ummed and ahhed about returning the dishes, the waitress swooped in, identifying the problem and sorted us out so warmly the temperature of the food could have risen a couple of degrees. We were swiftly replenished with new platefuls and a good feeling (plus, full disclosure, 20% off the food bill for the inconvenience).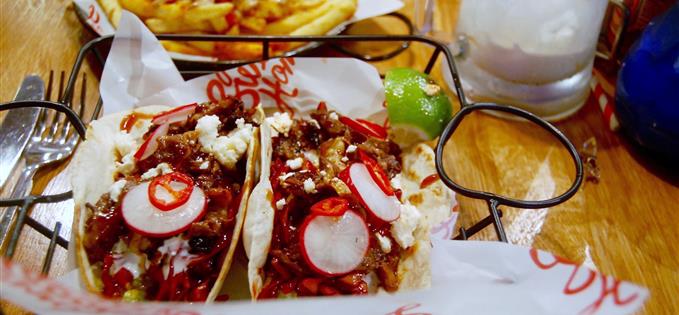 Adios Bitchachos Tacos
As for the food itself, the tacos were great, lightly wearing its Korean influences in the spiced cabbage, melting beef and crunchy radishes, while the feta provided a velvety foil. The pulled pork was certainly generous, with well-spiced sweet potato fries balanced against a creamy slaw. The kitchen is definitely skewed towards the spicy side (of which I approve) which might not be for everyone. Perhaps this tendency towards the piquant sells even more of Home Sweet Home's many ice-cream-based drinks.
Speaking of which, after consuming a few zillion calories, those mind-boggling cakes were unfortunately not an option, no matter how many unicorns had to be skinned to make them. Instead I chose a Five-dollar Shake (£5). Something had obviously gone amiss at the currency converters, though I admit that calling it a seven-dollar-52-cent shake doesn't have quite the same ring to it. And as John Travolta almost says to Uma Thurman in Pulp Fiction, it's a pretty flippin' good shake. It's like slurping melted ice-cream through a peanut butter cup filter, as rich and dreamy as a handsome tech billionaire, though a lot easier to come by.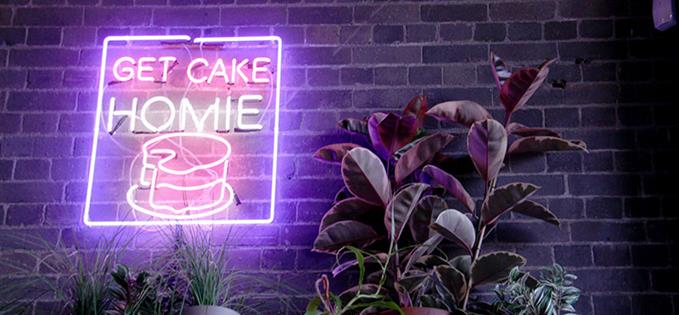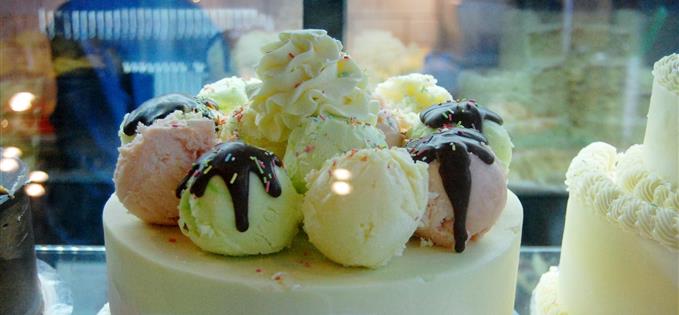 "Mary Berry would have a heart attack"
The attention to all the little details is impressive and adds wonderfully to the experience. My only minor complaint (and this is not aimed at Home Sweet Home in particular) is that we don't seem to have managed to import the American system – $75 (or £50 in real money) for a diner lunch would make the average Yank choke on their cake shake. Perhaps this is a good thing, as my cholesterol levels couldn't take the pain of eating like this on a regular basis. Still, going by the popularity of Home Sweet Home on Friday afternoon, it seems Manchester will keep buying into the American dream for a long time to come.
Home Sweet Home, Great Northern Warehouse, 235 Deansgate M3 4EN - 0161 300 8121
Rating: 13/20
Food: 6.5/10 (Egg rolls 5, Tacos 7, Pulled Pork 6, Goodfellas Fries 6, Five-dollar Shake 8)
Service: 3.5/5 The waitress was so intuitive I'm convinced she was psychic.
Ambience: 3/5 A tad cavernous and flat compared to the cosy original
PLEASE NOTE: Remember venues are rated against the best examples of their type. All scored reviews are unannounced, impartial, paid for by Confidential and completely independent of any commerical relationship. Venues are rated against the best examples of their kind: fine dining against the best fine dining, cafes against the best cafes. Following on from this the scores represent: 1-5 saw your leg off and eat it, 6-9 get a DVD, 10-11 if you must, 12-13 if you're passing, 14-15 worth a trip, 16-17 very good, 17-18 exceptional, 19 pure quality, 20 perfect. More than 20, we get carried away.