"IS that it?" I asked the waiter in the new Holiday Inn on Aytoun Street. I glanced at my tiny plate of food again. There was a flattened 'piri piri' chicken breast, a half tomato, a half mushroom and a vase of chips.
Of course the chef would probably get fired if he decided to go his own way... but maybe he should risk it for his own pride's sake
"Yes, I think that's it," he replied hesitantly.
"£14 for that. It's says breast of chicken on the menu and I'm hungry. Now I'm not an official ornithologist, more of an amateur enthusiast, but I'd say that's more of a flattened breast of sparrow. Or a wren. Or maybe an amoeba."
"I'll ask the chef whether that's the right portion," the waiter said diligently heading for the kitchen.
I surveyed the living room-cum-airport lounge of the restaurant and bar, designed by those prolific interior designers of chain hotels, Messrs Bland, Boring & Dull.
"Chef says that's the correct meal size," reported the waiter on his return.
"For fourteen quid? Tell him his head office is having a laugh. I bet they buy whole chickens, or whole sparrows in this case, for less than £2 a pop. And when was there a crisis in the production of mushrooms and tomatoes?"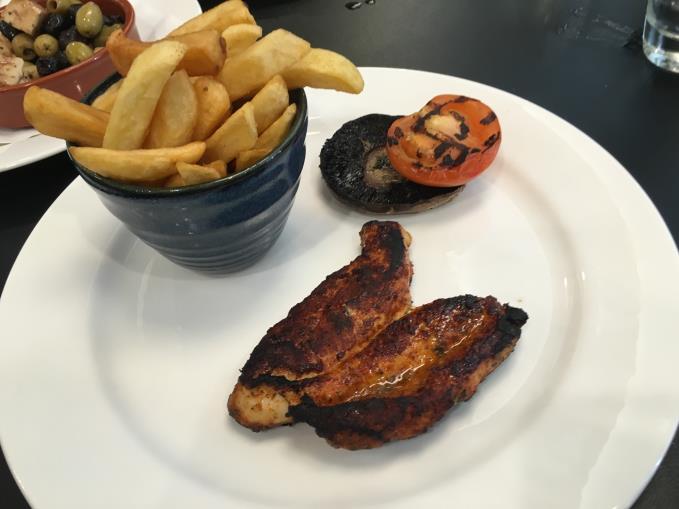 Piri piri sparrow with lonely mushroom and depressed tomato
It got worse when the poor lad had shuffled off, with, to be fair to him, an apology. The hot and spicy piri piri sauce on the sparrow's breast was another fail. It was neither hot nor spicy, in fact it tasted of nothing as did the 'butter-fed' chicken with a cotton-wool consistency. Mind you the chips were all right once given a shower of vinegar.
A club sandwich for £7.50 was far, far bigger than the whole of the £14 meal but not much better. It was awash with mayo and though there were pieces of chicken together with some, seemingly, very old bacon, it didn't live up to its billing of being 'on toasted bread'. Top side was toasted, bottom side had merely skirted past a grill on its way to the table.
Club sandwich toasty top
Underside of the club sandwich, untoasty
I'd had a terrible bowl of olives and Manchego (main image) for £6 too. A clumsy mess.
A member of the management team came over as I finished the chicken - about three and half minutes later.
He said he'd heard there was a problem. I told him about the piri piri chicken, mushroom and tomato scandal. His name was Lee and he was a good lad and took the £14 insult off the bill. Lee told me the chicken is sent up all pre-packed at that size. He wondered whether the kitchen had beaten it flat enough which might have made it look bigger. "And maybe transparent too given its tiny size," I said.
An interior of a hotel, any hotel, any where
Of course why review the Holiday Inn?
Well, I was in the area, it was new, I was hungry and it was advertising the restaurant. So why not? I was also intrigued how this shiny new building from Urban Innovations Ltd for Holiday Inn treated customers when it came to the food on the plate. Now I know. They are part of that long tradition of careless British food where kitchens assume Brits buy buy nosh as though they're buying a bag of screws. This is an outdated notion and way past its sell buy date even in motorway service stations.
Yea, yea, I can hear people saying, the Holiday Inn knows its customers and how much they'll pay so why do anything better? Nonsense. Food sourced on a low budget can still be cooked with love. And pride. Of course the chef would probably get fired if he decided to go his own way and break their economies of scale but maybe he should risk it for his own pride's sake.
Not that this is a cheap hotel, thing is £14 is not cheap for a titchy chicken. Meanwhile a notice at reception announced executive rooms at £289 and standard rooms at £259. Perhaps they offer discounts on these rates when they're not busy and make up the difference ripping people off in the restaurant.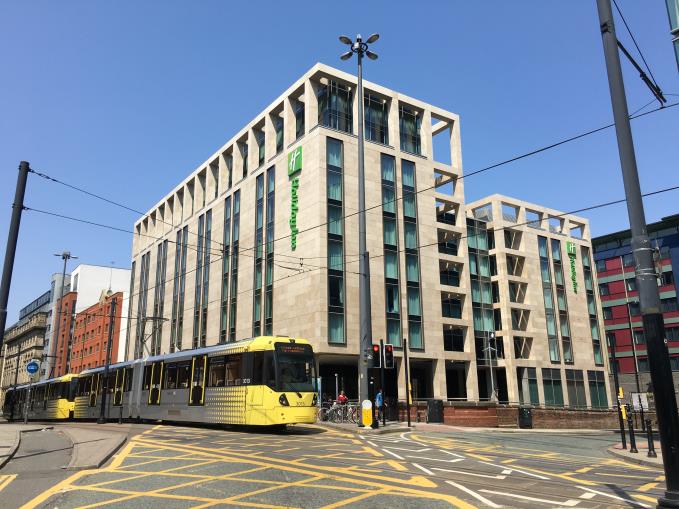 Holiday Inn
Anyway here's a story...
The Holiday Inn is on Aytoun Street which is named for Roger Aytoun. He came to Manchester from Scotland in 1769, was 6ft 4" and very handsome. He wore a full military uniform even though he wasn't in the army. At Kersal Races in Salford he wooed Barbara Minshull, one of the wealthiest people in the North West, owning much of the land in Manchester south east of Portland Street, hence the nearby Minshull Street. Three weeks later they married. It was a scandal, even more than receiving such a tiny portion of piri piri chicken. Aytoun was in his twenties, Minshull was 65.
She survived another fourteen years. During this time and subsequently Aytoun squandered Minshull's fortune on wine, women and recruitment. Finally his military aspirations were met when he raised a Manchester volunteer regiment which fought at Gibraltar in the wars with Napoleon. One of Aytoun's recruitment methods was brawling in pubs. If the fight was won the loser had to join up. This is how Aytoun earned his nickname: 'Spanking Roger'.
I'd like to set big Rog on the Holiday Inn food and beverage team in head office. Get him to give them a good spanking.
Holiday Inn, 25 Aytoun St, Manchester M1 3DT. Tel: 0161 242 5444.
Rating: 9/20
Food: 4 (olives and Manchego 4, chicken 4, club sandwich 5)
Ambience: 2
Service: 3
PLEASE NOTE: All scored reviews are unannounced, impartial, paid for by Confidential and completely independent of any commercial relationship. Venues are rated against the best examples of their type: 1-5 saw your leg off and eat it, 6-10 stay in with Netflix, 11-12 if you're passing, 13-14 good, 15-16 very good, 17-18 excellent, 19-20 pure quality.