GARY Usher is on a short fuse. A very good chef, he can count as well, which helps when you've opened two very good neighbourhood restaurants; the famous (on social media) Sticky Walnut in Chester and Burnt Truffle in the Wirral - along with a recently opened third, Hispi, in Didsbury.
There is a God and she can bake. Boy, can she bake...
The quality of the cooking in the first two is exemplary. It's very good hipster cooking: modern British, chunky, with a talent for turning super fresh ingredients (many poor relations to their cousins in the food world) into very tasty items.
Usher is a great leader; you can feel the messianic loyalty from his staff oozing through, even if he is elsewhere (probably busy tweeting his loyal following into a whipped up frenzy, getting them to 'crowd fund' his latest venture, then turning his attention to some poor unsuspecting butcher who has unwittingly questioned what Chef's up to).
Cue Frosty the Butcher, who works on a different schedule (and planet) to the rest of us. He's up at three, in the market at four and finishing at one or two in the afternoon. By five on a Friday, he's well pissed.
During one session a couple of weeks ago he tweeted Chef Usher, who was very close to opening that third restaurant and, unknown to meat boy, twitching a bit, tweeting away to the faithful for therapy.
The night is always darkest just before the dawn.
"Are you ever in the kitchen?" enquires Frosty, spilling best bitter over his trousers.
"What the f**k has it got to do with you?" replies the frustrated, gimlet-eyed religious leader (or something like that).
"Err…" tweets Frosty.
"Listen you useless bell**d of a butcher, who the flying f**k do you think you are? I'll do you where you stand," snarls Gary The Baptist.
"Err…" thinks Frosty, wondering whether he'd fallen down an X-rated rabbit hole.
"Listen you t**d, I'm not taking this from a f**k-witted smelly butcher, I'll cut your b***ocks off and stamp on them, you s**t."
"Err…"
"In fact, I've had enough of you, I'm coming round, I'm going to stab you to f**king death, we'll see who's hardest..."
By this time Frosty is fast asleep in his van round the back of Parlour.
Thirty minutes later, The Baptist tweets a selfie, frothing at the mouth, sharpening a steak knife by the front door of Frosty The Butchers.
"Open up you ****, I'm ready for you."
This is nine o'clock in the evening. Blimey.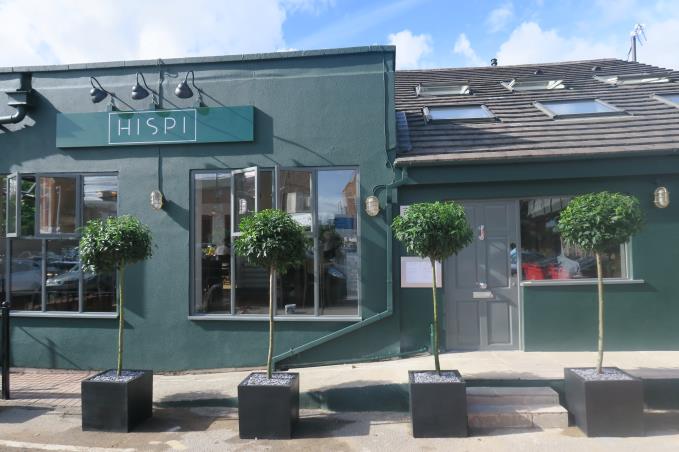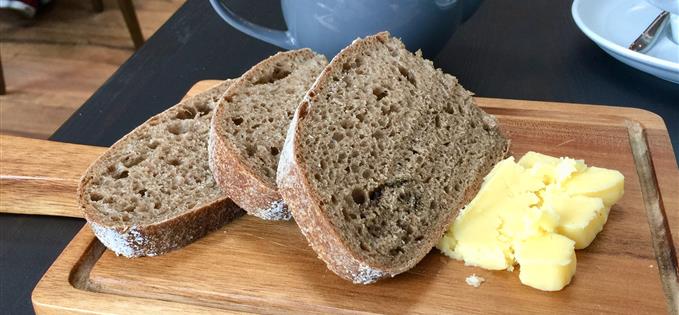 Home made sour light rye with 'Lincoln Poacher' butter
Gordo has kept an eye on Pope Usher for a couple of years now, ever since he came across him tweeting some interesting statements in the early days.
"I'm just a simple chef, my team and I just want to get on cooking great food, so If you are a NATIONAL FOOD CRITIC PISS OFF."
Now this to Gordo is sheer genius. It takes one shifty master self-publicist to recognize another.
Cue the arrival of Jabba the Hut, AKA Jay Rayner, closely followed by his sidekick Marina O'Loughlin - chief lynch mob mistress of The Guardian - chained to his side, both simpering at the great chef's feet.
The rest is history amongst the Twitterati.
Enough about Chef Usher and his followers. What's the food at his new gaff actually like? Is it as good as the ink?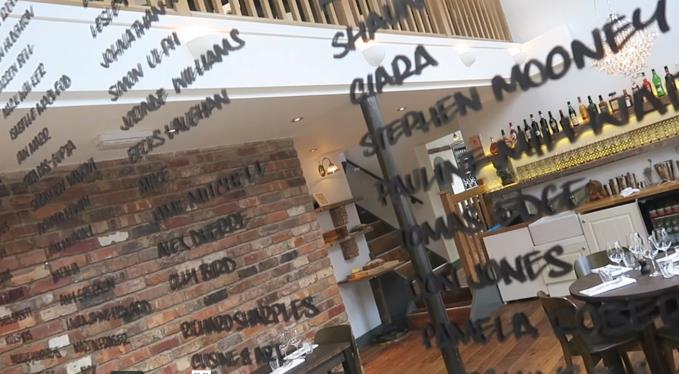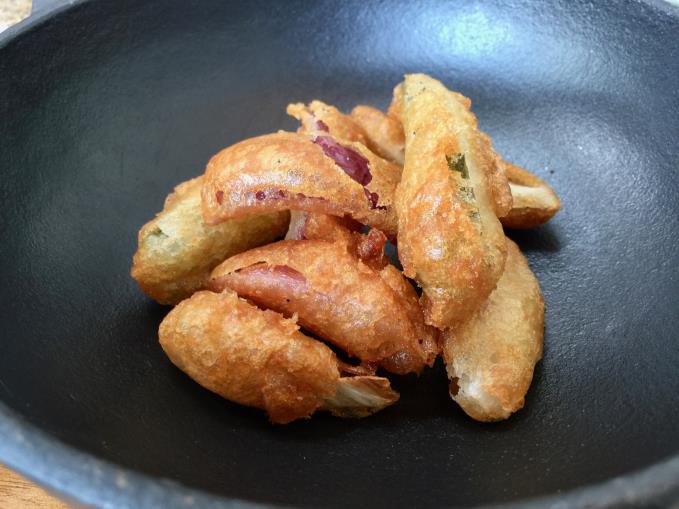 Beer battered salt pickles
Gordo has been a few times, once to the opening party where he drank free beer and ate a piece of smoked pork loin which was moist (it dries out quickly if you're not watching) and beautifully flavoured.
The following Saturday lunchtime found the Fat One doing a walk in. It is of course in the building that used to be Jem & I - another great neighbourhood gaff.
The space has spruced up well and the crowd funding money been spent sensibly. A bit too sensibly when it comes to the hand dryer in the gents. Where, it seems, the money ran out.
Space is at a premium, with spartan but surprisingly comfortable seating, white walls and blond-ish wood knocking about. Gordo likes it, a bistro with touches of nicely stuffed leather.
The staff are slightly fuzzy the first time round, but well into their stride the following Thursday when Gordo took his far more reliable colleague, Ruth Allan, for dinner.
The lunch menu is great value (two courses for £16, three for £19) if a little light at first glance. The bread arrives, sour light rye baked in the kitchen with some interesting butter, described as 'Lincoln Poacher' (£3.00 extra). It needs a twist of salt, the butter. Ask for some, don't be (too) afraid. It's impossible to ignore the other extra, beer battered salt pickles with parsley and tarragon mayo (£3.50). Very good they are, and require two of you. The mayo is good, pure, clean-flavoured fun.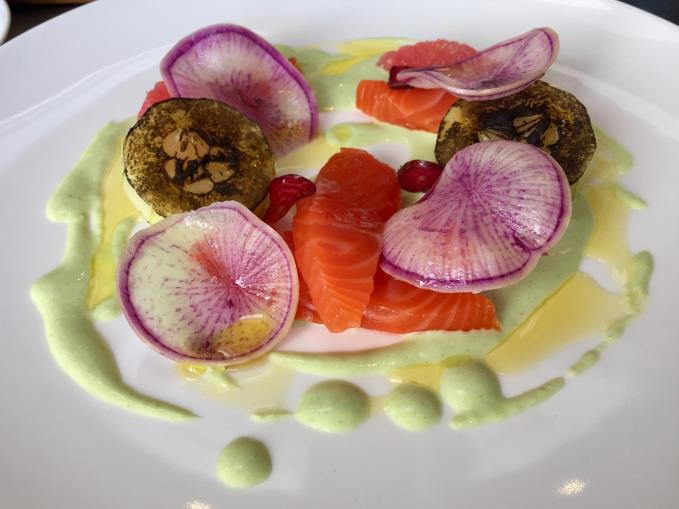 Gin-cured sea trout is a bit of a miss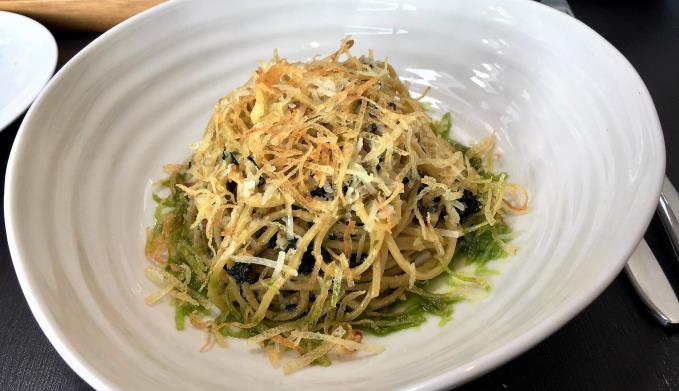 The linguini dish was madly impressive
Gin-cured sea trout, pickled cucumber, yoghurt, pink grapefruit and radish is a miss. Great ingredients put together brutally, the secondary flavours bullying the trout, which retired hurt.
Linguini, hazelnut, parsley and sage pesto, brown butter and crispy potato was deeply, madly impressive. The flavours are woven into that pasta with guts, whilst the addition of the crispy potato adds the extra crunchy texture that sets New York Italian pasta dishes, with their liberal use of toasted breadcrumbs, apart from Italian Italian.
Get the charred sprouting broccoli on the side. You'll see why once you discover this stuff can actually be made to taste nice.
At lunch, the Eccles cake with whipped cream was masterful.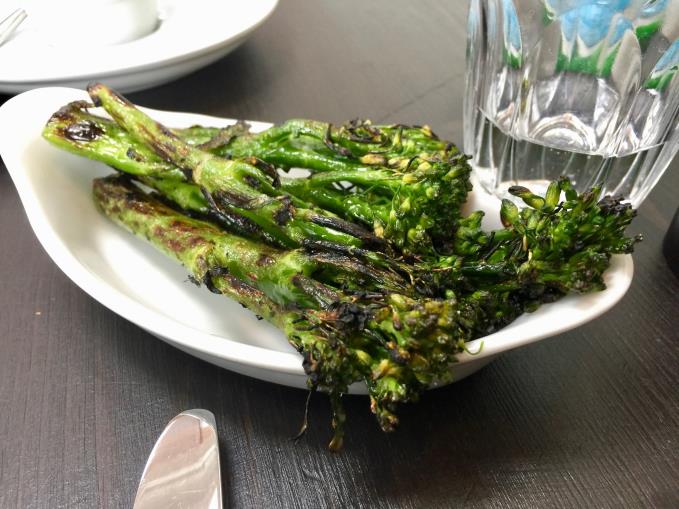 Charred broccoli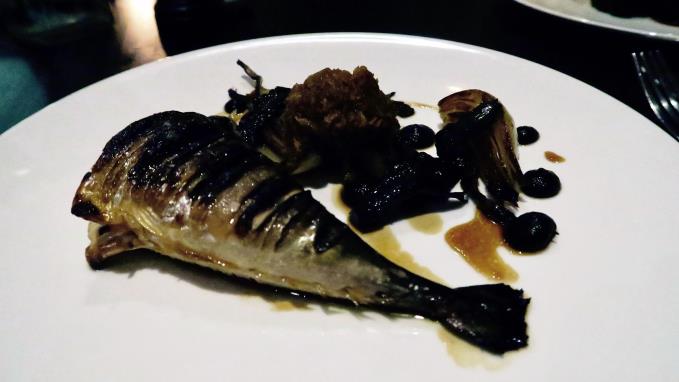 Evil looking mackerel is a blinder
The following Thursday evening saw Gordo wolfing down crispy lamb breast, mustard leaves and salt-baked turnips with mussel dressing (£7.50). This was more Chinese crispy duck than French St. Menehould (please someone, cook that for Gordo), but very good, mind you, a fabulous salad. Mussel dressing eh? Who'd have thought it?
Ruth had the burrata, baked celeriac, hazelnut and honey (£6.50) and didn't like it at all. Gordo agreed. This most delicate of ingredients was taken around the back of the bicycle sheds and beaten up by the baked celeriac and hazelnut dressing.
Braised feather blade, grilled broccoli, truffle and parmesan chips (£17) was another cracker, sauced fantastically well with everything on the plate dancing a great waltz. Whilst over at the other end of the food scale the chargrilled mackerel, confit fennel, kohlrabi slaw, mushroom relish and pickled trompette (£18) was a blinder, apart from that pickled trompette (to the Fat One this is the work of the devil. Ruth liked it mind you).
Then, puddings. Barley malt beignets, malt ice cream and pistachio sponge (£6) put a smile on Gordo's face. Then the custard tart (£5).
Dear reader, there is a God and she can bake. Boy, can she bake. When she got her custard tart right, she sent the Angel Gabriel to a sleeping pastry chef called Keiran Bellerby and shared the recipe with him.
"It's when it wobbles a bit," says young Keiran, when asked by an utterly astonished fat man how he judges when it's ready. Any food writer that can do this tart justice in writing will have Gordo offering fortunes to come and write for Confidential. It's the best Gordo has ever had.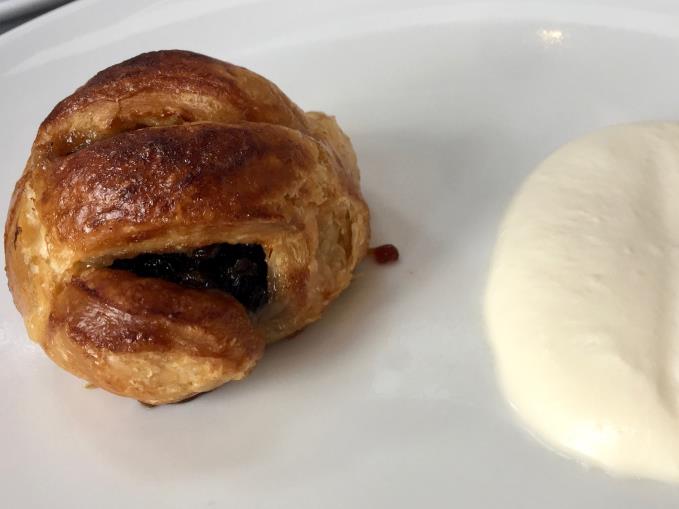 Masterful Eccles cake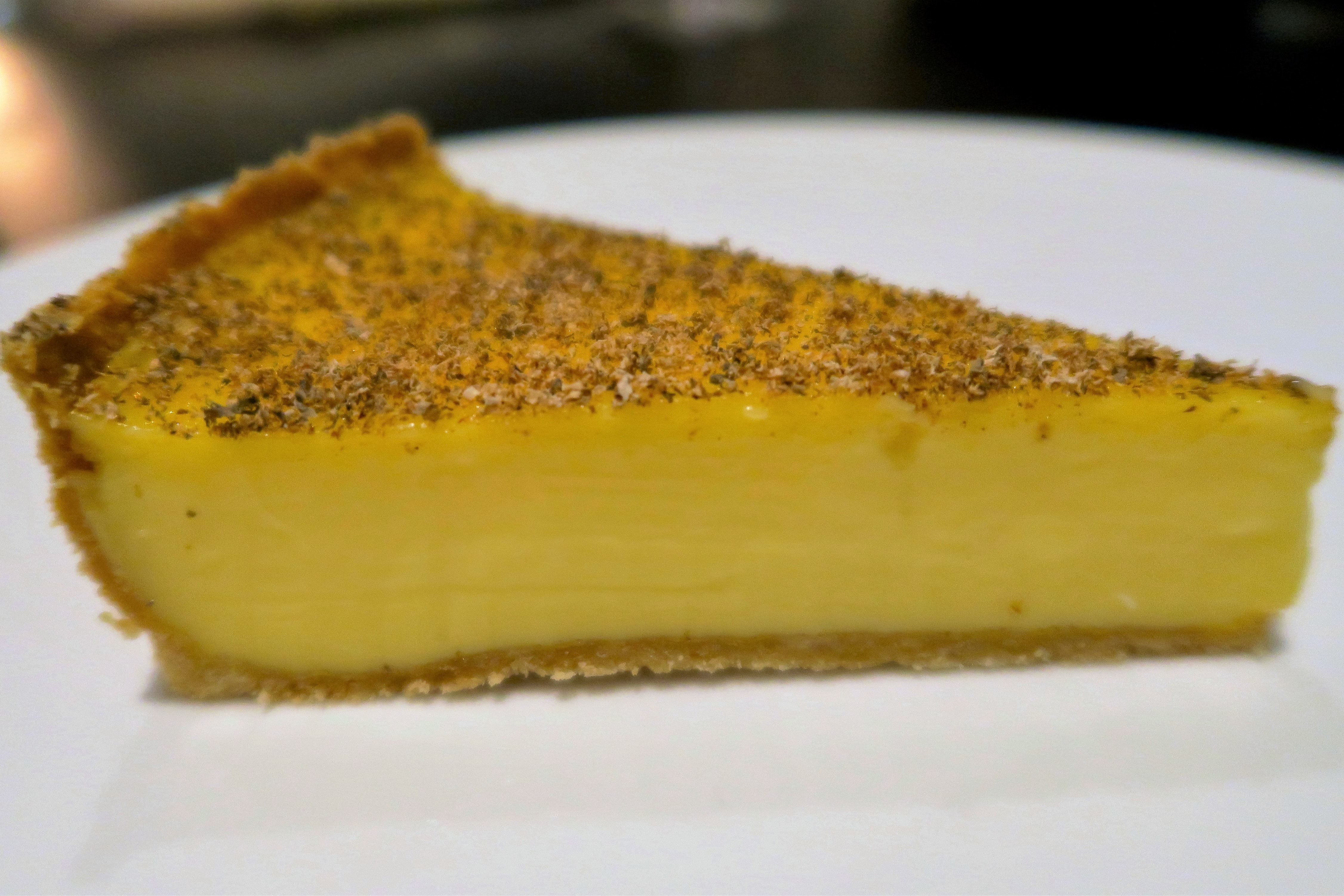 God's own custard tart
The wine is useful in parts, slightly boring in others, and really good at the top end. Gordo had a cracking Premier Cru Vallet Frères Beaune for £52 quid, well worth pushing the boat out for. Drinking well, it stood up for itself given the diversity of flavours on display.
Hispi is a great local bistro, which every now and again shows firework displays of brilliance, with few duds. But they are there.
Gordo just hopes that the High Sparrow doesn't come after him with that steak knife…
A Gordo Go, this place will get even better.
Hispi, 1C School Lane, Manchester M20 6RD. Tel: 0161 445 3996
Rating: 15/20
Food: 8/10 (bread and butter 9, pickles 8, sea trout 5, Burrata 5, lamb 7, featherblade 9, mackerel 8, pigeon (which Gordo ate before taking notes) 8, beignets 7, custard tart 10, broccoli 9, chips 8)
Service: 4/5
Ambience: 3/5
PLEASE NOTE: All scored reviews are unannounced, impartial, paid for by Confidential and completely independent of any commercial relationship. Venues are rated against the best examples of their type: 1-5 saw your leg off and eat it, 6-10 stay in with Netflix, 11-12 if you're passing, 13-14 good, 15-16 very good, 17-18 excellent, 19-20 pure quality
Powered by Wakelet