THERE are twenty two restaurants opening in Manchester before this October. Most of them southern imports. Many of them are going into the Corn Exchange, the building which was damaged by the IRA bomb in 1996 and has had a lot of money spent on it at least three times.
This food is a joy. On any level it eats fabulously well.
It nestles between the National Football Museum, The Printworks and Harvey Nichols with the Cathedral looking over its shoulder. The area has never found its commercial feet once you start to descend the steps away from Selfridges and Harvey Nichols. It's very much, currently, on the wrong side of the tracks and needs one hell of a PR and marketing push to sell itself to Mancunia.
There are many brands, a number of which Gordo has never heard of - let alone his trusty readers - and with only weeks to go before opening Gordo fears the worst unless they increase their outreach in the city.
He was also a little concerned with his old favourite, Second Floor Brasserie at Harvey Nichols. The store opened its doors over twelve years ago; Gordo loved it. The food hall and restaurant that is. The menswear department seems full of clothes that would barely fit Gordo's ten year old grandson. They're pretty mind you.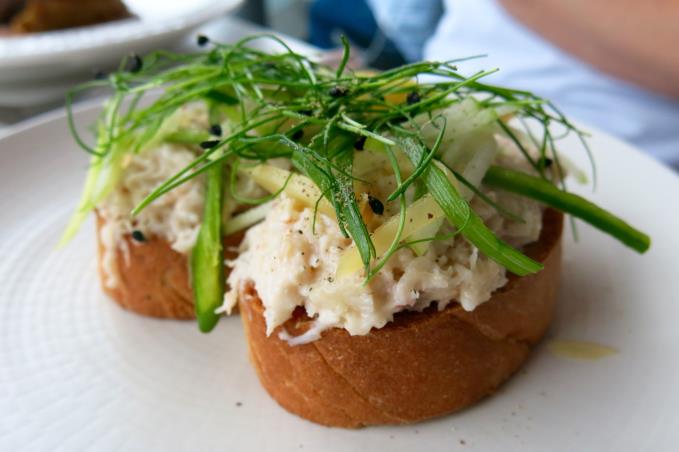 Crab on toast

For many years the delicatessen and wine department has maintained a very high standard; the cheese range is amongst the best in the North West with local treasures and the pick of Europe sitting comfortably side by side.
The wine is truly outstanding and the own label is now Gordo's choice for private drinking. Pricing is highly competitive and even the house wine is head and shoulders above others.
The restaurant mind you never seemed to have hit the right spot. It's been a mismatch of brasserie on one side and white tablecloths on the other; sometimes a barrier up to distinguish the 'proper' restaurant from the bar and brasserie, but leaving the latter dark and gloomy. Lights bright, then subdued, music up, then down. It was in many regards a design that was, and still is, a poor cousin to London.
The restaurant food kept up standards for many a year but then dropped off when management changed as well as the chef. On a recent visit to take the family out for Sunday lunch Gordo was horrified to find the white table cloths had gone leaving the whole space as a brasserie. He had lunch and left, unimpressed.
But with a nag at the back of his mind.
Because, whilst he doesn't like that black and steel feel, the roast beef had been exceptional. As had the service, which, under a particularly fine lady called Sofia was very confident, friendly and knowledgeable.
It's rare to get such confidence without the knowledge that something good is happening.
A couple of months later, Gordo was invited back by Mark and Kelly, the gaffers, to try the new menu on a 'pro comp' basis; these occasions allow for the Fat One to criticise without fear of the chef sliding a knife through his ribs when he points out that something is over seasoned or too cold; he sings for his supper by suggesting changes he thinks can help.
On this occasion, Gordo tried eight starters and four puddings. It was difficult to find fault. So, he decided to come back quickly, unannounced with James Hitchen from Neighbourhood restaurant for company to do a scored review.
He tried four starters this time.
The style has changed. The dishes on offer as 'starters' are more like Venetian small plates beloved of the Italian 'Polpo' style. Gordo can't give you a title. Modern Bristish it isn't. But some of them are extremely well done.
Terrific lamb chops with labneh, aubergine purée and yoghurt (£8) certainly weren't Modern British. Two beautiful fellers, cooked to order are resting on their Morrocan underpinnings which added a frisson of North African excitement. Faultless sourcing.
.Asparagus and pheasant's egg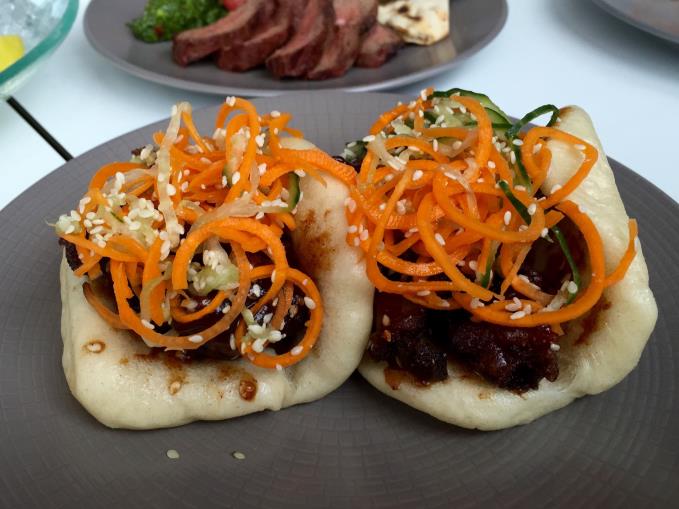 Duck buns

Avocado purée on fresh bread, with crusty wrapping and a boiled quails egg cut in half and runny in the middle, scattered with tiny shoots and naked baby broad beans won a 10/10. Hoi sin duck buns (£7), another 10, actually beat Harry Yeung's at the Yang Sing.
Wye valley sparagus spears with a tangy pesto, edible flowers and a fried pheasant egg (£7) was a darling. The crab toasties, (£7) which were shot through with ginger, chilli, garlic and apple, achieved on the first visit another 10/10. Unfortunately the second time around the dish lacked the apple, which, it turns out is the ingredient that made everything work. Points dropped.
The bread is the best in Manchester. It is quite that simple. Apparently the starter for the sourdough is the same age as Gordo. Blimey. That's old indeed.
Haddock goujons on crushed peas (£6) were a bit plainer than they looked, they need acidity and more seasoning, whereas the Harvey Nichols fish and (lovely crunchy) chips (£13) on the classics menu were the opposite. Good tartare sauce, all freshly made in the kitchen. Loved them.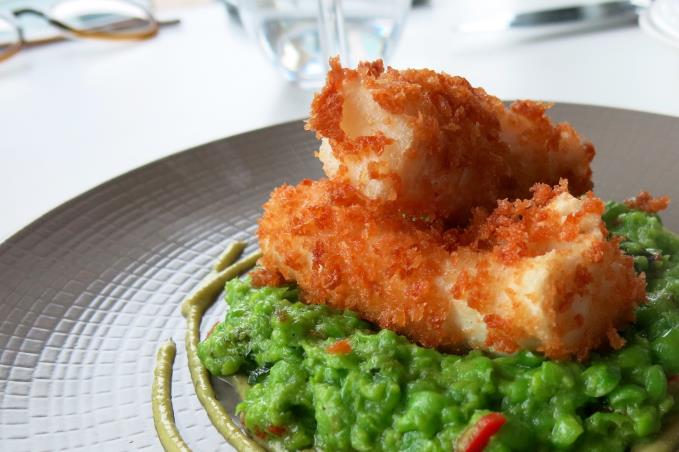 Goujons of haddock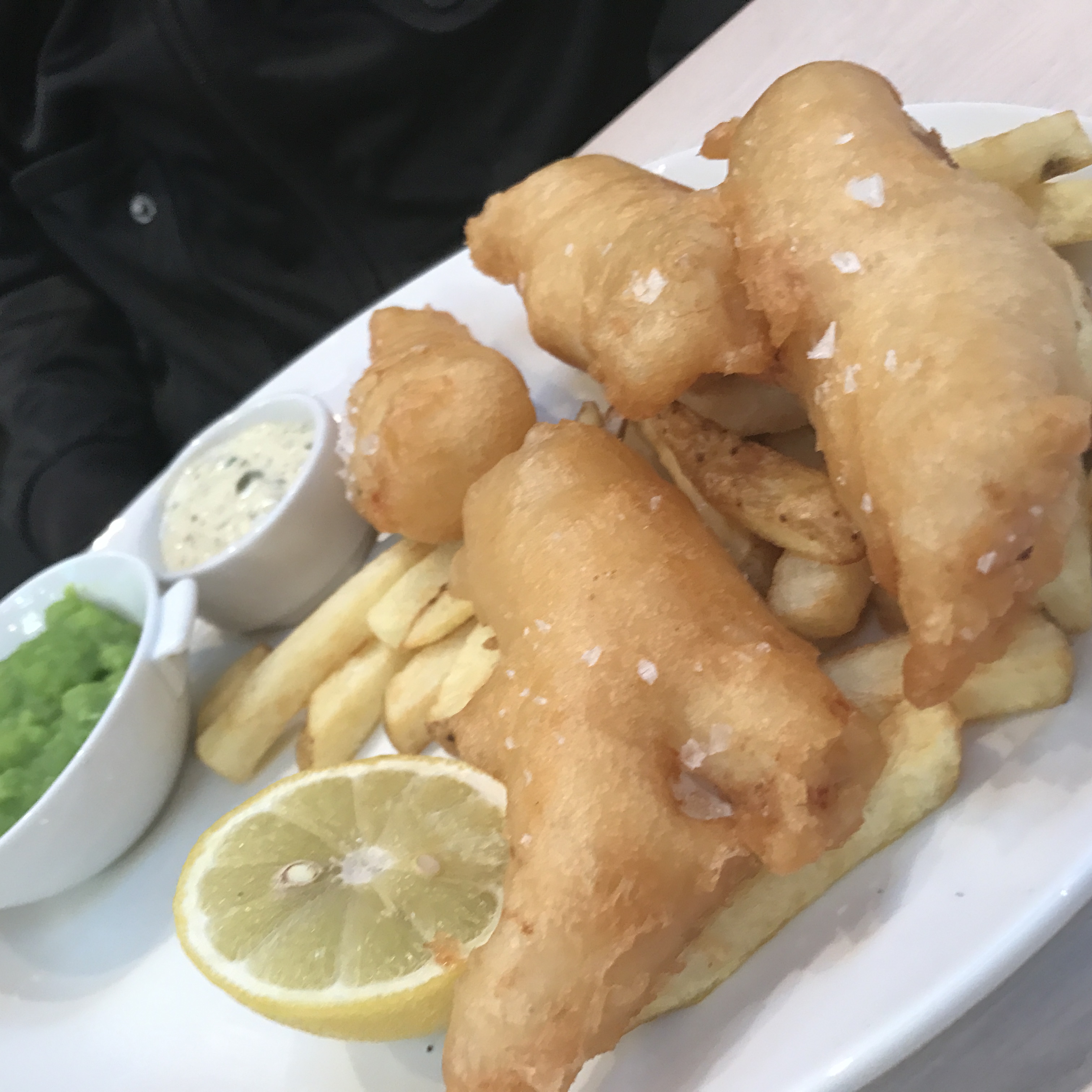 Fish and chips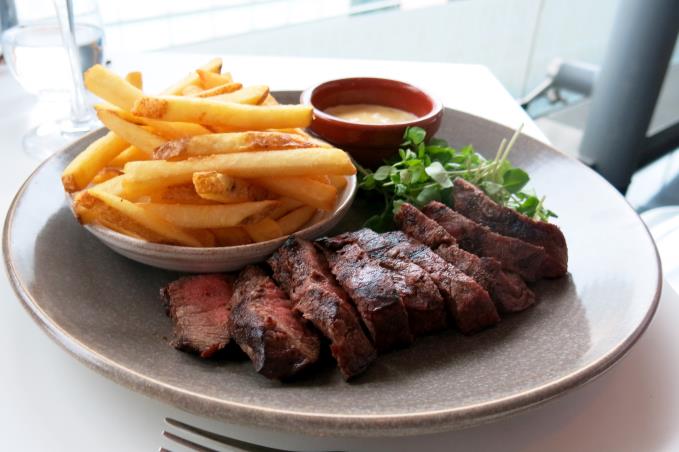 Steak frites
James had flat iron 'steak frites' (£15). Cooked on a Josper grill at temperatures more than 450 degrees, they looked the business and when Gordo nicked a slice he was impressed indeed. At the price point, this is a really great value main.
The pastry chef, Kerrie Hacquoil, is a complete star. Her cheese biscuits that accompanied some outstanding British beauties were formidable. If one thing were to stand out from both meals it was the fruitcake. This was the Shergar of fruitcake, disappearing faster than the famous nag. Gordo will kidnap Ian Mackenzie the store manager this Christmas and not give him back until he's supplied him with a slab to take home. Mind you, knowing Ian, Gordo may well have him on Gordo's toes 'til Easter. However we didn't have any pudds on the second visit and therefore can't score them. But they were remarkable and would have scored 9/10.
This food is a joy. On any level it eats fabulously well. Head Chef Mathew Horsfield has done a great job here, apparently the whole group are looking at his menu. The restaurant still needs a major refurb to be frank, there are whispers it's on its way. Once this happens, Harvey Nichols will be able to take on all comers and if so the Corn Exchange newcomers don't stand a chance.
Follow Gordo on Twitter here @GordoManchester
Second Floor Brasserie, Harvey Nichols, 21 New Cathedral Street, M1 1AD . 0161 828 8898
Good for: Hoi Sin Buns, Assignations and House Wine
Give a miss: Trying the skinny jeans on if you don't want to get depressed for the rest of the day
Rating: 16/20
Food: 8.5/10 (lamb chops 8; haddock 7; hoisin sin buns 10; crab 9; avocado 10; fish and chips 8; steak 8; bread 10)
Service: 4.5/5
Ambience: 3/5
PLEASE NOTE: Venues are rated against the best examples of their kind: fine dining against the best fine dining, cafes against the best cafes. Following on from this the scores represent: 1-5 saw your leg off and eat it, 6-9 get a DVD, 10-11 if you must, 12-13 if you're passing,14-15 worth a trip,16-17 very good, 17-18 exceptional, 19 pure quality, 20 perfect. More than 20, we get carried away.