THIS was as near a flawless meal as you could wish for. But it comes at a price. Save up before you go, maybe sell off spare children or that old master you have hidden away.
Apparently in Argentina meat is a semi-religion (along with football) and thus it has to be worshipped
Still, as stated, this was a near flawless performance from the Argentine restaurant, bill notwithstanding. The whole experience was professional, slick, as smooth as you'd expect from a Metropolitan and upmarket mini-chain. If there was a delay over service that was probably because we arrived between shifts at 5pm on a Sunday and they were down a staff member or two.
(Ha. See what I've done there, I criticised the place and then provided an excuse because I felt guilty. Jeez, writers can be little shits. Thing is, you see, if as writers we don't find anything to criticise we feel we lose credibility. It must be something to do with our childhoods.)
The food from the breads to the puds was excellent. Grub is sourced from Argentina where applicable, similarly all the wines are Argentine.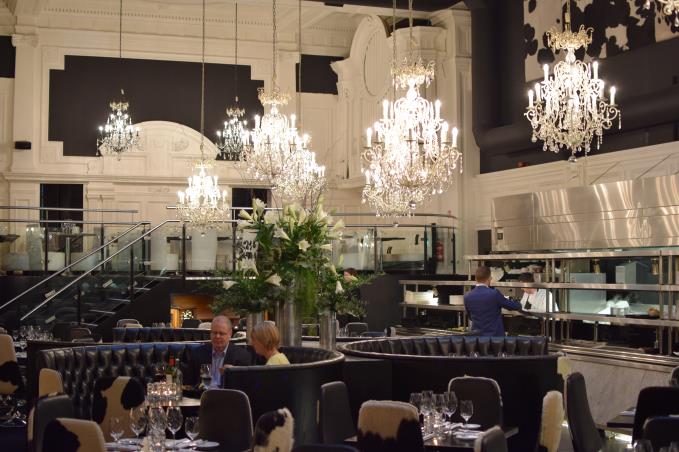 The room is spectacular
Seafood sampler - tuna ceviche
The best of the four types of bread was the surprise package of a maize number called arepa that had the consistency of potato cakes and tasted similar. Mingled with the supplied salsa this was delightful. And hallelujah it was free. Three cured meats weren't and came in at £4.50 each but they were nigh perfect. The bresaola was the pick, stunningly soft and easy to munch, packed with flavour, but the pastrami and the salami weren't far behind.
Meat is the Gaucho thing. In a busy restaurant for 5pm on a Sunday I reckon this was the reason why most customers had come. Apparently in Argentina meat is a semi-religion (along with football) and thus has to be worshipped. In Gaucho it is brought out and shown on a platter in its raw naked state, like the relics of a saint being trooped around a town on one of those endless Roman Catholic holy days. To be fair this gives the staff a chance, in an easy-going manner, to inform customers who might not be beef-aware of the difference between the various steaks.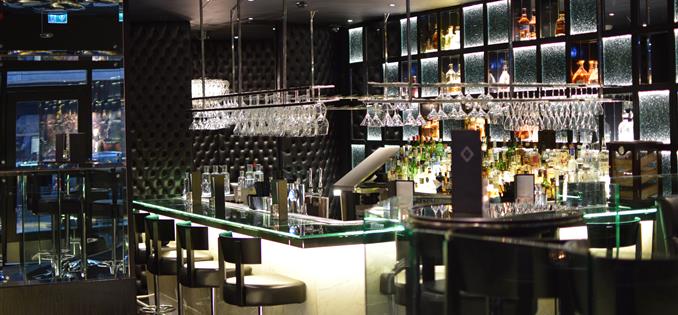 The entrance bar gleams like an oligarch's wristwatch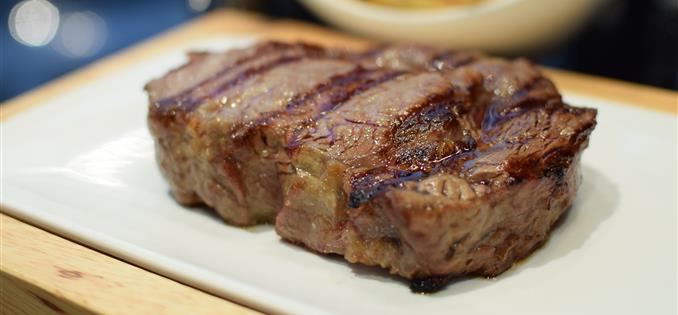 400g rib-eye is a corker
There were three of us and we went for the fillet, a ribeye and the sirloin which respectively cost an arm, a leg and...er...the other leg. The fillet, the prize cut, was £30.45 for 225gr, the rib-eye was £34.70 for 400gr and the sirloin was £33.95 for 400gr. They were all immaculately rare or medium rare as requested and they were as high-quality as Gaucho demands of its suppliers and Gaucho's customers demand of the restaurant. Then again, as the website proclaims, the meat comes from cattle from the Argentine pampas which has 'seventeen types of grass'. This surprised because I'm sure I could taste eighteen in my rib-eye. The anchovy butter, by the way, melted on the meat is the way to go with the sauces.
Yet for me the best food by far in Gaucho had nothing to do with land beasts.
With steaks you want consistency predicated on the quality of the meat chosen. The seafood sampler (£16.95), we'd had prior to the beef, showed flair, variety and subtlety. The crab causita with its egg and coriander mingled with chilli was a revelation of rich flavour, both gentle and punchy at the same time. The marinaded scallop with fennel, chilli, avocado carried a hint of soy and was again wonderful. Not far behind was the tuna ceviche with guacamole and again soy. I could revisit Gaucho just for this lot right now, eat nothing else and just swig tap water.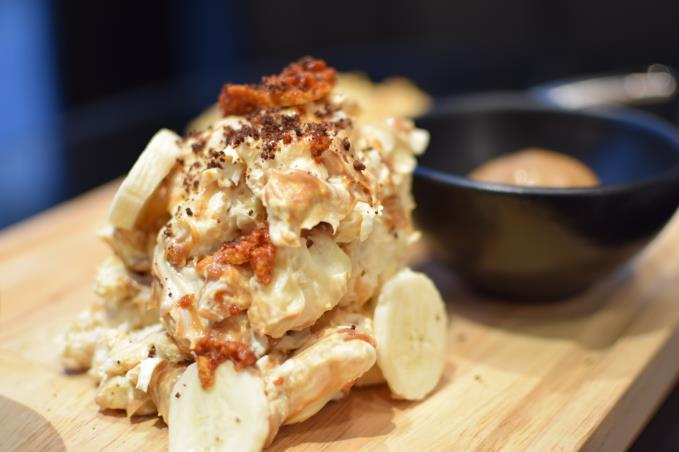 Dessert sampler - banana and coconut thing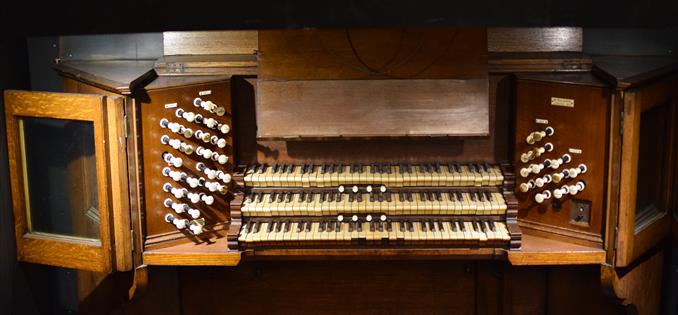 The restaurant features the original keyboard and organ pipes
The dessert sampler (£15.95) was distinguished by a weird banana and cocount mess which was a riot of dulce de leche, honeycomb, coconut, banana and cream. The winelist is the best in the region if Argentine wines are your thing. I had a cracking half bottle of Fuera no 6 at £25, a Cabernet Franc from Mendoza province.
"Shall we guess the price?" I said to my 16-year-old.
"£200," he said.
"Wow, you've gone high," I said. "I reckon £180."
It was £238.84.
A problem with the bill is that Gaucho does that dirty, stinky, trick stolen from our bloated capital city and adds 12.5% service charge (Hawksmoor adds a discretionary 10%) which in this instance added £26.54. Oddly enough the restaurant website reads like this: 'All prices include VAT and a discretionary 12.5% service charge will be added to your bill. (Exc Leeds).' That made me laugh. Yorkshire eh? Impose a 12.5% service charge and there'd probably be a riot.
The venue, if you've not been, is spectacular. A triple-height ex-Methodist meeting hall off Deansgate, that opens from a small entrance into a 'bloody-hell-look-at-that' space. It still features the original keyboard and the organ pipes. Not sure about the cow hide decoration high on the walls but the space certainly impresses. As do the steaks, but maybe leave your meat addiction at the door and dive into the seafood platter. In fact, try and confuse the staff by not ordering steaks at all. It could be fun.
So, time to confront the Confidential accountant about my receipt.
"Yea, I know, but I only had a half-bottle of wine, Mr Moneyman, maybe a dessert wine too."
Gaucho, 2a St Mary's Street, City Centre, Manchester M3 2LB. Tel: 0161 833 4333
Rating: 16/20
Food: 8.5/10 (breads 8, cured meats 9, steaks 8, seafood platter 9, desserts 8)
Atmosphere: 3.5/5
Service: 4/5
PLEASE NOTE: All scored reviews are unannounced, impartial, paid for by Confidential and completely independent of any commercial relationship. Venues are rated against the best examples of their type: 1-5: saw your leg off and eat it, 6-9: Netflix and chill, 10-11: only if you're passing, 12-13: good, 14-15: very good, 16-17: excellent, 18-19: pure class, 20: cooked by God's own personal chef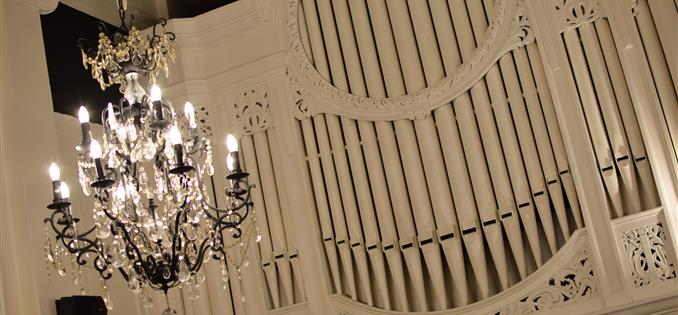 Grand pipes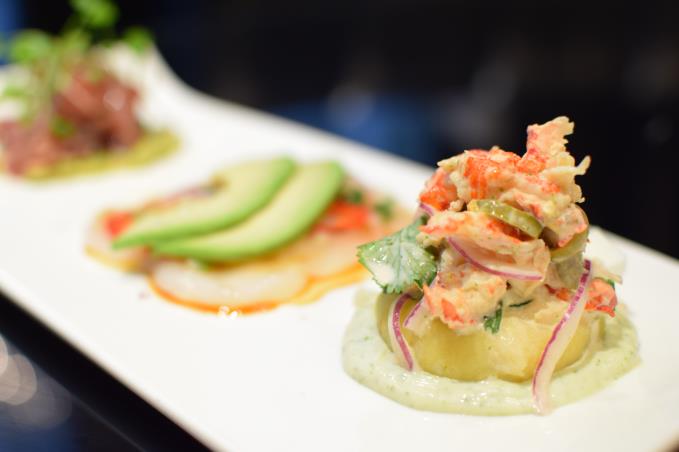 Seafood sampler - crab causita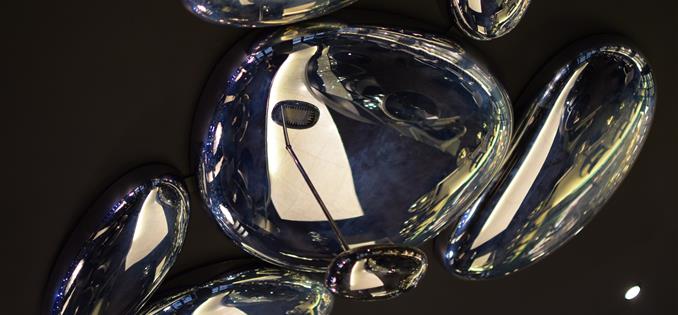 Terminator 2 light fixture
Powered by Wakelet