COMPARISON is a reviewer's bread and butter. And wine and meat and dear little packets of condiments too. Without comparison we'd all just be stuffing our faces and surfacing to grunt occasionally.
Perhaps Spanish food is due another spin on the whirligig of food fashion. Yes it seems like only yesterday (if yesterday was well over a decade ago) that everyone was banging on about 'sharing plates' and feeling wonderfully continental about it all.
Unfortunately for Evuna, I've not been long back from a trip to Granada, the spiritual home of tapas. Here, tapas are a 'gift of the house'. Gratis grub. Complimentary cuisine. Free food. Has alliteration ever sounded sweeter? With every drink came a mouth-watering surprise in the form of, well, anything really. Cuttlefish, croquettes, chorizo, clams, cabbage, whatever. If you can think of it, the Spanish can turn it into a tiny morsel of deliciousness. And did I mention it was free? What can compare with free?
The contrast isn't fair really. I'm sure it's a fiscal truth proven by George Osborne that if you give anyone anything for free in this country it will instantly collapse the economy and turn us all into a nation of layabouts, constantly demanding cured meats to be shovelled into our gaping maws by sobbing civil servants while Nigel Farage does an 'I-told-you-so' dance.
So I could never state that Evuna represents value for money. Value for money is booking an EasyJet flight to Granada and living on bar snacks and your wits for a week. But if you are prepared to shell out a little you do get some mighty fine tapas in this atmospheric Northern Quarter spot.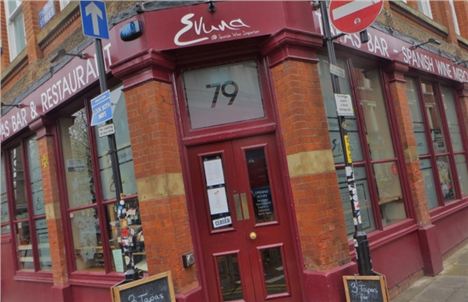 Evuna NQ
Hermana to the Evuna on Deansgate, Evuna NQ as I suppose we must call it, is more barlike than its predecessor, lots of dark woods and intimate pools of light. The Spanish vibe is conveyed subtly via Moorish tiles and carvings, nothing too ay caramba here.
Evuna is also all about the wine. A noted importer of Spanish wine, it has one of the more impenetrable winelists I've seen. Helpfully though, the list is split into 'ages' (from young and fruity to more mature and oaky), so gesturing vaguely at what you fancy and allowing your waiter to guide you is as good a method as any. Our waiter steered us towards Solorca Crianza (£28), a fantastically balanced drop from Ribera del Duero.
After a sherry at the bar we moved to a table for our food and wine. We went for the special Pato Asado, also known as roasted duck with classic tortilla and spiced red cabbage (£7). The duck was perfectly cooked, the tortilla decent, but the spiced cabbage slightly too sweet. A really interesting dish though.
Half seabass with garlic and chilli (£7.65, main image) was fresh, the skin crisp and lovely, it formed a light vibrant counterpoint to the rich, hearty Ox cheeks (6.50) served on discs of potato. Although the meat was tender, easily disintegrating into fleshy flakes, the star anise flavouring of the braise was one-note. So as long as you like your note star anisey then this is the dish for you.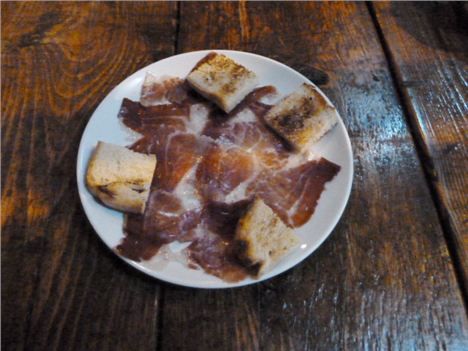 Iberico Ham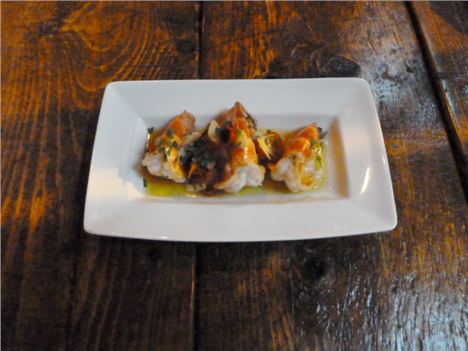 Gambas
For a cold dish, we ordered Jabugo Iberico Black Foot Pig ham (£8.90). While on my aforementioned Spanish trip, I headed to the supermarket and bought a whole leg of ham for only 32 euros. We christened him Señor Jamón and, for a week at least, he became part of the family (if you cannibalise members of your family that is). Poor old Señor was not in the same league as this Iberico ham, translucent strips of meat and fat which melted in the mouth, but then for nearly £9 you would have got a third of Señor and many fond memories.
Gambas with garlic and chilli (£7.20) proved to be prawns that while alive must have been big enough to run errands for you. Cooked and smothered in silky butter they were docile enough to master in a few bites. Patatas Bravas (£4.65), however, reminded me of the other Evuna and the frankly disappointing food I've had there in the past. This is chain restaurant stuff and does not deserve a place on this menu. It's what people thought Spanish food was fifteen years ago.
Crema Catalana (£4) is the Spanish version of crème brûlée, but with added citrusy punch. A likeable enough desert but faded in comparison to the savouries.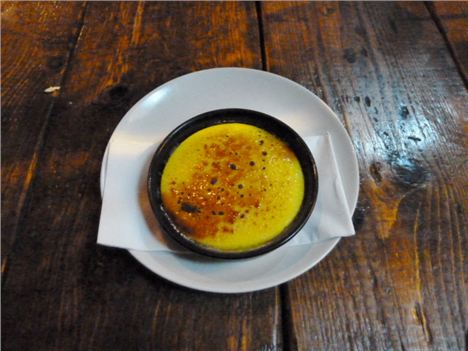 Crema Catalana
The food is good at Evuna, my only true grumble is the price. Of course everyone would like everything to be cheaper. I'm sure Evuna would like their suppliers to charge them less too. It's just that it's hard to feel like you are having a relaxed few bites with a drink or three when you know a bill of around £100 for two (including drinks of course) is wending your way.
Perhaps Spanish food is due another spin on the whirligig of food fashion. Yes it seems like only yesterday (if yesterday was well over a decade ago) that everyone was banging on about 'sharing plates' and feeling wonderfully continental about it all. It's still a term used to make things sound a bit modern and fusion. I suspect someone out there is working on a Korean tapas street food concept right now. In our rush to praise the form though, we've forgotten about content. And the Spanish do content so well. The meats, the fish, especially the worship of all things piggy. All part of life's rich tapas.
ALL OUR SCORED FOOD REVIEWS ARE IMPARTIAL AND PAID FOR BY MANCHESTER CONFIDENTIAL. REVIEW VISITS ARE UNANNOUNCED AND COMPLETELY INDEPENDENT OF ANY COMMERICAL RELATIONSHIP.
Evuna NQ, 79 Thomas Street, Northern Quarter, M4 1LQ. 0161 833 1130
Rating 15/20
Food: 7/10 (duck 8, seabass 8, prawns 6, patatas bravas 2, ox cheeks 7, iberico ham 9, crema catalana 6)
Service: 4/5
Ambience: 4/5
PLEASE NOTE: Venues are rated against the best examples of their kind: fine dining against the best fine dining, cafes against the best cafes. Following on from this the scores represent: 1-5 saw your leg off and eat it, 6-9 get a DVD, 10-11 if you must, 12-13 if you're passing, 14-15 worth a trip, 16-17 very good, 18 exceptional, 19 pure quality, 20 perfect. More than 20, we get carried away