WHEN was the last time you left a restaurant clutching a carrier bag containing six yellow-fin bream skeletons? Or indeed any combination of fish heads and bones, enough to make a huge vat of home stock? And all for free? I thought not. But when your hosts have been in the fishmongery trade for a century and a half they understand a fish lover's needs.
Excellent, friendly service and cooking that doesn't distract you from the main reason for being there – spanking fresh fish.

 
It helps when the restaurant is situated behind one of the Greater Manchester's best fish shops. Heaton Moor's Easy Fish Company may not have the high profile – or quite the range – of Out Of The Blue in Chorlton, but it is still a piscatorially inspirational spot to find in a suburban parade of shops. It was Steve Pilling, restaurateur and long-time customer of the Leving family's wholesale operation, who suggested they set up in retail in a dilapidated former Co-op next to his Damson restaurant.
They moved in four years ago, adding a simple cafe, which last September was transformed into the 30-cover Easy Fish Restaurant with a new kitchen team on board and, of course, access to the freshest fish out front, marshalled by son of the family Charlie. Without hesitation he scooped my gratis bagful out of the filleted bone bin and then cleaned me a gleaming squid (which I paid a modest sum for) to take home, too.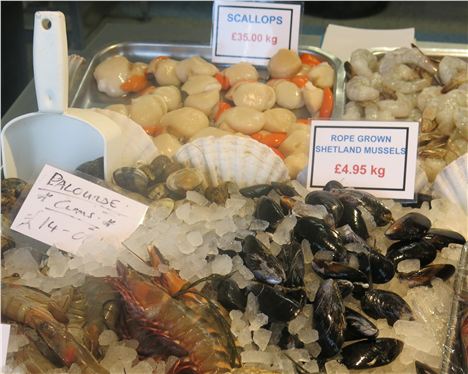 Shellfish counter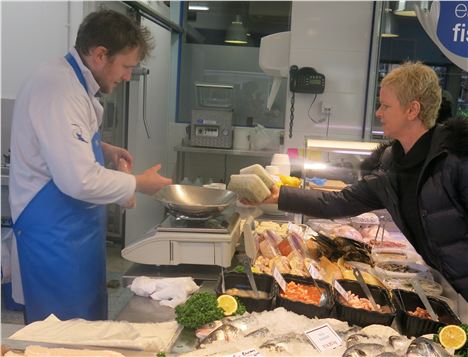 Charlie Levings serves a customer
I was feeling as mellow as a rope-grown mussel by this point after an exceedingly fish-filled lunch, accompanied by a bottle of peachy-with-a-hint-of-salt single vineyard Finca de Arantei Albariño 2013. Half of it had gone by the time we'd slurped our oysters down. The temptation at just 12.5 per cent alcohol and £23 was to order a second bottle, but we resisted. We also resisted encore de huitres, which were a gorgeous gulp of the briny shallows.
Like the rest of the wine list, the Albarino, a perfect seafood white, is from Gatley-based Boutinot. All the wines are available from the shop (without the restaurant mark-up) alongside the fresh fish array and many other non-fishy North West products from the Cheshire Smokehouse to Great North Pies.
The Atlantic oysters came from further afield. We had three each for £4.95, with shallot and red wine vinegar and horseradish in creme fraiche to accompany. Oysters feature, too, on an attractive sounding £39.25 signature sharing platter that ticks most cold seafood boxes, while a whole grilled lobster will set you back £34.25, but we were keen to check out dishes on the list that really seemed to be pushing the boat out (sic).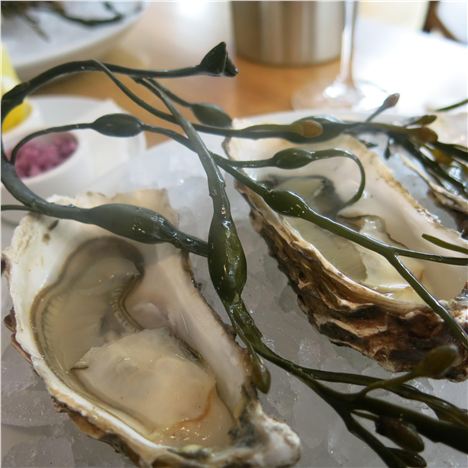 Well, my companion's roasted Mediterranean fish soup with rouille-smeared toasts (£4.75) didn't really set sail. Substantial, a mite crabshell-driven, it was just OK. I landed luckier with my pan-seared Scallops starter (£8.95). The nutty little bivalves marry well with bacon or black pudding; here a less assertive meatiness came from a ballotine of roast chicken confit flavoured with garlic and lemon thyme. A tomato relish added a lovely sharpness.
This was accomplished cooking coming from a minnow-sized kitchen slotted in at the rear of a blue-painted, slightly four square dining area. More was to follow with our mains. We were never going to settle for a token steak or veggie Thai green curry with fish this good. 
A tranche of exquisitely flaky roasted cod (£15.95, main image) came with an oniony red wine sauce and a smoked Applewood and bacon potato hash that was less in your face than expected. Similarly, the pan-fried sea bass (£15.25) accompaniment, chestnut and redcurrant spring roll, which my cynical companion suggested was using festive leftovers. It was quite superfluous; the dish got its oomph from a butternut and sage squash puree and slick of salsa verde.
All in all, though, specialist inland fish restaurants are as rare as a toothless shark. Livebait and Fish! made the attempt and failed in Manchester city centre. Out in Lancashire the growth of Jocelyn Neve's Seafood Pub Company empire has been a success story, in part due to canny sourcing by her dad, Fylde Coast legend Chris. I can't for the life of me see why the hit and miss Oyster and Otter near Blackburn scooped Lancashire Life's Restaurant of the Year in 2014, but I'm glad fish is being given its head. 
And so to my big surprise in Heaton Moor. Excellent, friendly service and cooking that doesn't distract you from the main reason for being there – spanking fresh fish. Easy does it – as they say.
Follow @AntonEgoManc on twitter.
All scored reviews are unannounced, impartial, paid for by Confidential and completely independent of any commercial relationship.
Rating 14/20
Food: 7/10 (Oysters 8, Fish Soup 6, Scallops 8, Cod 7, Sea bass 7)
Ambience: 3/5
Service: 4/5
PLEASE NOTE: Venues are rated against the best examples of their kind: fine dining against the best fine dining, bars against bars, cafes against the best cafes. Following on from this the scores represent: 1-5 saw your leg off and eat it, 6-9 get a DVD, 10-11 if you must, 12-13 if you're passing, 14-15 worth a trip, 16-17 very good, 18 exceptional, 19 pure quality, 20 perfect. More than 20, we get carried away