COTTONOPOLIS is a 'bar restaurant'. It's not in Piccadilly, oh no sir. It's in the Northern Quarter, in a Grade II listed building on the corner of Newton Street and Dale Street, just around the corner from Back Piccadilly and a stones throw from one of Gordo's favourite boozers, Mother Macs. This new gaff is owned by an architect called Nick Muir, who, as well as taking on a bar, could also earn a few quid impersonating Paul Weller.
Puddings are on the 'Trade' area on the menu. Nope, Gordo neither
The twittersphere says the 'door' won't let you in if you're wearing North Face clothing. Strange that, as this will indeed exclude a very large percentage of the passing custom. Gordo, given the location, can understand a no-needles policy, but no North Face? Is he missing something?
A grim front door it is as well, but walk into the space and it opens up with warmth, leather and copper framed in deep blues. All the furniture is well-made, leathery and bespoke, whilst the room layout on entry leads the eye across its various parts - which are all far more comfortable than they first suggest.
It's easy to spot the architect in all of this.
Tables are cut into strangely angular designs, sitting only four in an area which, laid out by professional restaurateurs, would seat eight. At the far end of the room is an open kitchen, adding to the atmosphere. The bar serves real beer, including one of those bloody great big copper vats hanging above a very handsome curved bar. The vat is full of beer delivered by tanker every week from the Czech Republic.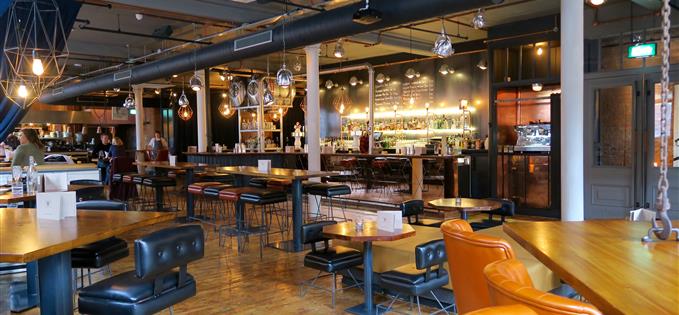 Cottonpolis: very cool, yet warm and comfortable
What about the food? Never mind this 'Ice, Fire, Steam and Oil' marketing bullshit. Yes, you heard right, oil. Hmm. What this menu is, is a cut down Australasia, 'JapoChine', with small plates for grazing.
The lovely waiter, Keegen (shut up you lot at the back, this one does have balls) arrives and asks the dreaded question: "Can I explain the menu to you?"
'No', thinks Gordo, "I'm 56 (ish) and have been working in the business since I began washing pots in the Legh Arms in Prestbury aged fourteen, when you were still out in the Godverse in cosmic holding pattern waiting for a new spacesuit for your soul to re-incarnate back down on Earth. If you need to explain a menu, you've fucked up.'
"Not a problem, Keegan," Fatty actually says, "I'll figure it out."
Gordo orders a bunch of stuff along with a pot of tea. It had to be mint, they'd run out of peppermint. It is (nearly) in the Northern Quarter after all.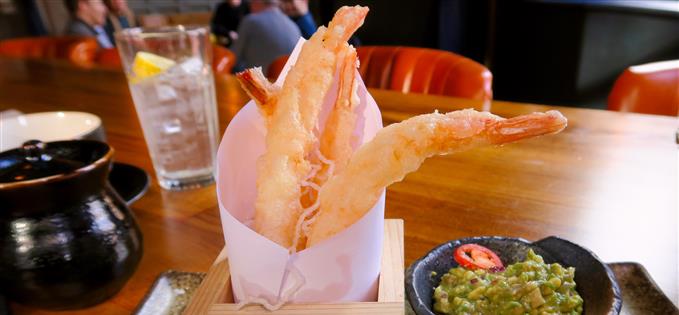 Tiger prawn tempura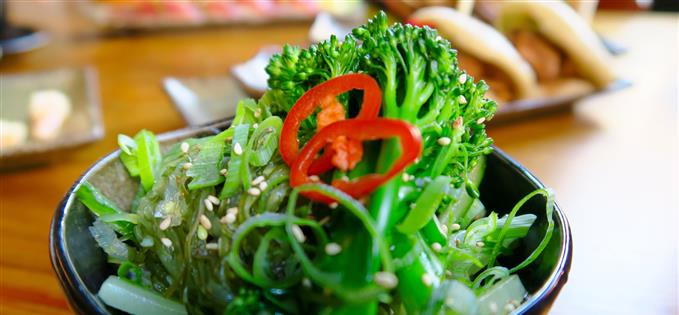 Veggies
First to arrive was Loch Duart salmon sashimi (£6.50). There must be a helluva lot of salmon in that there Loch Duart. It arrived with more styling than a Madonna music video. Sat on a small bed fashioned out of tiny bamboo, roped together with faerie gossamer, it looked, well, very, very pretty. It tasted even better. It excited the Fat One so much that with one wave of his big, pudgy hand he boosted the soy pot across the table, over the hugely expensive leather chairs and onto the floor, spilling soy all over the show.
Oops.
That sashimi was good, mind you.
Next along came the Tiger Prawn tempura, 'lightly battered' (£8.00). These were stonkingly great. Light, dead crispy and well seasoned with 'spicy avocado sauce and yuzu salt' - a slightly chunky guacamole with class. FUCKING FANTASTIC. Gordo wants the recipe please chef.
The Yellowfin tuna nigiri (main image) were a delight, on par with anywhere else in the North West. The rice in particular, faintly vinegary, really shows the difference between those on the tools who've had practice and those who've not.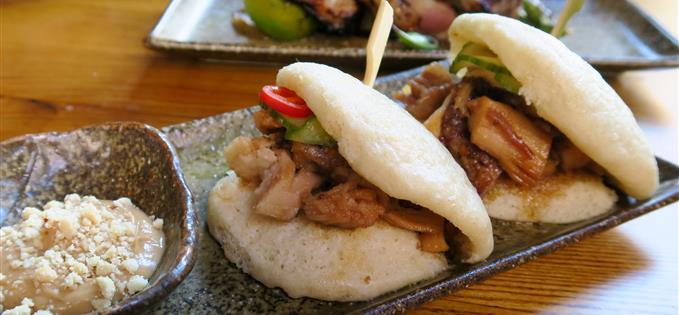 Bao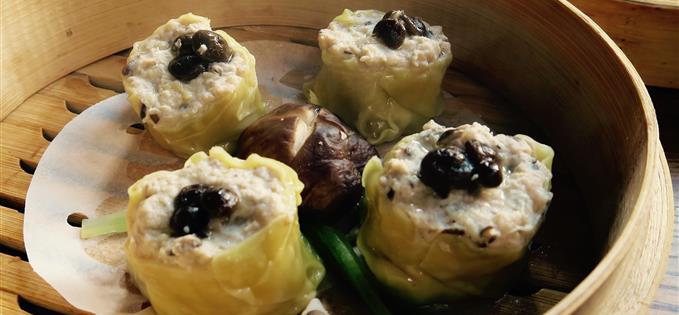 Shumai
Pork bao buns (£8.00) were described as from Taiwan. Gordo isn't sure about the latter, but is sure that the bao buns at the Yang Sing are better, as well as those from the newly opened Dim Sum Su at Leftbank Kitchens, oh and Wagamama, they're the best of the lot. The bao from Cottonopolis were, well, a bit greasy, grey looking and flat. Rubbery. The pork filling nowhere near as good as Wagamama's. Mind you, the side of peanut sauce (more like a cream) was on a par with Busaba's, which is pretty invincible.
The bao came from the 'steam' area of the menu, from which Gordo also decided to try the shumai steamed chicken dumplings, described as 'stuffed with chicken, truffle and mushrooms'. Gordo was taught to make these many years ago by the Yang Sing master, Harry Yeung. These were not a patch on Harry's. The truffle filling was the stuff of nightmares, this ain't fresh truffle folks, more E numbers and flavouring than anything else. Nasty. The Chinese have been doing these things for five thousand years, give it up. Still, if you must, season the little sods.
Lamb Nasu (£9.50) are described as cutlets, thinly sliced and grilled. They weren't thinly sliced, but were unevenly cooked; neither pink, nor incinerated. Either of which Fatty is happy with, but grey? Nope. Badly trimmed as well. Great spicing mind you. Overall a fail.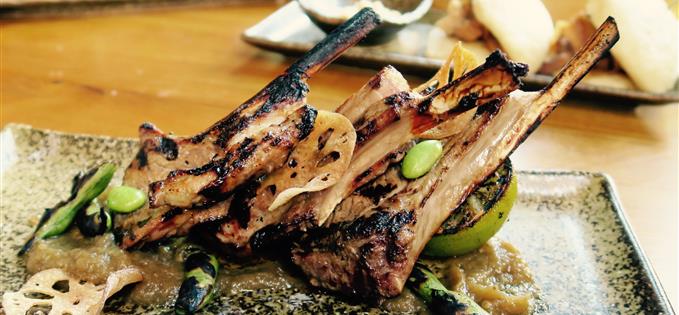 Lamb Nasu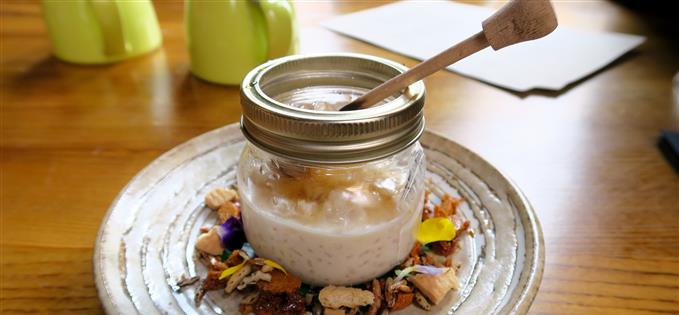 Rice pud
Puddings are on the 'Trade' area on the menu.
Nope, Gordo neither.
Anyways, Gordo had the rice pudding, served in a jam jar with a drizzle of good, runny honey and crunchy (honeycomb?) stuff sprinkled on the plate. Gordo shoved these into the jar like the pig he is and inhaled the lot. Dead sexy.
Keegan arrived with a second dessert. "This is from the chef to say sorry for the previous mistake."
Gordo had taken to Keegan but didn't have a clue what he was talking about, unless the chef read Fatty's mind about the lamb cutlets. Oh well, the banana split and rum raisins with popcorn and ice cream (normally £6.00, free in this case) went down a treat. One improvement chef, sorry, but the popcorn needs to be that Butterkist type, where the caramel has a slight crunch. This popcorn adds nothing currently, being too soft, chewy and bland. You get bits of it stuck in your teeth. Apart from that, top drawer.
Cottonopolis is very cool, yet warm and comfortable. This is a welcome addition to the area, a bit off class, and Gordo's sure the food will improve. A local newspaper described it as 'swanky'. Is it bollocks. It's studied class, timeless.
Rating: 15/20
Food: 7/10 (sashimi 8, nigiri 8, tempura 9, bao 5, lamb 6, shumai 5, rice pud 7.5, banoffee 8)
Ambience: 4/5
Service: 4/5
PLEASE NOTE: All scored reviews are unannounced, impartial, paid for by Confidential and completely independent of any commerical relationship. Venues are rated against the best examples of their type: 1-5 saw your leg off and eat it, 6-9 stay in with Netflix, 10-11 if you must, 12-13 if you're passing, 14-15 worth a trip, 16-17 very good, 17-18 excellent, 19 pure quality, 20 perfect, 20+ slap us.
Powered by Wakelet