I TRIED to resist reviewing this one. Having been to one or two branches in London, I already loved it. Last Christmas I even bought the recipe book.
Despite the absence of any pig, this is now arguably the best breakfast in Manchester
I was worried I wouldn't be able to remain impartial, but it turned out that all I'd ever done before was flick straight from 'Breakfast' at the front of the menu, to the booze list at the back. I'd never actually worked my way through the hot and cold mezze, main courses or desserts.
Lebanese food is light, delicious, filling, healthy, and most of all (the generic word I usually avoid) tasty. Fresh flavours come from chargrilled vegetables, crunchy salads, sharp pickles, salty cheese, copious amounts of lemon juice, flat leaf parsley and home-produced olive oil. Base notes come from various pulses, grains, nuts, slow fried onions, marinated meat and tahini paste. Lebanese food culture has been enriched by a distinctive blend of spice mixes with exotic ancient names like za'atar, baharat and sumac, and perfumed with sweet syrups infused with rose water or orange blossom.
Despite the amount of garlic most dishes contain, it is sociable food, which you can fit around the occasion: a few nibbles along with an informal meeting, a filled flatbread when you're short of time or a full range of mezze washed down with excellent Lebanese wine when you're out for the night.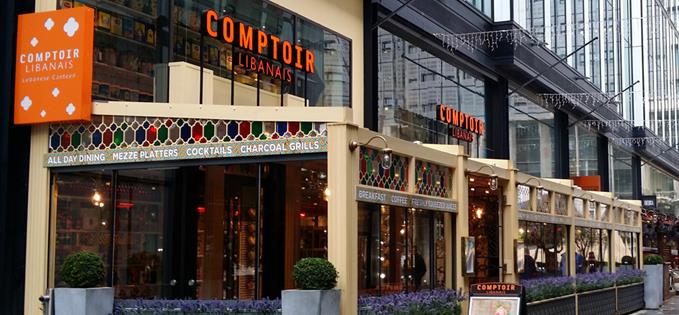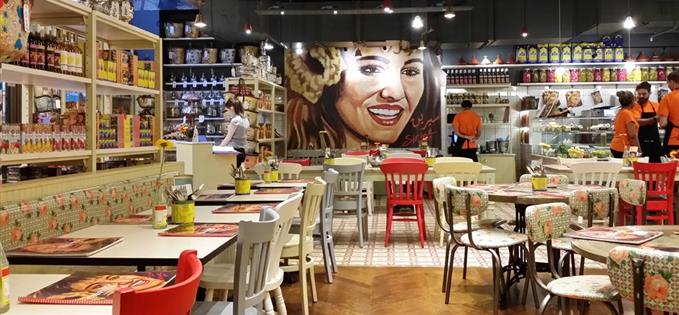 Comptoir Libanais
Manchester now houses the twelfth branch of Comptoir Libanais and the first outside Greater London. Despite a couple of menu tweaks, it's an exact replica of its southern sisters. Owner Tony Kitous based the design around childhood memories of geometric tiles, bold-patterned plastic lined seating and colourful textiles, throwing in some kitsch with Arabic movie posters from the fifties and sixties.
Branding is striking, heavily focusing on the smiley face of female Arabic icon Sirine Jamal al Dine who adorns the walls, menu, leaflets and the book cover. An all weather terrace has been erected out front and the giant restaurant with room for well over 200 covers has a few low tables more for grazing and drinking. Colourful salads and cold mezze are piled up ready to go behind a deli-style food counter, making this a well organised operation. It is classy, brassy, colourful and bright, and pretty much reflects the food.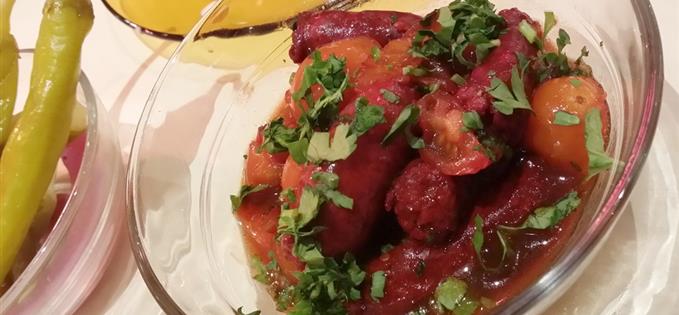 Sojok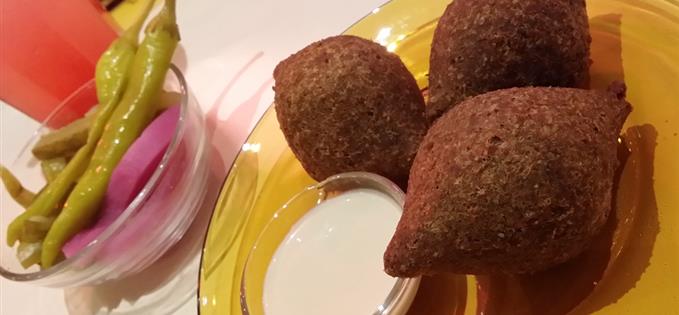 Lamb Kibbeh
But back to the Comptoir full breakfast (£7.95, main image) which is so good, I never managed to move past it on the menu. Despite the absence of any pig, this is now arguably the best breakfast in Manchester (served between 8-11.30am). Like a full English with the flavour dials turned up to eleven; eggs, Sojok (spicy lamb sausage), grilled tomato and a flat mushroom scattered with a bit of added Lebanese magic, cubed potatoes and instead of baked beans, Fool Moudamas; mashed broad beans with olive oil. Fantastic.
On this visit, we included the Sojok (£5.95) and Fool Moudamas (£3.95) in our mezze. The stubby pink sausages were served with a sharp cherry tomato sauce sweetened with pomegranate molasses to balance out the flavours. We also chose Lamb Kibbeh (£5.25), three delicious teat-shaped minced lamb and wheat parcels, Moudardara (£4.75) lentil and rice salad with spring onions, cherry tomatoes and parsley, and Traditional Pickles (£2.25) colourful jars of which line the shelves above the kitchen.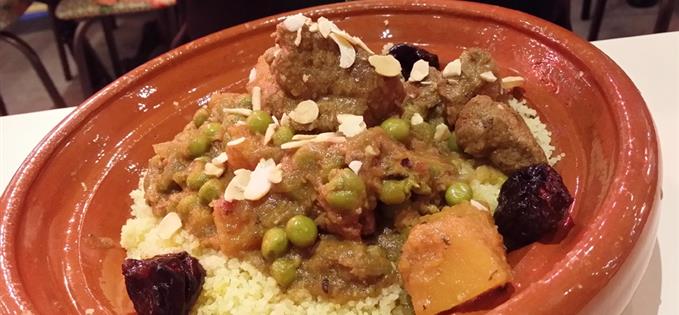 Lamb & Prune Tagine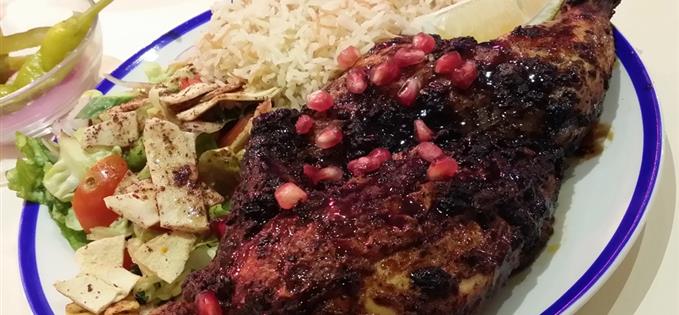 Moussakhan
Although quite full, we'd have been happy to plough through more mezze, but instead we picked out a couple of mains. Moussakhan (£10.95); a generously sized half chicken, charred on the coals before being scattered with juicy pomegranate seeds and served with rice/toasted vermicelli and chopped salad. Lamb and Prune Tagine (£10.95, with couscous and lots of peas for some reason) was as tender and aromatic as you'd expect, but no better or worse than your average cook can make at home.
We were too full for desserts so shared what turned out to be the highlight – Mohalabia (£4.45), a traditional Lebanese milk pudding flavoured with sweet rose syrup and topped with toasted pistachios. It was like a very light and gently perfumed panna cotta with a definite wobble, much like me on a treadmill.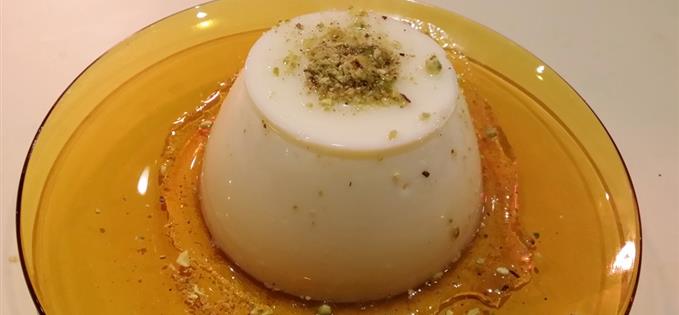 Mohalabia
I was disappointed with the Comptoir Iced Tea cocktail (£8); Ketel One Oranje, Haymans, Havana 3yr and Rose Mint Tea, as it tasted like the dregs from a whisky bar sink after a busy night. You can't go wrong with a refreshing glass of Roza (£3.45), homemade lemonade with lime and rose syrup, but best of all was my glass of Ksara Prieure (£5.15). Do not underestimate Lebanese wine; it is mostly fabulous and, obviously, ideal for drinking with this type of food.
They've only been open a week or two, so service needs time to bed in, but Comptoir Libanais is a great addition to Spinningfield's eclectic restaurant scene. Go for breakfast and stay until chucking out time.
Comptoir Libanais, Unit G18-G19, 3 Hardman Street, Spinningfields, Manchester, M3 3HF
Rating: 14/20
Food: 7/10 (Fool Moudamas 7, Lamb Kibbeh 7, Pickles 6, Sojok 8, Moudardara 6, Lamb Tagine 6, Moussakhan 8, Pistachio and Rose Mouhalabia 10)
Service: 3/5
Ambience: 4/5
PLEASE NOTE: Remember venues are rated against the best examples of their type. All scored reviews are unannounced, impartial, paid for by Confidential and completely independent of any commerical relationship. Venues are rated against the best examples of their kind: fine dining against the best fine dining, cafes against the best cafes. Following on from this the scores represent: 1-5 saw your leg off and eat it, 6-9 get a DVD, 10-11 if you must, 12-13 if you're passing, 14-15 worth a trip, 16-17 very good, 17-18 exceptional, 19 pure quality, 20 perfect. More than 20, we get carried away.