THE LANDSCAPES of memory are distinctive to each and every one of us. In my dreams, I return to the moors above Rochdale. They are in my soul: long slopes of heather, spiky tussocks of grass, stone walls, daft wind-blown sheep, big views, massive skies and that elation gained by feeling up-high, on top of the world. Moors were my tabula rasa where any image might be conjured, any deed imagined.
What he's done here is create a model 'gastropub' menu for the region
The big first-floor window at the rear of Andrew Nutter's 'gastropub' at Birtle frames the moors and makes an artwork of them - if you ignore the car park in the immediate foreground. The scene pivots on the swell of Knowl Hill and is stirring despite the brutal intrusion of a power station, aka a wind farm.
Apparently, the design of the new parts of the building and that window comes from Nutter Senior, Andrew's dad, Rodney, ably assisted by H Bell and Sons, Rochdale contractors. Together they've done good work giving diners that moorland backdrop. Not sure about the mural on the stairs but we'll leave that.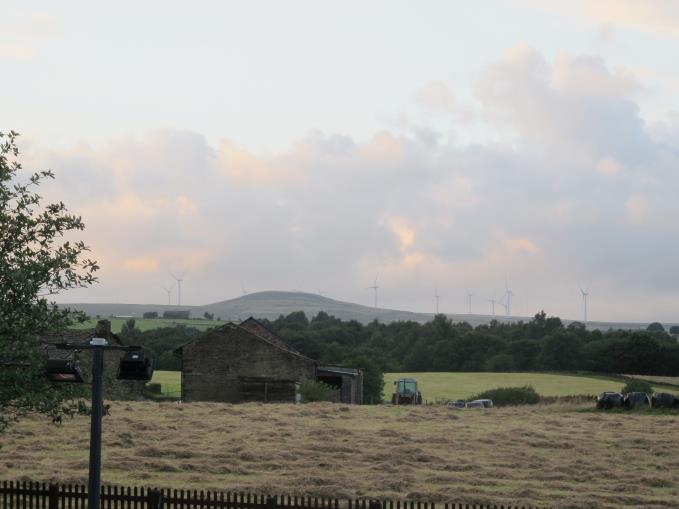 Haymaking and moors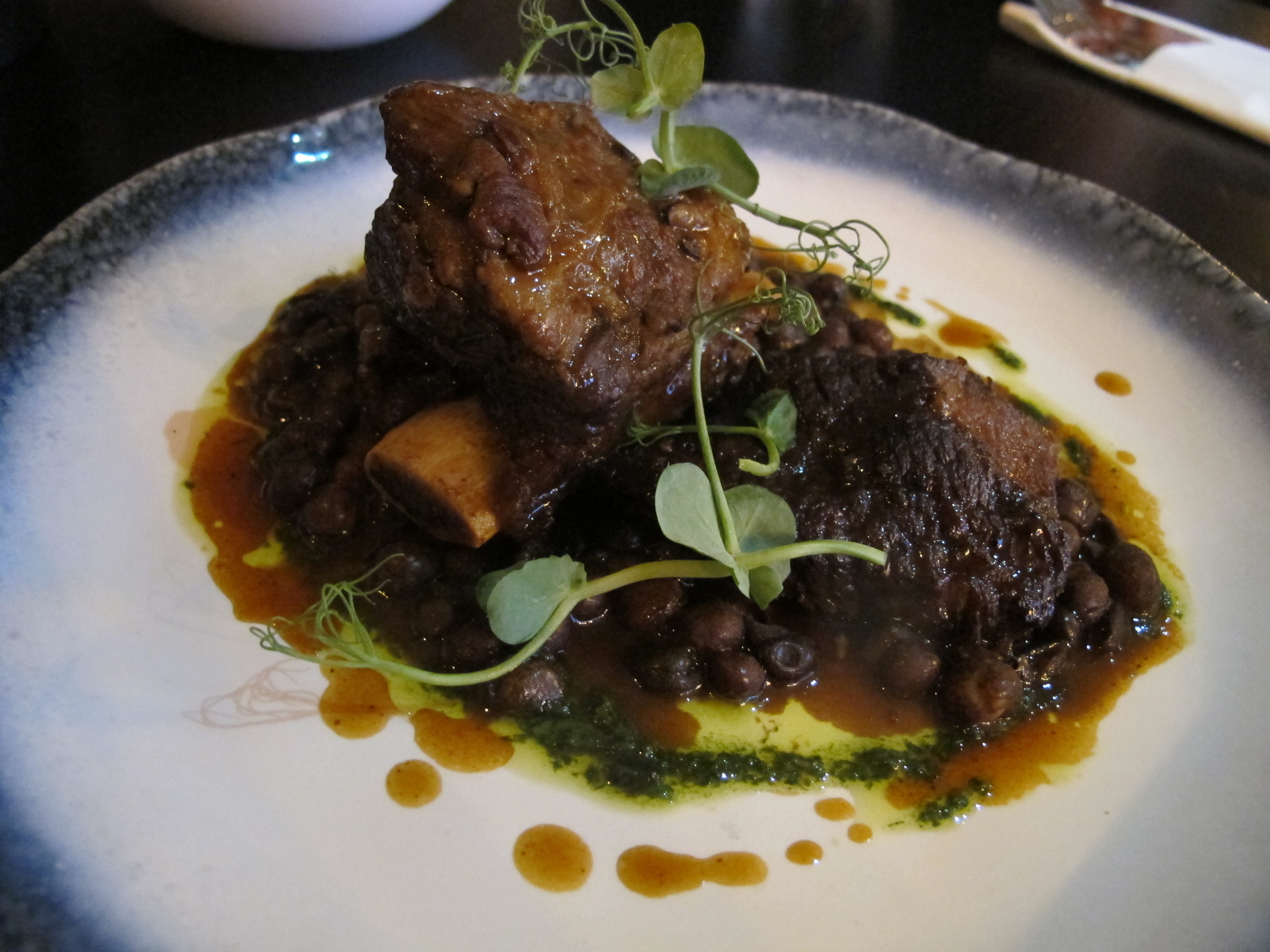 Short rib and black peas
The menu is as handsome as that big view. The food style is principally British and Lancastrian but artfully delivered and cooked with skill. It's admirably to-the-point, not overwhelming with a riot of choice, but with plenty of interest. You can study the menu here.
A sticky slow-cooked beef short rib with Rochdale peas at £6.50 for a starter was a steal and might easily have been a main elsewhere. The phrase 'Rochdale peas' is a little joke, these are black peas, a traditional Lancashire bolsterer, needing at least 24 hours soaking before cooking. We used to have them out in the open on bonfire nights in big bowls and saturated with vinegar. The sticky short rib broke beautifully in this dish and created a splendid ensemble with the peas. Meanwhile, another starter, the butternut squash arancini (£6.50) had a fine crunch as you broke into it. This bunched up with the pear and pine nut in the salad worked wonders.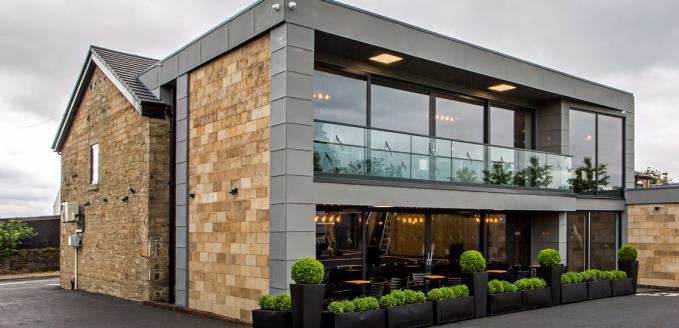 That big rear window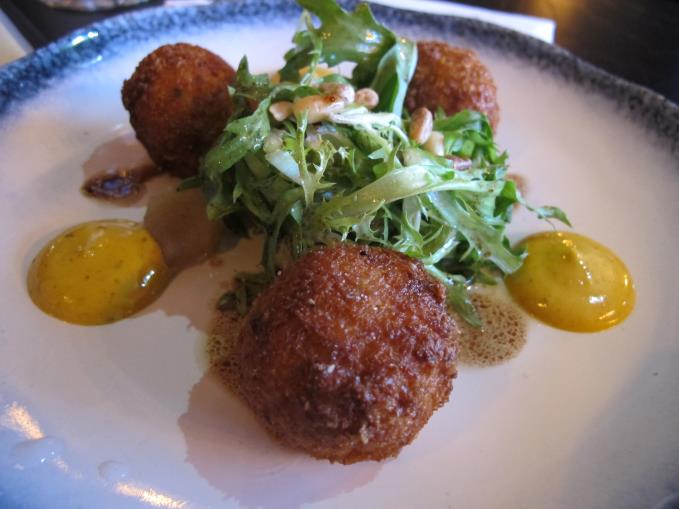 The arancini
The hash fritter with the cured corn beef (£6.50) was a winner too although the cold corn beef, exquisitely formed, could have been a degree or two warmer. This tasty slab seemed to have come straight from the fridge when the kitchen should have allowed the room to warm it for a few minutes. The hash fritter was a fabulous thing, rich and again with a good crunch. The colourful pickled extras helped give character to the whole dish. Mussels, at £7, were wolfed down by my brother with scarcely a pause for breath so I assume he liked them.
The two mains were delicious. The braised lamb shoulder and dauphinoise spuds was £16.50 and again beautifully cooked with the meat breaking easily and the flesh full to the brim with that absolutely distinctive lamb flavour that is both robust and gentle at the same time. The spuds were damn fine too.
The steak and ale pie (£14) should have been called a pudding if you ask me, but its exceptional suet casing makes it an instant nominee for a top award in any Lancashire Pie and Pudding Festival should there be one - there probably is. The big thing with pies and puddings is not to have them as dry as a moorland marsh in a drought, this wasn't, it was fluid with lots of meat filling and cracking gravy. A side of salt and pepper greens for £4 worked well with both the pudding and the lamb and displayed the same care as the other dishes.
The best dessert (all £6 except the cheese at £6.50) was the fabulous peach melba knickerbocker glory which was so British in its concept it should have been wearing Union Jack shorts. Fruit and endless sweetness is all that is required with a knickerbocker glory and this had all that. The creme brulee did a job but I'd like more variety with the cheeses.
Fritter and corn beef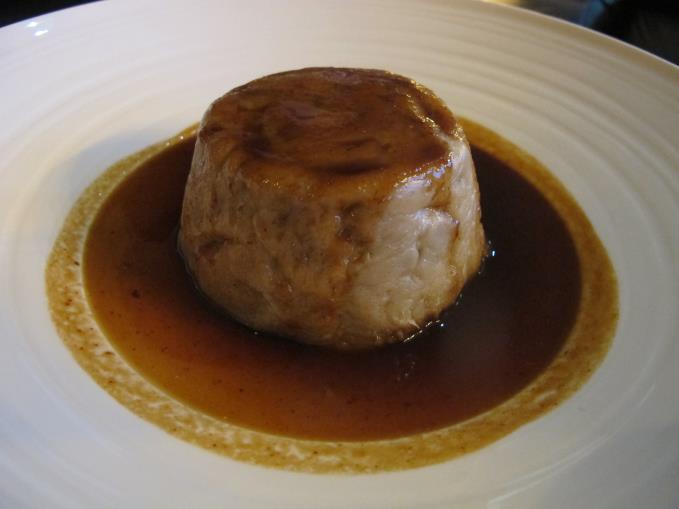 The steak and ale pie/pudding
Andrew Nutter and team have transformed the old and abandoned Bird i'th Hand pub to create a superb finish or start to any excursion to this very pretty area between Rochdale and Bury. I suggest a walk in Ashworth Valley and then a meal here. Or maybe just come out on a drive and sample the excellent menu and that view.
The Nutter himself, alerted by the power of Twitter, joined the four of us for a drink after he'd finished at his main restaurant Nutters, a couple or so miles away in Norden. He was his usual self, in other words, a whirlwind of charming ebullience and silly stories. What he's done here though is seriously good, a model 'gastropub' menu. I wish there were one of these pubs every seven miles or so across the region. I wish there were two or three in the city centre.
Bird at Birtle, Bury Old Road, (half way between Bury and Rochdale), OL104BQ. 01706 540500
Rating: 15/20
Food: 7.5/10 (Beef and black peas 8, Arancini 8, corned beef 7, mussels 7, lamb shoulder 8, steak and ale pudding 8, knickerbocker glory 8, creme brulee 7)
Atmosphere: 3.5/5
Service: 4/5
PLEASE NOTE: All scored reviews are unannounced, impartial, paid for by Confidential and completely independent of any commercial relationship. Venues are rated against the best examples of their type: 1-5 saw your leg off and eat it, 6-10 stay in with Netflix, 11-12 if you're passing, 13-14 good, 15-16 very good, 17-18 excellent, 19-20 pure quality.
Powered by Wakelet