DON'T whisper it too loudly but, just as every foraging Scandinavian isn't a culinary genius, so not every pintxos bar in Basque Country delivers the (small but perfect) goods. Some dishes are too molecularly gastronomic and pricey, others are cheaper and cheerless. Indeed, in my experience, many a bar crawler in Bilbao or San Sebastian is more intent on necking the cerveja than contemplating the pintxos/tapas tidbits curling up next to the taps.
Place all your sticks in the glass and they tot it all up at the end...
I was reminded of this in Ramsbottom's spanking new Basque enclave, Baratxuri (pronounced Barachurry, a beret-sporting local informed me) when many of the Alhambra swigging customers, crushing into the narrow, tiled bar like the proverbial sardines and enjoying the buzz, seemed oddly neglectful of the fabulous food on offer. No sardines but an amplitude of anchovies and some awesome ham, naturally.
Perhaps, having arrived promptly at opening time to grab a window table, we over-compensated with our own grazing, but that's because everything was so good. Not revelatory – that would be too much to hope for. Not up to Barrafina or Pizarro's tapas in London perhaps, but more than equal to Iberica, newly landed in Manchester. I won't say 'amazing for a little mill town' because Ramsbottom's foodie credentials have been well documented and Baratxuri, the latest manifestation, is the Basque-tard offspring of Levanter around the corner.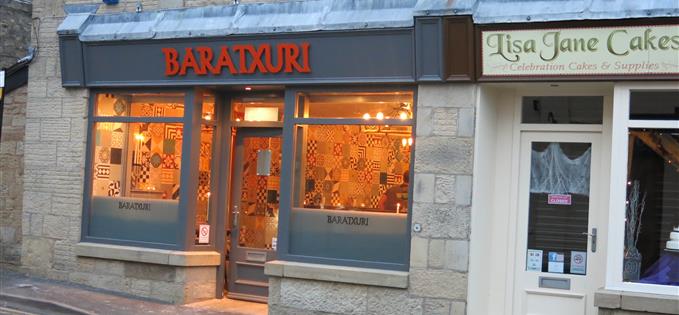 Baratxuri, Ramsbottom
For eighteen months Joe Botham and his wife Fiona have been running that buzzing eaterie, a spin-off from their business importing high-quality Spanish raw materials, including aged beef from pensioned-off Galician milkers that is currently the big cow wow in London.
Fellow Ramsbottom restaurateur Euan Watkins at Hearth of the Ram is a big fan, too, of this dairy beef, having eaten it at the legendary Etxebarri wood-fired grillhouse outside San Sebastian. Oh, Nouveau Rammie, whatever happened to tripe and mushy peas?
Observer critic Jay Rayner came in search of Levanter's beef but missed out since they only serve it on Sundays. Nevertheless he loved Levanter. He'd love Baratxuri, too, on the evidence of our evening. A simpler offering but so satisfying.
Small plates trickled out at an equable pace from the open plan kitchen marshalled by Joe. Some of these were outstanding – notably the ones beginning with Tx. Leaving aside the tortuous grammar and syntax, the Basque language is notoriously 'tongue txwisting'.
In this case Txistorra was a sausage roll encasing piquant chorizo and Txangurro a la Donastiana a pimento-rich spider crab tartlet, a signature dish of San Sebastian (the natives call that most elegant of resorts Donastiana). Both served warm were flakily exquisite.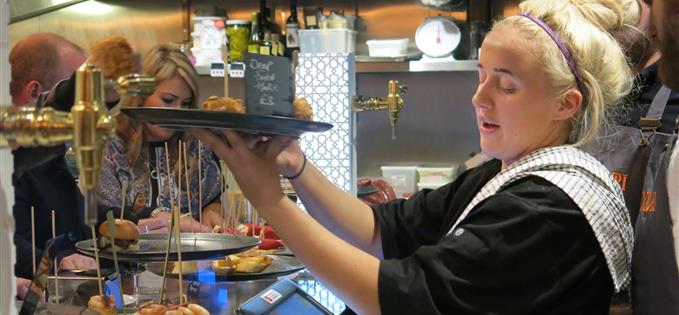 Plates trickle out...
Ideally we should have washed them down with Tzakoli, the low in alcohol, high in acidity Basque white, but I've never quite acclimatised to it over there and an autumnal Rammie chill demanded red. Fitting the bill perfectly at a kind £26 a bottle was 2014 Mencia M Mencia from the Luna Beberide winery in Bierzo – medium-bodied, slightly smoky with hints of licorice and black pepper among its dark fruit. Like much of the list, they also serve it by the glass.
By now we were getting used to the pintxos procedure. Staff came round with plates of the morsels, which were stuck with a variety of wooden prongs, each size signifying the price, ranging from £2 to £3.50. These are the equivalent of 'spike' or 'toothpicks' – that's what the Spanish word pincho (Basque pintxo) means.
Your table number is on a slip of paper in a glass. Place all your sticks in the glass and they tot it all up at the end, alongside your drinks tab. Modest in my case – I was driving. Ramsbottom is hard to get to by public transport. Otherwise I would have been tempted by the treacly delights of Xixarito Pedro Ximenez sherry or a Marioneta cocktail – my beloved Negroni by any other name with the emphasis on the Spanish sweet vermouth, our Northern Quarterly hirsute barman James told us.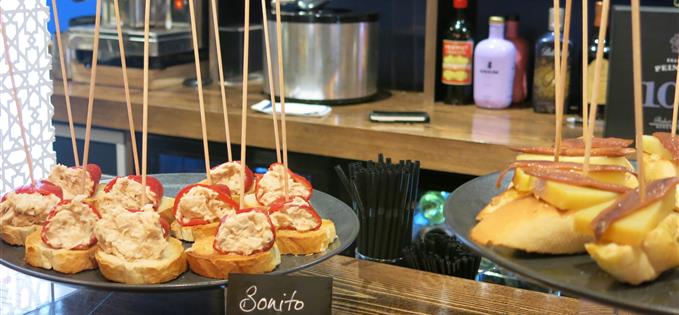 Pintxos on the Baratxuri bar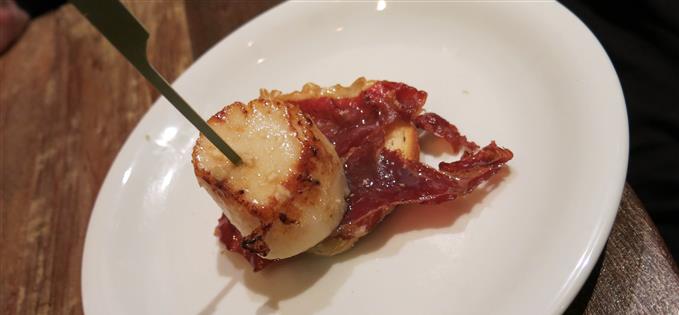 Huge, fleshy scallop on jamon iberico
Soon we were distracted by the irresistible pintxo of the night – a huge fleshy scallop and crispy jamon iberico on a roundel of bread. This, along with the firm freshness of prawns on another dish, was proof of the Bothams' immaculate sourcing. The jamon featured again with roasted green peppers and anchovy, one of the £2 dishes that were perfect bar food.
Less impressive was flabby Idiazabal sheep's cheese draped over a mushroom on crusty bread. Most of the pintxos were served this way apart from a tub of octopus salpicon with cubes of fresh salad.
Add some charcuterie and cream cheese stuffed peppers and that was about it. Some chunks of battered hake came round just as we had paid the bill (great value at £60 including the wine and some beer) and given up our table to loitering latecomers.
Slightly poignantly I have since discovered that Baratxuri is Basque for garlic, a nod to the Irwell Valley's prodigious accumulation of wild garlic or ramsons.
Ramsons, of course, was the name of Chris Johnson's nationally acclaimed restaurant that was the wellspring of Ramsbottom's foodie revolution. It is eighteen months since he retired. His chef, Abdulla 'Naz' Naseem, still cooks in the town, brilliantly, at the Hearth of the Ram. It is good to see the Hearth, Levanter and Baratxuri maintaining such high levels of quality away from the bright lights. Topa! (Basque for cheers.)
Baratxuri, 1 Smithy Street, Ramsbottom, Bury BL0 9AT. Open currently Thu/Fri/Sat 6pm-11pm. No booking.
Rating: 16/20
Food: 8/10 (Txistorra, 8, Txangurro 8, scallop and jamon 10, Idiazabal and mushroom 6, octopus salpicon 8, prawn and anchovy 8).
Service: 4/5
Ambience: 4/5
PLEASE NOTE: Remember venues are rated against the best examples of their type.; bars with bars, fine-dines with fine-dines and greasy spoons against greasy spoons. All scored reviews are unannounced, impartial, paid for by Confidential and completely independent of any commerical relationship. Venues are rated against the best examples of their kind: fine dining against the best fine dining, cafes against the best cafes. Following on from this the scores represent: 1-5 saw your leg off and eat it, 6-9 get a DVD, 10-11 if you must, 12-13 if you're passing, 14-15 worth a trip, 16-17 very good, 17-18 exceptional, 19 pure quality, 20 perfect. More than 20, we get carried away.