MANCHESTER is spoilt for choice as far as city centre Indian restaurants go. Several have opened this year alone and we welcome them all. Long gone are the days of flock wall paper, generic sauces and orange wedges for pudding. Now, all come with their own unique selling points such as street food, home cooking and regionally-specific cuisine.
Whether the root is Asha herself or her team, the kitchen has been well drilled into taking no short-cuts
Asha's, near the library end of Peter Street, has decided to go high-end with proper posh Rogan Josh nosh. The eponymous global restaurant group is part-owned by Bollywood singing star Asha Bhosle (as in 'a brimful of…') who, as well as being cited in the Guinness Book of Records as 'the most recorded artist in music history', is also an excellent cook.
Apparently the fit-out cost £2m but although pleasant enough, Asha's doesn't have the obvious lacquered opulence of somewhere like Tattu or Vermillion. Downstairs is devoted to private dining and drinking with a cocktail list evolved via the professional consultancy services of Marian Blake from London's Nightjar and reigning 'World's Best Gin Bartender,' Manchester's Jamie Jones.
The menu in the 100-seater restaurant upstairs makes interesting reading by inclusion of luxuries such as lobster panch phoran (£29.95) and truffle naan, but they haven't shied away from also offering good examples of the expected classics.
We decided to take our in-laws who are curry aficionados, having spent years following both cricket and curry around Asia. They are also founding members of an unofficial monthly curry club, which seeks out the most magical masalas across the North West.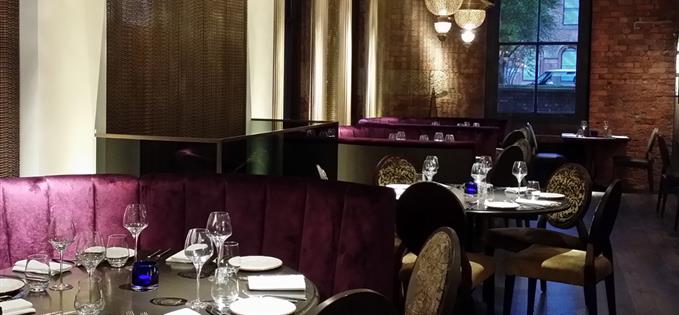 Asha's
A slightly-not-enough-to-go-round bowl of poppadum shards (£3.75) was served with a gorgeously technicolor tray of delicious homemade dips including pineapple chutney, apple and blueberry chutney, tomato and chilli and a vibrant green mint yoghurt that my young son renamed 'silky sauce'.
Planning to plough our way through each section, we only chose a couple of gamey starters to share. Up-sized venison samosas (£7.25 for 3) were packed with delicately spiced dark and rich English deer while duck seekh kebabs (£14.95 for 3) were better than the ones we'd had at the fancier Trishna in Mayfair.
We thought we'd explore the tandoor and try a few dishes in one go by ordering a speciality kebab platter to share (£28.95) gosht seekh (minced lamb), murg malai and tandoori murg kebabs, which, although both chicken, were discernibly differently spiced. It also included chilli garlic king prawns, which were plump and well marinated but, like a few of the other dishes, slightly heavy on the salt.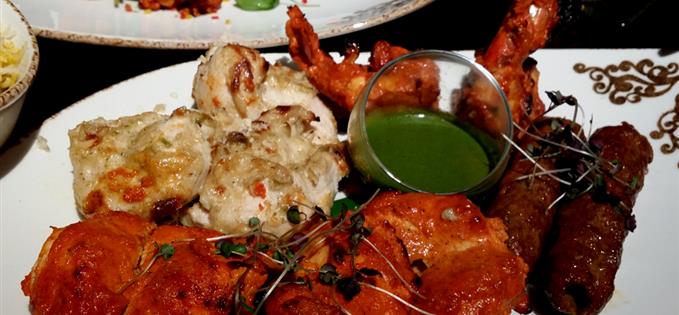 Kebab platter
From 'Classic Curries', we chose duck vindaloo (£14.95) which they'd accurately described as 'tangy spicy rather than silly hot'. Perfectly cooked pieces of tender duck breast and new potato swam in a carefully reduced onion and tomato Goan gravy, carefully spiked with vinegar.
I wasn't going to have rice but the gentle aromatics in the spiced palao (£3.95) wooed my olfactory senses like a Siren in a Bisto advert. Vegetarians are not just catered for, but positively spoilt with a range of wonderful creations available in full or side portions. We narrowed it down to a fantastic aloo matar gobi, - potatoes, peas and cauliflower cooked with cumin, green chillies, ginger and spices; a gorgeous hare baingan ka bartha - roasted mashed aubergines with ginger, garlic, green chillies and coriander; and dal makhani - black lentils slow-cooked overnight with tomatoes, cream and butter (all £8.95/£5.50 each). The latter reminded me of Heinz tomato soup – in a good way.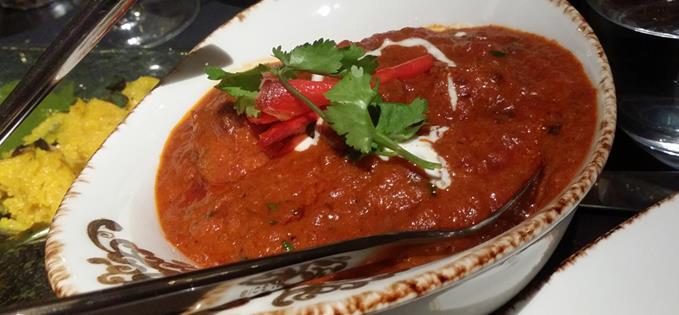 Duck vindaloo
The children's menu went down well and my daughter happily polished off butter chicken masala, plain rice and naan bread followed by ice cream (£5.50), but there was no moving my boy from ordering his 'means test' of spicy marinated lamb chops (£17.50, main image) which he happily stripped to the bone between gulps of cucumber flavoured water.
They'd put imagination into desserts (all £6.50), but they're not Asha's strongest point. classic lemon tart was actually a too sweet lemon meringue. Cinnamon flavoured blood orange and caramel kulfi was lovely but didn't really need all the other fancy frippery it came with.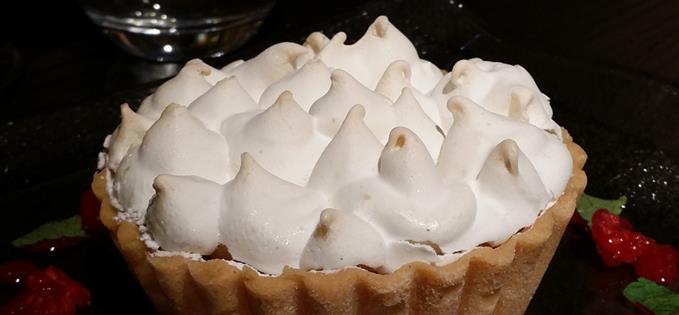 Lemon tart - isn't that a meringue?
The running theme throughout the meal was consistent attention to detail and a labour of love. Whether the root is Asha herself or her team, the kitchen has been well drilled into taking no short-cuts. Whole spices were toasted and ground, tons of fresh garlic and ginger carefully peeled and chopped, tender, well-sourced meats left for optimum marinating time, and sauces slowly reduced to reveal their individual riches. Not one single element was dry, overcooked or lacking in flavour. Because of this, Asha's is on the pricier side of the restaurant spectrum, but on the strength of our visit, it's definitely one to recommend to The Curry Club.
Asha's, 47 Peter Street, Manchester M2 3NG. 0161 832 5309
Rating: 15.5/20
Food: 7.5/10 (Duck Seekh Kebab 8, Venison Samosa 8, Barrah Kebab 8, Children's Murg 7.5, Chilli Garlic Prawns 7, Speciality Kebab 7, Duck Vindaloo 8, Aloo Matar 8, Dal Makhani 7, Hare Baingan 8, Lemon Tart 5, Kulfi 6)
Service: 4/5 Malik made us feel as though there was nothing he wouldn't do for us
Ambience: 4/5 Classy
PLEASE NOTE: Remember venues are rated against the best examples of their type. All scored reviews are unannounced, impartial, paid for by Confidential and completely independent of any commerical relationship. Venues are rated against the best examples of their kind: fine dining against the best fine dining, cafes against the best cafes. Following on from this the scores represent: 1-5 saw your leg off and eat it, 6-9 get a DVD, 10-11 if you must, 12-13 if you're passing, 14-15 worth a trip, 16-17 very good, 17-18 exceptional, 19 pure quality, 20 perfect. More than 20, we get carried away.
You can follow Deana Thomas on twitter @DeannaThomas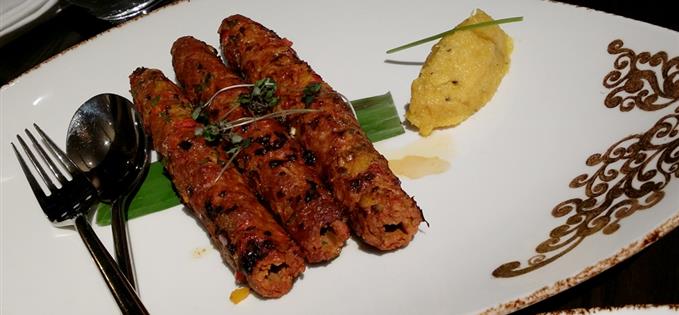 Duck seekh kebabs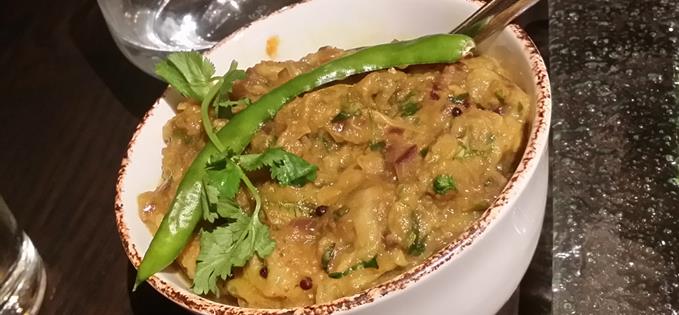 hare baingan ka bartha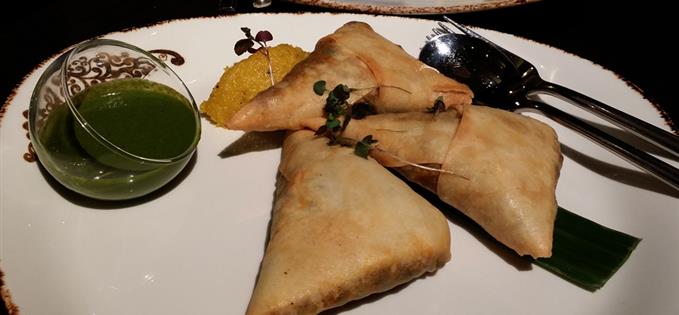 Samosas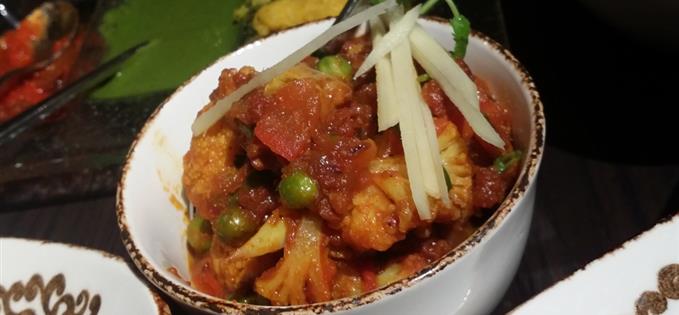 Aloo matar gobi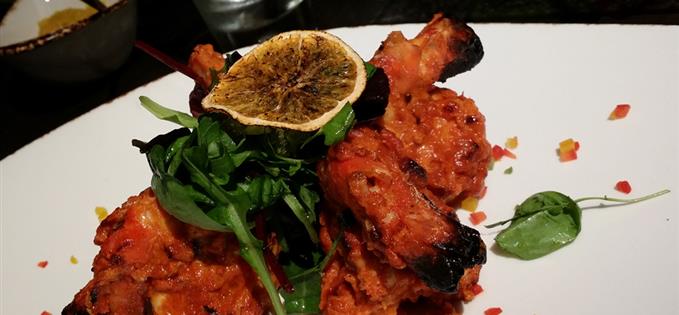 Chilli garlic prawns