SO this is what happened. Honest, it did.
It feels sort of wonderful to see the return of manufacturing, even in this small way, to these mighty mills
Mr McConnel and Mr Kennedy said to Mr William Fairbairn in 1818: "Let's work together on this one and produce a seventeen bay mill on the canal side with wings to the east and west. We can put in an internal engine house and power the whole thing with a 53-horsepower Boulton and Watt beam engine, the boilers should hold three wagon boilers. Oh and Bill, one last thing, we want the flexibility in around 197 years to install a coffee shop and roasters. You know, one of those classy, indie places, where good-looking young graphic designers and html-talking digital geniuses can chow down on bagels and aubergine and feta, washed down with a good strong java."
Bille F looked confused but delivered and thus we have one of the most gorgeous, beguiling, uplifting indie spaces in Manchester.
This is powerhouse architecture of the first order. Great mills, all their dark satanic qualities surgically removed, transformed to places of light and mystery. The courtyard at Sedgewick Mill which hosts the terrace of Ancoats Coffee Company (although the entrance is through Royal Mills from 1912) is a thing of wonder, warm local brick with a floaty glass ceiling.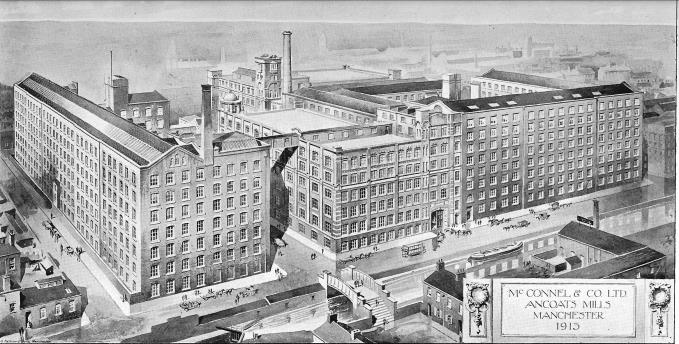 The cotton industry in its pomp, the 1913 mill complex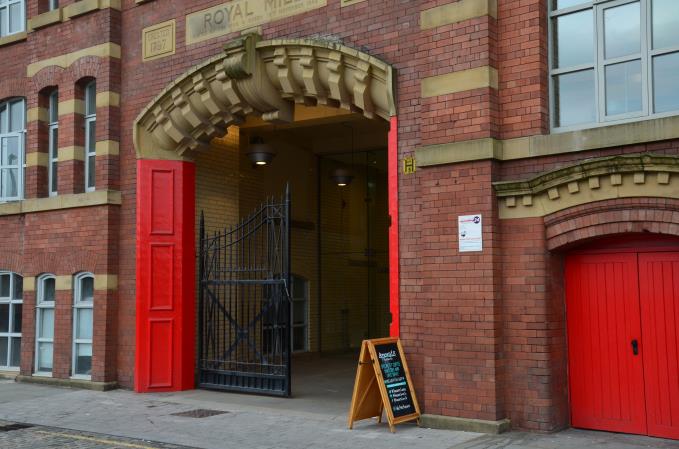 Can you spot this door on the image above?
It feels good inside the Ancoats Coffee Company too, with intimate vaults between impressive iron pillars set off by an attractive counter and the exciting sight of big sacks of coffee beans down one end. Around 3.30pm on a Tuesday afternoon there was a smattering of young people at laptops and a couple of older folk plus several be-suited customers.
I asked for assistance in purchasing a character-filled Americano style drink with milk. The charming staff member recommended the Ouro Verde from Brazil, a single orgin coffee, which promised tones of milk chocolate and almonds and also to be a bit jammy. That type of sophistry is for wine buffs. Suffice to say this was a beautiful, rich, aromatic and full flavoured coffee that filled my veins with such a punch of caffeine I flew on my Brompton, as if on eagle wings, down to my next meeting in the Corn Exchange.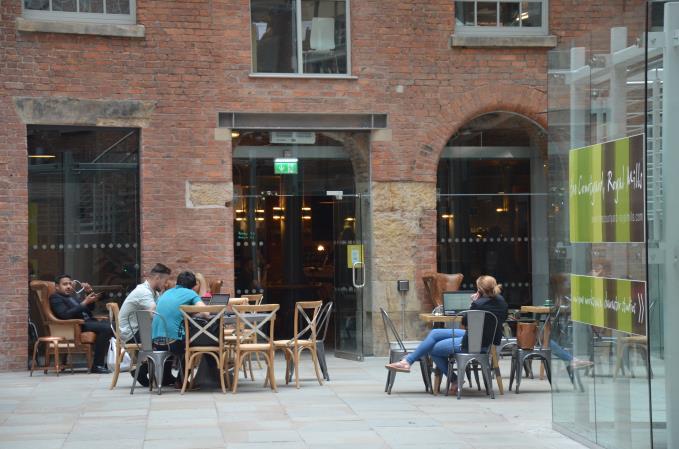 View from the courtyard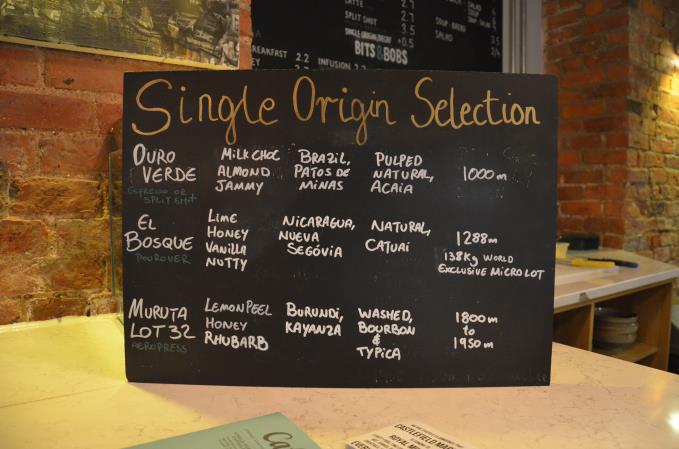 Coffee pleasure of the highest order
The £5 bagel with prosciutto, goats cheese and roast pepper was good and clean and all home-made and virtuous. The three cheese toastie was better with mozzarella, goats cheese and cheddar with a splash of truffle oil at £4. A strawberry cake (£3 a slice), again homemade on the premises, was so very ,very strawberry it was almost scary.
But it's the coffee that's the thing... and the lovely venue. Take a bag of Warehouse City home and again feel the power of the bean in a toffeeish rush of smooth flavour. Above all at Ancoats Coffee Company, you've got to admire the enthusiasm and commitment of owner Jamie Boland.
Qualities such as the professionalism of the website give you confidence in the product. His background description of the Ouro Duro coffee, for instance, is very well crafted. Click here to get a blast of that. You see the man himself hunched behind his beast of a Dutch roasting machine, testing methods, extracting flavours, even changing procedures according to the weather. It feels sort of wonderful to see the return of manufacturing, even in this small way, to these mighty mills.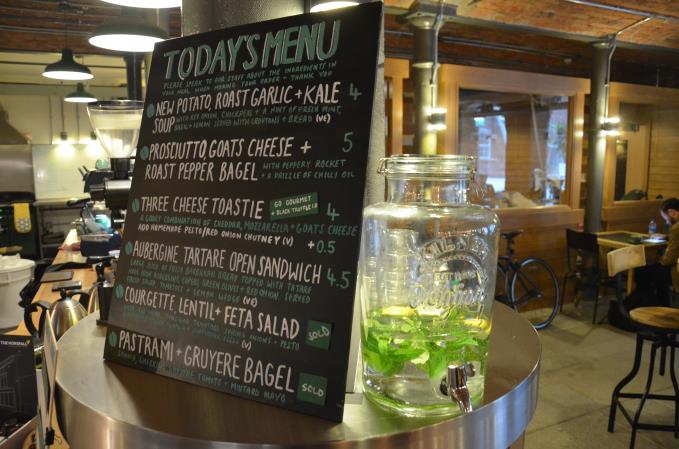 The bill of fare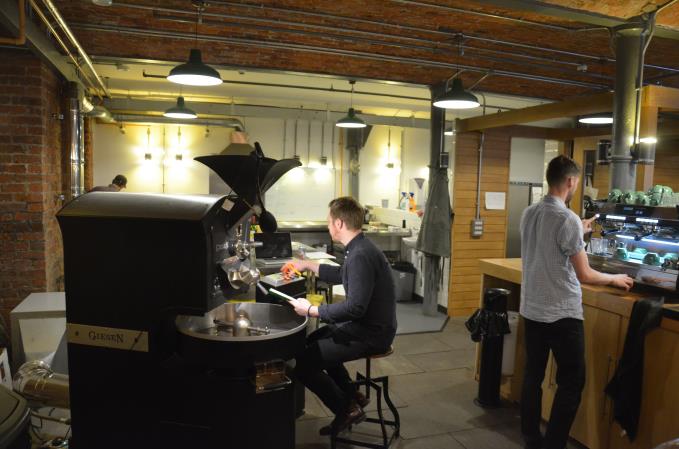 Boland roasting away on the left
French writer Alexis de Toqueville commented in the 1830s about the McConnel and Kennedy mills: '1,500 workers labouring 69 hours a week… three quarters of the workers in (the) factory are women and children.' This was Manchester as 'shock city of the age'. To visitors the scale of the new industrial processes was beyond their range of experience. 'Here are buildings seven to eight storeys, as high and as big as the Royal Palace in Berlin,' said the German architect Schinkel in 1825.
That's all gone, fled in the night so completely that, until recently, all we were left with were vast corpses, the dead dinosaurs after the mass extinction. Now the life is back in the mills. A comfortable life lifted by the good things, such as marvellous coffee. Go and take a look as Ancoats fires back into post-industrial vigour.
Oh, and by the way, keep an eye out for the excellent evening events such as the recent Robert Owen Brown gourmet night with excellent food and a bring-your-own-booze policy.
Ancoats Coffee Company, Unit 9, Royal Mills, 17 Redhill Street, Ancoats, M4 5BA. Tel: 0161 228 3211
Opening times: Mon-Fri 7am-5pm; Sat-Sun 9am-5pm.
Rating: 16/20
PLEASE NOTE: All scored reviews are unannounced, impartial, paid for by Confidential and completely independent of any commercial relationship. Venues are rated against the best examples of their type: 1-5 saw your leg off and eat it, 6-10 stay in with Netflix, 11-12 if you're passing, 13-14 good, 15-16 very good, 17-18 excellent, 19-20 pure quality.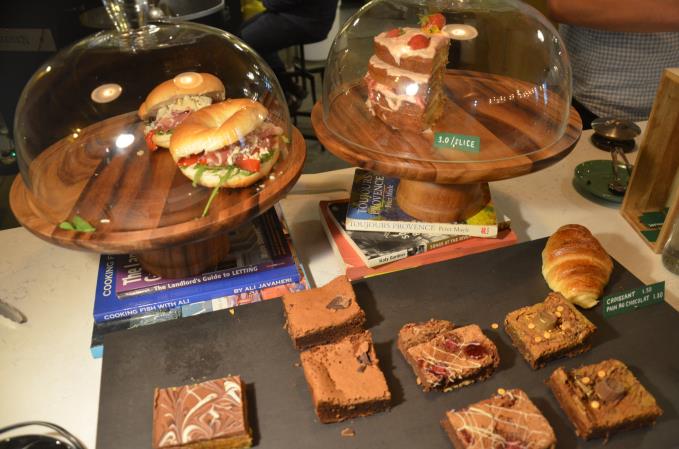 Homemade nosh
Splendid interior of Ancoats Coffee Company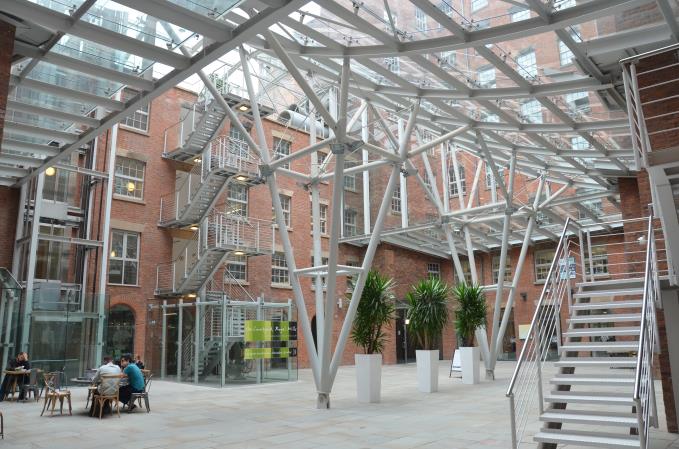 That astonishing courtyard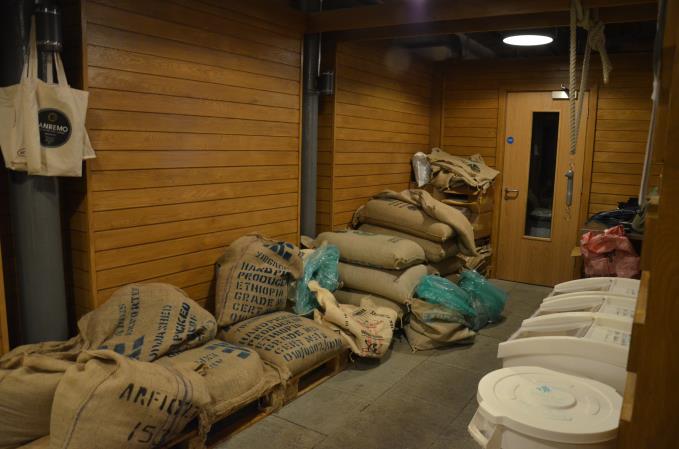 Sacks of the good stuff
Big-boned architecture
Powered by Wakelet