TWO restaurants have opened in Stockport over the last few months; the vegan and gluten-free Allotment and new fine dining venture, Where the Light Gets In. The area's already great for booze with pubs and micro breweries like The Hope and Heaton Hops, but it's only lately that restaurants have opened with the chutzpah to pull Manchester food fans like myself a few miles south.
Nutter's doing something really different here and I'd urge food fans, veggie or not, to give it a whirl
Both Allotment and Where the Light Gets In are located in Stockport's Old Town and it's a real treat. Cobbled streets hint at Dickensian Christmas tales and ghost stories. Back in the present day, the MFDF award-winning Foodie Friday street food event takes over the Market Place at the heart of area on the weekends. It's bustling with punters and steaming food on the night we visit, bringing to mind the holiday vibes of Edinburgh or York.
Allotment's owner, Matthew Nutter, used to run a pop-up food business called Plant Food Power Chef in various locations around the North West. He's no relation to chef Andrew Nutter of Nutters in Rochdale. In fact, as a committed vegan and exercise freak with hobbies like ultra marathons, he couldn't be more different.
Nutter's big claim to fame (after being able to run 100 miles on the trot) is to make veg taste better than steak. His Autumn Grill (£18) see sleek, unctuous aubergine served, confit, alongside Boulangère potatoes, rosemary buckwheat 'sausage' and dark vegetable gravy. Beefed up with homemade mustard and cooked with a delicately crisp exterior, it's quite remarkable.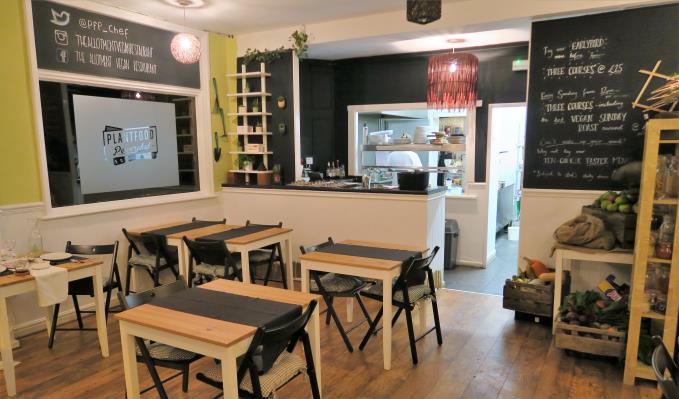 White wine and basil parfait on a baked tomato sail
Words like 'sausage' and 'grill' are bandied about on the menu, but the kitchen largely avoids aping meat food. Rather, over your traditional starter, main and dessert, or a nine-course tasting menu (£55), plants and nuts are recalibrated into the likes of sweet-savoury tahini, pocked with plump chickpeas and topped with wafers of lightly pickled kohlrabi and pear, or a peshwari-naan-inspired potato cake with almonds, coconut and raisins.
The surprises keep coming. A white wine and basil parfait (£7) glides in on a baked tomato sail, pretty as a Riviera regatta. I devour the lot without thinking, until my friend points out that there is no dairy involved. It's only then that my mind starts to boggle, wondering what the hell I'm eating. Cashew cream? I still don't know. Nutter probably won't appreciate the comparison with eating offal but I take a similar approach at the Allotment. Ie. Try not to think about it too much and enjoy the ride.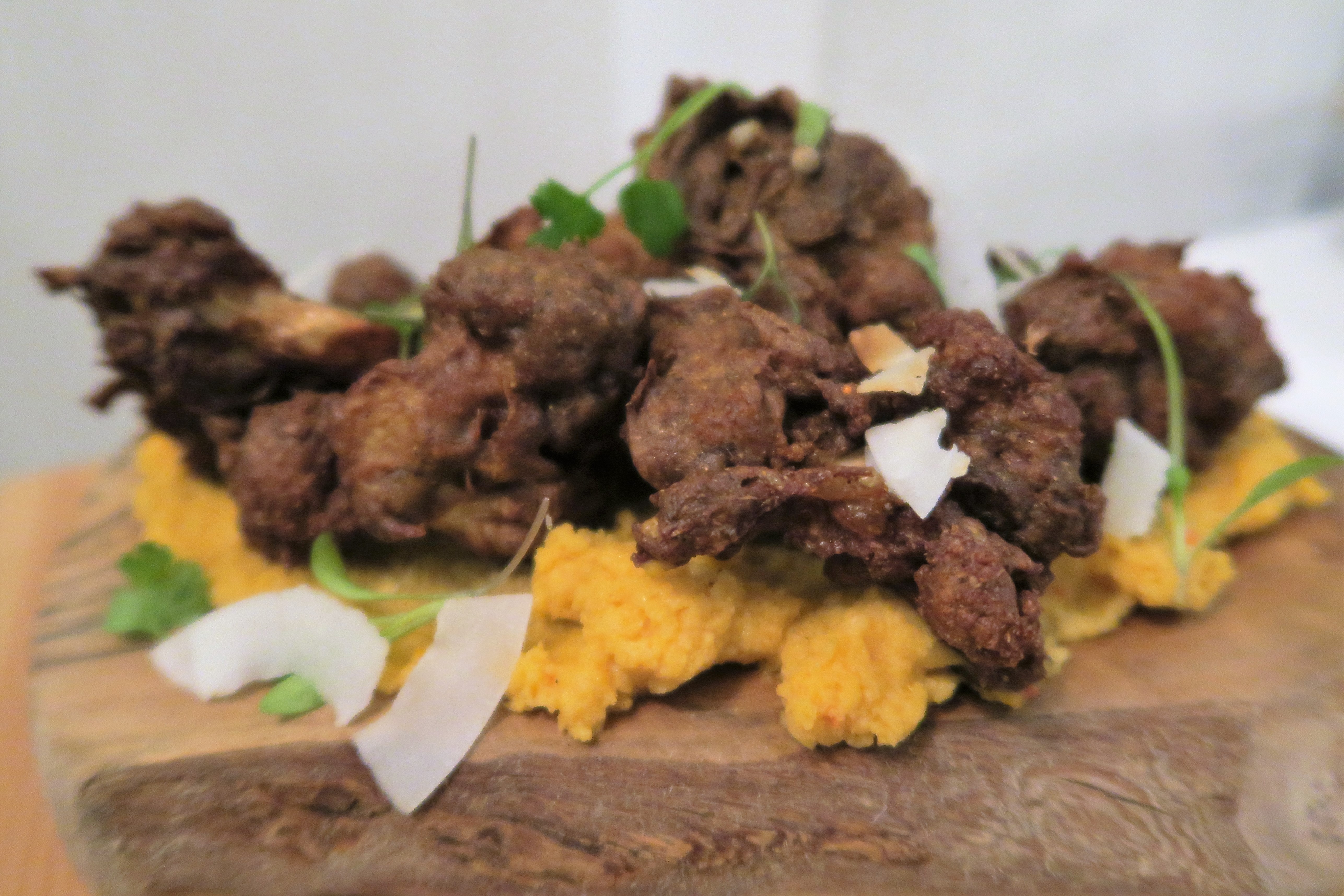 Cauliflower hot wings riffing on KFC
Aubergine 'steak'
The journey includes a citrusy Manchester Tart (£7) lifted by homely rice pudding in a cream soda batter; cauliflower hot wings, riffing on crispy pakora and KFC (£16); and a garlic-totting, cultured macadamia nut chive roule that's got one over on Boursin (£10).
If I had to pick one smash hit, it's the 'cheese board'. Nutter's gone nuts here, with creations like a coriander-almond cheese, the aforementioned Boursin thing and one pocked with cranberries like a Wensleydale. His homemade oatcakes are crisper than the French's and the fresh beetroot chutney is pitch perfect. This blows my mind.
At times the cooking echoes elements of Simon Rogan's meat-free dishes. I remember a butternut squash dessert at L'Enclume also served with a baked 'sail', not a million miles from the basil parfait here. Don't expect anything as fine dining or purely British as the multi-Michelin star chef's style. But the most obvious difference is portion size. You won't go hungry at Allotment. Or thirsty, either, as it's BYO.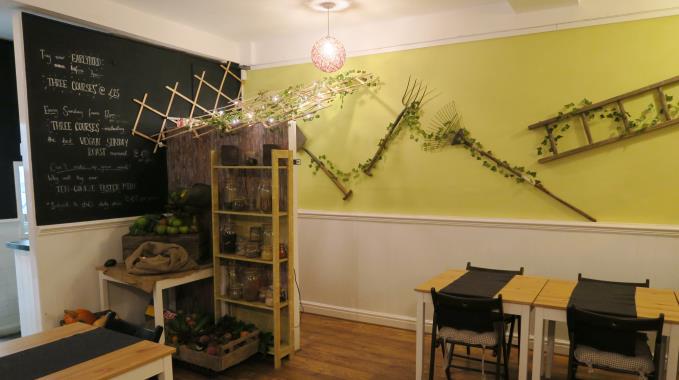 The interior could do with a rethink
Courgette 'cannelloni'
There are a couple of missteps. A bossy onion chutney takes away from the basil parfait while the 'End of Summer cannelloni' (£15) is literally just a heap of vegetables; some dehydrated or blowtorched, all wrapped in overly thick, raw courgette 'cannelloni'. It's since been replaced on the new menu.
Nutter will probably want to take look at the interior at some point too. An arty font on frosted glass gives way to a chilly space, warmed by those rising air heaters that feel like they're going to singe the hairs on your arms. Bright bulbs pick out plastic gardening tools tending one wall, while another is composed of plant-wrapped hoes and spades on a magnolia backdrop. Tables and chairs look like bargains picked up at an outdoor furniture sale.
But the food is worth it. Perhaps Allotment stands out for the fact that we're all so used to creamy sauces, perfect cuts of beef and slow cooked lamb that they have become almost unnoticeable when we eat out - no matter how good they are. Yet little about this new vegan restaurant goes unnoticed. Except, perhaps, for the fact that everything is made from plants. Nutter's doing something really different here and I'd urge food fans, veggie or not, to give it a whirl.
The Allotment Vegan Restaurant, 6 Vernon Street, Stockport, SK1 1TY. Tel: 0161 478 1331
Rating: 15/20
Food: 8 (Basil parfait 8, Kohlrabi 8, Cauliflower 9, Cannelloni 6, Autumn grill 7, Manchester Tart 9)
Atmosphere: 3
Service: 4
PLEASE NOTE: All scored reviews are unannounced, impartial, paid for by Confidential and completely independent of any commercial relationship. Venues are rated against the best examples of their type: 1-5: saw your leg off and eat it, 6-9: Netflix and chill, 10-11: if you're passing, 12-13: good, 14-15: very good, 16-17: excellent, 18-19: pure class, 20: cooked by God's own personal chef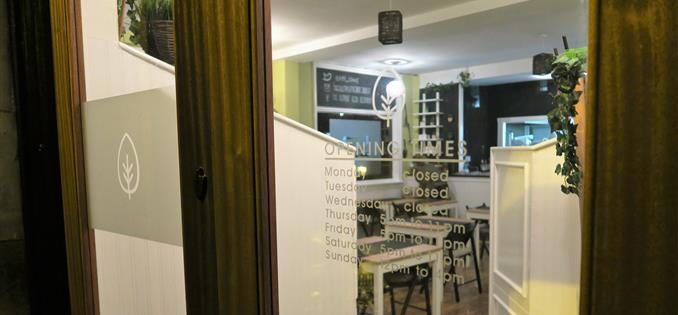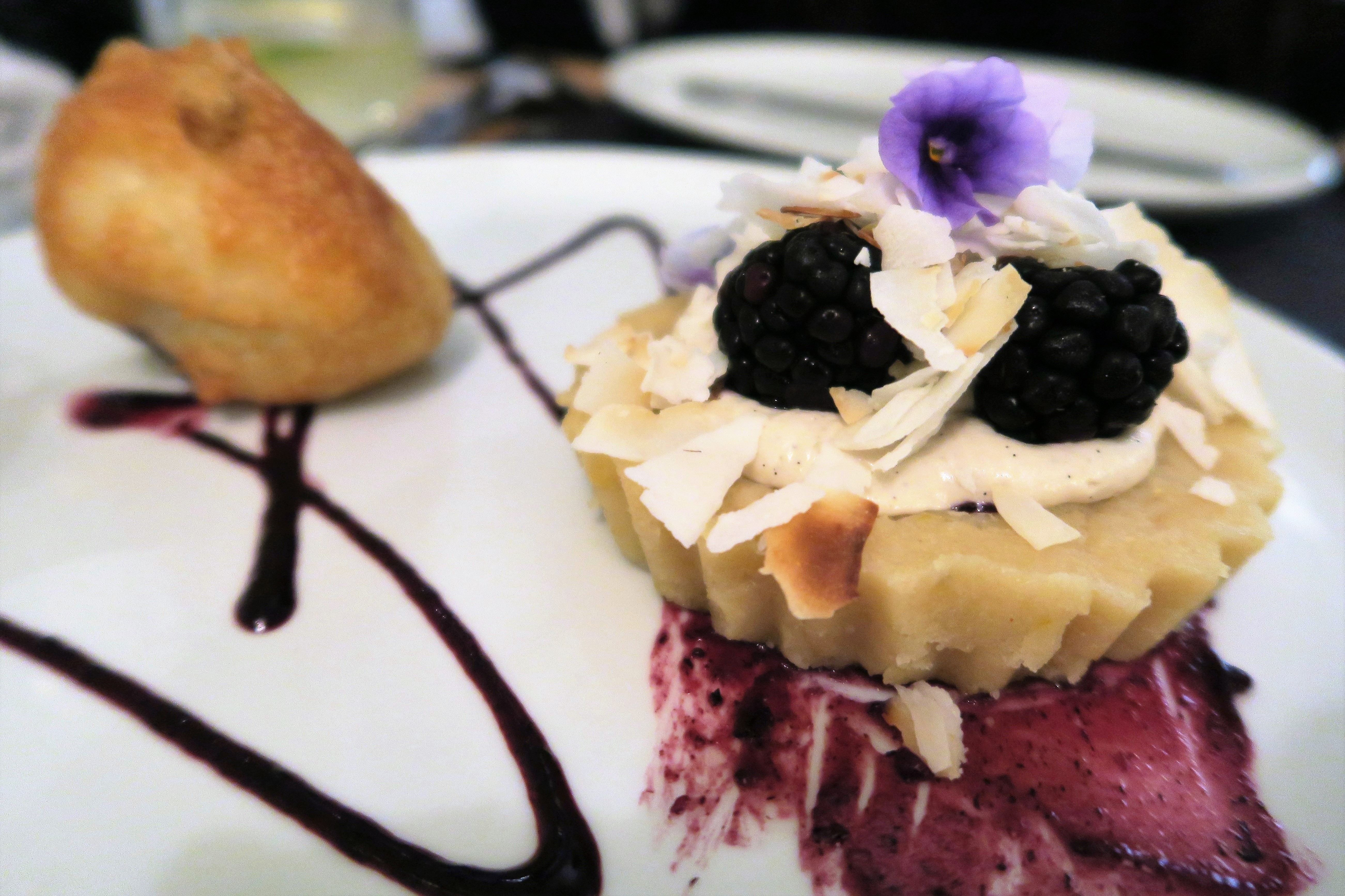 Manchester tart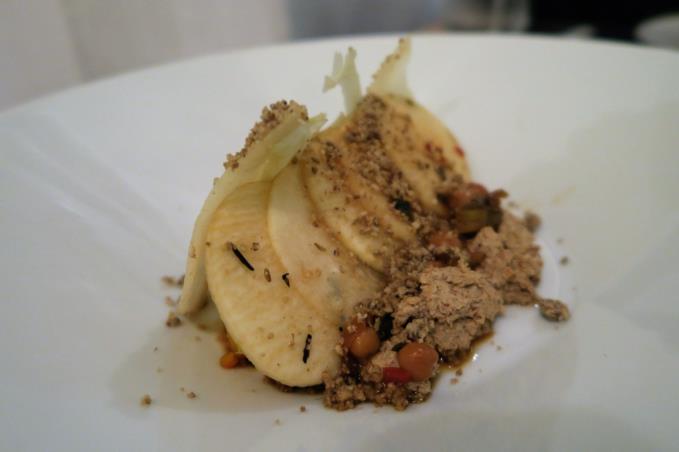 Pickled kohlrabi and pear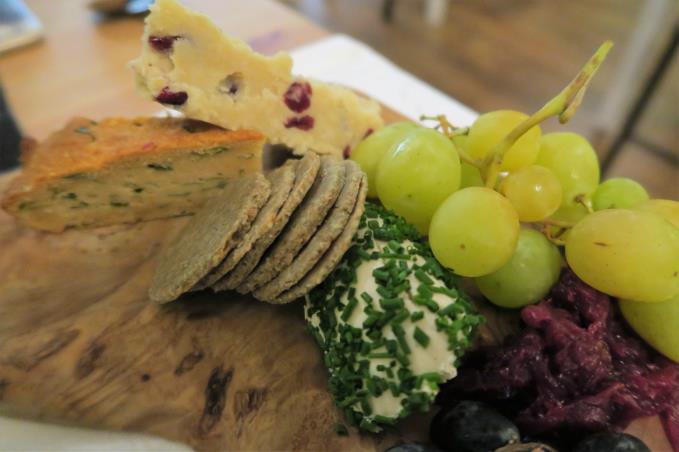 Cheese board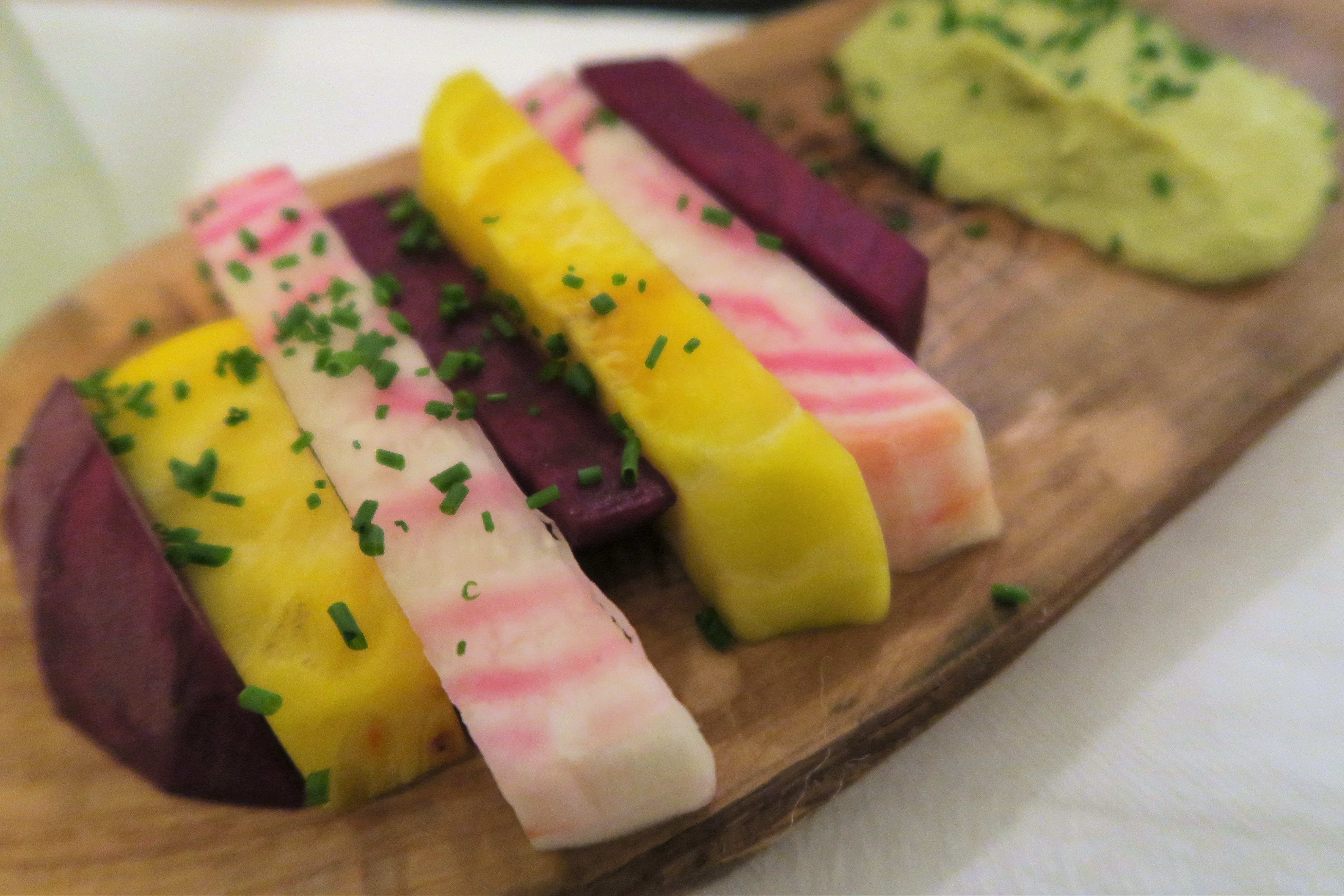 Raw beetroot and hummus