AH CASTLEFIELD. Just a glimpse of your red bricks and your cast-iron arches takes me back to my youth, when Barca, Nowhere and Atlas were the places to be seen, and the Northern Quarter was still a sketchy place (though you might head to Lazy Pig if you were under the legal drinking age). The sensibility of what was 'cool' back then was a lot smoother and, some might say, blander than it is now, with loft-style living (courtesy of Urban Splash), labels and lager (European of course) being the in things. The 90s are back of course, and by that logic, Castlefield ought to be full of trendsters in vintage Levi's and chokers, Grolsch in hand.
It's a pleasant break to go to a place which is just a restaurant. No slates or special ovens or waiters on repurposed penny-farthings
In fact, I can't remember ever going down that way for reasons not booze-related, so a recent afternoon visit felt eerily quiet, my footsteps echoing underneath those beautiful bridge arches. Of course the residents like it that way these days but make an exception for the trifecta of Dukes 92/Castlefield Rooms and, my target for the evening, Albert's Shed (all are owned by the same company and there are outposts of Albert's in Worsley and Didsbury). In fact the most 90s thing now happening in Castlefield is that John Robb, professional Manchestorian (that's Manchester historian, portmanteau fans) seems to be addicted to jogging over its Urban Heritage cobbles.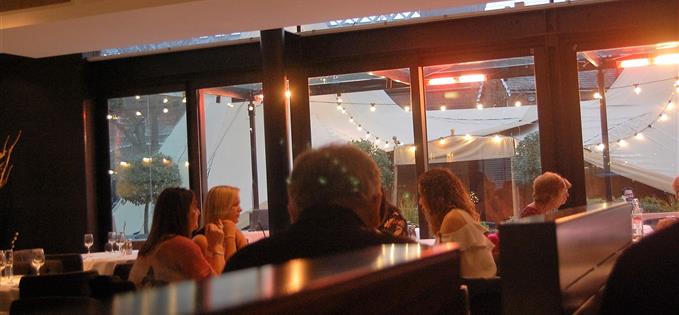 Albert's Shed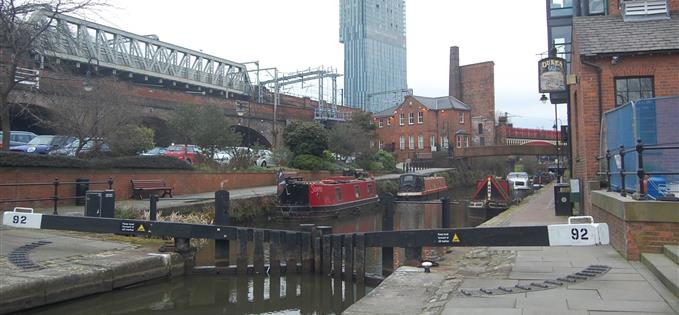 Rochdale Canal, Castlefield
After visiting my fair share of the latest restaurant openings, with their gimmicks and themes, it's a pleasant break to go to a place which is just a restaurant. No slates or special ovens or waiters on repurposed penny-farthings. The menu wears a vague Italian influence, but its northern roots shine through. A case in point is the rabbit gnocchi (£6.50, main image), in which meaty chunks of mushroom and little potato parcels bathed in creamy sauce are enriched with strands of gamey rabbit – definitely Italian, but it's rib-sticking qualities are definitely local.
Roasted duck and tabbouleh salad (£6.50) was also a mixed bag of influences, as it had more than a whiff of five-spice powder about it, despite being accompanied by the Middle Eastern tabbouleh. The duck is very tender, and the pomegranate seeds liven it up a bit, but the richness of the meat could have done with something sweeter and sharper to cut it a little.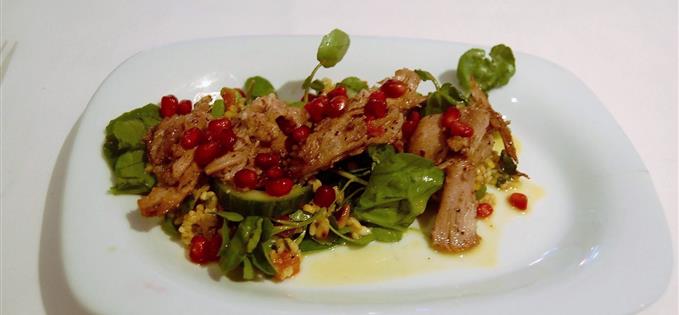 Duck tabbouleh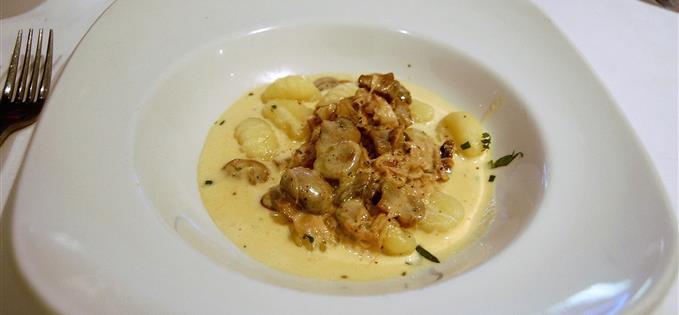 Rabbit gnocchi
Our waitress asked if it was ok that the roast lamb (£17.50) was served pink, which is usual of course, though I find when waiting staff ask that often the meat turns up with the merest hint of rose colour. This was a fabulously cooked piece of flesh, with plenty of pink on show. 'That's rare,' joked my dining partner. The menu dictates that you pick your own sides so we decided on green beans, which were flavoursome with a nice bite, and potato dauphinoise, which came in a nice big chunk, but was otherwise a bit indifferent, with the graininess that comes from overcooking.
Aubergine is one of my menu buzzwords – being instantly attracted to any dish containing it. When cooked at home I find it lacks a certain something, yet when done properly is a truly wonderful thing. The secret, as always, is fat. By purging out the bitter juices and replacing them with lashings of olive oil you have less of a vegetable and more of an organic sponge for soaking up calories. Delicious. So, naturally, I went for the aubergine and goat's cheese pappardelle (£10.50). True to form, the aubergine was rich and oily, the goat's cheese from Yellison's Farm in Yorkshire creamy yet fresh. The problem lay in the pasta itself, which had been visited by the two less well-known food dwarves, Gummy and Clumpy. Perhaps a tubular pasta such as penne might have been more suited to the chunky sauce.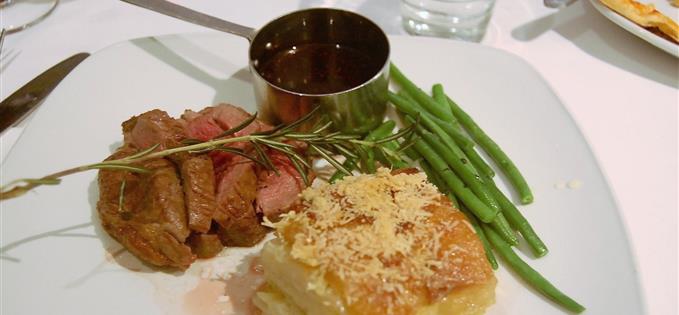 Roast lamb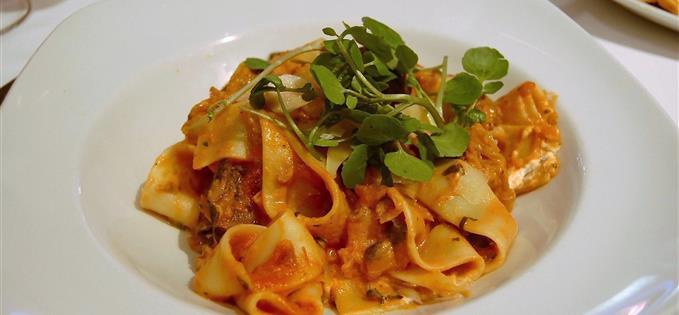 Aubergine and goat's cheese pappardelle
Moving on to the puddings (£6 each), the Black Forest sundae was a retro delight, with chucks of chocolate cake, the kind of cherry ice-cream you might have got in a plastic cone from the ice-cream van (the one with a novelty bubble-gum in the bottom), chocolate sauce, all topped off with squirty cream - normally frowned upon but practically mandatory in these circumstances. The mini Eccles cakes with clotted cream were also rather nice, crisp sugared pastry concealing rich clods of dried fruit. The clotted cream, so thick it was almost butter, was a necessary contrast to the Christmassy spice.
Albert's Shed has been a Manchester institution for well over a decade, and deservedly so. The word that perfectly sums up this place is 'solid', which might seem like half-hearted praise, until you realise that in the restaurant trade, pleasing most of the people most of the time is actually an incredibly difficult thing to do. And pleased with our evening we were, as we rolled satisfied under arch and over cobbles into the night, while John Robb circled endlessly, forevermore.
Albert's Shed, 18-20 Castle St, Castlefield, Manchester M3 4LZ
Rating: 15/20
Food: 7/10 (Gnocchi 7, Duck 5, Lamb 8, pasta 5, Sundae 6, Eccles cake 7)
Atmosphere: 4/5 busy, attracts groups.
Service: 4/5 Super-friendly waitress who anticipated our food needs really well.
PLEASE NOTE: All scored reviews are unannounced, impartial, paid for by Confidential and completely independent of any commerical relationship. Venues are rated against the best examples of their type: 1-5 saw your leg off and eat it, 6-10 stay in with Netflix, 11-13 passable, 14-16 very good, 17-18 excellent, 19-20 pure quality.
Powered by Wakelet