Confidential first got wind of PLY - a new 5,500 sq ft NQ pizza bar/restaurant by the award-winning Kosmonaut outfit - back in March 2014.
The place has been 'Skandi'ed up to buggery, like jumping into a MADE catalogue or the converted warehouse apartment of a Stockholm architect called Sven.
In the year since they announced their doughy intentions on 26 Lever Street, George Osborne has climbed into bed with Manchester and created Britain's very first devolved city; we've fleshed out plans for a 'Northern Powerhouse', HS2, HS3, a £1bn St John's masterplan, £350m of science centre; we've seen three Manchester United managers, twelve new hotels announced and Hawksmoor and Iberica - £4m of prime London-brand restaurant - announce their arrival, secure sites, fill those sites, and start feeding people.
In which case, what the ruddy 'ell have PLY been up to?
"There's not one particular reason," says Joe Fearnhead, co-owner of PLY and Kosmonaut, "just everything taking much longer than we had anticipated really."
Righto.
PLY is a clear move away from Kosmonaut's much emulated dark wood, brick, piping and reclaimed furniture formula, which has become de rigeur for many of the city's new identikit bars.
PLY, much like the wood veneer and cork floors spread across the venue, is light, airy, clean. The place has been 'Skandi'ed up to buggery, like jumping into a MADE catalogue or the converted warehouse apartment of a Stockholm architect called Sven.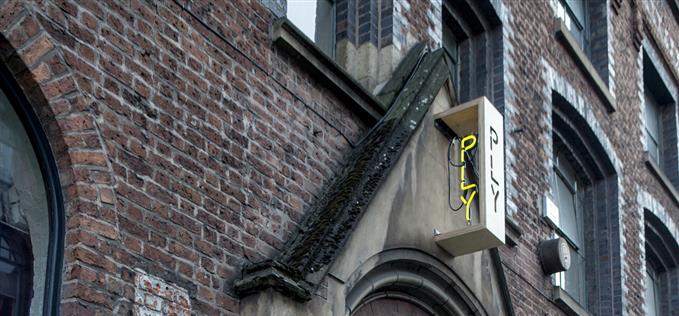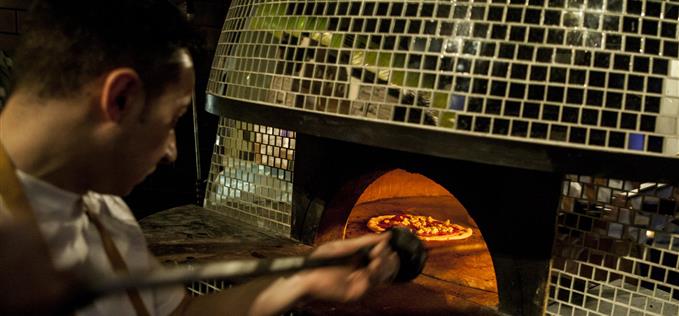 "It would have been easy to just rehash the look of Kosmonaut," Fearnhead tells us, "the warehouse buildings of the NQ do lend themselves to that look very well.
"With PLY we just wanted to give a fresher take on things, the lighting is more modern, the seating isn't reclaimed, there's still brickwork on display but it's been whitewashed... nothing major, but just enough to keep things interesting I think."
Speaking of interesting, one feature of the new restaurant sparkles from the corner like Liberace's disco pants. "We brought over three Italian blokes to construct that oven," says John Owens, Director of PLY's creative partner Instruct Studio. "They came over especially from Stefano Ferrara (the famed Neapolitan pizza oven-making family) - it has to be made from a particular volcanic clay from Sorrento in Italy."
This is a serious piece of kit; Stefano pizza ovens can weigh up to 2500kg, cost up to £20,000 to ship over and withstand temperatures up to 500°C. They also cook PLY's sourdough pizzas in a nifty 90 seconds flat. This disco-ball monster signals intent. But with Crazy Pedro's, the newly announced Rudy's Pizza and Solita planning a new NQ pizza place, is pizza becoming the next faddish dirty food?
"I don't think pizza is a fad," says Fearnhead. "There's loads of places serving pizza in Manchester city centre already, but none doing authentic Neapolitan, sourdough pizza like we'll be doing. It's quick, easy, fun food."
PLY offers thirteen pizzas (from £8) with twenty additional toppings (from £1), ten antipasta dishes including olives (£2.50), marinated veg (£5.5) and Coppa ham and burrata (£8), fifteen wines (from £16.5) cocktails (from £6.5) and plenty of ale (from £4).
PLY will also be hosting a number of international artists over the coming months.
PLY opens fully on Friday 27 March 2015.
Lunch 'til late.
Photos by Sebastian Matthes at Manox.net