LOOK up, see those cranes? Manchester is on the move... upwards.
The new skyscraper will fall just 44 metres short of Beetham Tower
As the city's property market continues to gain momentum, multiple schemes are taking off and topping out right across Manchester - just look at our October Property Round-Up.
So much so, in fact, that earlier in the year we attempted to predict how the Manchester skyline may look in years to come, with 86% of you agreeing that Manchester 2022 looked just spiffing.
Now, as we approach the back end of the year, comes the news that four more major Manchester schemes are gaining pace...
RIVER STREET - Manchester's second tallest skyscraper
Work has finally begun to build a new 42 storey tower - the second tallest skyscraper in Manchester at 125 metres - on a site just off Mancunian Way on River Street.
A concrete shell, occassionally used as a 'zombie' car park', has stood on the site since the original developer went bust in 2005.
Now the new owners, Bolton-based develpoment firm Forshaw Land & Property, plan to demolish the abandoned structure in order to build 420 new apartments, alongside ground floor food, drink and leisure units, having received council approval this week.
Following demolition and preparatory works, main construction on the Ian Simpson-designed tower is expected to begin in mid-2016.
The new skyscraper will fall just 44 metres short of Manchester's tallest structure, Beetham Tower (also designed by Ian Simpson), and 7 metres above the CIS Tower on Miller Street.
Quite a whopper then...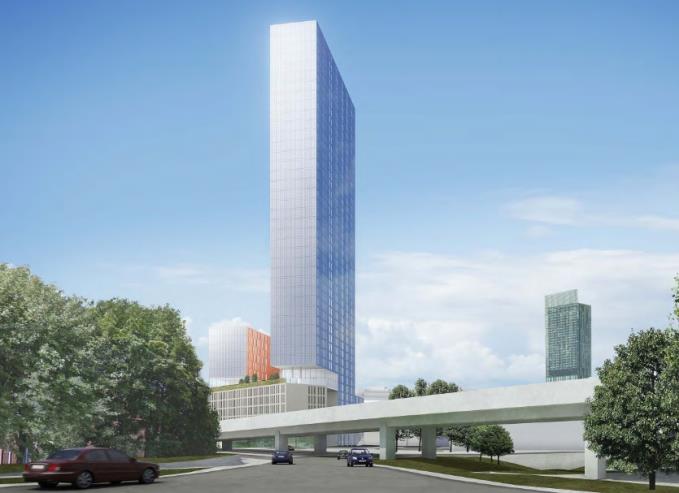 GAY VILLAGE - Plans lodged for 238 apartments and four star hotel on Princess Street
Developer Urban&Civic have submitted reworked plans for a major scheme at the edge of Manchester's Gay Village, at the corner of Princess Street and Whitworth Street.
The one-acre site - which has lain vacant for over two decades after the demolition of warehouses in 1993 - was purchased by Urban & Civic in December 2014 with planning consent for apartments, a hotel and offices in three buildings arranged around a public square and a four-level basement car park.
However, due to changes in the 'economy and property market', as well as thinking on design and use, Urban & Civic have reworked the original 2007 Ian Simpson-designed (again?) scheme into a new mixed-use development comprising of 238 apartments, a 148-bed four star hotel, ground floor commercial units and a new public square over the existing car park.
Work is expected to begin in the summer next year, with the first residents in by early-2018.
Urban & Civic are also working up plans for a £225m scheme at the Marriott Rennaisance hotel site at the corner of Deansgate and Blackfriars Street. The scheme includes 600 apartments across four blocks, a 200-bed hotel, a 300-space basement car park alongside food, drink and retail units.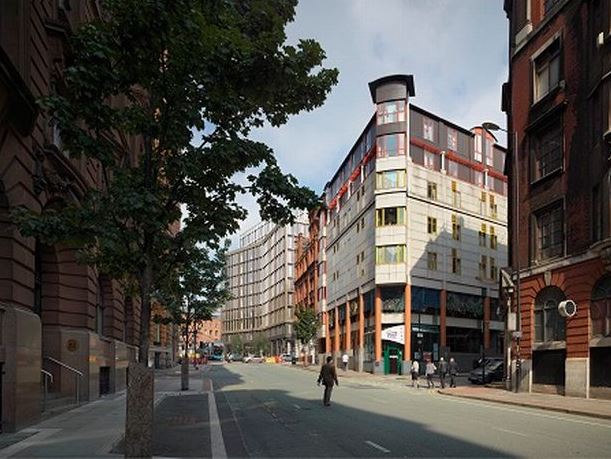 BODDINGTONS BREWERY - New plans include 50% residential development
The Council Executive are set to sign-off reworked plans for Manchester's seven-acre Boddingtons Brewery site located just north of the city centre between the Manchester Arena and Strangeways - currently used as a 800-space car park.
Owned by Realty Estates, a £250m redevelopment plan was first revealed back in 2007, however, nothing amounted and joint venture partner, Ask Developments, backed out in 2012.
The 2007 scheme revolved around office, leisure and retail development, however, the reworked framework will now include at least 50% residential space and 'the creation of a new neighbourhood'.
A report to go before the Council Executive committee reads: "At a key gateway location to both North Manchester and Salford the residential aspect of the development will contribute towards satisfying increasing demand for housing in close proximity to the regions economic hub."
Alongside the development of a residential offer the framework also includes new commercial, retail and leisure space, all of which will 'create a significant number of new jobs within the area'.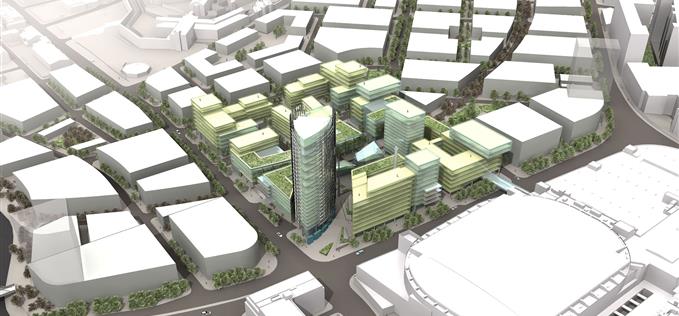 FIRST STREET - Council Executive to sign-off resi rethink for First Street
Having acquired First Street developers Ask's interest in the 20-acre, £500m First Street site in May, new owners Patrizia Immobilien are expected to have their updated framework, with a much greater emphasis on residential development, approved by the Council Executive on 4 November.
The first completed phase of First Street, identified as First Street North, includes: the new £25m HOME arts centre; the 208-bed Innside Melia hotel; the 180,000 sq ft Number One First street office block (occupied by Auto Trader and Gazprom); a 700-space Q-park multi-storey car park; 274 Vita luxury student flats; a new public square and multiple food, drink and retail units.
The revised First Street framework will add: 1m sq ft of residential and student accommodation; an extension of the total planned office floorspace from 1m sq ft to 2.1m sq ft; 45,000 sq ft of retail and lesiure space; and a higher density of development with buildings of seven to eleven storeys.
Number Six First Street, a 220,000 sq ft, seven-storey mixed-use block to be constructed in First Street South is also expected to complete by 2017.