IT'S NATIONALLY known as the 'UK's museum of democracy', but that hasn't stopped Manchester's People's History Museum encountering tough funding cuts.
That's why PHM patron Laura Harper got brainstorming, approached twelve of the country's leading artists and designers and found out just what issues make them tick. The result is Ideas Worth Fighting For: an exhibition of prints, paintings, installations, banners and more that address some of the most revolutionary people and periods to shape our society.
Life must be lived looking forwards, but it can only be understood in a historical context; which is why the PHM is so important
Mary Branson's New Dawn installation, celebrating 150 years since the campaign for women's votes began, became the first abstract artwork to be commissioned for permanent display in Westminster Palace earlier this year. She will be contributing Marching, a bird's eye view of a suffrage march.
Claudia Clare's work, meanwhile, references the Staffordshire plates of 1836 and 1840 - which celebrated the American fifth amendment, the right of assembly and free expression - and Claire and Lee Donnelly's Unusual will follow the empowering path of 'righting' rather than 'fighting'.
More currently, Malcolm Garrett - known for producing artworks for bands such as Duran Duran, Simple Minds and Buzzcocks - expresses his concern that Brexit will jeopardise the stability of both UK and Europe through a series of statement posters. And famed local stencil artist Stewy will celebrate Robert Wyatt, who has 'stuck to his guns both politically and musically' throughout a long and distinguished solo career (talking of guns, don't miss Guns to Goods' portrait of Dr Erinma Bell in the community gallery, recycled from de-commissioned hand guns).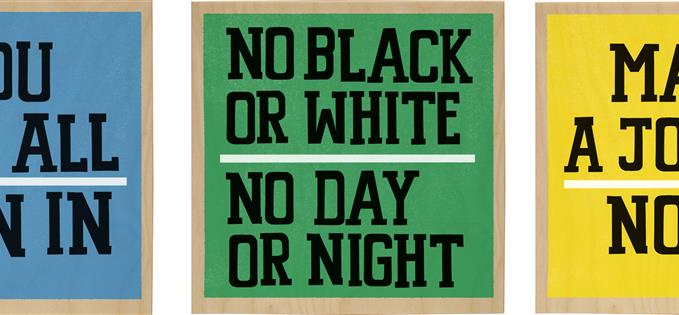 Marcus Walters' rallying placards
Other works will include: Mark Beaumont's The Radical Totem, a vast installation focusing on some of history's greatest pioneers; Mackenzie Thorpe's Men of Iron, depicting labourers from his Middlesbrough hometown; and Humberto Vélez's The Welcoming Banner of the Performance, created following his work with asylum seekers, refugees and minority groups as part of the Liverpool Biennial 2006.
Unaffordable housing is Rob Ryan's chosen theme. Of his poster, entitled Let People Live, the paper cut and screen print artist said: "You can't blame people for buying their council house or for trying to get the most that they can for rent... But government legislation should cap it at an affordable level so that we can get back from this ridiculous housing situation we are now in."
A partner at law firm Shoosmiths LLP, Laura Harper helped to curate the exhibition after becoming involved with the PHM two years ago, when funding cuts threatened its future. She said: "The museum is one of the most important museums in the country as it charts the battle for the ballot and recognises the people to whom we owe a great of historic debt. Of course, life must be lived looking forwards, but it can only be understood in a historical context; which is why our museums, and particularly the People's History Museum, are so important."
Of Ideas Worth Fighting For - part of an imaginative fundraising programme called Join the Radicals - she said: "After becoming a patron I wanted to do something more to help. My job with businesses and professionals in the creative industries means that I work with some of the country's leading artists and designers. I have been fortunate to meet some incredible artists during my career who I was able to approach to help with the idea of this event. The response was overwhelming and the result is this incredible exhibition."
Ideas Worth Fighting For is free to visit and will be in the PHM's Engine Hall from 17-23 October