"HAVE you ever tried to get into Home Sweet Home on a Sunday morning?" says owner Beau Myers, "If so then you'll know why we need to go bigger - we're bringing the magic to Deansgate."
The truth is that this charming Northern Quarter bohemian bolthole has been fit to burst since it first opened on Edge Street back in 2012
A characteristically indomitable reply from Myers, the gonzo restaurateur behind some of Manchester's most successful and rambunctious venues: Almost Famous, Luck Lust Liquor Burn and Keko Moku.
Now Myers, alongside co-owners Marie Carter ("she's the glue") and John 'nuts and bolts' Kirby, are set to expand their award-winning, 'more grown up' concept, Home Sweet Home, by launching a second site in the recently vacated Lucha Libre unit at Great Northern - two doors down from the flagship Famous.
"We're super excited about about this EPIC new Home Sweet Home, it's going to be big and wonderful and totally fantastical - I want to create a place of total escapism and indulgence," says a jubilant Myers.
"We're taking the best of the original restaurant: the coffee, the cakes, the pancakes and the breakfasts with an extra sprinkle of magic," continues Myers. "Bigger cakes, bigger menus and a new OTT Bloody Mary selection - I can't wait to bring the WOW to the people of Manchester."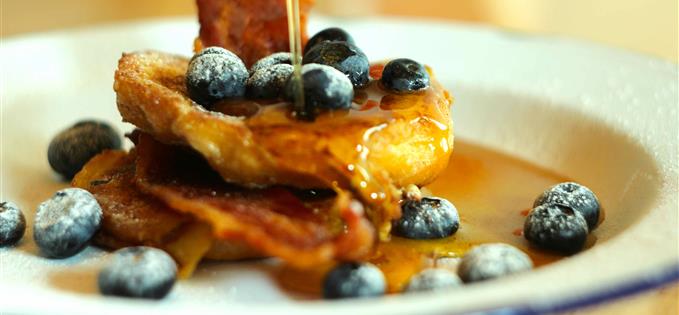 Home Sweet Home's Blueberry & Syrup Pancakes
This one's been in the offing for some time. The truth is that this charming Northern Quarter bohemian bolthole has been fit to burst since it first opened on Edge Street back in 2012; it's cluster of twee tea rooms struggling to cope with the torrent of local trendies and international tourists come to ogle at the most obscene cakes this side of the Atlantic.
Still, having flirted with a number of units around Manchester, Myers and Carter never found one that fit - "They were always too small," says Myers. Not a problem in the gargantuan Grade II-listed Great Northern Warehouse, where Home Sweet Home 2.0 will have space for around 150-200 covers.
"We've now got space for everything the team have wanted to bring to Manchester but just haven't had the space for until now," Myers tells us.
This includes a new open-kitchen for master baker *teehee*, Charlotte O'Toole (aka BakeOrama), a coffee shop 'vibe' out front, a lazy lounge area and American-style booths up top.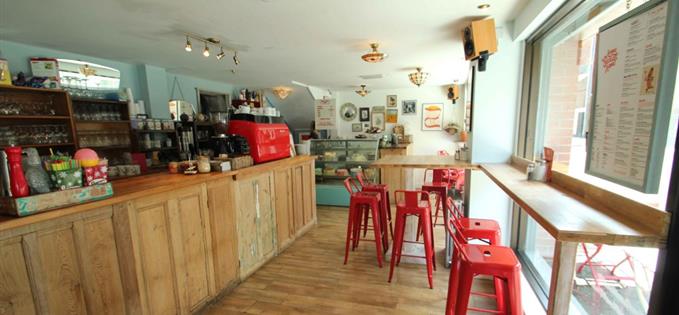 Home Sweet Home NQ
&nbsp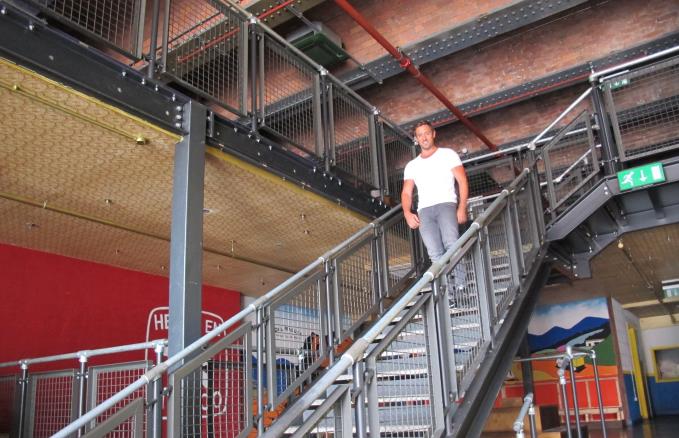 Myers surveying his new gaff
"We're excited to bring what we do best to the other side of town, we're looking forward to more space and a bigger menu," says Home Sweet Home's General Manager and 'Tile Man', Ben Grainger. "We'll be bringing the same super friendly staff and all of the enthusiasm and passion that's made the NQ a destination."
We were beginning to worry for the Great Northern. After all the promise Almost Famous, All Star Lanes, Lucha and the B.Eat Street boys brought to the idle beast, the recent withdrawal of Friday Food Fights and reposession of Lucha spelt trouble.
However, the coming of Home Sweet Home, one of the Northern Quarter's most beloved restaurants, coupled with the dawn of B.Eat Street's latest project, means there's life in the old dog yet.
Now to sort that sodding Bar 38...
Home Sweet Home should launch at the Great Northern on Peter Street in late-September and promise a 'fill your boots style opening party' - tickets can be won by signing up at homesweethomegn.com
See the Home Sweet Home menu here.