CELEBRATED West Yorkshire tapas restaurant, El Gato Negro, have announced they're to jump ship to Manchester and open in the walkway joining King Street and Chapel Walks at the site of Raymond Blanc's failed Brasserie Blanc restaurant.
El Gato Negro bagged their second Bib Gourmand in three years in the Michelin Guide 2015 and also feature in this year's Waitrose Good Food Guide.
Great news for Manchester, bad news for Yorkshire. El Gato Negro's current lease in Ripponden expires in 2015 and the tapas restaurant will be moving their entire operation to the more expansive Manchester Unit.
Units five and six (by Bang & Olufsen) have laid dormant for years since Blanc gave up on Manchester in 2010, but El Gato Negro's move should see some life pumped into this sleepy corner of the city centre when the restaurant opens in mid-2015.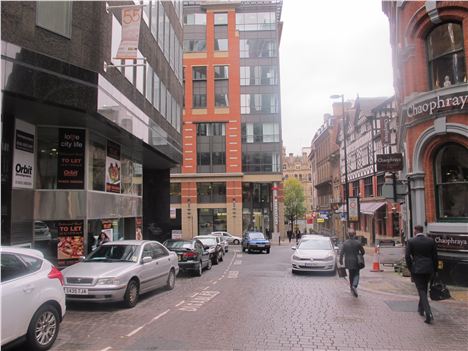 Chapel Walks: El Gato Negro's proposed site to the left, Chaopraya to the right
El Gato Negro should prove to be a coup for Manchester.
You probably missed their star-stint at Ancoats' Up In Your Grill street food event this summer or at Chorlton's Electrick bar a few years back. But you may remember El Gato Negro from Gordon Ramsay's Channel 4 show, F Word, where the Ripponden tapas restaurant scooped Britain's 'Best Local Spanish Restaurant' in 2009.
And it's not only Ramsay that's been bowled over by chef-owner Simon Shaw's (formerly of the prestigious Harvey Nichols restaurant in Knightsbridge) little pocket of Spain in an old converted pub in West Yorkshire, El Gato Negro bagged their second Bib Gourmand in three years in the Michelin Guide 2015 and also feature in this year's Waitrose Good Food Guide.
The menu is rife with Spanish meats and cheeses including a jamón Ibérico that had Guardian food critic Jay Rayner purring like a Harley Davidson a number of years back.
Prices range from £1.80 for roast corn kernels, £4 for tortilla and patatas bravas, £10 for chargrilled octopus, £12.50 for rump of lamb and £17 for the full whack of Spanish meats. Bottles of wine range from £15 to £50, while bubbles start from £25 - see here for the full food menu and wine list.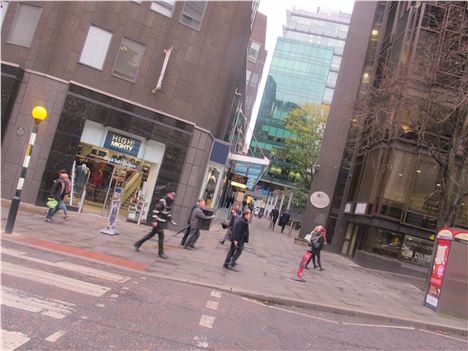 The view towards the unit from King Street
Chef-owner Simon Shaw said:
"Today we are delighted to announce an exciting new chapter in the story of El Gato Negro: we will be bringing our award-winning food and drink to Manchester city centre in 2015.
"We've achieved so much since we opened our doors in 2005 – awards and accolades have increased our reputation and appeal to a wider audience.
"Sometimes working out of a small kitchen in the restaurant here in Ripponden has constrained our creativity, and our size has limited the number of diners who've been able to experience our food.
"As some of you may be aware, the lease for our current building expires in 2015. This has led me to explore options for the future, and after careful consideration I believe I've found the perfect opportunity by opening a larger and better equipped restaurant in a prestigious site in central Manchester.
"We've seen more customers travel from Manchester to enjoy our take on modern Spanish cuisine, and have had a brilliant reception at pop-ups we've attended in the city. It's definitely the right time to bring our northern, homegrown take on modern Spanish cuisine to a city where we know we'll feel right at home."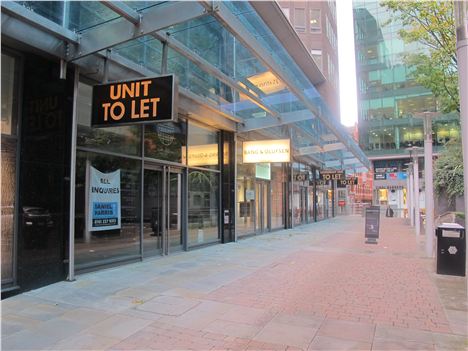 King Street's empty units
Manchester is a savvy move by El Gato Negro. For all that Manchester's food and drink spring has given the city over the past couple of years, the city centre's tapas offering (aside from Evuna on a good day) has been bobbins.
El Rincon? Painfully over-hyped. La Vina? Consistently panned. Then what... La Tasca?
El Gato Negro - 'Britain's Best Local Spanish Restaurant' - should clean up in Manchester. Still, they might not have it all their own way... there's the small matter of London's Ibérica opening in Spinningfields.
El Gato Negro, Unit 5 & 6, 55 King Street, Manchester, M2 4LQ