THERE's plans afoot for that really odd, lonely angular venue on Peter Street (pictured), which has stood empty since Purity, its last incarnation, closed in 2013.
Brew Haus offers 'a wholly new take on a classic Bavarian Bier Keller'
The glass-fronted unit with basement club space is now owned by Tokyo Industries - who have just submitted a licence application to the council for a new gaff called Brew Haus, serving craft beer and cocktails (oh for f...), alongside 'pizzas and 'proper butcher's pies' (ok, we're back on board).
According to the spiel, Brew Haus offers 'a wholly new take on a classic Bavarian Bier Keller', with regular 'meet the brewer' events and beer festivals, while their cocktail list has been created by award-winning Manchester drinks collective, The Liquorists.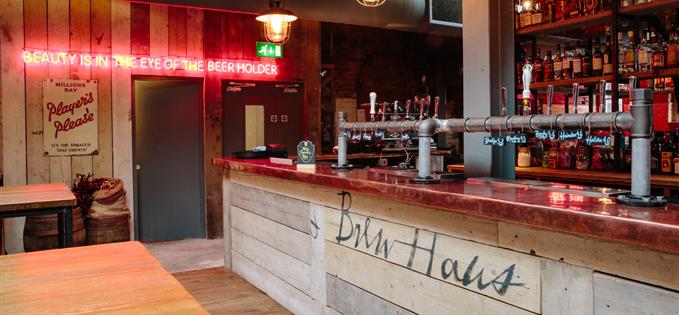 Brew Haus, Bradford
So far, it sounds like the perfect venue to draw in the overspill from the ludicrously popular (and not entirely dissimilar) Albert's Schloss across the road, whilst joining the likes of Asha's, Revs de Cuba, Sakana, Brew Dog, No1 Watson Street, Epernay, Almost Famous, All Star Lanes and Home Sweet Home (not to mention the new Dirty Martini bar set to open around the corner) in growing the Peter Street/Great Northern Warehouse area, sorry, 'Quarter', into the city's most lively food and booze destination.
Tokyo operate 32 bars, clubs and venues across the UK, including Brew Haus venues in Bradford, Lincoln and Huddlesfield, Manchester's South nightclub and FAC251 - which is in the old Factory Records head office building on Princess Street and co-owned by New Order's Peter Hook.
Subject to approval, the Brew Haus will launch later this year following a thorough renovation of the site.
READ MORE: London's LEON coming to Manchester & Pay-What-You-Want Cafe Has Sights On Ancoats.
The site on Great Northern Square has struggled in the past
Powered by Wakelet