GORDO's Dad, Shady, died a short while ago, giving out orders to the very last. He's a hard act to follow. The good times are easily remembered mind you, one coming to Gordo while driving back from the family home after seeing his mum.  
Aloo Ghobi was a lip smacking light and fragrantly spiced big-fat-dollop-in-a-brass-bowl of wonderfulness. 
This was the Friday night ritual of the visit to The Hilal restaurant in Sale and latterly Handforth, after we had closed the family butchers' shops. That was thirty-five years ago and Shady allowed Gordo, aged 14, to drink a pint of lager. 
The food at The Hilal was great in the fat one's mind. 
Gordo had been tortured for the previous seven years with Shady's obsession with an electric frying pan bought from the back pages of  The Daily Telegraph in which he claimed to have created (in his mind) the best curry in the world with no help from cookbooks. Shady had made up the recipe up after trying to recall a late night visit to some curry cafe in Ancoats pissed out of his brains on Remy Martin. They were hot painful times but no one said no to Shady.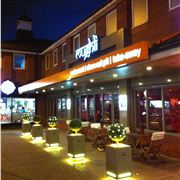 MughliSince those days the state of British Indian cooking has developed little, being in the mind of the mainly Pakistani and Bangladeshi owners, an interpretation of what the British visitors want. There has been debate on the pages of Confidential about 'apna' style (traditional) cooking, which Gordo doesn't want to get into today. 
Why he is going on about the Hilal is that over the past couple of months, Gordo has noted a number of his followers on Twitter singing the praises of a restaurant called The Mughli, situated on the dreaded Curry Mile, in Rusholme. 
Driving through the Mile towards Manchester Gordo is reminded why he has stopped going; the first reason being Manchester City Council and the simpletons in the traffic section who are led by the anti-car mafia parading as Labour Councillors. They have completely screwed the place up; the street is like the roundabouts you see on News at Ten in Lahore when a politician gets shot dead by the Taliban. Complete bloody chaos. It's a mess.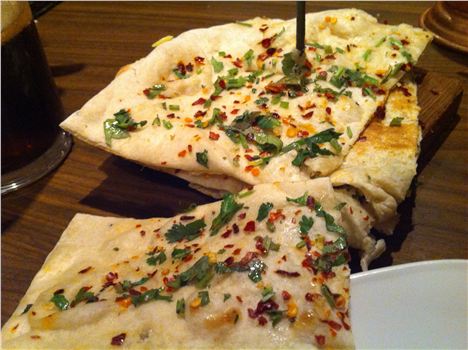 Peter's Bread
The second reason is that it has become a run of third rate restaurants modelled on toilets wrapped in neon. Walk around the back of them in a suit and tie and you are bowled over by young men running, as if for their lives, shouting out streams of Punjabi interspersed with words like "customs' and excise'. It is dreary dressed in glitz, with a very little 'g'. Cans of Coke are from places invariably outside the EU. 
And in the middle of all this piss-poor representation of the Indian sub continent, is The Mughli. It stands out like a sore thumb because someone has decided to spend real money on the place. The editor, Schofield, tells me that the Rusholme game will soon be upped by some place called Malai opening soon. Good. The more the merrier. 
Creams, planters outside with a few tables, clean as a whistle. Nicely lit. Inside it is cheery - although the orange film across the windows can make you feel you're on the set of Total Recall, the original film, and Arnie is about to burst through the Martian landscape and shoot the place up. 
It's comfortable with an open barbecue range not dissimilar to the Confidential favourite, Zouk. 
As for the menu, well readers, you know it off by heart. Like Gordo, you've been eating it for years. Shame, since we now have Madhur Jaffrey and Atul Kochhar showing just how diverse, delicate, and interesting dishes from India can really be? 
Gordo sat down and ordered the old favourites, poppadums (£1 for 2), a chutney tray (£2) with mango, tamarind sauce, mint yoghurt, red onions and Indian salad.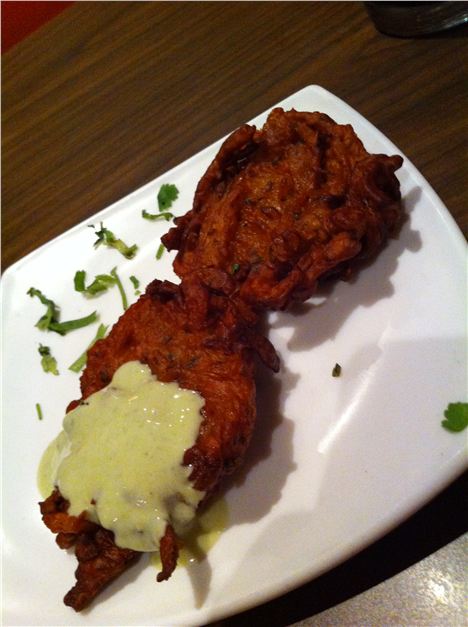 Onion Bhaji With A Little Mint Yoghurt
At this point Gordo started to realise why the Bloggers and Twitterati were being so voluble about the place. Poppadums are good, but the mint yoghurt showed so much class (he had recently had the worst at a very, very poor meal at the Gurkha Grill) Gordo sat up. Everything on that tray was splendid. Very, very splendid. 
The mint yoghurt was smooth, creamy, wafted with fresh mint leaves. The red onions were spiced in a cool, nearly sweet sauce, which kept the flavours balanced, and sharp yet smooth whilst the Indian salad was a walk through a Rajasthani spice market in the rainy season, all muted notes wrapped around refreshing little chunks of salad. 
Lamb chops (three at £5) were marinated in kali-mirch (black pepper to you and me) and burnt, in part, to a crisp and in other places pink. They shouted at Gordo, urging him to pick 'em up and get stuck in properly. He didn't let them down. Onion bhaji (£2.50 for 2) were great on the outside, crisp and crunchy onions, but were let down a little with a very heavy mixture inside.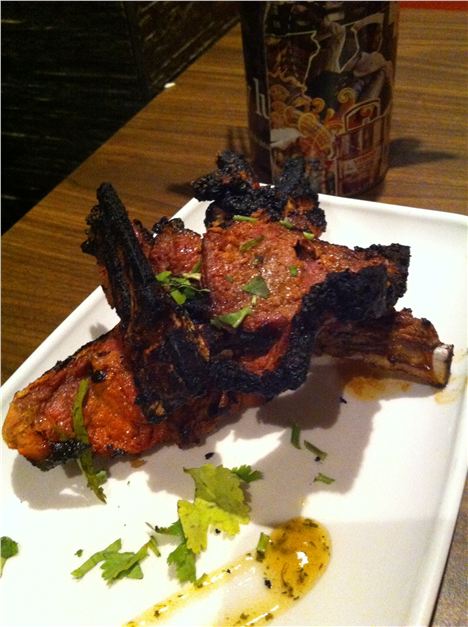 Lamb Chops
Meat samosas (£3 for two) in a take-away the following evening had not been cooked through properly. If it had been it would have been massive, but Gordo turned up the oven at The Towers and finished up very pleased in the end. Heat lovers would have been very impressed with the minced lamb interior, very authentic. 
Aloo Ghobi (£3.50) was a lip smacking light and fragrantly spiced big-fat-dollop-in-a-brass-bowl of wonderfulness. It went well with Gordo's main course choice of the visit, Lamb Saag (£8), lamb on the bone with spinach, ginger, garlic and green chillies.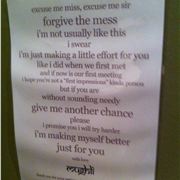 Ever So PoliteThe lamb, as it happens, wasn't on the bone but may have been cooked with the bones. The chunks came from all areas, neck, shoulder, leg; most were tender, some were chewy little blighters, all full of flavour whilst the curry (sauce) had been blended into something worthy of haute cuisine. Utterly fantastic. 
Another main from the following day was Apna Chicken, (£8), chicken thigh pieces in a traditional reduced onion and tomato based sauce. 
This, girls and boys, defeated Gordo. It was the real thing, Gordo having eaten this with his best pal Yousaf and his sixteen nieces and nephews for years. It was too real for Gordo then and too real now.
If you like it hot, this is the one. It took a pint of full fat milk to sort Gordo's digestion out. There was also a mistake here; it wasn't thigh meat but half thigh meat and half breast, breast being far too dry for a dry apna-style sauce. Gordo preferred Yousaf's mum's habit of serving it on the bone. 
Take a glass of mango lassi, by the way. It is a sheer marvel.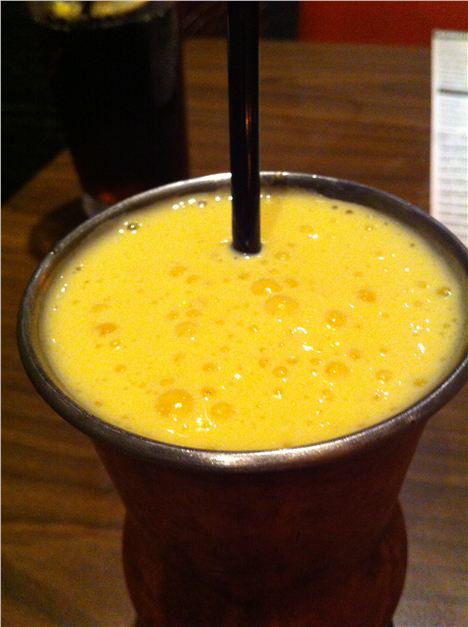 Mango Lassi
Pulao rice (£2) was a) great and b) beautifully presented. Then another star, Peter's Bread (£3.50), a revelation, tandoori naan drizzled with garlic oil, chilli flakes and fresh coriander, folded in two so it didn't dry out. It was simply bloody fantastic. Gordo doesn't know who Peter is but by the gods, he needs a pat on his back. 
And neither are the team who run this place. The service is immaculate, the place is spotless (Gordo had a creep round the back for you all) and the handful of the 'home-style specialities' shows a team who can think outside the tiffin when it comes to their menu. 
Well done guys, Gordo loved it… Twice. 
PS: Gordo would like to apologise for the picture quality which is not of his usual supernaturally high quality. Problem was Gordo only had his phone camera with him.
You can follow Gordo on Twitter here @GordoManchester
ALL SCORED CONFIDENTIAL REVIEWS ARE IMPARTIAL AND PAID FOR BY THE MAGAZINE.
Mughli, 28-32 Wilmslow Road  Manchester, M14 5TQ
0161 248 0900
Rating 15.5/20
Food 7.5/10
Service 4/5
Ambience 4/5
PLEASE NOTE: Venues are rated against the best examples of their kind: fine dining against the best fine dining, cafes against the best cafes. Following on from this the scores represent: 1-5 saw your leg off and eat it, 6-9 get a DVD, 10-11 if you must, 12-13 if you're passing,14-15 worth a trip,16-17 very good, 17-18 exceptional, 19 pure quality, 20 perfect. More than 20, we get carried away.