Here's a list of the best small music venues - under 500 capacity - in the city for live events in alphabetical order. It's that simple, really. Click on the name for contact details. If we've missed out any let us know.
This off the beaten track venue continues to be one of Manchester's best, worst kept secrets. The run down Victorian mansion has become one of the city's favourite music, art and photography hotspots outside of city centre. Part of the appeal is the versatility of the venue; you can hire the space for band practice, photo and film projects. Thursday till Sunday the venue comes alive through the night. With a strong back catalogue of live music, comedy and club nights the space has continued to develop as a grimy, characterful Manchester favourite.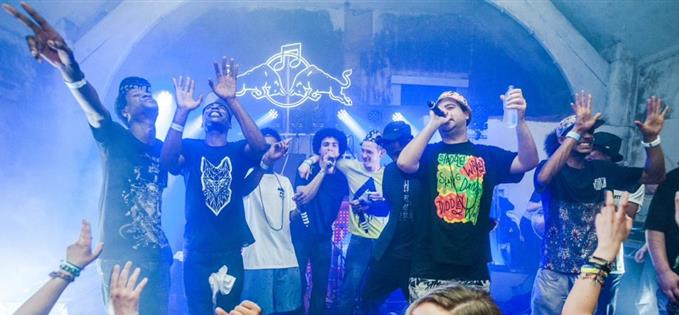 Levelz performing as part of The Red Bull Academy tour at Antwerp Mansion
The venue dates back to 1862. Originally The George and The Dragon pub, the 1930's saw the interior transformed into a music venue with a mezzanine bolted onto the back wall for bands to perform. This gave more space for drinking punters and inspired the current name. In 2007 the venue was awarded £3.2 million by Arts Council England and Heritage Lottery Fund as part of a £4m project to transform the venue into a 21st-century centre for music. The not-for-profit, charity run venue is best known for its monthly sell out nights from residents Mr Scruff and Soul:ution.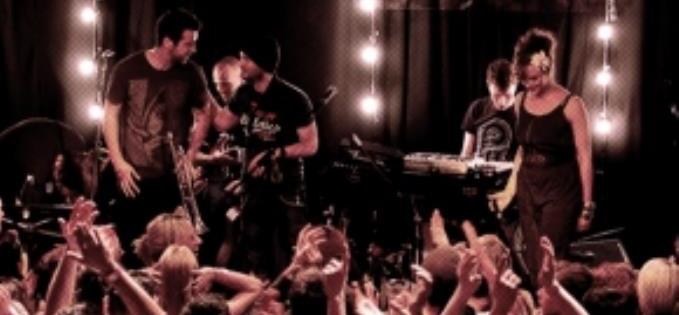 Band On The Wall
The Castle has been 'Letting the good times roll since 1776'. The beautifully quaint tiled façade and traditional pub atmosphere makes The Castle a characterful venue, but it is also entwined with Manchester music history with John Peel's legendary 1979 interview with Ian Curtis taking place here. The pub closed in 2008 after falling on hard times before re-opening in 2009 and unveiling a back room music hall and theatre in 2010. The 50-60 capacity room is loved by many and has seen some great performances from the likes of Veronica Falls, Hooded Fang and Temple Songs.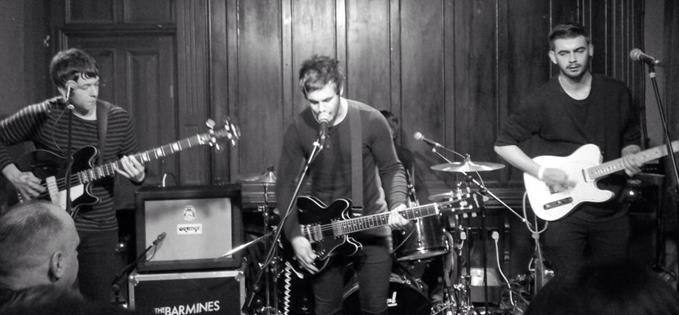 The Barmines at The Castle Hotel
Home to a piano nearly as old as the 1903 building itself and a jukebox heavily packed with classic albums The Eagle Inn provides live music with a view - on the ground or from a balcony - you can even buy a Manchester egg to accompany the music. Located 100 metres from Blueprint Studios, celebrated band Elbow have named the pub 'The Downfall' because it entices them siren-like away from recording duties. There is a handsome live music room, 'rediscovered' on the north side of the bar hosting live music and entertainment nights. This is another example of a well-kept 'back street boozer' just a 5 minute walk from the city centre's bright lights that takes centre stage for many a progressive new act.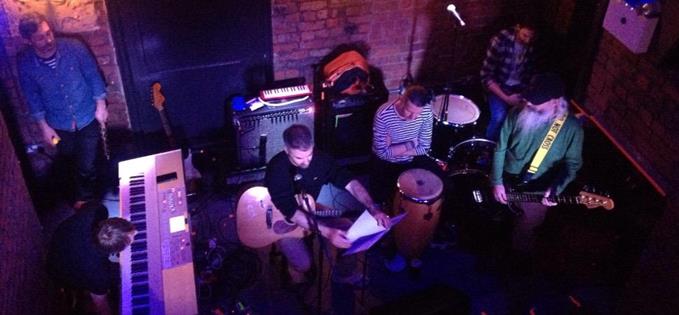 Beta Band at The Eagle Inn
Sister pub of the Castle Hotel, Gullivers has two rooms to acomodate performances. At the top end of Oldham Street it seems to be just far away enough from the Piccadilly pubs to hold onto the friendly atmosphere you'd expect from an 'old man' boozer. The bar in the upstairs room is small so get your beers downstairs and carry them up. A favourite venue of promoters Now Wave you'll find some of the North West's best breakthrough acts appearing here.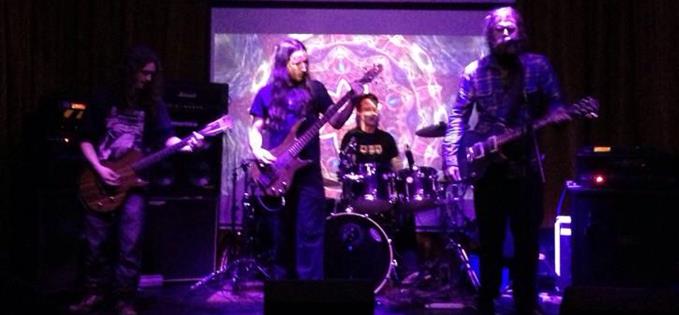 Brother Earth at Gullivers

Hidden down one of Manchester's many alleys, situated off the Northern Quarter's Stevenson Square, Kraak makes innovative use of a former derelict textile cutting room. The exhibition space and the event space was founded in 2009 by local artists to provide a cheap, malleable exhibition space. The adjacent Kraak Venue is one of the few places to regularly mix music and art, also hosting underground club nights that allow smaller independent promoters to put on varied and alternative acts and bands such as Patten, Yeti Lane and Trailer Trash Tracy's.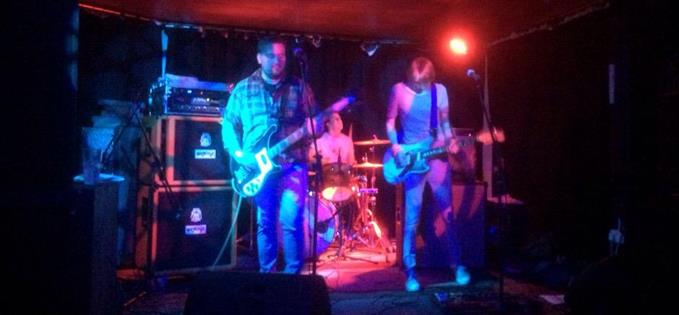 Neon Bars Music at Kraak Gallery
The Kings Arms has been the backdrop for TV detective Cracker and more recently, the student sitcom Fresh Meat. It has pretty much all bases covered - theatre space, live music venue and its Clarke Kent alter ego - a traditional pub. Hailed as Britain's 'most bohemian back-street boozer' by The Guardian, the venue has become a meeting place for residents of Manchester and Salford alike. The Kings Arms regularly accommodates art exhibitions, fringe festivals, gigs and poetry nights.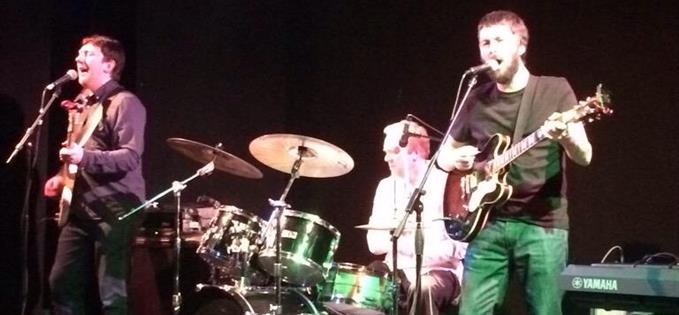 Smashing Lads at The Kings Arms
If you want Jazz this the obvious place to go. Matt and Phred's has been part of the Manchester music scene under this name and former incarnation, PJ Bell's, for decades. Most notably known for showcasing the best in local and international Jazz, Folk, Gypsy, Electro, Salsa, Swing and Ska, Matt & Phred's still put on live music gigs six nights a week, encompassing the likes of Jazz, Folk, Gypsy, Electro, Salsa, Swing, World and even a little bit of Ska.
Blind Monk Trio at Matt and Phred's
Emerging in 1991 this is now one of the main protagonists (or antagonists if their new neighbours are to be listened to) in the Manchester music scene. Having played host to tens of thousands of musicians during its well established life span Night & Day Café has found a place for itself in the heart of most Mancunians. Embracing a multi genre musical menu from indie to folk, jazz to electronica, Night & Day has hosted stars such as; Arctic Monkeys, MGMT and Mumford & Sons on their rise to the top of the musical pile.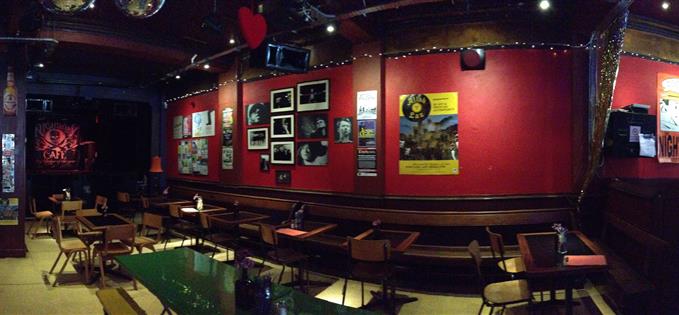 Night and Day Cafe
This bespoke music venue is loud, and they're proud of it. It's all about Rock 'n' Roll here and it can be brutal. Expect plenty of heavy rock acts at this 375 capacity venue, indie and pop acts can be found playing inbetween. Weekend shows are usually followed by a club night, which can be just as much fun as the gigs if the right tunes are being pumped from the super-loud PA.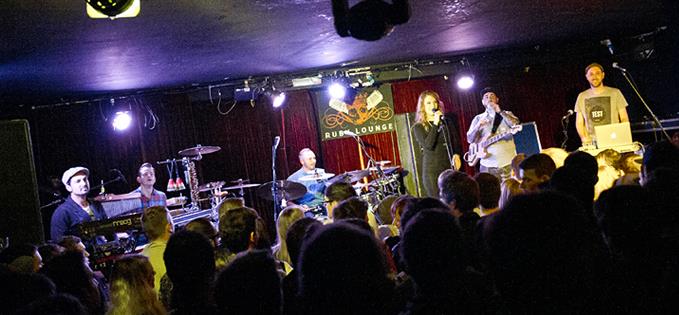 Submotion Orchestra at The Ruby Lounge
The dilapidated-chic styling of Soup Kitchen's basement venue is a great space. The sound carries well through the room making it an ideal space for bands, club nights and spoken word performances. Artists seem to love playing here which is perhaps the reason you'll find acts you'd expect to see on much bigger stages. The purposefully dingy ambience offers a moodier atmosphere to other small Manchester venues.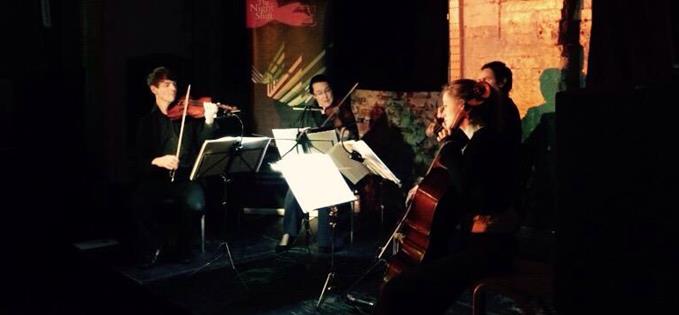 The Night Shift Orchestra at Soup Kitchen
You can follow Kelly Degnen on twitter here.