THERE is currently a debate amongst chefs as to whether or not the younger members of their troop should be trained in the classic recipes of French cuisine.
The calamari took the Fat One back to the days of spending all afternoon in the Brasserie Flo in Paris. Round, plump and non-chewy, only a very good cook could have got these so right.
Gordo discussed this in detail recently during an interview with Michael Wignall, the two star Michelin chef of The Latymer in Surrey.
Wignall is keen to ensure that his brigade understand what he believes to be the foundation of fine dining, the French classics espoused by the likes of Carème, Escoffier and Cesar Ritz over a hundred years ago.
So much so that every Thursday one of his team has to cook the kitchen staff one of the classics for dinner.
There is a whole generation of chefs coming up through the ranks in the UK who haven't had the opportunity to try at these old style French dishes. This is a great pity. A steak delivered with a bordelaise sauce is truly the food of the gods.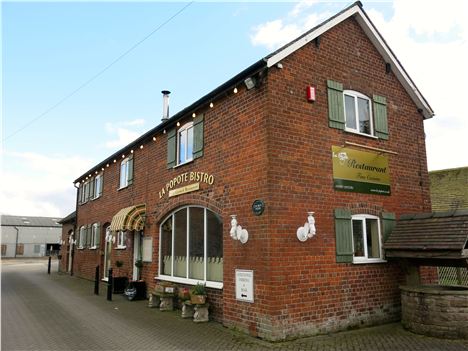 La Popote
Over the past two years there has been a (slow) resurgence in French cuisine; Elizabeth Carter, Editor of the Good Food Guide recommended that Gordo should pay a visit to Terroirs, just off Trafalgar square. It was fantastic. Whilst Gordo's hero, Pierre Koffmann, cooked a meal at his restaurant in The Berkeley that knocked spots off Heston's Dinner across the road at The Mayfair Hotel.
Another lesser but still enjoyable brand, Cote, is arriving soon in Manchester on St Mary's Street (in the old Prohibition bar), which Gordo thoroughly recommends as a great take on French brasseries.
Early on in the year Gordo found himself looking for somewhere to take the family for a good Sunday lunch within twenty minutes drive of Alderley Edge. Ray King, the respected restaurant critic at Cheshire Life, recommended that we try a restaurant, La Popote, on the A34 towards Congleton. Gordo decided to go.
It was a great success with all the family enjoying the ambience and food, heavily influenced by said French classical cooking. The chef was Dutch, his wife Scottish and their first restaurants were in South Africa.
Gordo decided to visit a second time, this time on his own for a review.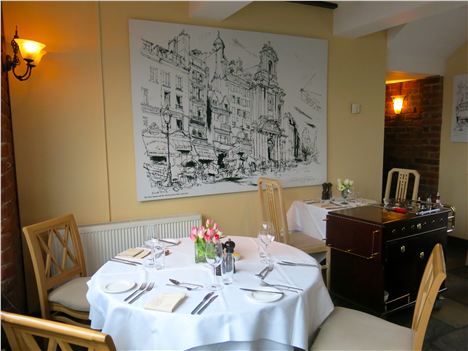 Interior
The building is a converted barn, which from the outside, without the benefit of spring, doesn't look too hot. Signage from the road is poor whilst the place shares a car park with tearooms, or a deli, or a farmshop, or indeed all of them. Gordo forgot to check it out. He was dreaming of thick saucing, good bread and scallops.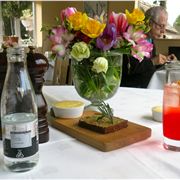 Walking in through the front door finds the visitor in a small bar with a wood burning stove filling the space with those smells reminiscent of pubs stumbled across in the middle of Wales. Pubs where the food is delightful and the welcome, like a sheep skin rug, is warm and cosy.
Lynne Janssen, wife of the chef Victor, greeted Gordo. She offered a place by the fire but Gordo refused, he was allowed to take a table for four by a window. He likes to spread out.
The room is small, maybe twenty-five covers, spanking clean with white linen tablecloths and fresh flowers on each table, lifting a room which would otherwise be a bit too white. A thick slice of nutty bread arrives with the menu.
It's bang on, slightly sweet and terribly interesting. A sprig of rosemary sticks out giving a salute with great butter ready to be spread thickly.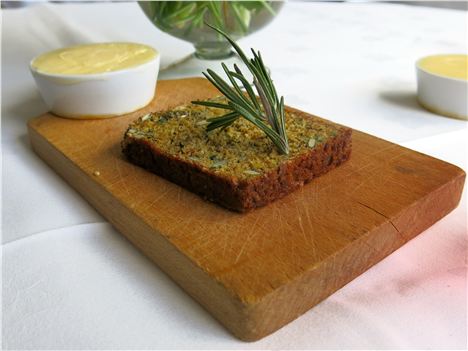 Bread with a rosemary salute
Lynne comes over with a twinkle in her eye and starts to run through the specials. She does a good job of selling. Gordo orders three starters. Cullen skink, a creamy smoked haddock broth, scallops on a beurre blanc sauce and calamari with a garlic and parsley butter sauce.
The Cullen skink (£5.50) was creamy, smoked-fishy and lush. It was far better than Gordo's at home. It suits a bright but cold day. Only supposed to finish half, Gordo polishes off the lot.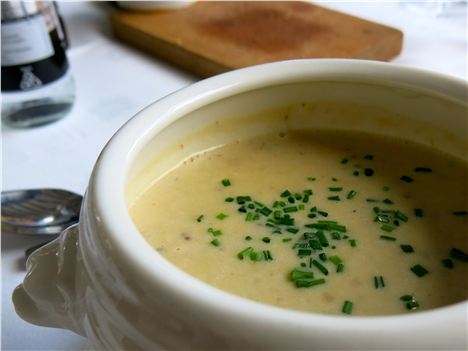 Cullen skink
The scallops (£14.95, main image) were served on a bed of beurre blanc, sharing the gig with three heart-shaped fleurons. Little puff pastry mopper-uppers. As someone recently said on twitter, you don't see these any more. The scallops had been masterfully seasoned, seared all around and snatched out of the pan still soft and juicy in the middle. Fabulous.
One mistake, the plate was too hot for the sauce, which split. Not something that puts Gordo off, particularly with this one, which had a lovely sharpish acidic tang that played a duet with the sweetness of the scallops. Victor had included the orange roe; Gordo loves these.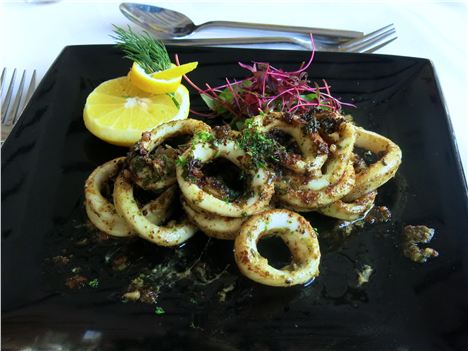 Calamari
The calamari (£8.50) took the Fat One back to the days of spending all afternoon in the Brasserie Flo in Paris, well before John Galliano's anti-semitic tirade. Round, plump and non-chewy, only a very good cook could have got these so right.
An old-fashioned half of a crisply cooked young duck with red cabbage, broccoli and a potato croquette followed (£21.50). The duck was impeccable, cooked through to the point where it begins to remind you why it makes a great paté. Brown meaty breast with a crisp leg. Gordo chose a peppercorn sauce which, with the benefit of hindsight, was too deep, creamy and spicy for the duck. The orange sauce would have been better suited. The broccoli was overcooked. The croquette was homemade, crisp on the outside and creamy in the middle.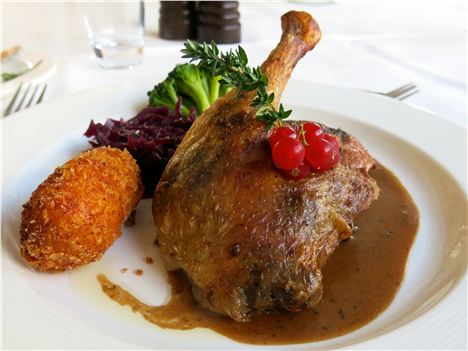 Duck
Finally, an apricot cream with a soupçon of apricot brandy (£6.25) set in a delightful teacup along with one of Lynne's shortbreads. Which apparently, whilst serving afternoon tea up in Gleneagles, won a young Lynee the best in Scotland. Twice.
Gordo believes her.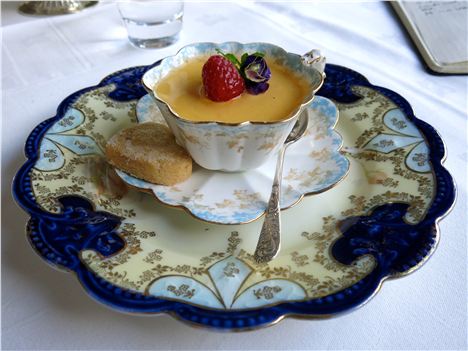 Apricot dessert
La Popote is a real treat. If you haven't eaten in an old world French restaurant, then you should be setting off down the A34. The atmosphere is good; it'll be even better in the summer when the garden becomes an extension to the dining room.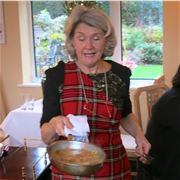 Flambe awayLynne has her staff running like clockwork, whilst being a fabulous hostess who can quite capably do a flambé at your table. Crepe Suzette anyone? How many front of house peeps can do that these days.
There have been six specials on the list both times Gordo has been there.
The wine list is small but cute and great value; a couple of interesting champagne houses are in evidence, whilst the Puligny Montrachet (Louis Latour) comes well recommended. A couple of good Clarets too, the Argentinian Pinot Noir at £19.50 (£5.00 a glass) is a real bargain.
This place is a Gordo Go
You can follow Gordo on Twitter here @gordomanchester
ALL SCORED CONFIDENTIAL REVIEWS ARE IMPARTIAL AND PAID FOR BY THE MAGAZINE. 
La Popote, Congleton Road, Macclesfield, Cheshire SK11 9HF.
01260 224 785
Open: Weds-Sun, lunch 12-3pm, dinner 6.30-10pm. Site here.
Rating: 16/20 (please read the scoring system in the box below, venues are rated against the best examples of their kind) 
Food: 7.5/10 (Bread 7.5, Cullen skink 8, Scallops 7.5, Calamari 7.5, Duck 7.5, Apricot 8 )
Service: 4.5/5
Ambience: 4/5
PLEASE NOTE: Venues are rated against the best examples of their kind: fine dining against the best fine dining, cafes against the best cafes. Following on from this the scores represent: 1-5 saw your leg off and eat it, 6-9 get a DVD, 10-11 if you must, 12-13 if you're passing,14-15 worth a trip,16-17 very good, 17-18 exceptional, 19 pure quality, 20 perfect. More than 20, we get carried away.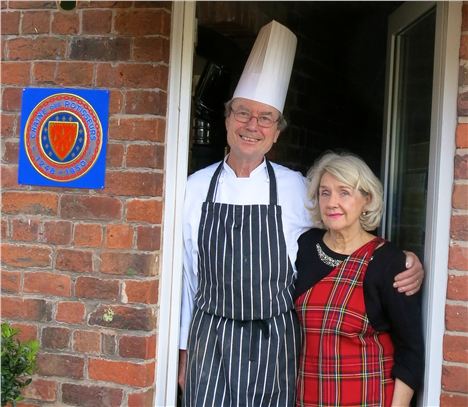 Victor and Lynne