TYPICALLY after an over-indulgent meal, gripped with gluttonous guilt, the subject of detoxing tends to crop up.
Since I've started doing it I've lost a stone and a half through exercising aswell. I swear by these juices, not necessarily the detox but having a fresh juice everyday.
One of my dining companions had just bought, what she proclaimed, was a miracle juicing machine.
With steel sharp blades that could grind down trees to toothpicks, she gushed how her juicer had transformed her meals, her soups, her juices.
"You can grind the fruit right down to the core – nothing is left over. You have to get one," she urged.
Another companion, a champion health nut currently trying to figure out what not to eat whilst on a Paleo diet, wasn't so convinced.
"Drinking five or six fruits in one juice is so bad for you. You're consuming far more sugars than necessary," said the Paleo Princess.
"But all the good stuff is left in, including the fibre," argued the Juicer.
Picking left-over meat from my teeth, I was left in a detox debacle. Can you really consume too much fruit?
Juice diets have become a trend in recent months; backed by celebrities such as Jennifer Aniston sipping curious green mixtures.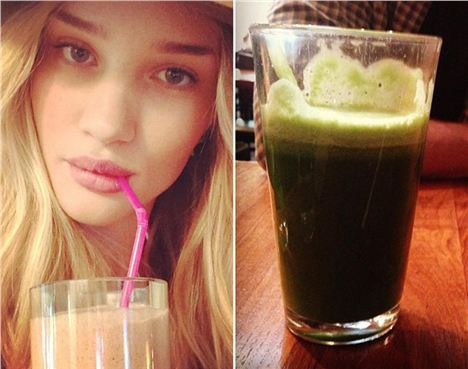 Model Rosie Huntington-Whiteley likes to juice
The detoxes have a simple premise: replace your daily meals with blended mixtures of fruit and vegetables for up to one week. You should feel energised, and in some cases, you should lose a lot of weight.
Hailed as far from a diet fad, juicing has gained an unprecedented social following - on Instagram alone there's over 800,000 pictures posted under the hash-tag #juicing.
In Manchester, companies are capitalising on the juicing movement with new health centred businesses.
On Deansgate there's The Fruit Exchange, a two-year-old establishment run by two young entrepreneurs. "We offer one, two or three day detoxes packages," said co-owner Charlie Wild. "We don't offer more than three because we don't advise doing more than that. Mainly because we've found it's only bad for you in excess – like with anything else. Your body needs fibre.
"We don't advertise it as a weight loss programme. It's more to energise and purify your blood and clean out your liver. Weight loss is just a side effect," he added.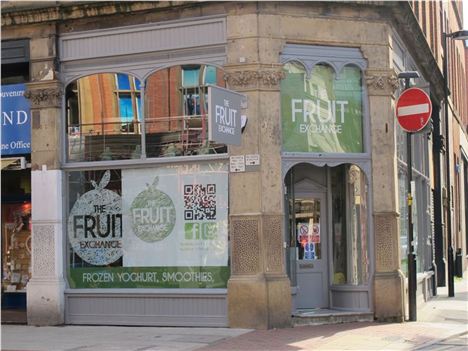 The Fruit Exchange
"We don't want people to get addicted to losing weight through juicing because that isn't healthy and that's when people start going weeks on end without food – that's when it starts becoming very dangerous."
To dig deeper, I gave The Fruit Exchange's one day package a try. At £45 for one day (a whopping £9 a juice), one day was enough.
Five juices: breakfast, mid morning, lunch, mid afternoon and dinner delivered in an icebox. I was promised to feel energised.
"Compared to the juices in store, the detox juices have less fruit in them. Some we offer with just pure vegetable. It's less enjoyable than the regular juices but far more effective for detoxing," said Wild.
Breakfast was easiest. Sweetened with apples it was really tasty and I didn't miss my morning coffee - that is until 11am. The hunger set in immediately.
Once midday approached I was feeling headache-y from the lack of caffeine and opted to have a small salad along with my juice. The third juice wasn't nice at all. Mainly consisting of vegetables it was my least favourite.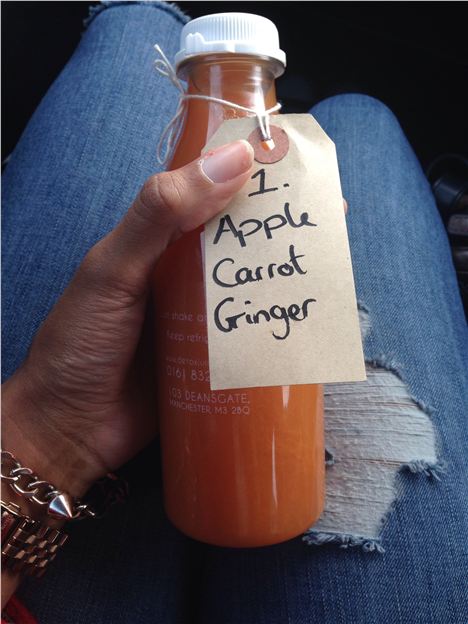 Breakfast was the tastiest
Once home I was twiddling my fingers and couldn't stop thinking about eating as the smells of home-cooking followed me around. I sipped at a really enjoyable fourth drink around 6pm and clung onto it until I decided it was time for my last. By 8:30pm I'd polished all five juices off.
I was peckish but not starving. Although hit and miss, I liked the juices and still had energy to complete my day of work. I liked the idea of an occasionable fruit detox but not the idea of prolonged fasting.
I couldn't fast for more than one day.
"Like many things in nutrition, there are good and bad points. When you juice, you remove the fibre that is in the whole fruit or vegetable. It is always better to eat fruit and vegetables in their most natural form," said Sian Brandeth, a registered nutritionist from Manchester.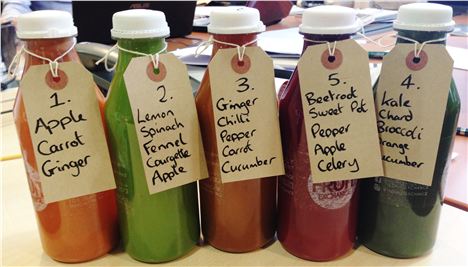 Fruit Exchange Detox (not in order, we know)
"Many people go on a juicing diet in order to lose weight but as soon as they start eating food again the weight creeps back on. Fruit contains more calories and sugar than vegetables, so if you are juicing fruit this will up the calories," she explained.
"Also, if you are going to juice, make your own rather than buying shop bought juices as these are not as beneficial."
Unlike the low calorie juices by The Fruit Exchange, some store bought juices have been found to have a high sugar count.
The Daily Mail discovered that a single serving of Pret-A Manger fruit juice contained 'the same amount of sugar as three-and-a-half doughnuts or thirteen hobnob biscuits.' Most will also remember kid's favourite orange drink, Sunny Delight; although marketed with active, healthy children on the packaging, it was whisked off the shelves for being filled to the brim with additives – it seems the kids were buzzing from all the sugar.
So what fruit juices should we be drinking?
"It's best to use a lot of kale for calcium, broccoli, hemp seeds and bitter fruits where the sugar count is less. Don't get rid of the pulp – the nasty looking bit – that's the fibre," explained Hannah Calvanese, a juicing expert for supplement brand Juice Plus.
It sounded awful.
Yet speaking to 23-year-old Calvanese is like listening to an evangelist preacher – she truly believes joining the juicing community could change your life.
"My anaemia really affected me. I had bags under my eyes – things a twenty-something shouldn't have. Within one week of juicing I was waking up before my alarm and by three weeks colleagues noticed I looked different - my eye bags were gone."
Calvanese is fervently committed. Although she will never fast for a month, she admits juicing has become a personal obsession.
"It's definitely addictive, you're addicted to feeling good and the energy you have. Others are addicted to fast-food and eat takeaways every day, it's the same habitual cycle. Juicing is the only thing I've done diet-wise that's made me feel good. It's amazing to see what just taking in more fruit and veg can do for you," she explained.
So how do you work juicing into your everyday lifestyle?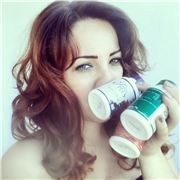 Hannah Calvanese loves fruit plus"If I'm about to go on holiday I'll fast for one week. Then after I come back I'll do a five day burst. I'll have my juices in replace of breakfast every other day and eat clean protein in the evening. Every weekend I'll juice for breakfast and lunch."
We talked about juicing for an hour. She preached about our bodies need for phytonutrients and enthused about proven health cures: a healthier liver, longer life, improved mental health and less chances of developing cancer.
It was enough to make me want to buy a new juicer - although I had no intentions to replace my Sunday fry-up with kale and broccoli juice. Did the diet have to be so restrictive?
"I'm half-Italian so I'm big about food," said Calvanese. "I cook great healthy meals. Plus the juicing community is massively social and everyone shares healthy recipes."
On the face of it, juicing when done properly, seems relatively harmless. Compared to devouring a bag of Haribos each day, the sugars from fruits are far healthier to digest.
Most adults know they should be eating more fruit and vegetables - yet is fasting the right way to up your daily intake?
"Since I've started doing it I've lost a stone and a half through exercising aswell. I swear by these juices, not necessarily the detox but having a fresh juice everyday," says Wild.
Calvanese added: "Personally I think those who are most negative about the diets aren't doing it properly and are negative before starting.
"In England we have the wrong mentality, bad diets and high rates of obesity. The juice diet is not just a quick-fix. The UK needs more people to be bothered about their health than dropping pounds. I used to think every diet was a fad, now I wish I'd done it sooner."
Follow @LOreal_B on Twitter
Find The Fruit Exchange 103 Deansgate, Manchester M3 2BQ
More on the detox packages are on its website.