ON THE hottest day of the year, entering Cha-ology might even beat indulging in a whole tub of Ben & Jerry's on the bliss factor - and not just because the air conditioning was on full blast. Its sleek, airy space with a prevalence of light wood and neutral colours, has a calming effect as soon as you enter. Apart from a few interesting knick knacks such as a storm glass, handmade pottery and a felted rabbit, there is minimal clutter. A tea bar faces a raised platform lined with cushions across the vast space.
Far from just drinks, you're served a slice of Japanese culture
"I'm actually getting a long table to put there," says owner Mei, "for people who don't want to sit on the cushions. There are currently only two seats at the tea bar, but it's been delayed."
Mei, dressed in a loose white shirt - her hair in an immaculate bob - suits her surroundings to a tee (should that be 'a tea'? - Ed) She tells me that contemporary Japanese design shares many Scandinavian features; although you won't find anything from IKEA here, more like premium designers like MENU and Muuto. Aside from the drinks menu and logo, which were conceived by design agency Made By Alphabet, Mei was in charge of the overall Cha-ology aesthetic and it's clear she has an uncompromising vision. A man who came in trying to sell marketing in exchange for poster space found the answer to be a polite but firm 'no'.
Born in Hong Kong, Mei originally came to Manchester sixteen years ago to study Hospitality and Tourism Management but now calls the city home. Upon graduating, she worked at the university as a research assistant before setting up a home bakery about a year ago. As a 'typically independent' Leo however, having her own space was the ultimate goal and - with a little help from her parents - Cha-ology was born. The name comes from a blend of tea ('cha') and the suffix 'ology' indicates her love of the science of mixing and baking.
A regular visitor to Japan, Mei did a short ceremonial tea course at a matcha school called Urasenke (complete with kimono) and is going again in October to establish a relationship with a couple of tea houses she wants to import from. Her ultimate goal is to complete a full Tea Master course, similar to a coffee barista's course.
"There are so many little ceremonial details," Mei tells us, "The calligraphy changes according to people, the flowers and sweets change according to season... There's even a special way to turn the chawan bowl."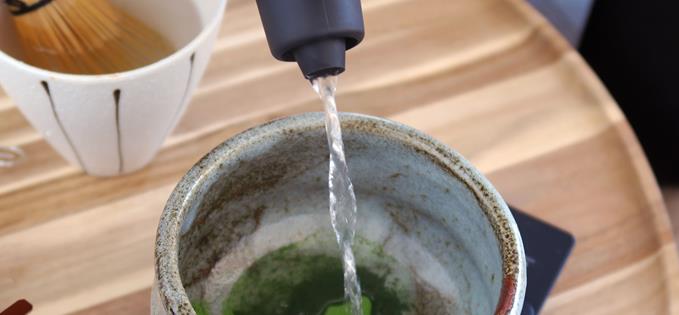 Matcha is traditionally served in a chawan bowl
She maintains that, whilst you're not likely to find any geisha girls, Japanese tea culture - particularly in Kyoto - is still going strong and people often perform little ceremonies at home, as well as special occasions. It's a refreshing change from our throwaway western society of instant coffee and hastily-brewed teas. There's a sense of community, of ceremony, taking time to appreciate the little things.
So what's on offer at Cha-ology? Well, drink-wise, the emphasis is on tea and matcha; a finely ground powder of specially-grown green tea, which tastes more like a seaweed soup than the stuff we're used to. That's because you're ingesting the whole leaf, rather than just the brewed water. It's an acquired taste (I tried) but one that's creeping into western tendencies: matcha shots were apparently the 'it' beverage at last year's New York Fashion Week and brands like Pukka and Teapigs now offer comprehensive ranges. It's also full of antioxidants and vitamins, popular with clean eating celebs like Gwyneth Paltrow, which doesn't do its cred any harm.
Whilst there are several types of matcha, Mei unsurprisingly only uses two higher, ceremonial grade varieties; one more mellow, one with more of an 'umami' flavour. This is one of the five basic tastes - together with sweetness, sourness, bitterness, and saltiness - and was discovered by a scientist at Tokyo University. Slightly ocean-like, it's found in a lot of Japanese cuisine.
At Cha-ology, matcha is served with milk, with soya milk, thick or thin (with more water). The latter are served with a traditional 'wasonbon' sugar sweet: made using wooden moulds, these are only available in two or three places across Japan. Teas meanwhile, comprise of: sencha, gyokuro (the 'King' of Japanese teas, whose leaves are served with ponzu, a citrusy soy sauce); houjicha (a roasted variety with relatively little caffeine) and genmaicha (first harvest sencha, with matcha and toasted brown rice).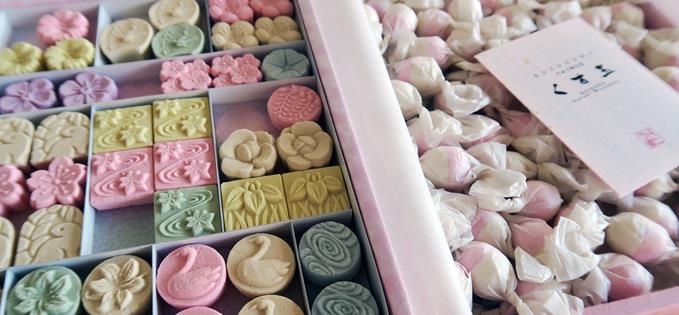 Candy-coloured wasonbon
Gyokuro excepted, Mei prepares all drinks in front of the customer, who are encouraged to sit on a raised platform with cushions and a basket for belongings (shoes are not allowed). A tray is bought with traditional Japanese utensils - 'natsume', like a tea caddy for matcha; 'kyūsu', a clever teapot with inbuilt sieve; 'houhin', used for brewing high quality teas; 'chasen', a bamboo whisk; and a 'naosi', a special whisk-holder - along with a step-by-step brewing guide for the customer to serve themselves thereafter.
Detail is paramount, even down to the sand timer used for brewing times ("I didn't want a beeping alarm") and Mei - who also has her eye on some authentic tatami flooring - clearly knows her subject. Far from just drinks, she is offering a slice of Japanese culture. As well as a monthly 'Japancoats' event with Squid Ink next door, the first of which has already sold out, Mei plans small tea ceremony workshops and many ingredients (organic where possible) have either been specially imported or bought from a specialist Japanese supermarket in London.
Food is also a 'quality not quantity' case in point, with a small selection of freshly-baked desserts available to accompany your beverage; often using similar ingredients. Whilst the staple is matcha - in rolls, pound cakes, tarts - other desserts, which change regularly, include the likes of kinako chiffon cake (made with roasted soybean flour often used in Japanese baking), bear hugging cookies (invented by a French-trained Japanese cook) and snowball cookies in flavours like matcha, cacao, kinako and houjicha - all quirkily served on a horizontal blackboard.
Amongst the relentless march of new Manchester restaurants, Cha-ology has found a market gap - and made excellent use of it. Here's to a new generation of matcha magic.
After this week's 'pre-opening', Cha-ology will be open every Tuesday to Saturday, 12-6pm - Unit 3B Nuovo, Great Ancoats Street, M4 5AB. More info at facebook.com/cha.ology