LET'S dream dreams, imagine our city in other ways than the present reality. Dreams, of course, can be long or short, complex or simple, serious or stupid, they can - if Doctor Freud is involved - tell you odd things about the relationship between you and your parents.They can be about the relationship between you and your city. So we're going to dream dreams of schemes in Manchester. We started this occasional series with coffee shops on carparks - click here. Now it's the turn of statues. 
LIAM Curtin wants to bring the dead to life. 
"I propose we paint each statue, faithfully rendering it in colour with the advice of costume historians,"

The artist behind projects such as Blackpool High Tide Organ and the Meccano Bridge at the wonderfully named Nob End in Bolton, has a plan for the 'invisible' statues of the city centre. 
Curtin says: "The figures on plinths in our city squares are like forgotten ornaments on a mantelpiece. Mostly only tour guides and art historians know who these statues commemorate. They have become invisible, faded into anonymous street furniture. Who was John Bright, Oliver Heywood or James Fraser - just three of the statues which decorate Albert Square in Manchester?  
"Were they radicals, philanthropists or members of the establishment?," Curtin continues. "What is clear is they were honoured by the public at the time and thought to be of great importance to the city, special enough to have statues erected to celebrate their lives." 
So what's Curtin's idea? 
"I'd like to bring them back to life for a short time, maybe next summer, why not? Then we can re-asses their contribution to our city," says Curtin. 
Bring them back to life Mr Liam Frankenstein. How so? 
"I propose we paint each statue, faithfully rendering it in colour with the advice of costume historians," Curtin says. "Tours, weblinks and other materials will then explain the person, his statue and the reason for this life being celebrated." 
"It would be a temporary decoration of the statue. I like the idea of making a temporary public artwork out of something which already exists, adding no new objects, no more clutter." 
But what about damage to the statue? These works are looked after by Manchester Art Gallery, they are listed. Surely English Heritage may have a problem with them being painted? 
"There are ways to ensure there will be no damage at all to the statues," says Curtin. "To briefly describe the process, they could be coated with a protective layer and painted in water-based paints and sealed against the rain.  After one month the statues will be washed and returned to their normal state. There will be no damage, but for a few weeks Manchester will have once again realised it has statues in its city."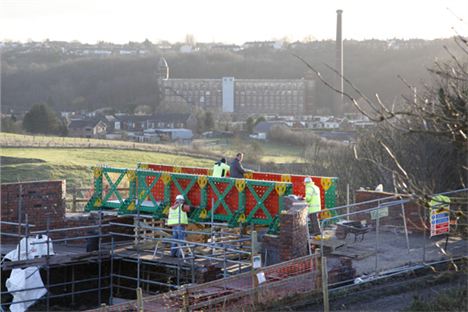 Liam Curtin's Meccano Bridge under construction
Confidential loves this idea.
Confidential loves the photoshopped graphic Liam Curtin has sent us of John Bright re-animated.
Aside from the bureaucratic battle to get permissions Curtin is sure it would be a relatively cheap to deliver the idea.
But what it would also add to the city centre is fun. Aside from the artistic and heritage benefits - you can easily, for instance, imagine a school project based around the painted statues - they will be a talking point, a pause in the walk to work, a smile raised. Popularist art with intellectual content. Perfect. 
The painted statues also reach back beyond the creation of our nineteenth century works. This style of sculptural art has its origin in Greek and Roman statues placed in public places. Those Classical statues would have been painted, they wouldn't have been the pale, colour-free statues - all their vividness time-erased. 
Curtin's idea will work in the Game of Cities too - that competition to be noticed and in the headlines. This has never been done before.
Our ghosts revivified will be an article and a picture in all the broadsheets, maybe a Radio 4 or Five Live feature, probably something for BBC North West Tonight, maybe even The One Show. 
Bureaucracy's default mode to creativity is "no", they should think about the potential publicity as well as the heritage and cultural benefits before that default triggers. 
You can follow Jonathan Schofield on Twitter here @JonathSchofield or connect via Google+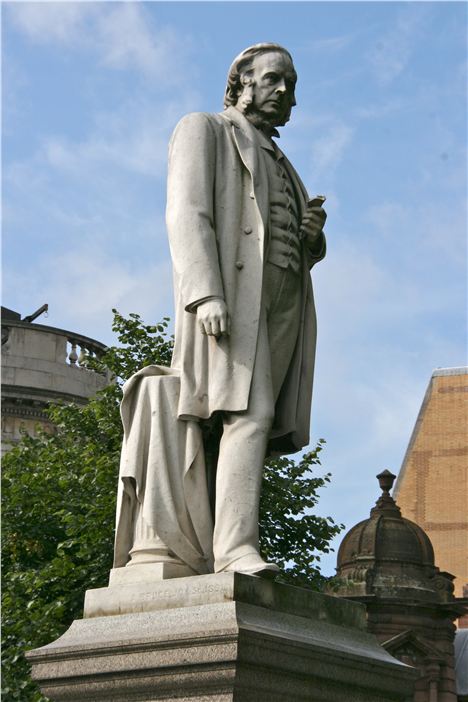 John Bright as he is now - very pale. By the way John Bright was one of the most important politicians in the nineteenth century, one of the engineers of the Free Trade Movement - see the Confidential article here for more on this remarkable man.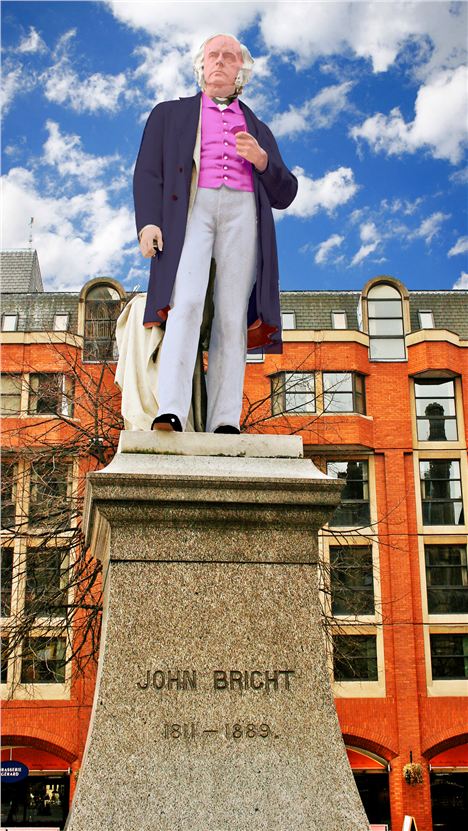 John Bright revitalised and re-imagined