GILES COREN in The Times this Saturday had a good opening line about somewhere called Ballaro in somewhere called London.
It went: 'Ballaro is a typical Italian restaurant: bloody awful.'
It's as though the company suspects you might do a runner especially if you're in those corner seats by the door. This may be a wise move as the burgers are so unremarkable a runner would be something to talk about after a visit.
But almost funnier - in a clench my fists into balls of fury and howl with hysterical laughter way - was the sentence following all his piled high 1,400 words. In bold it read: 'At the time of going to press we are hearing unconfirmed reports that Ballaro may have closed.' 
Thanks for that. 
You could see the problem The Times had. 
Giles Coren is a food writer who probably gets as much Times' fee as all the staff in a busy city centre restaurant earn in two years. In an age of flat-lining or declining newspaper sales the dosh couldn't be wasted. 
So they wasted the readers' time and put the disclaimer at the end rather than the beginning of the article.
This ruse revealed the limitations of reviews. They're only any good if they're about things you can still visit, view, eat, drink or even get a job in. 
Not that I generally read Coren for his thoughts on the focaccia or the fillet steaks or his closing judgement on yet another run-of-the-mill capital city let-down.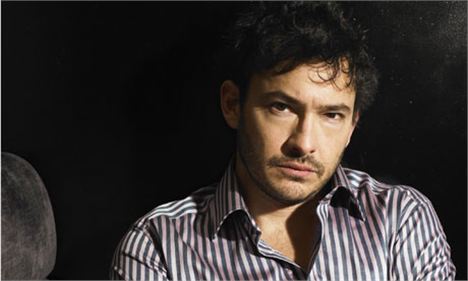 "Is it still open Giles?"
I read him because he keeps me entertained with his wild analogies and mad metaphors and his ridiculous self-absorption. Although I won't be upset if he refrains in future from telling me about how he's getting on with his wife or how his parenting is going. 
Nor do I need to keep being reminded he's Jewish (he's up there with Mancunian novelist Howard Jacobson in this regard). I don't think I've ever revealed that my family's religious background is part God-fearing Methodist and part God-ignoring Anglican, nor that I don't believe in any Supreme Being myself. Is that interesting? Only for me.  
Mind you this helps Coren pad out his 1,400 words by moving away from the actual review - which is working well for me here.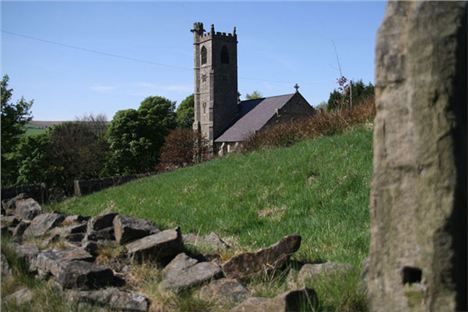 A church in Whitworth close to the writer's birthplace which he never attended and is mostly irrelevant in a food review. Pretty though.
So while most other food reviewers bore me to tears, merge into one saccharine Eton Mess of cringing cliché, Coren keeps me reading.
But that doesn't save him when you find out the place he's barbing on about is probably closed. It makes the exercise as hollow as a Ginsters Cornish Pasty, it leaves a bitter taste in the mouth like...well...a Ginsters Cornish Pasty. 
This what the Ballaro review felt like. Empty at its core. Pointless
Which brings me, at last, to the Handmade Burger Company. 
Like Coren's review it delivers an experience that is ultimately pointless, only livened up by the weird thing they do about ordering the food. 
This weird thing is annoying.
You sit down and waiting staff hand you menus and then you have to stand up and order the food at the tills like you're in a chippy. You have to pay for it up front as well. It's as though the company suspects you might do a runner especially if you're in those corner seats by the door. 
This may be a wise move as the burgers are so unremarkable a runner would be something to talk about after a visit.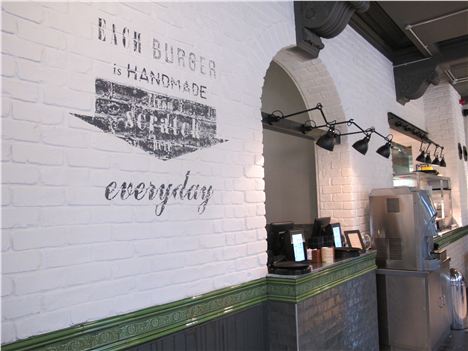 Pay now - right now
There's another weird thing as well.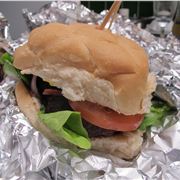 A classic in take-away foilThe place trumpets endlessly about its rare breed beef and then it goes and minces it up which means it might as well be old Daisy slaughtered the night before by a dodgy hill-farmer. 
Apparently the meat is completely traceable back to the Scottish moo-moo who provided it. But if you mince prime beef, then cook it hard so it becomes bitty like a burnt and bundled together mass of hard raisins I really don't see the point.
This is probably all about some health and safety malarky -  click here - but it makes the burgers poor.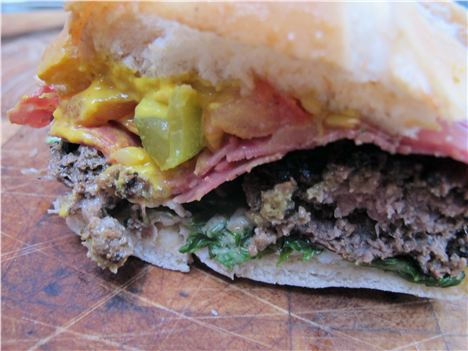 Mince madness
We three - two teenagers and an adult - had the classic (£6.25), the New York Deli (£8.25) and the chicken, cheese and bacon (£8.35). We didn't finish them because we didn't like the flavour combinations and because they fell apart quicker than New Year's Resolutions.
The problem was the bun base which was murdered in seconds by a violent layer of mayonnaise. Yuck. The best burger was the New York Deli with that entertaining kick of Yankee mustard. The classic was the worst because it was a mess. This makes Byron Burger's tedious version of the same - just up the road - seem light and clever. The onion rings were sinister.
A plate of sliders on another occasion, three mini-burgers for £9.95, looked cute but suffered the same bun and meat problems.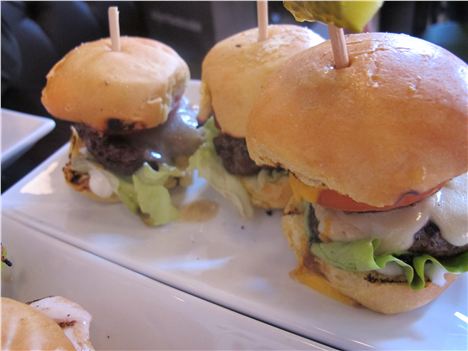 Sliders on patrol
Back to religion. Burgers are being worshipped by food entrepreneurs at present like a new Godhead when, in fact, they are false idols. Good operators such as Almost Famous get away with it - just - but I don't see what Handmade brings to the party.
This is the twentieth Handmade Burger Co by the way, but the eleventy-thousandeth Handmade Gourmet Five Byron Burger Kitchen Guys to open in the last month.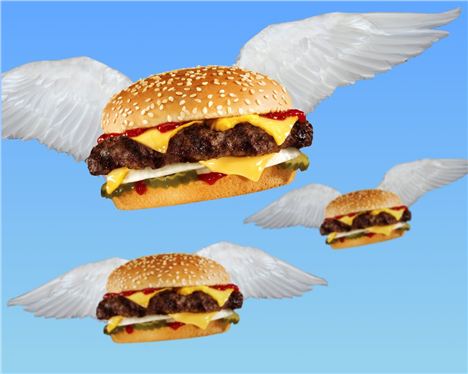 Burger Attack - or maybe they're flying away, retreating
In the 'Our Story' section of the Handmade Burger Co website it says: 'One day, whilst sitting in his kitchen where he has most of his best ideas, our owner Chris decided that he would like to open a burger restaurant with a difference.'
I wish he had. 
(Unlike the Giles Coren review, at the time of going to press we are completely convinced Handmade Burger Co hasn't closed.)
You can follow Jonathan Schofield on Twitter @JonathSchofield or connect via Google+ 
ALL OUR SCORED FOOD REVIEWS ARE IMPARTIAL AND PAID FOR BY MANCHESTER CONFIDENTIAL. REVIEW VISITS ARE UNANNOUNCED AND COMPLETELY INDEPENDENT OF ANY COMMERICAL RELATIONSHIP.
You can follow Jonathan Schofield on Twitter @JonathSchofield or connect via Google+ 
Handmade Burger Co, Deansgate, City centre. 0161 832 0708
Rating: 11/20
Food: 5/10 (Classic 5, New York Relish 5.5, Cheese, chicken, bacon 5, onion rings 4)
Service: 3/5
Ambience: 3/5
PLEASE NOTE: Venues are rated against the best examples of their kind: fine dining against the best fine dining, cafes against the best cafes. Following on from this the scores represent: 1-5 saw your leg off and eat it, 6-9 get a DVD, 10-11 if you must, 12-13 if you're passing, 14-15 worth a trip, 16-17 very good, 18 exceptional, 19 pure quality, 20 perfect. More than 20, we get carried away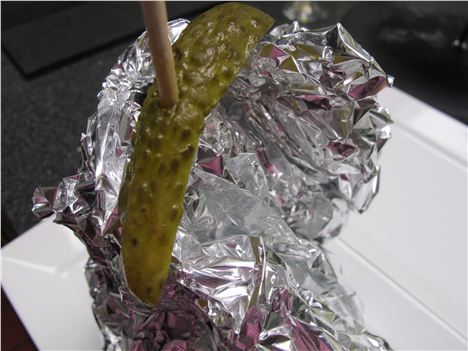 Pleasantly folded burger for take-out with gherkin atop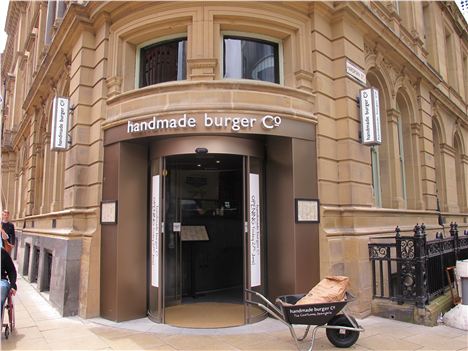 Handmade Burger Co, the wheelbarrow means something but we know not what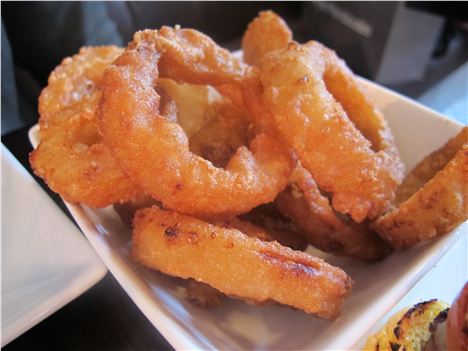 Sinister onion rings