GORDO read the note stuck to the window and felt cheated. After all, the critics, trendies and suburban ladies-who-lunch-with-huge-child-buggies have lauded this restaurant. It's supposed to be one of the best places for pasta in the North West. And it was shut. On a Saturday lunchtime.
"Soya, almond, cow, goat or leopard milk?" asks the hipster
Bastards.
The note read that they were on holiday until the 30th of August. That's nice. Then, to really irritate Fatty:
'Much love… Alex, Jonny, the 2 Tonys, Pasquale, Anna, Mutu, Tom and Natalia.
Fortunately, the immaculate Altrincham Market bogs were only twenty strides away so Gordo could be sick somewhere.
After that, a hungry Gordo strode around the market itself and bought a couple of 'vintage' Hawaiian shirts. For 'vintage' read 'worn by some sweaty feller long dead' whose widow was cruising the Med on the proceeds from Ebay, eyeing up one of the stewards.
"Do you take cards?" asked Gordo of the comatose stall holder (Captain Birdseye without his hat). He had the look of an old pro who'd just smoked a fat one round the back. "No" mumbled Birdseye.
"Oh", replied Gordo, who was really thinking 'get off your arse you silly old bugger and get into the twenty-first century, and while we're at it, if you need a sharpener mate, try vodka instead".
Off Gordo trekked to the cash machine, three miles away. It's a bit like turning off at the Last Exit to Brooklyn going down to George Street, not many £900 brat buggies down there.

Altrincham Market House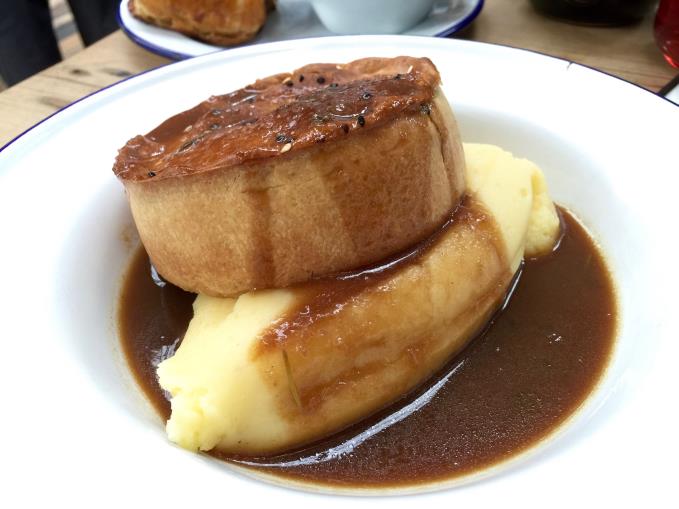 Wagyu minced beef and onion pie, mash and onion gravy - £9.95
Later, an irritated Gordo walked into Nick Johnson's specialist, over-fussy, middle class market hall. Nick wasn't there. Gordo's money is on a hill in Tuscany above Lucca. Nick, one of the ex-gaffers at Urban Splash, has turned out much better at curating this highly original market hall than he was at choosing flat roof systems for modern apartment blocks in the city. It's a good job well done once you figure it out.
For those of you who haven't been to Alty Market House, it's a space with twenty or so bench tables in the middle, surrounded by some great, some a bit poncy, street trader style counters serving everything from pizza to pies via every North African spice available.
"Coffee please," asks Gordo of one franchisee.
"Filter or Americano?" asks an earnest young man with a beard. They're called 'hipsters' to those of us whose beards grow out straggly and bright orange. Gordo tried it aged eighteen on his way to the Isle of Wight; finished up looking a right twat and hasn't bothered since.
"Err, filter," replies Gordo.
"Single farm or generic region?" asks the hipster.
"Err, single farm please," replies Gordo.
"Soya, almond, cow, goat or leopard milk?" asks the hipster.
"Cow," says Gordo.
"Whole, semi or skimmed?" asks the hipster.
"Whole," replies a bewildered Gordo, starting to boil inside.
"Table number?" asks the hipster.
"I haven't got a table yet," replies an exasperated Gordo.
"You need to get a seat at a table first," says Henry Hipster.
Deary me. Apparently you have to get a seat at a table first, note the number on the spoon and then go ordering stuff. It seems the management have cut their teeth at Nandos.
Gordo took a long look at the guy. With a freshly sharpened boning knife, he could have leaned across the counter, grabbed him by the beard and slit down the side of his neck, severing a carotid artery. Henry Hipster would have taken seven minutes to bleed out, giving him plenty of time to think about serving Nescafé next time around.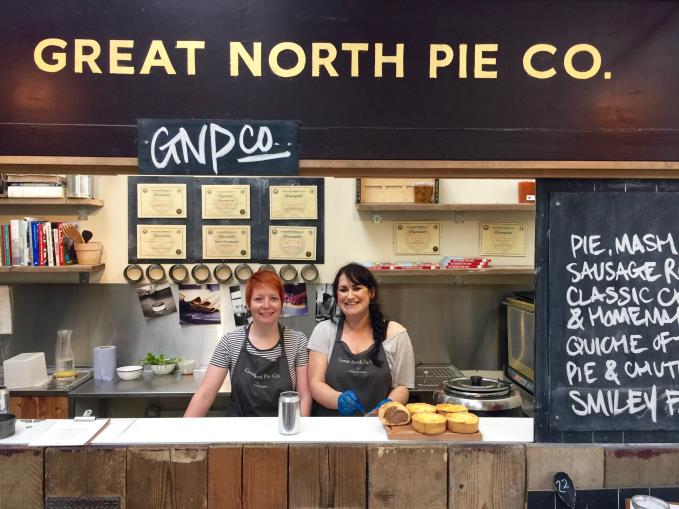 The North Pie ladies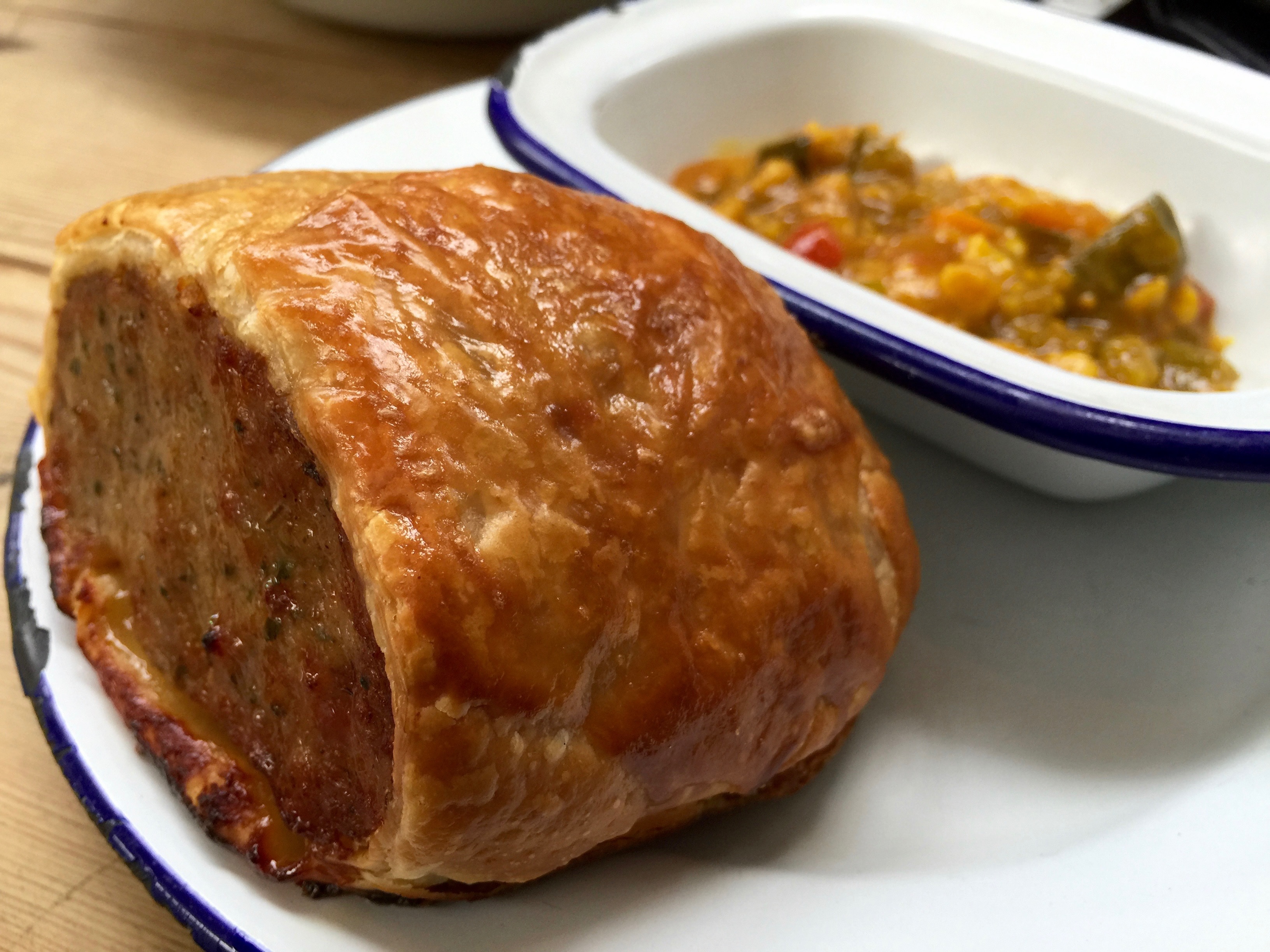 Sausage roll with piccalilli - £8.95
By now Gordo had walked off to the opposite side of the hall, fluking a table right by the stall run by the Great North Pie Company. It's been a few years since the owners came into the Confidential office demonstrating their wares. They were good, but the pastry a tad overworked and the filling trying just a bit too hard to be different. Too much cumin altogether. Still, a good deal better than most of the competition.
Gordo eyed the A-Board.
'SPECIAL Wagyu minced beef and onion pie, mash and onion gravy - £9.95'
Yup, let's try that, though the stall next door was advertising an all day brunch which Gordo was fancying until he got close enough to read their boards. 'Arabian Eggs' read one; two fried eggs, spiced butter, plucky pickles (really?) harissa, yoghurt and sourdough toast. £8.50. Dear God. Lets not go into the 'Turkish Eggs'. Gordo doesn't need Erdogan on his case.
Then Gordo spies the sausage roll with piccalilli (£8.95) going over the pass. Bloody hell that looked good. So he ordered that as well. Then he saw the classic cheese pie and homemade baked beans, £8.95. Oooh. But then Fatty sees sense and sticks with the original two.
The pie was simple. Thin and crispy pastry, properly seasoned from the outset in the dry mixture then, with good quality butter and some water, turned into heaven. It melted. Yes, Gordo apologises, but he has to use that word. (If he ever uses that MEN term 'swanky', by the way, kill him.)
The filling of dark minced quality beef and onions, simply yet brilliantly seasoned, was superb. Gordo hasn't had a better pie since the owner of Pooles Pies in Wigan had six dozen of his best flown into Palma, Majorca, on his private jet. We were all tired of Spanish grub after three weeks on holiday. Excessive, but top.
The mash it sat on was a perfect pal, not overworked, ensuring the main ingredient shone. And that gravy. Oh dear, more beef and onion back-up flavour coming through, plenty enough for Northerners. This, folks, was the best pie and mash the Fat One has ever had, end of.
As an aside, why is it that Gordo has been banned from using the word 'moist' in the office?
Anyways.
Lightning doesn't strike twice eh? Well it did. The sausage roll was a wonderful thing. Gordo cut through a slice of it, initially worried that the filling had been overworked, as is the current vogue of sausage meat manufacturers. News for that lot; those '98% meat' things without enough filler - the bit that soaks up the juices and carries seasoning - are crap.
Back to the subject in hand. The pastry was, once again, bang-on perfection. And praise be to heaven this filling made Gordo weep. Juicy, not tough and gristly, the work of a master sausage meat recipe artist. What a palate he/she must have. The piccalilli was again, the best Gordo can remember, whilst the flavours worked together like a British ladies hockey team.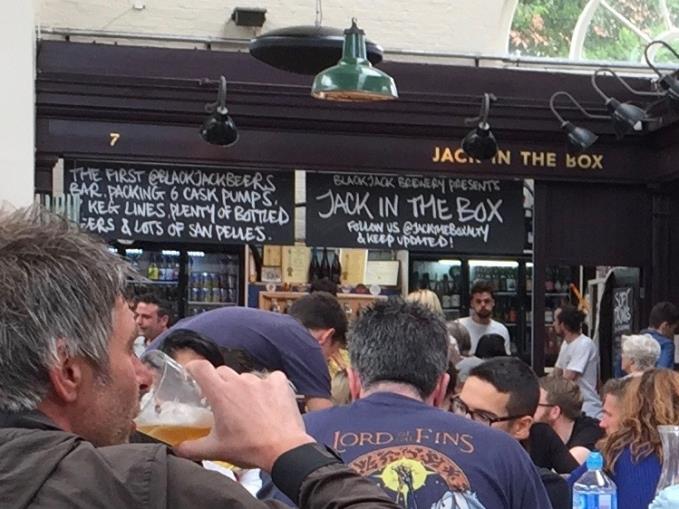 Gordo also scored a top pint of cider from this lot
The ladies working the stall, Sarah Connell and Hannah Whelen, are fabulous; fit, funny and knowledgeable. Gordo is in love with the pair of them. If he had gold medals to award, these two would get them.
This turned into a fantastic day. Gordo wasn't even bothered when that coffee eventually arrived in the poshest cup ever. But luke warm. Grrrrr… Gordo hates to admit it, but he quite likes the vibe in this place. He's coming back. But not for Arabian eggs or coffee.
By the way, at the first mouthful of pie, Gordo realised he needed a real drink. He got it. A fantastic pint of cider at the beer concession, Jack in the Box, from BlackJack Brewery. But not the Damson cider, which, during the very act of drinking it, may well summon up the Devil herself.
A Gordo Go.
Great North Pie Company, Altrincham Market House, 26 Market Street, Altrincham WA14 1SA.
Rating: 17/20
Food: 10/10 (Wagyu pie, mash and gravy 10, sausage roll with picalilli 10)
Service: 4/5
Ambience: 3/5
PLEASE NOTE: All scored reviews are unannounced, impartial, paid for by Confidential and completely independent of any commercial relationship. Venues are rated against the best examples of their type: 1-5 saw your leg off and eat it, 6-10 stay in with Netflix, 11-12 if you're passing, 13-14 good, 15-16 very good, 17-18 excellent, 19-20 pure quality
Powered by Wakelet