YES, that is a bold statement considering the sheer range of daytime offers around Manchester at the moment. The quality of food that can be purchased for around five or six quid these days is high; with the likes of Beat Street and their globally diverse range of stalls, the rice and three institutions, gourmet grilled cheese shacks, the Bangers & Bacon boys and Salvis Rosticceria knocking out nonna specials.
There are still half a dozen dishes we've yet to try
As great as they all are, we can't think of anywhere that puts as much sheer passion and levels of detail into their food as the brand new Fusion Lab. Situated in the Arndale's food market, it's a permanent collaboration between Nelson Lam, owner of the interconnecting Viet Shack next door and Chef Brice Moore.
The sign above the stall proudly claims that they serve 'modernised Asian inspired cooking' and when we spoke to Lam, just before they opened, he told us his aim was to raise street food to another level. Chef Moore shows an almost obsessive level of dedication. The day we visited was his day off (they open seven days a week), but apparently he still came in for an hour at 4am to get his bao buns going.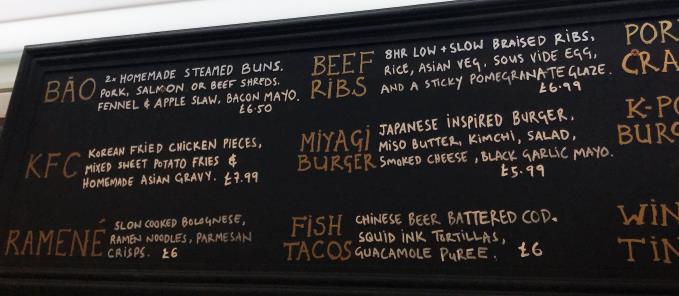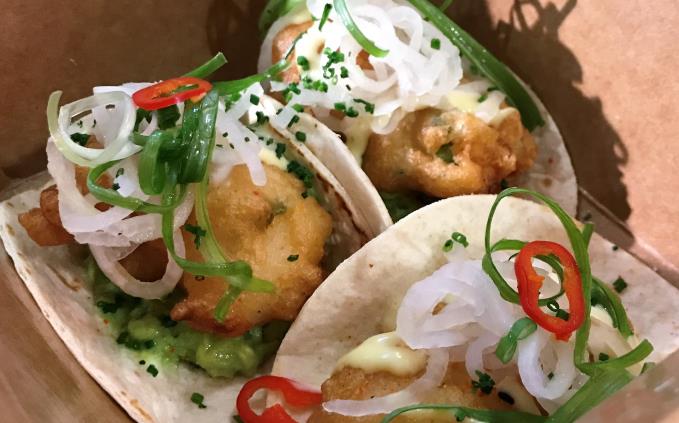 Those fish tacos (£6)
The blackboard menu spans Asia, taking culinary inspiration from Japan, Korea, Hong Kong, Malaysia and Vietnam, combining favourite dishes, flavours and components with classical cooking methods and gastronomic techniques. We went along to sample a few and each one contained an incredible amount of preparation and absolutely no short cuts. As well as the fresh bao dough, Brice makes his own kimchee and fermented Japanese radish from scratch as well as his own hoisin sauce, ramen noodles and home-fermented black garlic mayo. Many of the ingredients take days to prepare, ferment, marinade and cook, which is incredible considering finished dishes range in price from £4.99-£7.99. "Tell us another fast food joint that does dishes like that!!" asks Fusion Lab on their Twitter account. They make a fair point.
The deceptively simple sounding fish tacos (£6) were three tranches of black cod in a light and crispy Chinese beer batter, on top of a freshly limey 'holy guacamole' – so called because of the inclusion of Thai holy basil, on top of homemade soft taco shells. Apparently the homemade tacos are usually black but we had to do with plain as they were out of the squid ink they usually use to create the more dramatic visual effect.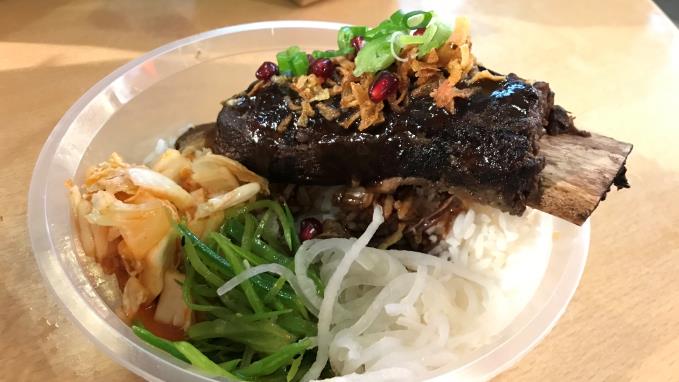 The outstanding eight hour slow-braised beef rib (£6.99)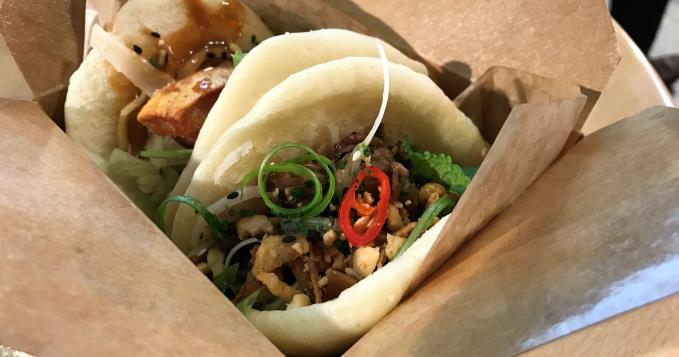 Beef bao (£6.50 for two)
Although there are tables nearby in the Arndale food market, I sealed up the boxes and took them back to the office (making me incredibly popular for a good hour). Interestingly, we all had different favourites, but those fish tacos were loved by all. Mine was the eight hour slow-braised beef rib with rice, Asian vegetables and a sticky pomegranate glaze. It's outstanding value for £6.99. The soft, full-flavoured meat just falls off the enormous Flintstone-like bone and the meaty juices soak wonderfully into the rice. Crunchy slivers of finely cut greens, shredded daikon, crispy fried onions, fresh pomegranate seeds and homemade kimchi with Chinese cabbage freshen the whole thing up and contribute wholeheartedly to your five a day.
Brice's bao buns (£6.50 for two) were worth the early rise and are a must have. We tried two of them; one filled with beef shreds and hoisin and the other with soft Thai-spiced pork belly with cracking crackling. Both come with shredded fresh vegetables, vibrant dressings and garnishes, all painstakingly handmade.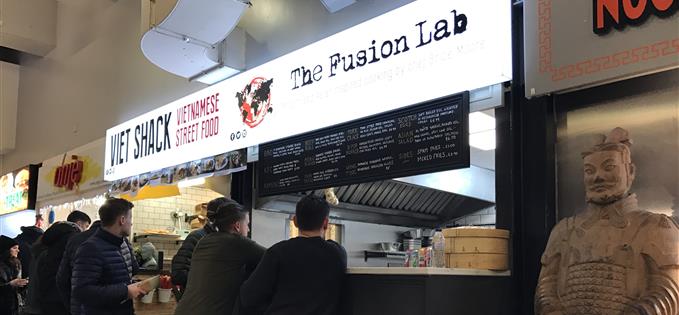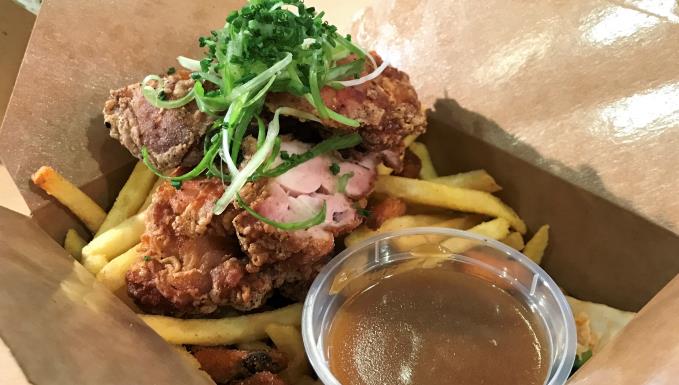 KFC - Korean Fried Chicken (£7.99) is a proper feed
Fusion Lab's KFC – Korean Fried Chicken (£7.99) is a cheeky take on the well known fast food chain's effort, but the colonel can't possibly love his chicken and chips as much as Nelson and Brice love theirs. Here, marinated chicken thighs are encased in a lightly spiced and crunchy batter, served with an abundance of mixed sweet potato and regular fries and a tub of homemade Asian chicken gravy.
"Next time you come, you've got to try our sous vide 'magic' egg", says Nelson, before launching into an animated description of how it's made. Actually Nelson, by our count, next time we come, there are still half a dozen dishes we've yet to try. And of course a second or third pass at some of those dishes we've already sampled. Just for quality control, obviously.
Find The Fusion Lab at Unit 8, Arndale Food Market, Arndale Centre, Manchester M4 3AH.
Powered by Wakelet