"WHEN are you next in the office?" asks the editor first thing Monday morning, "I have something funny you need to write about." He emails me two almost identical menus; one from Featherblade, a new pop-up steak restaurant in Manchester, the other from Flat Iron, a well established restaurant with four branches in London. Both are uncannily similar down to the graphics, the prices and the food. It's like a spot the difference quiz on the back of a cereal packet.
We assumed there was sufficient distance between their restaurant and ours
By Tuesday afternoon the story breaks, thanks to an eagle-eyed blogger on his lunch break. He is furious at this blatant plagiarism, calling for a boycott of the Manchester venue. The story ends up bypassing us and hitting the national newspapers via the speedium of social media.
Never mind, it doesn't stop us going along to see if it is any good. Plagiarised or not, a £10 steak is not to be sniffed at.
Featherblade, which only opened last Friday, is the idea of Lee Brennan, owner of Panama Hatty's, as well as What's Cooking on Liverpool's Albert Dock. He opened the first branch in 1978, so is no stranger to the need to breathe new life into venues every so often.
This explains why he's hived off a 76-seat section of Panama Hatty's 220-cover restaurant and given it a paint job to form Featherblade with its own separate entrance. They don't take reservations and there is one thing on the menu: featherblade steak with salad for £10 which can be enhanced with a choice of side orders and sauces. Guests are offered bottled water, popcorn and a miniature ice cream cone on their way out. That's all there is to it.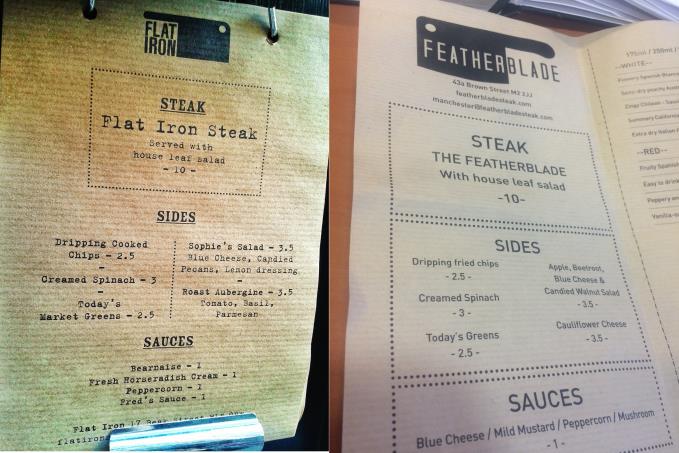 The two menus... hmm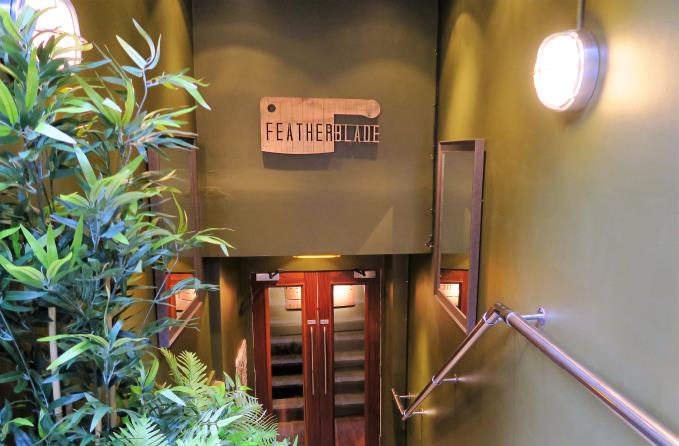 Featherblade can be found down these stairs on Brown Street
Steak and chips for a set price is no a new concept. L'Entrecote Le Relais de Venise was doing something very similar around the corner until Confidential editor-at-large Jonathan Schofield got into a butter fight and the place shut down three weeks later
"We've been at Panama Hatty's in Manchester for eleven and a half years. 7500sq ft takes a lot of filling, especially in the early part of the week," Brennan tells us. "We thought it would be a good idea to split the operation. This is a pop up; if it works we'll make it permanent, if it doesn't, we can try something else."
But it's the blatant similarities to Flat Iron, a brand with no affiliation to Featherblade, which has caused the stir. Cheeky Lee describes the controversy as 'fantastic'.
"I've been in business 40 years and nothing usually fazes me. All this social media noise did have me slightly concerned but we've done absolutely nothing wrong."
So what does he make of the obvious similarities between logo, pricing structure, concept and menu design?
LB: "It's a bit unfortunate but if the guys from Flat Iron were to get in touch, I'd ask them genuinely what they were unhappy with. As long as they were reasonable I would address those requests, because I'm a decent guy. The idea was that the two would never meet, but with social media the world's a smaller place. I mean a steak's a steak."
How about if you changed the wording of the side dishes?
LB: "Isn't that just inconveniencing me for no reason? Let's face it, mixed leaves are mixed leaves. I'm not the only person using those phrases, but when it's put together in the same sort of package it looks similar, I realise that now."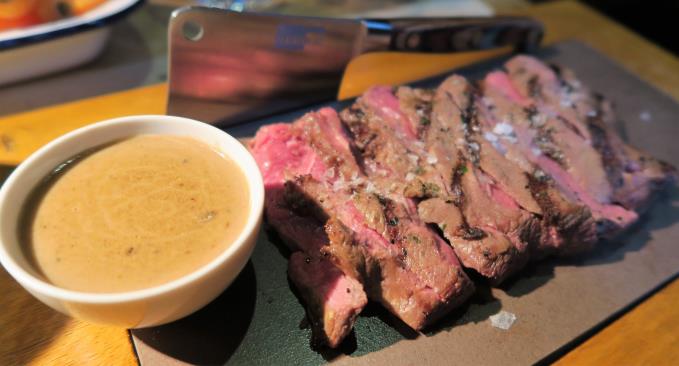 The £10 steak
What about the cleaver?
LB: "It's a great idea and they haven't got a monopoly on that have they? That was a lot of work getting those made. It's not like we've gone to their supplier and said, 'we want what they're having'. We've sourced everything including the boards. I've been serving steaks on bits of wood since 1977, it's not new. You've just got to get on with it."
Are you saying it's fair game?
LB: "Only if I'm not damaging their brand, which is a great operation by all accounts. I think they have had as much attention out of this as we have. I think Charlie Carroll (owner of Flat Iron) would give me a pat on the back if I saw him. Fair game is probably too harsh a phrase, I'm not looking to aggravate the situation. I just want to get this offer out to the people of Manchester for a reasonable price. Not one single person has asked 'are you any relation to Flat Iron?' Everyone has just come in to support it."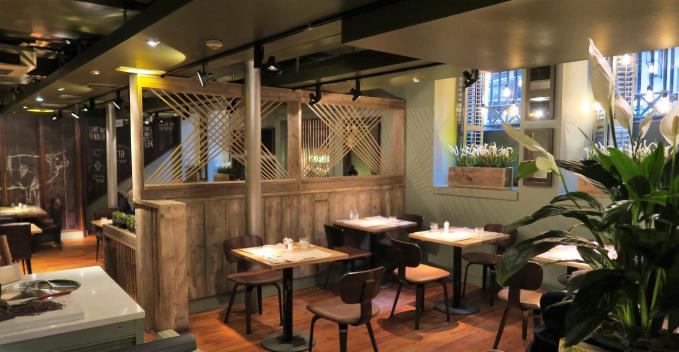 "If it works we'll make it permanent, if it doesn't, we can try something else."
So you're maintaining that this whole thing happened by accident rather than intention?
"We probably did make a couple of mistakes in that respect. We assumed there was sufficient distance between their restaurant and ours. I don't want to be pioneering something from ground zero, we've got to hit the ground running because this is a tough market and this particular location needs all the help it can get. I don't make any apologies. We couldn't afford for Featherblade to go through its normal growing pains. I really didn't see this coming, but we haven't done so badly.
"We put forward the idea of changing the business to our staff, so this concept was born out of a team hug. We were after a mono-menu which could do good business at lunchtimes or early evenings; it can't be fish, it can't be ribs, not too ethnic and there are too many burger joints. When you distil it all down, it's got to be a steak restaurant. One girl had seen something similar in Australia – steaks for $10, this is also something on offer in New York, so we haven't stolen the offer."
Verdict:
So what about the food? It was fine and as straightforward as you'd expect. The steak was nicely seasoned and cooked as rare as featherblade should be. The dripping fried chips were more McDonald's than Hawksmoor and seasonal greens were, er, carrots.
Now say what you like about Featherblade, but we bet Flat Iron's greens aren't orange.
Featherblade, 43 Brown St, Manchester M2 2JJ