WHAT a year for fashion, ay?
It would also be decent for Donald Trump and his hair to stay in 2015 too.
And we're not talking about the designer catwalks but instead all the fashion novices; bloggers, vloggers and street-style photographers who are influencing our style choices much more than the big brand names.
Raw, unedited (well), everyday fashion has been a big deal this year.
Body Confidential knows this, and has spent much of 2015 doing our own style-spotting in Manchester: from the Parklife Festival to the Sexhibition expo.
But (and it's a big 'but'), as they do every year, some bad style trends have emerged. Criminally bad, in fact.
So, with the help of Manchester bloggers, fashion writers, boutique owners, stylists and self-proclaimed fashionistas, Body Confidential has shared the trends they would most like to see gone in 2016.
Be warned, we've not held back.
L'OREAL BLACKETT | Body Confidential Editor
"On 21 October 2015, Marty McFly was transported from 1985 to our time in the classic movie Back To The Future II.
"I wonder how Marty McFly would have really felt, hopping out of the time-travelling Delorean, to find a tongue-wagging Miley Cyrus licking hammers, twerkers vibrating themselves into cardiac arrest, and the idle worship of society's all-new deity, the Kardashian clan?
"Can we go back to a time where nothing a Kardashian or an affiliate Jenner did was considered #goals?
"With their influence, 2015 was the year makeup was ploughed on thick. Eyebrows became high maintenance. Lips were overlined. Naked bums broke the internet. And no outfit was considered acceptable unless it was really tight and 'on fleek'. Kim K contouring can be done with in 2016. Please. We're all beginning to morph into Kryton from Red Dwarf. Can we go back to figuring out the perfect 'no-makeup-make-up' trick and embracing our uniqueness? It's more than acceptable to not have an arse the size of the back of a Ford Fiesta. It's okay, you can stop squatting now.
While we're at it, let's get rid of those godawful Kardashian endorsed 'waist-trainers'. Kill them dead in 2016. Put them on the bonfire with septum nose rings and semi-permanent green hair dyes.
Find a version of yourself that doesn't need to be hashtag: winning."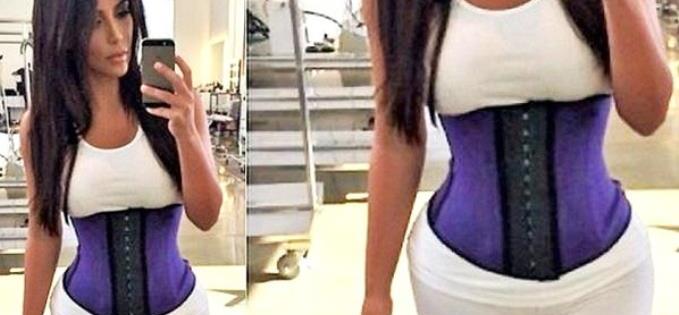 Waist training and Kardashian endorsements - be gone.
LAUREN COKGULER | Blogger and co-owner of online boutique, Catwalk Killa
"To be honest, 2015 has been a triumph for the fashion world. Trainers, oversized silhouettes and sports-luxe have enabled many of us to be fashionable and comfortable, two words that don't usually co-exist.
"I did struggle to find something that I would like to leave in 2015, but then it dawned on me... suede. Suede has been everywhere this year; from the catwalks of Gucci and Chloe, all the way down to the local Primark - everyone wanted a piece of the suede action. In fact I went out and bought a very expensive real suede trench and mini skirt, I was in love. Yet have I worn them? No. I should have clicked that the words 'suede' and 'trench coat' are simply utter juxtapositions.
"Can you wear suede in the rain?
"Of course not.
"Where do I live?
"Manchester.
"It's rainy here. Duh.
"I spent over £100 on something that is practically useless. It's also really hard to iron. Yes, I sound like my mum, but it's true. My mini skirt looks like I've been dragged through a hedge backwards whenever I wear it.
"Sorry suede, it's a goodbye from me. "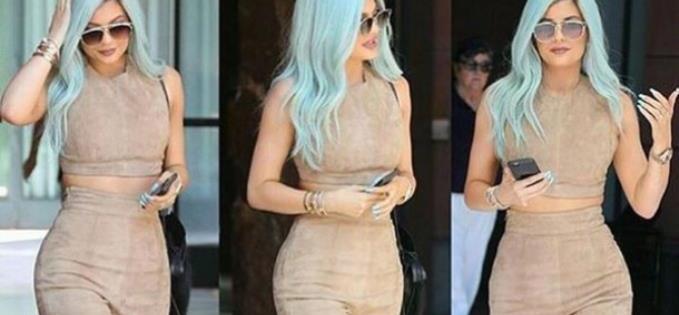 So-long suede...
JAMES REYNOLDS | Co-Founder, Diverso Menswear
"As everyone leaves the 'old me' in 2015 there are also a few other bits-and-bobs we feel should be retiring. With menswear being a completely different beast to the rapidly changing trends of womenswear – this list is far easier to compile.
"No really 'offensive' menswear trends have emerged in 2015 that need to be rid, as the gents usually leave the boundary-breaking to the ladies.
"Therefore, we can take a brief and broader look for the gents trends:
"Social Media: a few 'buzzwords' can be left in 2015…'bae' 'dapper' 'squad' 'on point' 'yolo' 'swag' and anything ending with 'goals' have all been overused and can be left behind to make way for some new ones.
"Whilst facial hair can stay for 2016 (on men only), it's possibly time to move on from the 'top knot' or 'man bun'. The new mullet has probably overstayed its welcome.
"It would also be decent for Donald Trump and his hair to stay in 2015 too."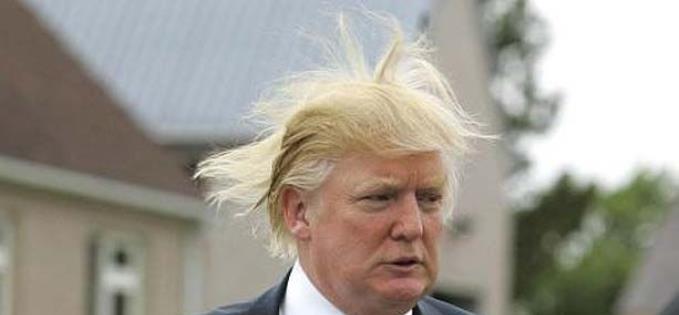 Donald Trump and his hair? Bye-bye.
AMIRAH FARAG | Body Confidential columnist
"Nakedness has gone to whole new levels this year. I'm all about the empowerment of women, but there seems to be something slightly perverse in the idea that wearing fewer clothes pays homage to 'Girl Power' - it's like the Spice Girls never happened. Think of Beyoncé in that diamonte dress, with strategically placed stones to make sure her vagina and ass crack weren't wholly on show. Miley Cyrus - need I really say more? Less is not more. Demure is more. Let's bring classy back in 2016, ladies.
"Overdrawn lips. We had the shotglass challenge to make your lips bigger. Turns out if you do it wrong, you might end up with glass embedded in your face. Shock, horror. So then overlining your lips was the next best thing. Your lips look fine just as they are. You're not a clown. Just put the lip-liner down.
"The pastel hair trend is another one that's got to go. I've had friends who have experimented with daring hair colour for years. Those friends pull it off because they have the one vital ingredient needed to pull off slightly left-field hair: personality. I've seen white hair, pale orange hair, pink hair, lilac hair: all the shades of the contents of a pack of Lovehearts. There's nothing wrong with dabbling in the dye game (I have fallen foul of my own DIY hair disaster this year), but can we leave the 'My Little Pony' hair firmly attached to the ponies and Bratz dolls?"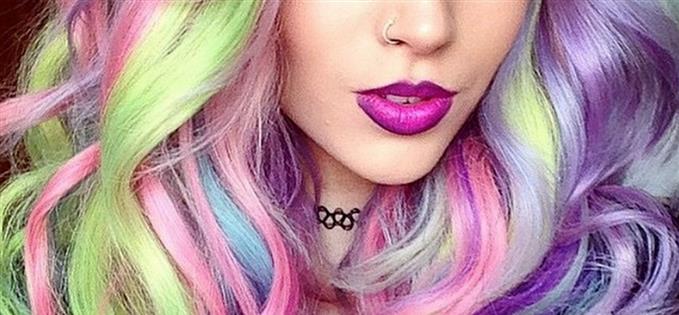 My little pony hair has got to go...
Jsky | Singer, Celebrity best mate, 'Fashionista'
"Well, I'll be happy to wave goodbye to bad contouring and unsubtle blusher in 2016. Ladies, please, blusher is not your friend. It's not about clown cheeks. It's not cute, you might as well wear a mask. Let's make 2016 the year where we learn how to blend.
"I keep witnessing a multi-colour of shades on faces - I don't know if I'm in Neighbourhood on a Saturday night or looking at a Dulux wall chart in B&Q. Have a seat! Unless you're in drag, save abrasive faces for hangover Sundays. Whilst 2014 was the year everybody became a model (with self-bought photoshoots and tacky Instagram filters), 2015 was undoubtably the year every Tom, Dick and Harry became a makeup artist. I'm all for entrepreneurship but wow, I've seen some Instagram posts and I'd do better with crayons #crayolaMUA. Lastly, and I'm sure you will all thank me for this, but can we end the trend for claw nails, the claw nail 'pose' and all the 'Just had my nails did' statuses littering Facebook? I mean, how do you tweet with those things?"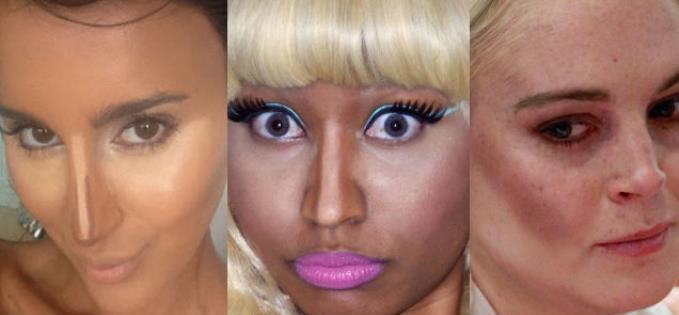 Bad contouring? Adios.
EMMA CARR | Stylist at Crave Personal Styling
"The seventies trend has been in full swing for a couple of seasons now, and although I'm a lover of the Glam Rock/Uptown Girl take on things, it went far more folksy for Autumn/Winter 15. I wasn't a big fan of the boho look when Sienna Miller was doing it circa 2004, so it's definitely the trend I'd like to see gone in 2016. Leave room in your wardrobe for 90's slip dresses instead - they're going to be huge."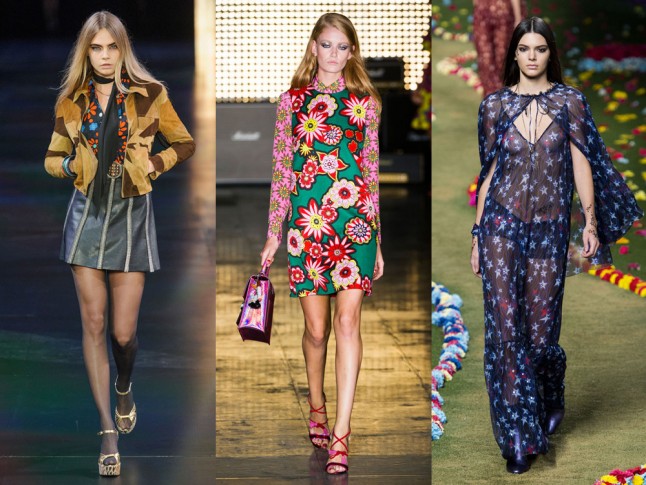 Boho trend? Nope. Not in 2016.
MATTHEW MOXHAM | Stylist at I Am Stylist
"The phrase 'I Woke Up Like This' on any and everything. Let's box it away in 2016.
"Sure, it was clever at first and now... not so much. Thanks to Beyoncé's one-of-many girl power catchphrases, we saw celebs sharing their not so red carpet ready selfie snaps to Instagram, prompting hundreds of girls to post fresh faced selfies too, which I loved. But lets simply hashtag it and not stick it on t-shirts, Iphone cases and handbags.
"Crazy scandalous sheer dresses only really work on the red carpet and even then it was more miss then hit. The dresses are designed to give the appearance of been nearly naked with embellishments to hide your naughty bits, but it's far more porn star then superstar. Always remember, if Beyoncé can't pull it off then nobody can."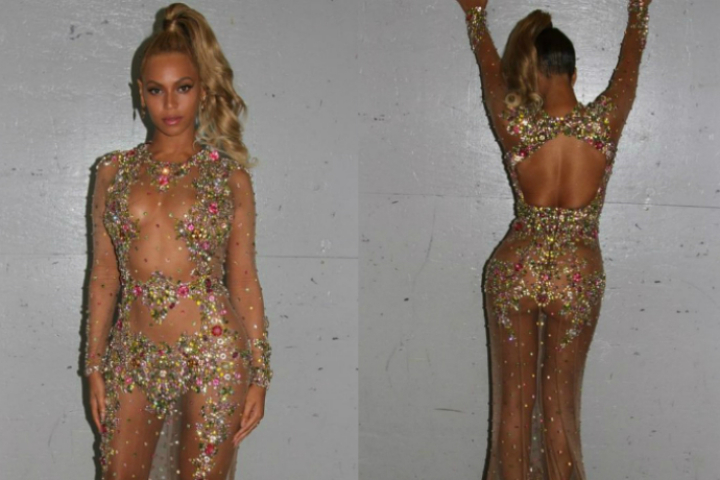 If Beyoncé can't pull this off neither can you...Bye.
DAVID BLAKE | Confidential Editor, wearer of clothes
"I'd like to see the collapse of fast fashion. Not only because rebooting your wardrobe every month, every week in some cases, is obscene, but because this overconsumption, this desire to spunk your leccy money on a torn pair of joggers you've spotted plastered to the planetoid arse of some Kardashidink, is proliferated by the same TV jungle fodder who don't pay a sausage for anything. Clothes. Dinner. Drugs. None of it. What's more, your grotesque rapaciousness is literally killing children across the third world, you bastard. Pick smarter, shop less, call your Mum, kiss your children, pay the leccy."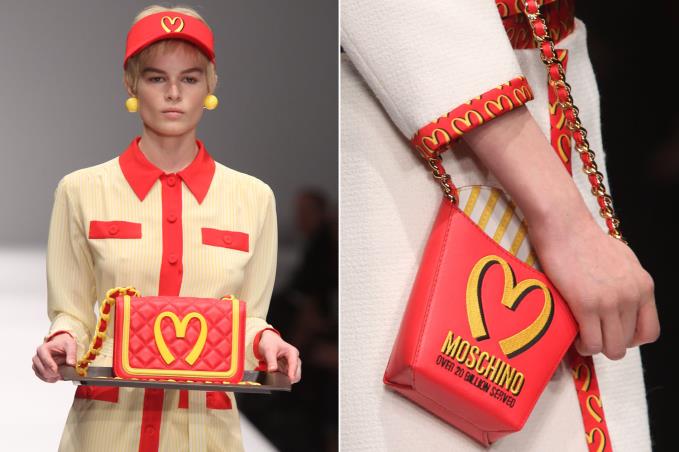 Less fast fashion in 2016, please.
Vote on the worst trends of the year on the Body Confidential Twitter Page @BdyConfidential