TATTOOS are like relationships; carefully considered and often entered into after a long attraction. You want the end result to last forever.
Unfortunately this attraction can also turn into a drunken one night stand; quick, ill-considered, easily regretted and in the very worst of cases, leaving you seeking medical advice.
"With a hand tattoo you'd be lucky to get a job frying chips."
Once denoting an individual's role in a tribe or a keepsake for homesick sailors, tattoos have since become a fashion accessory, allowing celebrities to keep track of former spouses through their inked initials. But what do you do when that fairytale romance has turned into a PR nightmare?
Many have opted for a good old fashioned cover up. Angelina Jolie's Billy Bob inking was replaced by her children's' birthplaces and Johnny Depp creatively turned his 'Winona Forever' tattoo into 'Wino Forever'.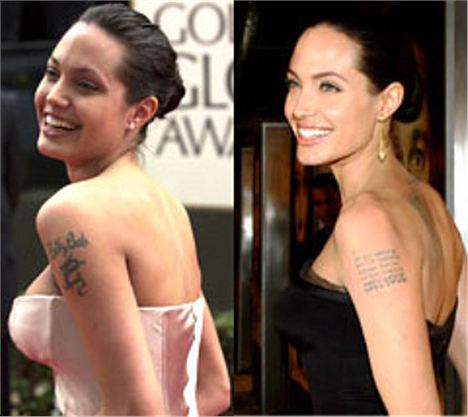 Angelina Jolie Tattoo Cover Up
For some though, a cover up is just not good enough, an out and out removal being the only option.
There are a number of options available for removal with the simplest being laser treatments. This treatment is offered by Chorlton based studio Sacred Art.
Ventnor Brewer currently provides the tattoo removal service at the studio and explained the procedure, which consists of using a laser to break down the ink pigment into particles. The particles are then absorbed by the body, minimising the chances of scarring. It is not a simple procedure though, with Ventnor showing me one of his own tattoo's which after one session had only slightly faded.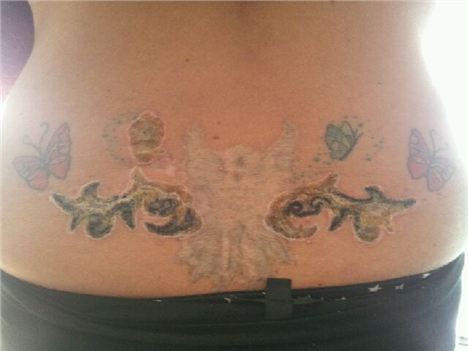 Tattoo removal - Dermabrasion

This procedure is used primarily to lighten darker designs, allowing for an easier cover up. The sensation of the procedure is likened to the flicking of an elastic band , although he also said  "some find the pain worse than the actual tattoo", with the number of sessions they have to endure being dependent on the individual. The prices are also another factor in considering removal, with prices of one session going well into the hundreds.
Another procedure, which is offered in a number of Manchester studios, is dermabrasion - a technique in which the dead skin is rubbed away often leading to extensive scaring.
The artists at Sacred Art said a number of their clients have had this procedure and, distraught at the outcome, have come to them to help cover up the resulting scar tissue.
While a variety of reputable tattoo studios now offer removal procedures alongside their own custom designed creations, similar services are also being offered by the less reputable ones, with the result being worse than the original unwanted design.
Sacred Art
Sacred Art maintain this is a consequence of studios with bad reputations that, being unable to generate work through tattooing alone, look to other ways to generate income. These removals are often entered into without extensive research by the customer, with many going to specific salons due to online offers.
Those typically removed are first tattoos, done in haste and now an ever present reminder of youthful defiance. In recent times, a common trend is poor imitations of celebrity tattoos such as Cheryl Cole's tribal hand piece, or fingers emblazoned with 'Sssh' in the style of Rihanna. Hand tattoos are the most requested at Sacred Art. Click here to see some examples of 'trendy' hand tattoos.
Ventor said: "With a hand tattoo you'd be lucky to get a job frying chips."
Most artists advise against them due to the specific placement being unpopular with potential employers. Other customers have made the age old mistake of having a tribute to their other halves imprinted on their hands, removals of which are a daily occurrence for the studio.
There has been a surge in tattoo popularity in recent years - an estimated one in five British adults has one. But until tattoo removal is cheap, totally effective and fail-safe, perhaps it's best to first consider one you can wash of in the morning before committing for life.
Because not all whirlwind romances end in happily ever after.
For more information on Sacred Art please visit

www.sacredarttattoo.co.uk
Follow Alex on Twitter @LexyPike