IT looks as though bosses behind the all-new £30m Corn Exchange have secured their final two operators.
We also hear plans are in the pipeline for 'The Atrium' bar
In a recent press release, owners Aviva and development partners Queensberry said they expected to soon reveal 'news of the final two operators', and that Skandi-inspired café Kupp and gin 'n' steak joint Alston Bar and Grill 'have both expressed interest'.
Established in London last year by hospitality operators Faucet Inn, KuPP is a 'casual all-day food and drink concept' that shares 'a little of Scandinavia but proudly wrapped up in a big British blanket'. The founders plan a UK rollout, to start in Manchester, alongside branches in Oslo and Helsinki. After noticing a lack of coffee chains on visits there, they hope to take some of UK's coffee culture to Scandinavia, whilst diners here can experience Skandi cuisine like gravadlax, skagan and topless 'scandwiches' (that means no lid before you ask).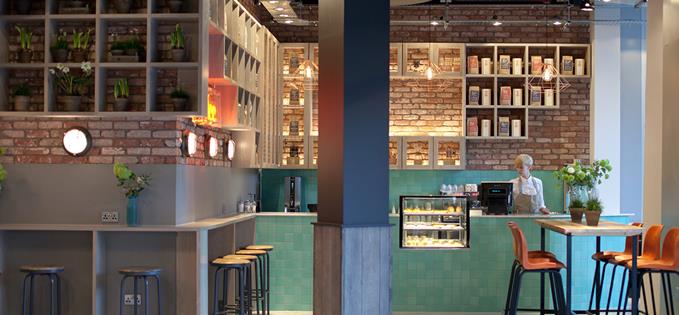 KuPP
Meanwhile Alston Bar & Beef, operated by London bar and restaurant group Glendola Leisure, first opened in Glasgow in 2014. The gin and steak joint specialises in 35 day dry-aged Tweed Valley steaks starting from £19, with gins numbering around 50. Based beneath the city's central station, the Glaswegian site - much like the grade II-listed Corn Exchange - boasts an interesting history, located in Glasgow's 'forgotten village' of Grahamstown.
READ: £30M Corn Exchange Nears Completion
Over the past twelve months, thirteen restaurants and a range of initiatives - including a video kids' menu guide and the city's only dining concierge service - has seen over 785,000 guests visit the Corn Exchange; enjoying a range of globally-inspired dining options including Indian, Mexican, Brazilian and Italian from the likes of Wahaca, Mowgli and Vapiano. We also hear plans are in the pipeline for a bar (potentially champagne) in the atrium, called - wait for it - 'The Atrium'.
The multi-million-pound regeneration project is due to reach completion in 2017, with the opening of an 114-bedroom boutique aparthotel managed by Roomzzz.
Powered by Wakelet